Watermelon Basil Lemonade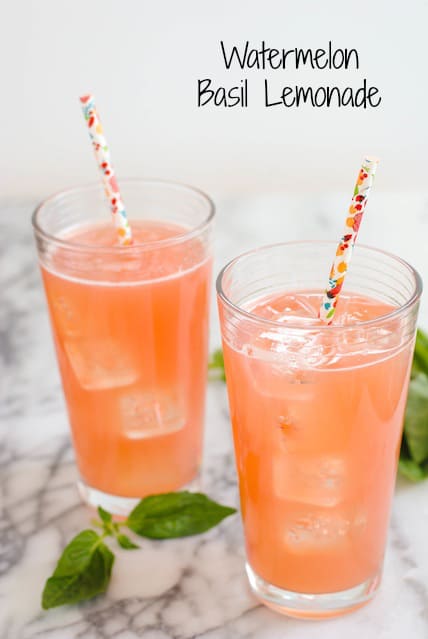 Welcome to Foxes Love Lemonade! I'm (obviously) obsessed with the bright, tart taste of lemons, and I love freshly squeezed lemonade as well! Classic lemonade is just dandy, but in this summertime monthly post, I'll be coming up with new spins on my favorite cool-down drink.
To say that I'm picky about fruit salad would be an understatement. I'm extremely picky about fruit salad. I never buy those pre-made ones at the grocery store, because they're full of what I refer to (with great disdain) as filler fruit. Filler fruit is tasteless cantaloupe, bland honeydew, and out-of-season watermelon.
I mean, let's be real – when you put a fruit salad on a buffet line, everybody is just picking through it with the spoon, fishing for strawberrries, pineapple, and maybe the grapes. Sometimes, there's blueberries in there (which are A-list), but it's impossible to scoop a blueberry with a giant spoon, so those are useless in fruit salad as well. Easily, 90% of most fruit salads is filler fruit, and it's a sad state of affairs.
I'm fairly certain that I could give a passionate, hour-long lecture as to how a proper fruit salad should be constructed, and why the world should JUST SAY NO to filler fruit. I would also include a detailed recipe for Millionaire's Fruit Salad, which is my answer to those grocery store abominations everywhere. Millionaire's Fruit Salad is one part strawberries, one part pineapple, and one hundred parts amazing.
Now that I've admitted that I am totally nuts about the topic of fruit salad, let's talk about when watermelon is actually good – when it's in season! I consider it an A-list fruit in the summer. I could even make a case for it to be included in Millionaire's Fruit Salad at this time of year only.
Today, instead of a fruit salad, I've pureed watermelon and combined it with a quick basil simple syrup and fresh lemon juice for a unique take on pink lemonade. This watermelon basil lemonade is only four ingredients, but it seems so much more special than that. The basil simple syrup can be made in advance and kept in the fridge until whenever a lemonade craving hits.
Psst – if you love homemade lemonade like I do, don't miss my mango lemonade recipe!
Watermelon Basil Lemonade
Ingredients
For the Basil Simple Syrup:
3/4 cup granulated sugar
3/4 cup water
1/3 cup packed roughly chopped fresh basil leaves
For the Lemonade:
3 cups water
1-1/2 cups chopped watermelon
1-1/2 cups fresh lemon juice
Instructions
Make the Basil Simple Syrup: In small saucepot, stir together sugar, water and basil. Cook over medium heat 4 to 6 minutes or until sugar is dissolved. Remove from heat; let stand 10 minutes. Strain through a fine mesh strainer; discard basil. Transfer to jar or container and refrigerate 4 hours or up to 5 days.
Make the Lemonade: In blender, puree water and watermelon until smooth. Strain through a fine mesh strainer; discard solids.
Pour watermelon liquid into pitcher; add lemon juice and Basil Simple Syrup. Stir until well combined. Serve over ice immediately.