Salmon Sandwich
This easy Salmon Sandwich can be made on the grill or in the oven. Either way, this restaurant-quality sandwich with herb mayonnaise is ready in less than 30 minutes.
I'm definitely a Joey Tribbiani in my love of sandwiches, and my husband will grill anything and everything in the summer. Needless to say, we eat a lot of grilled sandwiches.
And you know me, I'm always looking for new salmon recipes. From salmon pasta to pineapple salmon, we eat this versatile fish at least once a week.
This grilled salmon sandwich has been one of my favorite meals lately. With a simple combination of fresh salmon, an herby mayo sauce, a fluffy bun and some leafy lettuce, it's simple to prepare and satisfying to eat.
If you don't have a grill, don't worry about it – the salmon can be cooked on a grill pan (just like my Sonoran hot dogs) or in the oven.
What you'll need to make this salmon sandwich recipe:
salmon – you'll need 1-1/2 pounds of skinless salmon fillets. More on how to choose the perfect fish below.
oil – I like a neutral oil like canola oil or vegetable oil for grilling fish.
hamburger buns – my favorite for salmon sandwiches are brioche buns! I love brioche bread for my ice cream French toast, too.
lettuce – I like fresh, crunchy butter lettuce best.
salt and pepper – for seasoning the salmon and also the mayo.
mayonnaise – this will be the base of our herb mayo sauce.
fresh basil leaves – the main flavor component of the herb mayo. Any extra basil can be used to make homemade pesto for pesto salmon.
dill – fresh dill is best, but I know it's annoying to buy fresh for such a small amount. Extra fresh dill can be used for Greek chicken meatballs or pimento mac and cheese, but dried is also good substitute. Just like with my smoked salmon pizza, if using dried dill, use half the amount called for.
lemon juice – this adds a bit of tang to the herb mayo, and can also be squeezed over the fish for extra flavor. Buy an extra lemon and try a lemon smoothie in the morning, too!
garlic – to add a savory note to the herb mayo for this grilled salmon sandwich.
Dijon mustard – this adds a little kick of heat (but not TOO much) to the herb mayo.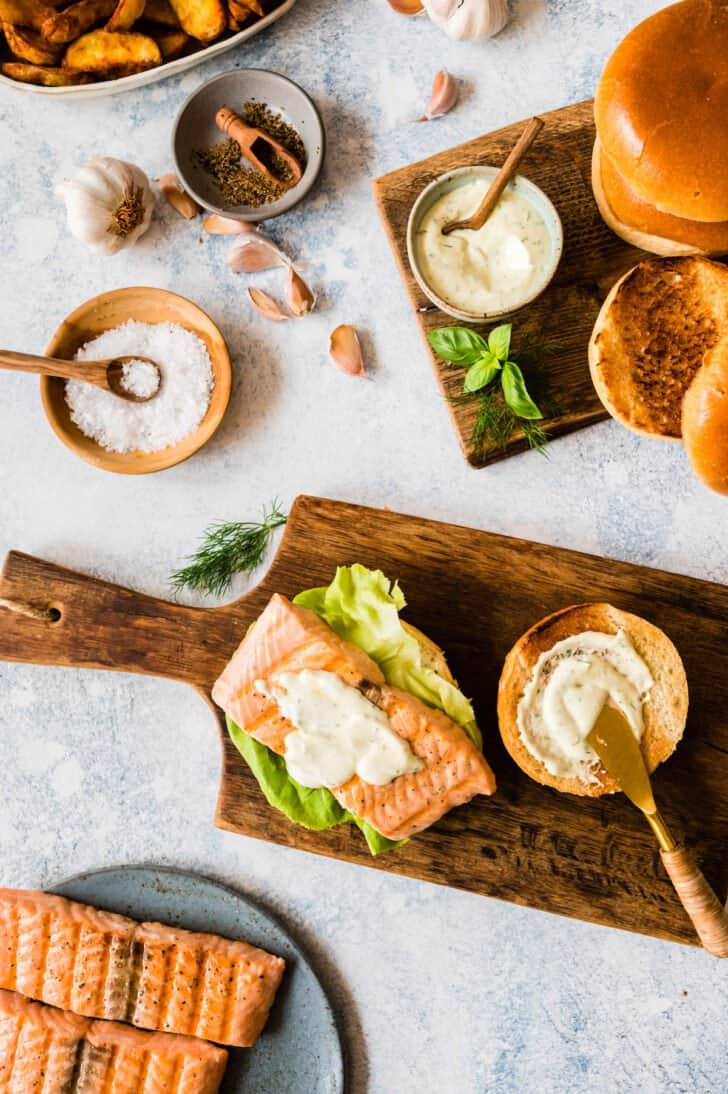 The herb mayo can be made in advance!
While the herb mayo takes only about 5 minutes to make, I see all you meal preppers out there. The people who want to prepare as much as possible in advance so that weeknight meals are a breeze. I got you.
One way to make sure that this salmon sandwich recipe comes together as fast as humanely possible is to make the herb mayo in advance.
So, go ahead and make this herb mayo up to 2 days in advance. Just keep it in an airtight container in the fridge until you're ready to serve the salmon sandwiches. This same herb may can also be used for smoked salmon BLTs.
Not a fan of herby mayo? My roasted garlic spread and creamy feta dressing (follow the directions to make it thick) is also great on these sandwiches.
How to buy the best fish for grilled salmon sandwiches:
Just like with my crab stuffed salmon recipe and salmon piccata, I prefer thicker, center-cut pieces of salmon, and not thinner, tail-end pieces for this salmon sandwich recipe.
The tail end pieces or larger fillets are really better for a recipe where the salmon is going to be flaked, like salmon cakes with fresh salmon or Cajun salmon pasta.
If you have a grocery store, butcher, or seafood market where you can specify that you need center-cut pieces, that's ideal for salmon sandwiches. I prefer skinless salmon fillets for this recipe.
You can use any variety of salmon you like best for this salmon sandwich recipe, whether that's Atlantic salmon, sockeye salmon, or something else. Food & Wine's Guide to Every Type of Salmon You Can Buy will help you learn the differences.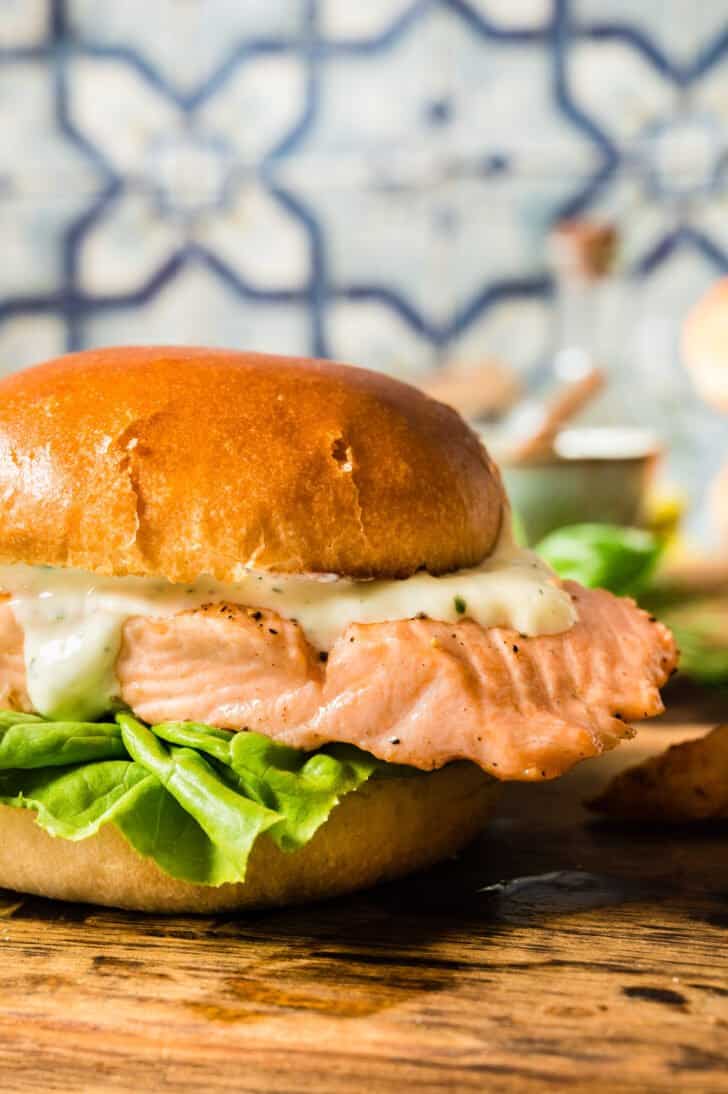 How to cook salmon on the grill:
Making grilled salmon doesn't have to be scary. But I admit, I was intimidated the first time I tried it, and I even went to culinary school! It just SEEMS like it's going to stick to the grill, right?
Don't worry, I'm here to walk you through how to cook salmon on the grill for a salmon sandwich successfully every time. Just like with my grilled chicken pizza, there are two keys to grilled salmon: a clean grill and oil.
Let's start with the clean grill. If you don't have a wire grill brush, run to the hardware store right now and get one. The salmon will wait until you get back.
Really scrub that grill to get off ALL the crumbs and crusty bits, because those bits are what the fish will stick to. Fish will NOT stick to clean grill grates as much.
Then, we need oil. You'll be using canola oil to throughly oil both sides of the salmon fillets. You will ALSO be spraying those clean grill grates with nonstick cooking spray to add another layer of nonstick protection.
Preheat your grill to medium-high and don't spray the grill grates until JUST before you place the fish on the grill.
Place the salmon directly on the clean, oiled grill grates. Cover the grill and cook 4 to 5 minutes or until the fish is beginning to turn opaque.
Quickly and confidently flip the fish with a heatproof fish spatula. Once the fish is flipped, cover the grill again and cook 4 to 5 minutes longer.
If you have an instant read thermometer, the easiest way to check for doneness is to check for an internal temperature of 125 degrees F in the thickest part of the fish. Having a thermometer is the easiest way to determine how long to cook salmon on the grill.
Allow the salmon to rest for 5 minutes before building the sandwiches, and the fish will be perfectly cooked. Follow the same instructions above if using a grill pan, too.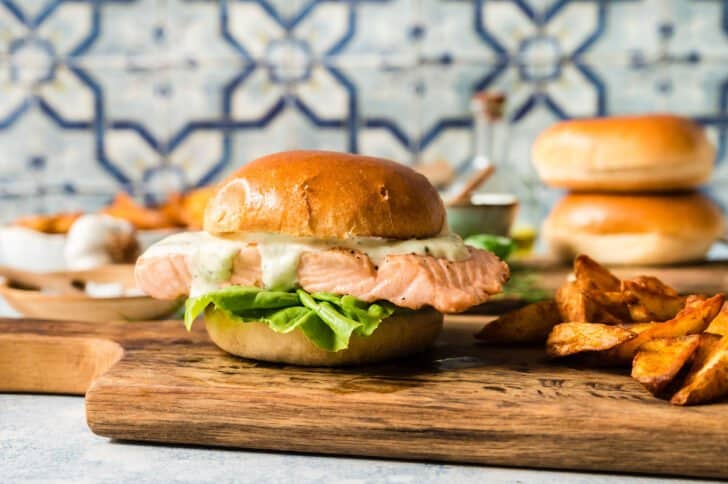 How to bake salmon for a salmon sandwich:
If you don't have a grill and would rather bake the salmon for salmon sandwiches, you're in luck: baking salmon is basically the easiest thing in the world, and I use this same technique for my salmon alfredo and salmon with my bourbon glaze recipe for salmon, too.
For this salmon sandwich recipe, first, preheat the oven to 400 degrees F.
Then, grab a small rimmed baking pan. I usually line it with foil for super easy cleanup. Spray the foil with nonstick cooking spray (or rub it lightly with oil) so the salmon doesn't stick.
Place the salmon on the foil and give it a sprinkling of salt and pepper.
Bake at 400 degrees F for 16 to 18 minutes or until the fish is cooked through.
What to serve with a salmon sandwich:
My favorite summer side dishes are spicy potato chips or potato salad with bacon, Dr. Pepper baked beans and my Mexican street corn salad recipe. Or, if you want to get fancy, try my summer beet salad recipe. Any combination of these sides are the perfect way to round out the meal.
In the winter, I love a bowl of soup with this sandwich, like Irish colcannon soup!
More Foxes Love Lemons Favorites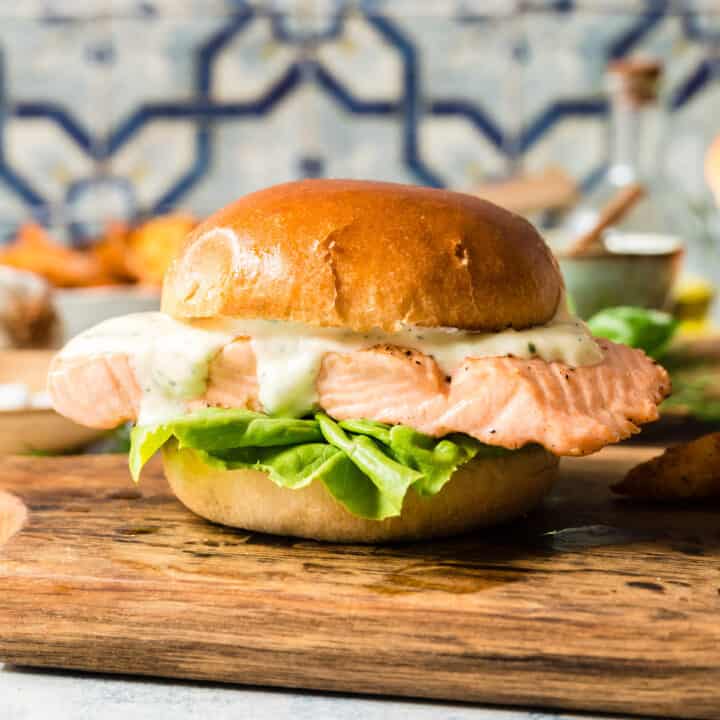 Salmon Sandwiches
This easy Salmon Sandwich can be made on the grill or in the oven. Either way, this restaurant-quality sandwich with herb mayonnaise is ready in less than 30 minutes.
Ingredients
For the Herb Mayonnaise:
1 garlic clove, minced
3/4 cup mayonnaise
2 tablespoons fresh lemon juice
2 tablespoons finely chopped fresh basil
1 teaspoon finely chopped fresh dill
1/2 teaspoon Dijon mustard
1/2 teaspoon kosher salt
1/4 teaspoon ground black pepper
For the Salmon Sandwiches:
4 skinless center-cut salmon fillets (about 6 ounces each)
2 tablespoons canola oil
1/2 teaspoon kosher salt
1/4 teaspoon ground black pepper
Nonstick cooking spray
4 brioche hamburger buns, split
4 butter lettuce leaves
Instructions
Make the Herb Mayonnaise: In a medium bowl, stir together garlic, mayonnaise, lemon juice, basil, dill, mustard, salt and pepper.
Make the Salmon Sandwiches: Brush grill with wire brush to remove any crumbs or crusty bits, then preheat grill for direct grilling over medium-high heat.
Pat salmon fillets dry with paper towel. Rub salmon generously on all sides with oil, and then sprinkle with salt and pepper on all sides.
Spray grill grates throughly with cooking spray. Place salmon directly on grill grates. Cover grill and cook 4 to 6 minutes or until fish is beginning to turn opaque.
Using a heatproof spatula, carefully flip fish. Cover grill and cook 4 to 6 minutes longer or until internal temperature in the thickest part of the fish reaches 125 degrees F. Remove salmon from grill and let stand 5 minutes before building sandwiches.
To serve, spread both halves of buns with Herb Mayonnaise. Divide lettuce over bottom halves of buns. Place 1 piece of salmon on each sandwich and top with top halves of buns. Serve immediately.
Recommended Products
Foxes Love Lemons, LLC is a participant in the Amazon Services LLC Associates Program, an affiliate advertising program designed to provide a means for sites to earn advertising fees by advertising and links to Amazon.com. There is no additional cost to you.
Nutrition Information:
Yield:

4
Serving Size:

1
Amount Per Serving:
Calories:

826
Total Fat:

61g
Saturated Fat:

10g
Trans Fat:

0g
Unsaturated Fat:

48g
Cholesterol:

124mg
Sodium:

929mg
Carbohydrates:

25g
Fiber:

1g
Sugar:

4g
Protein:

43g
This website provides estimated nutrition information as a courtesy only. You should calculate the nutritional information with the actual ingredients used in your recipe using your preferred nutrition calculator.