Pesto Ranch Dipping Sauce
Welcome to Foxes Love Lemons' WEEK OF DIPS! I'm bringing you all sorts of dippin' goodness so you can find a recipe your party crowd will love for the big game!
I've recently started making homemade ranch dressing quite often. I really don't buy bottled salad dressings much at all. Most salads we eat are dressed with a simple vinaigrette of olive oil, Dijon mustard and some type of vinegar.
I whisk the vinaigrette together right in the bottom of the salad bowl before throwing the rest of the salad ingredients in, and that is that.
Vinaigrette is delicious, versatile and healthful, but let's be honest – who doesn't crave a good, creamy ranch dressing every now and then?
In my opinion, most bottled ranch dressings have a pretty weird flavor. And once I realized that with an extensive spice drawer, it's super simple to stir up a homemade version, I never looked back.
This dressing/dip can be made with any combination of full-fat or low-fat mayonnaise and Greek yogurt (or sour cream) that you desire. You'll also need a bit of buttermilk for tang. The dried herbs and spices, as well as a smidge of Worcestershire sauce give it that ranch flavor you crave.
Stop there, and you have an all-purpose ranch that is good on just about anything (including my baked potato pizza). But I jazzed this version up a bit by stirring in some prepared basil pesto.
It takes homemade ranch dressing from craveable to SUPER craveable! Use this pesto ranch as a dressing, sandwich spread or dip for just about anything.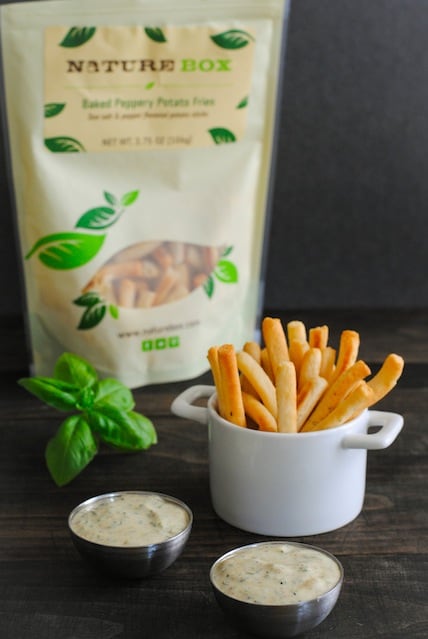 Pesto Ranch Dipping Sauce
Yield:
Makes about 3/4 cup
Ingredients
1/4 cup mayonnaise
1/4 cup Greek yogurt
2 tablespoons buttermilk
2 tablespoons prepared basil pesto
1 tablespoon finely chopped fresh parsley
1-1/2 teaspoons finely chopped fresh dill
1/2 teaspoon minced garlic
1/4 teaspoon paprika
1/4 teaspoon Worcestershire sauce
Potato chips, crackers, cut veggies or NatureBox Baked Peppery Potato Fries, for dipping
Instructions
In small bowl, stir together all ingredients. Serve with chips, crackers, veggies or fries for dipping, or use as a salad dressing or sandwich spread.
Other dip recipes for the big game:
Disclaimer: This post is part of an ongoing relationship I have with NatureBox for recipe development. Posts like this help me pay for the costs associated with this blog (groceries…lots of groceries), and help support me as I pursue a career in recipe development and food photography. All opinions are 100% my own.