Loaded Baked Potato Pizza Recipe
This Loaded Baked Potato Pizza is packed with all of the flavors you love from stuffed baked potatoes, like bacon, cheese and ranch dressing!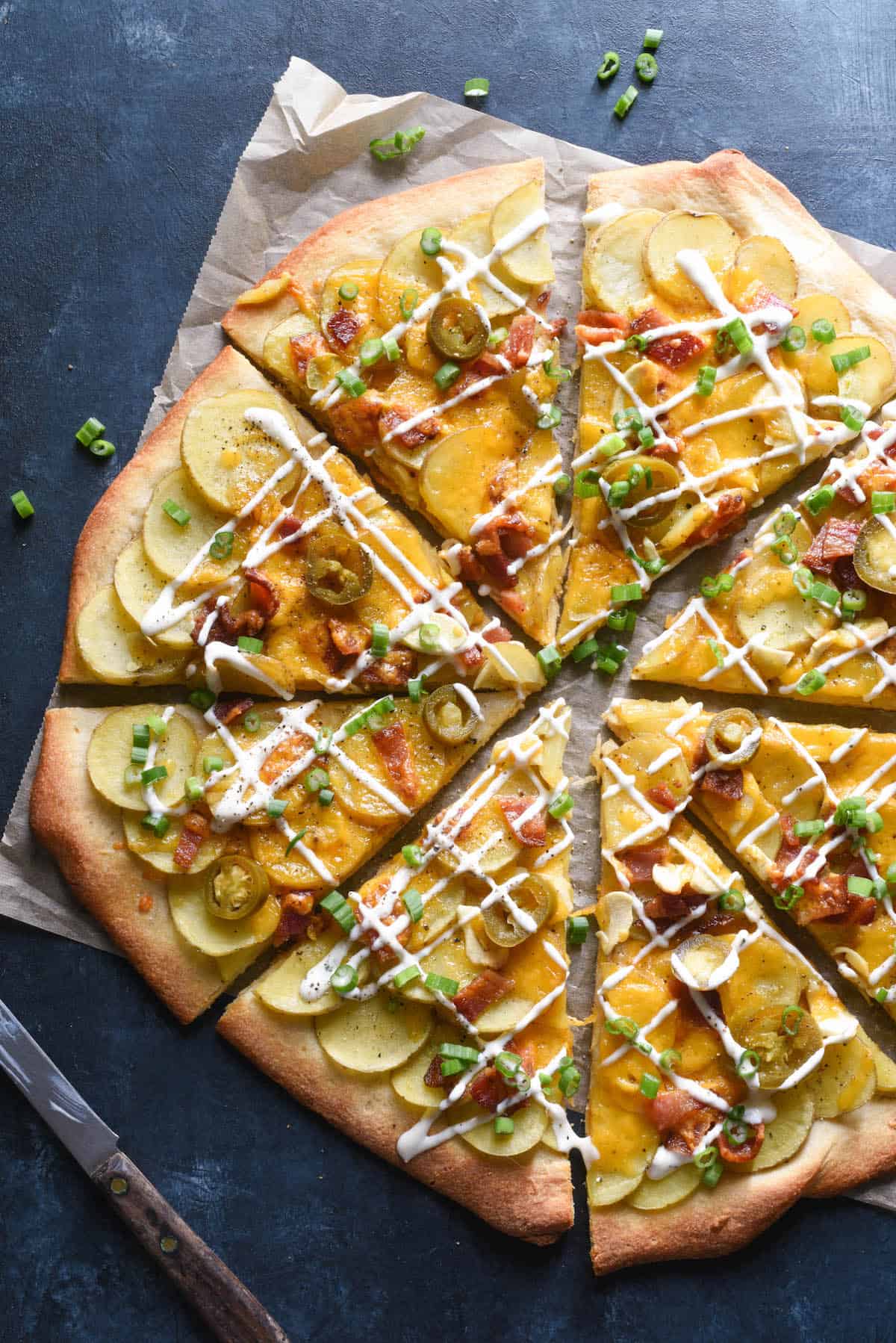 I may have mentioned this previously, but I keep a "to make for the blog" list of recipe ideas on my phone.
I'm always adding to it based on inspiration I get from restaurants (like a blood orange margarita), magazines (like the chilean sea bass I adapted from Bon Appetit) and the farmer's market (like a batch of fajitas veggies when bell peppers are in season).
"Loaded Baked Potato Pizza" has been on that list since, I kid you not, 2013. Well, I finally made it a reality, and it was just as delicious as I always hoped it would be!
Now I'm wondering why I waited so long to make this recipe. My favorite thing about this Loaded Baked Potato Pizza recipe is that it can be made entirely with ingredients you already have in your kitchen or are EASY to find at any grocery store (just like my loaded mashed potato casserole).
No hunting around for obscure ingredients required.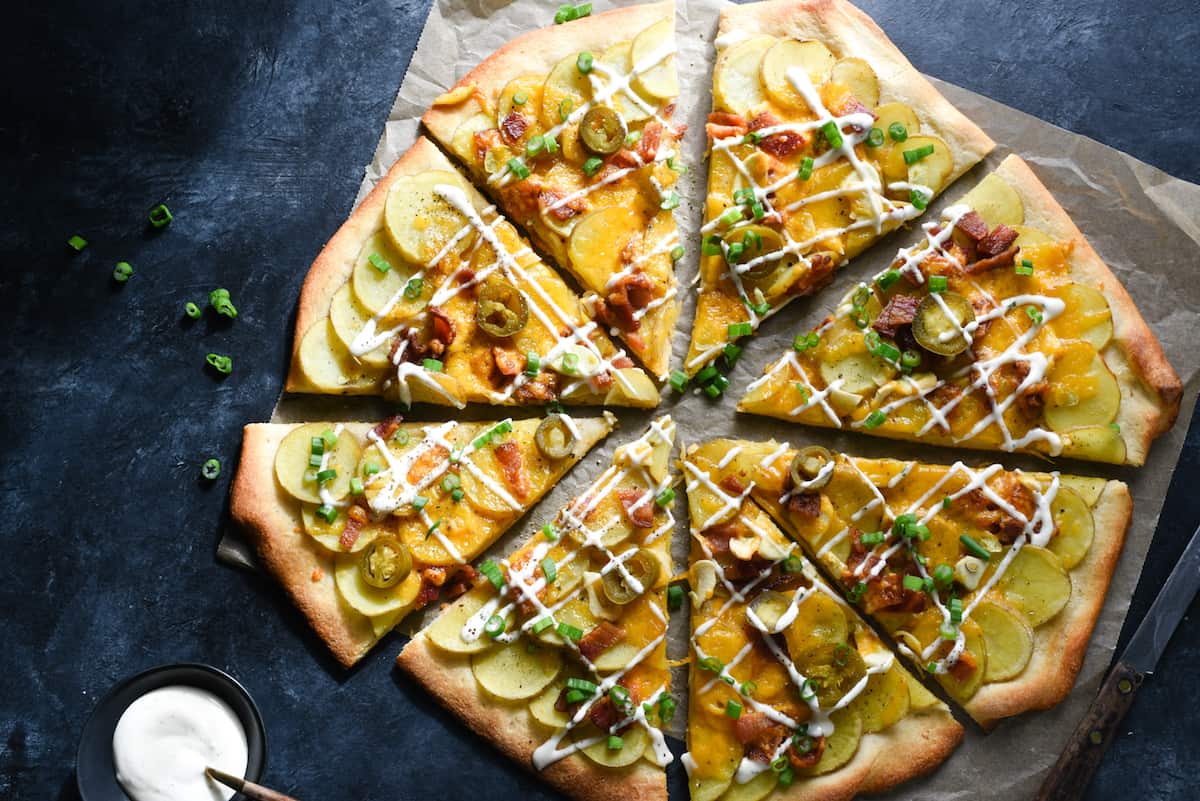 Here's the ingredients you'll need for this loaded baked potato pizza:
Hunt through your kitchen or head to the grocery store and pick up the simple ingredients you need for this potato pizza recipe:
pizza dough – one ball of store bought or homemade pizza dough. Judgement free zone here – my fav thing to use is a frozen ball of dough from a local brand carried at area grocery stores.
garlic – you'll need three cloves for this loaded potato pizza.
potatoes – I used baby gold potatoes here, but if you have russets on hand for mini shepherd's pies, or fingerlings left over from mini Hasselback potatoes, those work too. Whatever you have!
bacon – use my easy method for cooking bacon in the oven, either right before you make the potato bacon pizza, or the day before (save the grease for bacon grease gravy). If turkey bacon is more your speed, check out my tutorials on how to cook turkey bacon in the oven and turkey bacon in an air fryer!
cheddar cheese – I know from my experience making cheddar mashed potatoes that the sharp flavor of cheddar cheese is a great pairing for the blank canvas of a potato.
ranch dressing – you can use bottled ranch dressing, prepare it from a packet of seasoning mix, or really amp up the flavor with my pesto ranch!
jalapeños – buy a jar of pickled jalapeños, follow my tutorial for how to pickle jalapenos, or simply used thinly sliced fresh jalapeño.
green onions – I love the flavor of green onion on a loaded baked potato (and in mashed potato cakes). Chives work great, too!
Do I need to pre-cook the potatoes?
The easiest thing about this potato pizza is that NO, you DON'T need to cook the potatoes first! Just like on my Brussels sprouts pizza, where the sprouts cook directly on top of the dough.
As long as you thinly slice them, the potatoes will cook through in the same amount of time that it takes the pizza dough to cook.
However, as I mentioned above, you will need pre-cooked bacon for this baked potato pizza, so don't forget about that.
I usually make 3 extra slices when I'm cooking weekend breakfast, and save it in the fridge until I'm ready to make this loaded potato pizza.
Tips for making this loaded baked potato pizza recipe successful:
You'll want to cook just the pizza crust, topped with the sliced potatoes, for 8 minutes before adding any of the other toppings. This allows the potatoes to cook long enough to become tender.
I like to buy a block of cheese and shred it myself vs. buying pre-shredded cheese for this baked potato pizza. I think cheese that you shred yourself melts better! I also always shred my own mozzarella for crab rangoon pizza and buffalo shrimp pizza.
Make sure you season the potatoes with salt and pepper in step 3. You don't want to salt them in step 2, because the salt will bring all the moisture out of the potatoes too soon, and you'll end up with a wet pizza crust. But once the potatoes have had a chance to cook a little, you'll want to season them well in step 3, for the best flavor.
If you can, use a pizza stone for this potato bacon pizza recipe!
Pizza stones are a wonderful tool to have if you're a pizza lover because they help to achieve a crispy crust on this baked potato pizza without shelling out a few thousand dollars for an actual pizza oven.
You simply throw the pizza stone in the oven as it preheats (usually to a high temperature like 400 degrees F) and once the oven comes up to temp you put the freshly stretched dough down on the stone and stick the stone back in the oven to crisp up.
P.S. Make sure you brush up on how to clean a pizza stone to ensure it lasts a long time!
Loaded Baked Potato Pizza Recipe
This Loaded Baked Potato Pizza is packed with all of the flavors you love from stuffed baked potatoes, like bacon, cheese and ranch dressing!
Ingredients
1 ball (1 pound) of homemade pizza dough, or store-bought
Nonstick cooking spray
7 baby gold potatoes (about 1-1/4 pounds), thinly sliced (1 large russet potato will also work)
Kosher salt and ground black pepper
3 garlic cloves, thinly sliced
3 slices oven baked bacon, roughly chopped
4 ounces sharp Cheddar cheese, shredded
3 green onions, thinly sliced
3 tablespoons sliced jalapeño peppers, fresh or jarred
1/4 cup ranch dressing
Instructions
Place pizza stone in oven and preheat oven to 400 degrees F.
Toss and stretch pizza dough into a 14-inch circle. Once oven is preheated, carefully remove pizza stone from oven and spray with cooking spray. Carefully place dough on stone. Place potato slices on top of dough in a circular pattern. Transfer to oven and bake 8 minutes.
Remove from oven. Season potatoes with salt and pepper. Evenly distribute garlic, bacon and cheese over potatoes. Return to oven for 6 minutes or until potatoes are tender and bottom of crust is golden brown.
Top pizza with onions and jalapeño peppers and drizzle with ranch. Cut and serve immediately.
Recommended Products
Foxes Love Lemons, LLC is a participant in the Amazon Services LLC Associates Program, an affiliate advertising program designed to provide a means for sites to earn advertising fees by advertising and links to Amazon.com. There is no additional cost to you.
Nutrition Information:
Yield:

4
Serving Size:

1
Amount Per Serving:
Calories:

490
Total Fat:

17g
Saturated Fat:

7g
Trans Fat:

0g
Unsaturated Fat:

9g
Cholesterol:

32mg
Sodium:

521mg
Carbohydrates:

71g
Fiber:

7g
Sugar:

5g
Protein:

16g