Healthy Buffalo Chicken Dip
This Healthy Buffalo Chicken Dip is a full flavor but lower-fat version of the tailgate and party classic!
Have you tried buffalo chicken dip yet? It seems like it's shown up at every sports-watching party I've attended in the last few years. And for good reason….this stuff is delicious. I mean, it's basically just shredded rotisserie chicken, cream cheese, sour cream, buffalo sauce and blue cheese. All good things. There's no way this dip can be bad.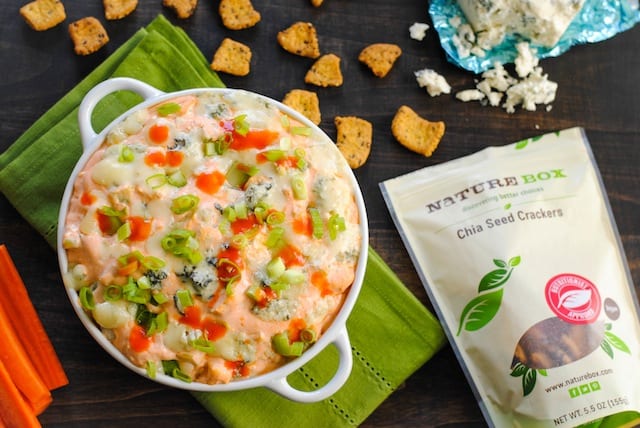 This Healthy Buffalo Chicken Dip is reduced fat, but not reduce flavor!
The only bad thing? Yeah, this dip isn't so good for you. So, I set out to create a healthy buffalo chicken dip that is just as good as the original. I substituted reduced-fat cream cheese for the full-fat version, and used Greek yogurt in place of the sour cream. I also used just a lean chicken breast instead of the rotisserie chicken meat. All of the great buffalo sauce flavor is still in there, and there's still a bit of pungent blue cheese sprinkled on top.
Look, we've all been there. Somebody shows up at a party with a "lightened up" dish that they insist is every bit as good as the original. And it never is. Brownies made from beans? I'm sorry, no…those are never as good as the real thing.
This dip is as good as the real thing. For real. For real real. I think the key here is that buffalo sauce has such a strong, delicious flavor. It completely masks the fact that this dip is made with Greek yogurt (I
really
,
really love
making dips with Greek yogurt).
I'm so confident that it's as good as the original, that at some point, I plan to have a blind taste test to see if any of my friends can tell the difference. I don't think they'll be able to. Give it a try yourself and let me know what you think.
Healthy Buffalo Chicken Dip
Ingredients
1 package (8 ounces) light cream cheese
4 celery ribs, chopped (about 1 cup)
1 cooked chicken breast, shredded
1 cup Greek yogurt (or light sour cream)
2/3 cup buffalo sauce, plus extra for garnish, if desired
1 tablespoon fresh lemon juice
2 ounces crumbled blue cheese
2 green onions, thinly sliced
Crackers, chips and/or sliced vegetables, for serving
Instructions
Preheat oven to 350 degrees F. In medium saucepot, cook cream cheese over medium heat 3 minutes or until smooth, stirring constantly. Remove from heat; stir in celery, chicken, yogurt, buffalo sauce and lemon juice.
Transfer mixture to medium baking dish; sprinkle with blue cheese. Bake 20 minutes or until edges are bubbly. Garnish with green onions and extra buffalo sauce, if desired. Serve warm with crackers, chips and/or sliced vegetables.
More great "buffalo" recipes: