Enjoy a European-style breakfast for a change with this Breakfast Cheese Board. A perfect combination of sweet and savory, there's something for everybody, including easy homemade apple butter. 
I love how easy it is to find international restaurants in most major cities in the United States now. With just a phone call or a Google search, you can find authentic Greek, Italian, Lebanese, Indian and Thai food, and so much more.
However, the one thing I don't find here very often is a European-style breakfast. The first meal of the day is actually one of my favorite things about vacationing in Europe. While hotels there typically do also offer the American-style pancake, egg, sausage and hash brown-type breakfasts, they mainly focus on simple small items such as cheeses, charcuterie, fruit, honey, savory pastries and sometimes even salad.
I'm not a fan of sweet breakfast, so this arrangement is really ideal for me. A bit of cheese and charcuterie with a cup of espresso, and I'm ready for a long day of sightseeing.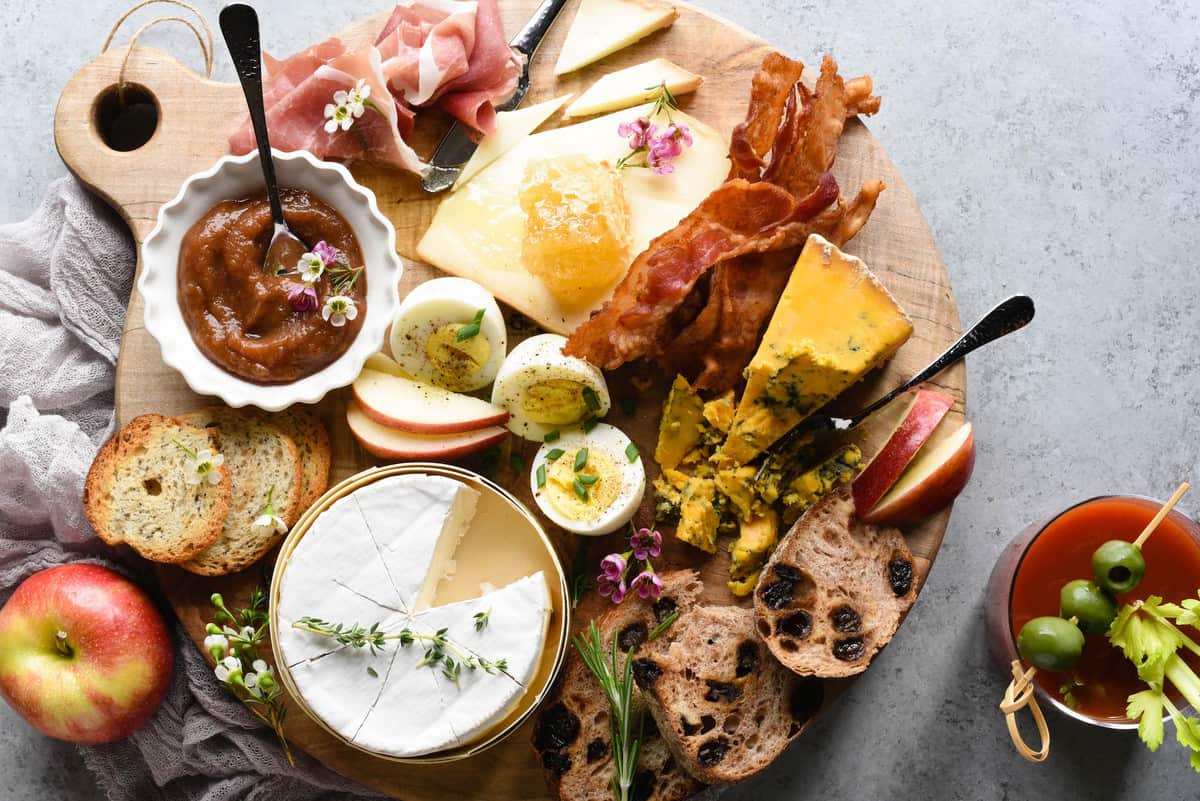 I'm spreading the good word of breakfast cheese stateside with this Breakfast Cheese Board. Here, I combined the European traditions of cheese and honey with American classics like bacon, eggs and bloody marys.
I think there's something on this board to please everyone, and fans of both sweet breakfast and savory breakfast will love the easy homemade apple butter. Made by simply cooking fresh Michigan apples with spices and lemon juice and then pureeing, it's a versatile spread that pairs with almost everything else on the platter. Bread with apple butter and cheese? Yes! Bacon dipped in apple butter? Trust me, just try it.
To find out more about Michigan Apples, be sure to connect with them on Facebook, Twitter, Pinterest and Instagram.
Breakfast Cheese Board
Enjoy a European-style breakfast for a change with this Breakfast Cheese Board. A perfect combination of sweet and savory, there's something for everybody, including easy homemade apple butter. 
Ingredients:
For the Apple Butter:
2 Michigan Gala apples, peeled, cored and chopped
Juice of 1/2 lemon
1 cup water
1 tablespoon light brown sugar
1/2 teaspoon ground cinnamon
1/4 teaspoon ground ginger
Pinch of kosher salt
For the Breakfast Cheese Board:
Apple butter
Bacon
Bagel chips
3-4 types of cheese (see Home Chef Tip)
Hard boiled eggs
Herbs for garnish, if desired (chives, rosemary, thyme, etc.)
Honeycomb and/or honey
Prosciutto and/or salami
Raisin bread or any other bread, toasted if desired
Sliced Michigan apples
Directions:
Make the Apple Butter: Place apples, lemon juice, water, sugar, cinnamon, ginger and salt in medium saucepot; stir until well combined. Heat to boiling over medium-high heat; reduce heat to low. Cook 40 to 50 minutes or until most liquid is absorbed and apples are very brown and soft, stirring occasionally. Transfer mixture to blender or food processor and blend until smooth. Serve warm or transfer to covered container and refrigerate up to 5 days. Makes about 1 cup.
Make the Breakfast Cheese Board: Arrange all items on platter or large cutting board. Serve with mimosas and bloody marys!
Home Chef Tip: Ask for "breakfast and brunch cheeses" at your local cheese counter, and the cheesemonger can point you in the right direction. For every cheese board I make, I like to have:
1.) a mild, hard cheese (here I used a sheep's milk French cheese that is very mellow and nutty)
2.) a soft and creamy cheese (here I used a Triple Creme Goat Brie)
3.) a crumbly blue-style cheese (here I used Blue Shropshire, an English cow's milk cheese with a sharp, strong taste).
Making one of my recipes?
Please let me know by sharing a photo on
my Facebook page
, or uploading to
Instagram
or
Twitter
with the tag
#foxeslovelemons
. It would make my day!
More Great Cheese Boards:
Disclosure: This was a paid guest post written by me on behalf of the Michigan Apple Committee. Posts like this help me pay for the costs associated with this blog (groceries…lots of groceries), and help support me as I pursue a career in recipe development and food photography. All opinions are 100% my own.