Breakfast Charcuterie Board
This Breakfast Charcuterie Board is the perfect combination of European breakfast items like cured meats, cheese and fruit, and American classics like eggs, toast and bacon.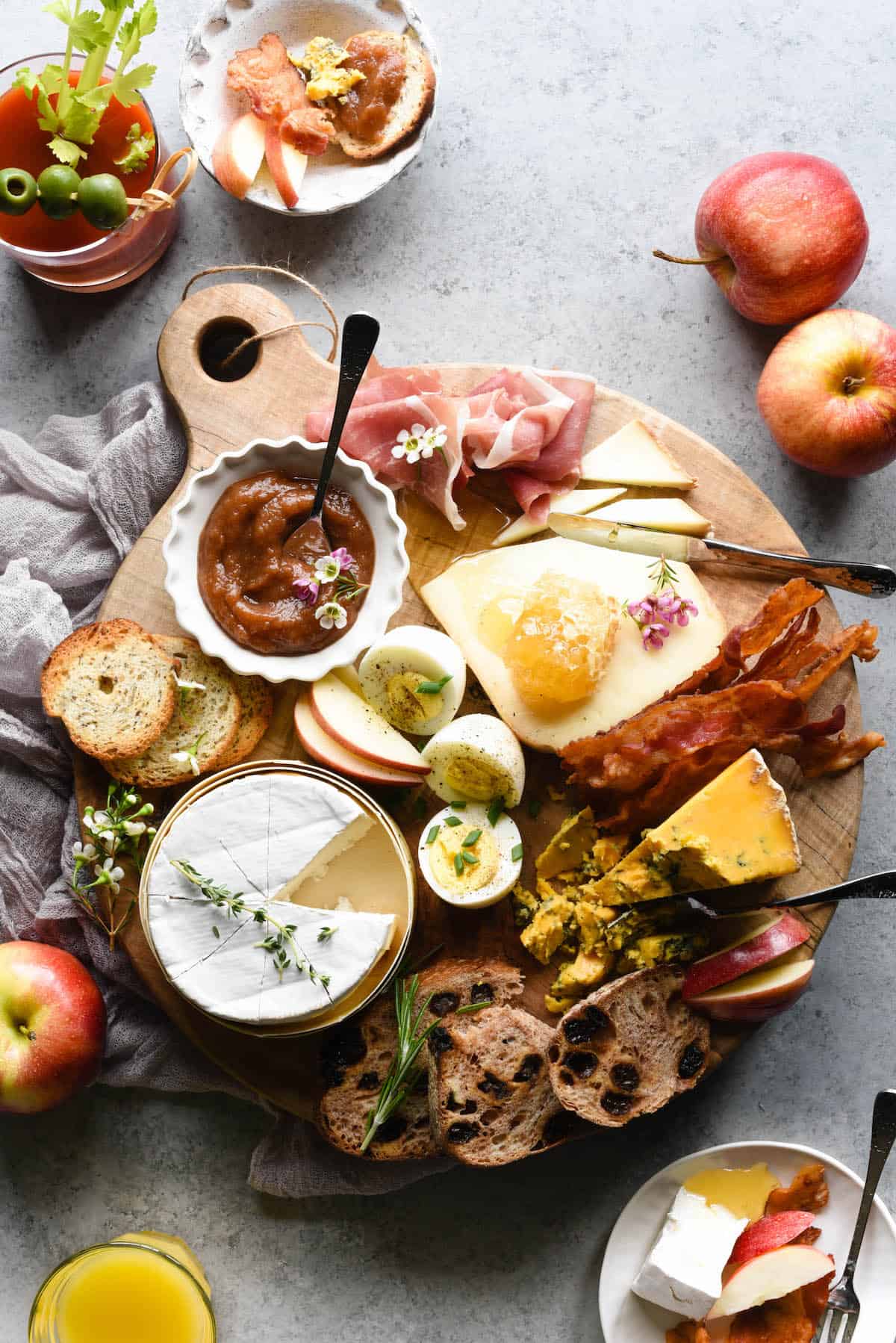 With Mother's Day coming up, most people assume moms will enjoy an elegant brunch including things like sweet potato breakfast casserole and buttermilk blueberry muffins.
And the truth is, I would be totally happy if somebody served me that brunch (and they often have on Mother's Day).
But ya'll know my true love language is snack boards, whether it's a football charcuterie board, an epic New Year's Eve snack board, savory baked brie or a smoked salmon platter.
So I'm just putting this out there in the world: sometimes, moms really just want charcuterie. Yes, even in the morning. Give me a glass of champagne and a breakfast charcuterie board, please!
This breakfast charcuterie board is inspired by European breakfast.
I love how easy it is to find international restaurants in most major cities in the United States now. With just a quick Google search, you can find Greek, Italian, Lebanese, Indian, Vietnamese and Thai food, and so much more.
However, the one thing I don't find here very often is a European brunch buffet. The first meal of the day is actually one of my favorite things about vacationing in Europe.
Depending on the city, hotels in Europe typically do also offer American-style favorites like pancakes, malted waffles, eggs, sausage, and hash browns. I've even seen biscuits and bacon gravy
But, they mainly focus on simple small items such as breakfast cheese, charcuterie, fruit (I've even seen roasted grapes), honey, savory pastries, maybe small pieces of vegetarian quiche, and sometimes even salad.
I'm not a fan of sweet breakfast (I much prefer something like a savory cottage cheese breakfast or even cream cheese on English muffins), so this brunch charcuterie board arrangement is really ideal for me.
A cup of espresso, and a plate of snacks that I've compiled from the charcuterie board buffet, and I'm ready for a long day of walking and sightseeing.
So, while everybody enjoys a wine and cheese board and charcuterie cups in the evening, I'm spreading the good word of breakfast charcuterie and cheese stateside with this breakfast charcuterie board.
This brunch charcuterie board combines European and American styles on one big breakfast platter.
On this breakfast charcuterie board, I combined the European breakfast traditions of cheese, cured meats, fruit and honey with American classics like eggs (you could even do egg salad with pickles), toast, and bacon in the oven.
If turkey bacon is more your speed, check out my tutorials on how to cook turkey bacon in the oven and turkey bacon in an air fryer!
I think there's something on this brunch charcuterie board to please everyone, and fans of both sweet breakfast and savory breakfast will love this breakfast board.
Homemade apple butter is made to be paired with breakfast cheese!
The easy homemade apple butter is a versatile spread that pairs with almost everything else on this brunch charcuterie board, and it might even be my favorite part!
Apple butter is as simple to make as cooking apples, spices, water, a bit of sugar and lemon juice in a saucepot for 40 to 50 minutes or until the apples are super broken down and most of the liquid is gone.
Then, you puree it in a blender or food processor, and it's ready to eat! You can serve it warm or cold (and it can be kept in the refrigerator up to 5 days).
When I say it pairs with just about everything, I mean it. Obviously, you'll want to smear it on toast. But breakfast cheese spread with a bit of apple butter? Definitely! Bacon dipped in apple butter? Trust me, just try it. I even love lemon pancakes topped with a smear of apple butter.
Psst – if you'd prefer to make apple butter in your Instant Pot for this breakfast charcuterie board, I have a recipe for super easy Instant Pot apple butter. It's also lovely on a Thanksgiving butter board.
Some tips for picking out the perfect cheeses for your breakfast board:
Cheddar is great for something like a cornbread breakfast casserole, but let's get a little fancier for this brunch board, shall we?
I'm always a big fan of going to an upscale grocery store (the kind with a CHEESEMONGER, which is just fun to say) and simply telling said cheesemonger what I'm making and when I'm serving it, and they are always SO helpful.
Ask for "breakfast cheese," and the cheesemonger won't even blink an eye that you're eating cheese for breakfast, they'll simply point you in the right direction.
For almost every charcuterie board idea I make (breakfast, brunch, lunch or dinner!), I like to have:
A mild, hard cheese (here I used a sheep's milk French cheese that is very mellow and nutty). If you're looking for something hard but a little sharper for your breakfast platter, I suggest a nice Parmigiano Reggiano.
A soft and creamy cheese (here I used a Triple Creme Goat Brie). Another great option for this breakfast charcuterie board is a traditional log of goat cheese. You can often find these at your cheese counter already drizzled in honey or rolled in blueberries, which would be great for a European breakfast like this.
A crumbly blue-style cheese (here I used Blue Shropshire, an English cow's milk cheese with a sharp, strong taste). Other blue cheeses to keep an eye out for are Gorgonzola, Maytag blue cheese, Roquefort and Stilton cheese. Wine Enthusiast has a very comprehensive guide to blue cheese that might help you with selecting, storing and serving blue cheese for your breakfast board (and blue cheese mashed potatoes, too!)
Side note: have you ever seen a buffet with a huge serve-yourself piece of honeycomb? This is common in Germany and it's one of my favorite things ever. The small piece of honeycomb I put on top of the hard cheese on this board is an homage to that.
More great party platters:
Summer or winter, breakfast, lunch or dinner, snack or meal, a party platter is always a great idea!
Breakfast Charcuterie Board
This Breakfast Charcuterie Board is the perfect combination of European breakfast items like cured meats, cheese and fruit, and American classics like eggs, toast and bacon.
Ingredients
For the Apple Butter:
2 Gala apples, peeled, cored and chopped
Juice of 1/2 lemon
1 cup water
1 tablespoon light brown sugar
1/2 teaspoon ground cinnamon
1/4 teaspoon ground ginger
Pinch of kosher salt
For The Charcuterie Board:
12 ounces TOTAL assorted cheeses
8 hard-boiled eggs
1/2 pound oven baked bacon
6 ounces prosciutto and/or salami
3/4 cup apple butter
1 Gala or Honeycrisp apple, sliced
1/4 cup honey or chunk of honeycomb
8 slices raisin bread or any other bread, toasted if desired
Herbs for garnish (chives, rosemary, thyme, etc.) (optional)
Instructions
Make the Apple Butter: Place apples, lemon juice, water, sugar, cinnamon, ginger and salt in medium saucepot; stir until well combined. Heat to boiling over medium-high heat; reduce heat to low.
Cook 40 to 50 minutes or until most liquid is absorbed and apples are very brown and soft, stirring occasionally.
Transfer mixture to blender or food processor and blend until smooth. Serve warm or transfer to covered container and refrigerate up to 5 days. Makes about 1 cup.
Make the Breakfast Charcuterie Board: Arrange all items on platter or large cutting board. Serve with mimosas and bloody marys!

Recommended Products
Foxes Love Lemons, LLC is a participant in the Amazon Services LLC Associates Program, an affiliate advertising program designed to provide a means for sites to earn advertising fees by advertising and links to Amazon.com. There is no additional cost to you.
Nutrition Information:
Yield:

8
Serving Size:

2 tablespoons
Amount Per Serving:
Calories:

551
Total Fat:

30g
Saturated Fat:

13g
Trans Fat:

0g
Unsaturated Fat:

15g
Cholesterol:

271mg
Sodium:

1486mg
Carbohydrates:

38g
Fiber:

2g
Sugar:

22g
Protein:

33g
Nutrition information is for apple butter only.