New Year's Eve Snack Board
Feed a party crowd with this New Year's Eve Snack Board. Make all of your snacking dreams come true with cheese, crackers, quiche, spinach and artichoke wontons, smoked salmon, nuts, fruit, olives and a few sweet treats.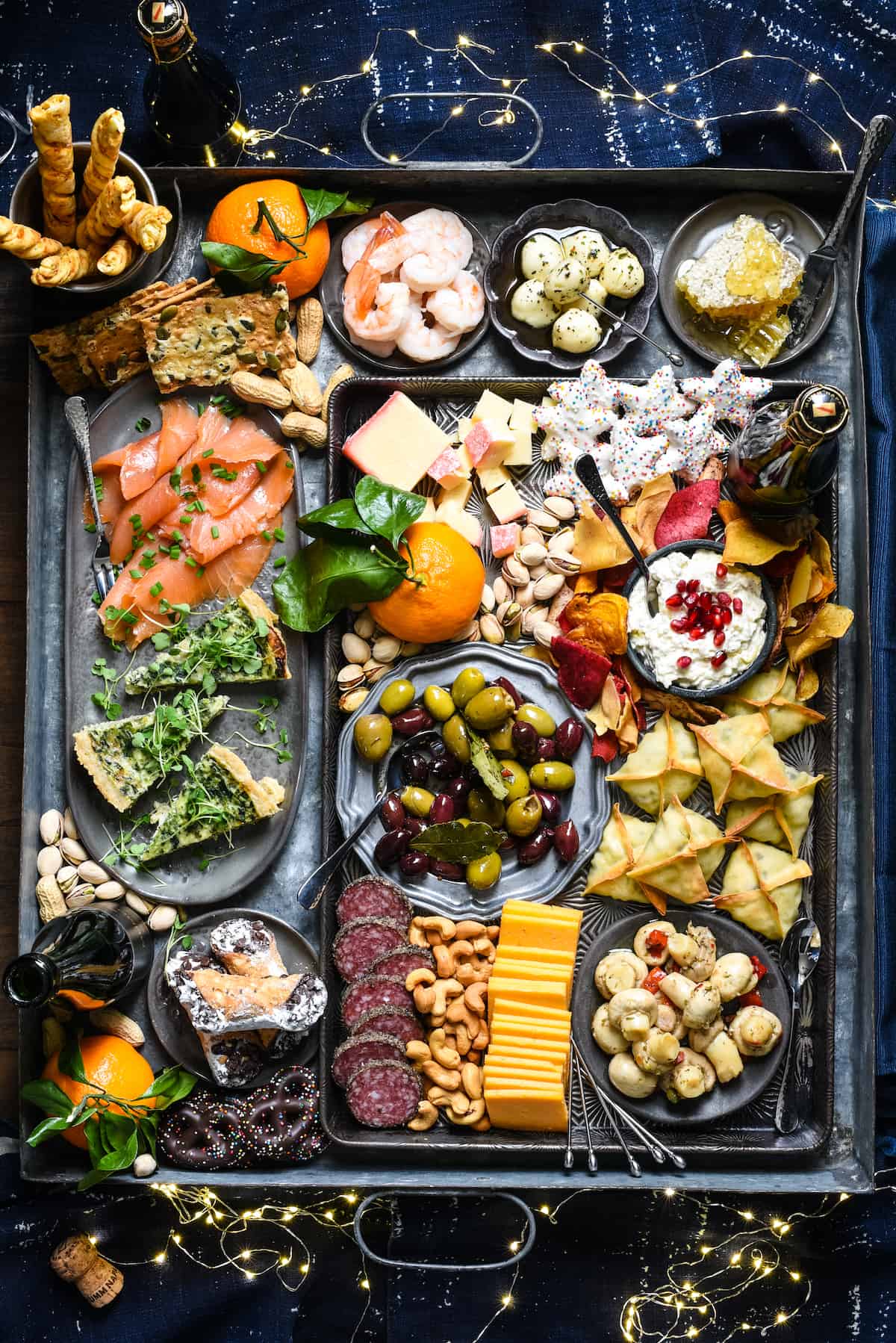 Happy "Snacks For Dinner" Week! < — an unofficial holiday week that I made up. I'll be snacking my way through the next few days, leading up to my favorite snacking evening of all: New Year's Eve! After talking with a neighbor about a dilemma she was having for NYE (her and her friends need some sort of dinner, but nobody wants to cook and their group is too big for a restaurant reservation), I figured I would put together a New Year's Eve Snack Board that eats more like a light dinner.
Plus, it's become somewhat of a tradition for me to put together an epic platter dinner each December: Check out my Smoked Salmon Crostini Bar from 2015, and the Winter Cheese Board with German Beer Cheese Fondue I made last year!
I know this New Year's Eve Snack Board looks pretty epic, and it IS pretty epic. But really, this is one item I made, one thing I heated up in the oven, and 98% stuff I bought at the store. Please don't feel like you need every single item. This board is for a BIG crowd, but if your gathering is a little smaller, just cut it down to a few of your favorite things.
Alright, so here's what's going on:
Cheese! –  I used marinated mozzarella balls (gourmet-ish), sliced sharp cheddar (crowd pleaser) and peppermint cheese (conversation starter).
Cashews, pistachios, peanuts
Clementines
Honeycomb – goes great with cheese, and always seems very fitting for a special occasion.
Vegetable chips
La Terra Fina Spinach & Artichoke Quiche – quiche is awesome for a platter like this because it provides a more filling, meal-type option. It's also super simple to "make" – simply bake it, cut it up into slices, and serve warm or room temperature.
Smoked salmon
Marinated olives + marinated mushrooms – from the olive bar at the store.
Spinach & Artichoke Stuffed Wontons (recipe below!)
Cocktail shrimp
Assorted crackers – The more interesting, the better! I brought crackers home from Germany this fall and hand-carried them on the plane to avoid breakage, because I'm such a cracker fanatic!
Salami
La Terra Fina Lemon Pepper & Asiago Dip – serve warm or cold!
Pomegranate seeds to garnish the dip
Chocolate-covered pretzels
Mini cannoli (store bought, of course)
Fun, festive cookies
Made with clean, high-quality ingredients, all of La Terra Fina's products are without trans-fats, artificial colors/flavors and preservatives. To find out more about La Terra Fina, be sure to connect with them on Facebook, Twitter, and Pinterest.
Yield: Makes 12 pieces
Spinach & Artichoke Stuffed Wontons
Prep Time 15 minutes

Cook Time 18 minutes
Instructions
Preheat oven to 350 degrees F. Spray rimmed baking pan with cooking spray.
Place wonton wrappers on work surface. Place 1 heaping tablespoon dip in center of each wrapper. One at a time, use your finger to brush beaten egg along edges of one wrapper. Lift all 4 corners of wrapper and pinch corners together at top. Pinch edges and corners of wonton together to seal. Repeat with remaining wontons.
Transfer wontons to prepared baking pan; spray with additional cooking spray. Transfer to oven and bak 18 to 20 minutes or until golden brown.
Disclosure: This is a sponsored post written by me on behalf of La Terra Fina. Sponsored posts help me pay for the costs associated with this blog (groceries…lots of groceries), and help support me as I pursue a career in recipe development and food photography. All opinions are 100% my own.