Miso Glazed Zucchini on the Grill
This Grilled Zucchini Recipe with Miso Glaze requires no special knife skills, is ready in 15 minutes, and will make eating your veggies an absolute delight.
Have you ever had Zucchini Grilled?
While sauteed and roasted zucchini are delicious, my personal favorite way to prepare this vegetable is on the grill.
If you've ever been intimidated by grilling zucchini, I can assure you that it's easier than you think!
While many recipes require some precise knife work to cut each zucchini into perfectly flat slices, this one takes a much easier approach to cutting the vegetable.
Long spears of zucchini are super easy to cut and grill. We'll also be adding a miso glaze for rich umami flavor with a touch of sweetness, elevating grilled zucchini to a whole new level.
Why you'll love Grilled Zucchini
No special knife skills needed. Even a beginner cook can get this right!
15 minutes, start to finish.
The umami-rich miso glaze makes it a joy to eat your veggies.
Ingredients needed to Grill Zucchini
zucchini – Use any size zucchini you happen to have on hand! I used 3 medium zucchini, which weighed about 1-1/4 pounds total. This recipe work great with yellow squash as well.
miso – this is the star of our glaze! White/light miso works best for this recipe.
honey – enhances the natural sweetness of the zucchini and balances the saltiness of the miso.
rice vinegar – adds acidity to the glaze. If you don't have rice vinegar, you can use cider vinegar or white wine vinegar.
soy sauce – intensifies the umami flavor and adds a savory element to the glaze.
Grilled Zucchini Seasoning
This miso glaze in this recipe provides all the necessary seasoning for the zucchini. Because the miso (and the soy sauce) are so salty, I don't salt the zucchini at all.
If you prefer to skip the glaze, feel free to cut the zucchini according to the directions below, sprinkle it with salt and pepper, and grill it for a simple, flavorful side dish.
How to cut Zucchini for Grilling
While many recipes ask you to cut your zucchini into 1/4-inch or 1/2-inch thick slices, I find this pretty difficult to do.
I always end up with thick spots and thin spots, and the zucchini on the grill doesn't always lay flat or cook evenly when I cut it this way.
So, I started cutting each zucchini into 4 long spears and this has really changed the game for me.
Now every spear is the exact same size, and I can get a nice even cook on them, so there's no overcooked or undercooked spots! It's truly the best way to grill zucchini.
To do this, cut each zucchini in half lengthwise (the long way), and then cut each half in half lengthwise again. You'll end up with 4 long spears from each zucchini.
How to Grill Zucchini
Preheat the grill, and make your miso glaze and cut the zucchini while it's preheating.
Spray each zucchini with olive oil cooking spray.
Transfer the zucchini to the grill and cook 2 minutes.
Rotate the zucchini and cook 2 more minutes.
Rotate it one last time and brush the zucchini with the glaze.
Cook 1 more minute, then serve right away!
How long to grill Zucchini
Medium zucchini cut into long spears take about 5 to 6 minutes to grill until tender.
You can definitely cook small or large zucchini on the grill, you'll just need to adjust the grilling time up or down accordingly.
Home Chef Tips for Grilling Zucchini
It will take a few minutes of whisking to get all the miso to smooth out as you're making the glaze. Keep at it – it'll come together!
Keep a close eye on the zucchini while grilling to avoid overcooking. You want the zucchini spears to be tender but not mushy.
What to pair with Grilled Zucchini
This grilled zucchini recipe is a perfect side dish for pretty much any type of grilled meat, poultry or seafood. Some of my favorites are: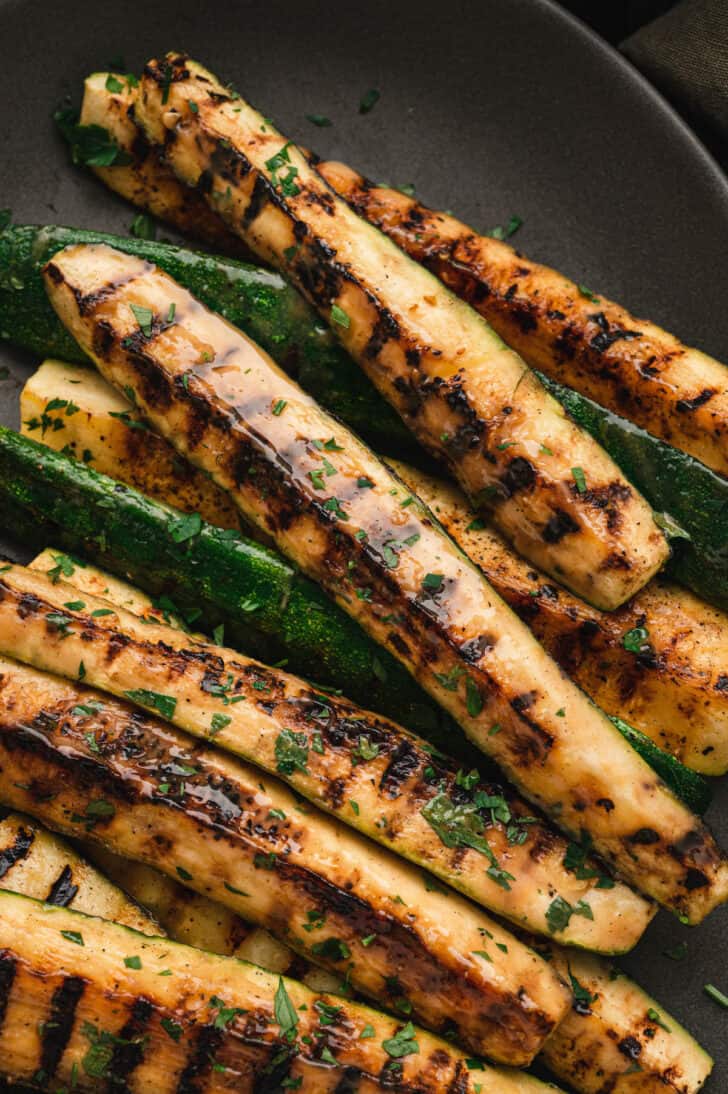 Storing Grilled Zucchini
Grilled zucchini is truly best enjoyed fresh off the grill, so I recommend only grilling as much as you'll eat in one sitting.
However, if you have leftovers, you can store them in an airtight container in the refrigerator for up to 2 days.
Zucchini Grilled FAQs
How do you keep zucchini from getting soggy when cooking?
To prevent soggy zucchini, make sure not to overcrowd the grill, and cook over medium heat.
Should you salt zucchini before or after grilling?
If you're using salt, I recommend salting zucchini before grilling. Since we're using a miso glaze in this grilled zucchini recipe, extra salt wasn't needed.
How do you not overcook zucchini?
To avoid overcooking, grill the zucchini only until it is JUST tender (use a paring knife to check if needed) and has grill marks but isn't completely charred all over.
Miso Grilled Zucchini
This Grilled Zucchini Recipe with Miso Glaze requires no special knife skills, is ready in 15 minutes, and will make eating your veggies an absolute delight.
Ingredients
2 tablespoons white miso
1 tablespoon honey
1 tablespoon rice vinegar
1 tablespoon soy sauce
3 medium zucchini (about 1-1/4 pounds)
Olive oil cooking spray
Instructions
Preheat outdoor grill for direct grilling over medium heat. In small bowl, whisk miso, honey, vinegar and soy sauce until smooth (it may take a few minutes to smooth out all the miso).
Cut each zucchini in half lengthwise, and then cut each half in half lengthwise again, so that you end up with 4 long spears from each zucchini (12 spears total).
Spray zucchini with cooking spray. Transfer zucchini to grill so that one side of the flesh (not dark green skin) is touching the grates. Cook 2 minutes.
Rotate zucchini so that the other side of the flesh is touching the grates and cook 2 minutes longer.
Rotate so that the skin side of each zucchini spear is touching the grates, and brush spears with miso glaze. Cook 1 minute. Remove from grill and serve immediately.
Recommended Products
Foxes Love Lemons, LLC is a participant in the Amazon Services LLC Associates Program, an affiliate advertising program designed to provide a means for sites to earn advertising fees by advertising and links to Amazon.com. There is no additional cost to you.
Nutrition Information:
Yield:

4
Serving Size:

1
Amount Per Serving:
Calories:

62
Total Fat:

2g
Saturated Fat:

0g
Trans Fat:

0g
Unsaturated Fat:

1g
Cholesterol:

0mg
Sodium:

542mg
Carbohydrates:

11g
Fiber:

2g
Sugar:

7g
Protein:

3g
This website provides estimated nutrition information as a courtesy only. Nutrition information does not include any optional ingredients or toppings. You should calculate the nutrition information with the actual ingredients used in your recipe using your preferred nutrition calculator.