Heirloom Tomato Beet Salad
Celebrate the best farmer's market produce with this fresh and oh-so-easy Heirloom Tomato & Beet Salad. It's pure summer on a plate!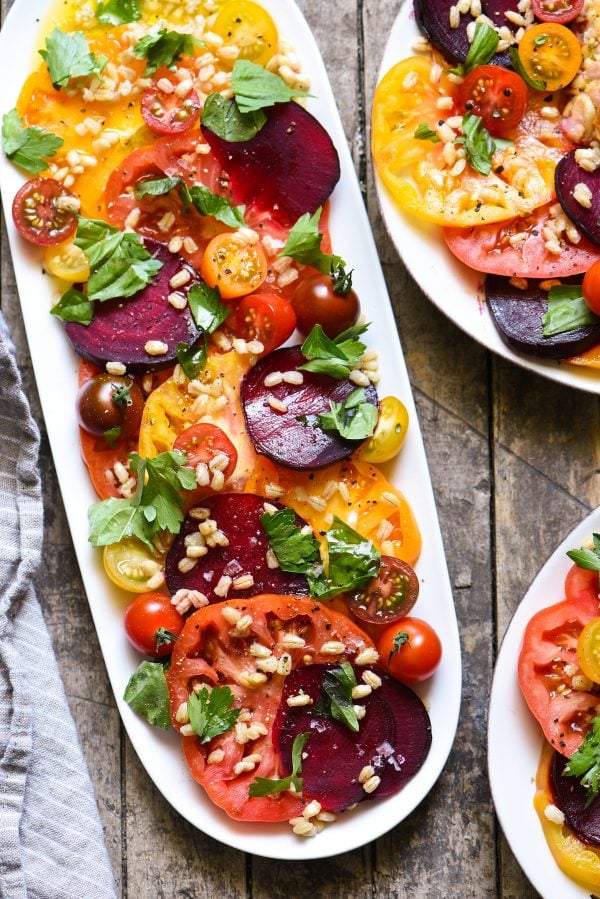 I really hit my stride with epic farmer's market salads in late July and August. It seems like ALLLLL the good things are in season, and everything is juicy and colorful to the max.
A "salad" becomes very little else beyond slicing, piling things onto a platter and drizzling with some olive oil and maybe a little lemon juice.
About this Tomato Beet Salad:
For this Heirloom Tomato & Beet Salad, I just reached into my big bowl of farmer's market produce and pulled out some heirloom tomatoes, beets and herbs.
I added a little barley to make it a bit heartier, and served it with frozen pizza because, #reallife. On a weekend, I like this salad alongside some baby back ribs (don't forget the dry rub for ribs when you make them)!
Heirloom Tomato & Beet Salad
Ingredients
2 tablespoons extra virgin olive oil
2 tablespoons fresh lemon juice
1/4 teaspoon kosher salt (optional)
1/4 teaspoon coarsely ground black pepper
2 tablespoons chopped fresh herbs (I used a combination of parsley and basil)
2 medium roasted beets, sliced
2 medium heirloom tomatoes, sliced
1/2 cup heirloom cherry tomatoes, halved if large
1/4 cup prepared pearl barley (optional)
Instructions
In small bowl, whisk oil, lemon juice, salt and pepper until well combined. Stir in herbs.
Arrange beets and tomatoes on serving platter. Sprinkle with barley, if desired. Drizzle with vinaigrette and serve immediately.
MORE GREAT SUMMER SALAD RECIPES: