Sour Cream-Nutmeg Sugar Cookies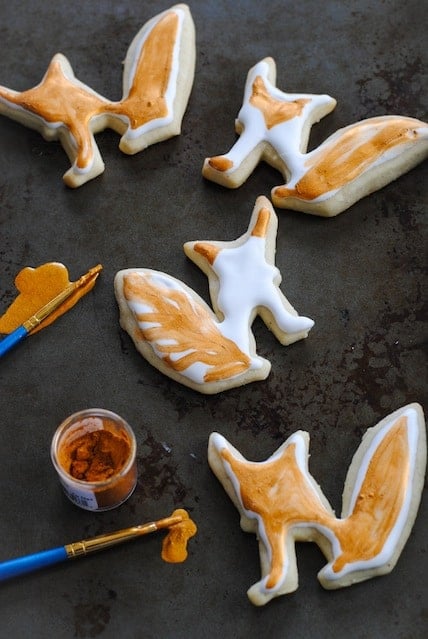 When I was a kid, I would only eat my mom's Christmas cookies. Even when there were classroom parties at school with a bounty of homemade cookies, none of them were as good as Mom's, and thus, I just ignored them. My mom got the recipe for these sour-cream nutmeg sugar cookies from my grandma, who got it from a co-worker.
What makes it so special? Two things – flavor and texture. The flavor largely comes from a generous spoonful of nutmeg. While most sugar cookie cutouts have very little flavor other than sugary dough, these ones have a spiced, holiday flavor. And the sour cream keeps them extremely soft. They even stay soft for about two weeks after they're baked – an impressive feat for a sugar cookie.
While our family sugar cookies usually get a casual smear of milk-powdered sugar-vanilla frosting, here I experimented with royal icing and luster dust (a shimmery substance used for painting sparkly designs onto your cookies) just for the heck of it.  Turns out, luster dust is pretty fun! So shimmery (more so than the camera can capture), and a chance to unleash your inner artist!
Oh, another thing about our family Christmas cookies? We have a lot of weird shapes in our cookie cutter arsenal. Nobody is really sure why we have a lion, a chicken and a shamrock mixed in with the Santa and Christmas tree cutters. They were acquired sometime in the last century, and have just become a family tradition. We embrace the oddity, and have even started adding new odd shapes, like a fox and Michigan's lower peninsula.
Sour Cream-Nutmeg Sugar Cookies
Ingredients:
1-1/2 cups sugar
1 cup unsalted butter (room temperature)
1 cup sour cream
1 egg
1 teaspoon baking soda
1 teaspoon vanilla extract
1 teaspoon ground nutmeg
3-1/2 cups flour (plus more if needed)
Directions:
Beat sugar, butter, sour cream, egg and baking soda at medium speed until well combined. Mix in vanilla and nutmeg.
Gradually beat in flour. You want the dough to be not too dry, but not too sticky. If it's too sticky, gradually add a bit more flour. Cover and chill at least 1 hour, or overnight for best results.
Preheat oven to 375 degrees F. In batches, roll chunks of dough to about 1/8-inch thickness (use floured surface and floured rolling pin). Cut it using your favorite cookie cutters. Bake cookies 8 minutes or until they just begin to brown around the edges (start checking them at 6 minutes). They will be very soft when they come out of the oven. Carefully transfer to wax paper and let cool completely.
Frost as desired. If you'd like to decorate with royal icing and luster dust like I've done here, follow this tutorial from Bon Appetit
Making one of my recipes?
Please let me know by sharing a photo on
my Facebook page
, or uploading to
Instagram
or
Twitter
with the tag
#foxeslovelemons
. It would make my day!