35+ Brunch Menu Ideas for a Buffet
Hosting a brunch buffet at home for Easter, Mother's Day or a bridal or baby shower? This guide will walk you through the best brunch menu ideas to keep it as stress-free as possible!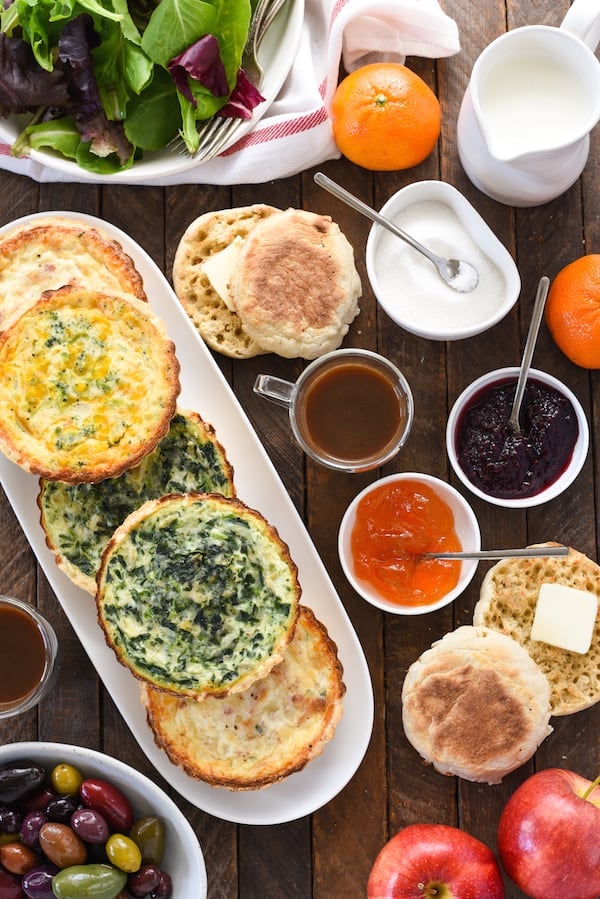 It seems like spring is THE season for brunch get-togethers. Mother's Day, Easter, and then tons of bridal and baby showers seem to happen in the spring. And I'm into a brunch buffet hosted at home, for a lot of reasons.
The food and drink options can be kept a lot simpler compared to dinner. Really, a brunch buffet can be as easy or involved as you want it to be.
You can go all out and make a ton of fancy brunch recipes, or just make some bacon in the oven or turkey bacon in the oven, a vegetarian quiche, and a round of caramel coffee and call it good.
One of my classes in culinary school was literally just a class where we put on a breakfast buffet every single morning, including everything from breakfast fried rice to shrimp deviled eggs.
Today, I'm sharing some of the tips and tricks I learned that will you help you serve the best brunch buffet at home. Make yourself a lemon smoothie, settle in, and check out these brunch party ideas.
There's also a big list of the best brunch menu ideas (all verified easy and buffet-ready) at the bottom of this post.
Bookmark this guide for brunch ideas at home for Easter, Mother's Day, a baby or bridal shower, or simply any time you're in the mood for a quick and easy brunch menu!
Keep your brunch menu ideas very simple.
We all know that there are a lot of food options when it comes to brunch buffet ideas, with a wide range of sweet and savory foods.
The best way to host a great buffet and keep your sanity at the same time is by narrowing down your brunch menu ideas. You're not a culinary school class with 18 students attending to the buffet line, it's just you!
And since you're the host, choose which brunch ideas you like best. Choose one savory entree (like a sweet potato breakfast casserole), one sweet one (such as malted waffles made earlier and kept warm in a low oven), some fruit, and then a bread or pastry, like buttermilk blueberry muffins (made the night before!).
Everybody knows that I much prefer savory foods, so when I host my personal best brunch buffet, it includes brunch party ideas like olives, the fixings for savory cottage cheese breakfast bowls, and even a Spring salad.
Rely on brunch party foods that you can make before your guests arrive for the brunch buffet.
Sadly, if you want to keep things easy and stress-free, now is just not the time for lemon pancakes or ice cream French toast made to order while your guests are standing around watching you sweat (although you can make pancakes ahead of time and keep them warm in a low oven).
But, lots of different types of brunch food, especially egg dishes, can be made in advance.
You can assemble and fully cook a quiche or cornbread breakfast casserole the day before, keep it in the fridge, and rewarm it right before guests arrive. One of my favorite brunch dishes, quiche is just fine served warm or at room temperature.
Another savory brunch menu idea I use often for buffets is make ahead breakfast muffins.
Pickled egg salad, served with croissants, is also a great make-ahead brunch menu idea. I've even been known to make a seafood pasta salad as part of a brunch buffet.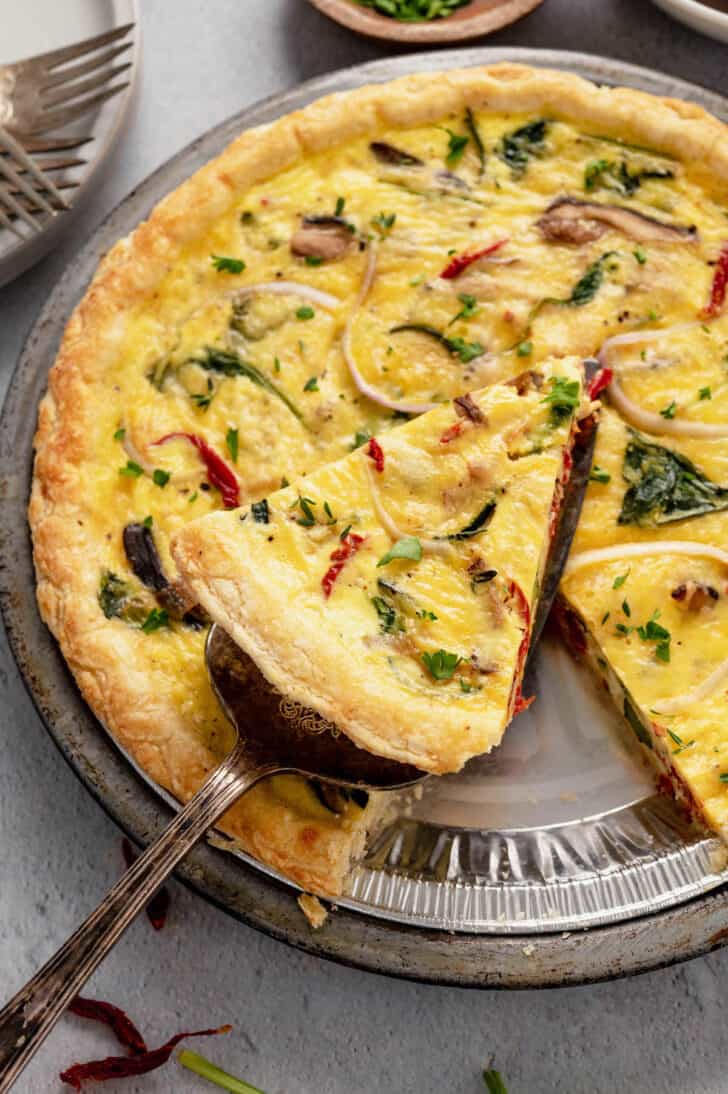 Or, serve a no-cooking-required platter or a make-it-yourself bar for a quick and easy brunch menu.
Sure, you could spend your time assembling smoked salmon crostini or smoked salmon BLTs and arranging them on a pretty platter. Or, you could have your guests put it together themselves with a DIY smoked salmon platter!
A big breakfast charcuterie board with phyllo cup appetizers is a brunch buffet idea that lets your guest graze on brunch food while they mingle, and couldn't be easier to put together. An Easter charcuterie board is an idea for that holiday.
You could even have guests make their own jarcuterie or individual charcuterie cups. Get more ideas for this in my charcuterie board ideas post!
Or how about a yogurt parfait bar? Everybody can spoon as much yogurt as they want into their own bowl, and top it with all the delicious toppings. You could even introduce your friends to a new brunch idea with a savory yogurt bar!
Even something a simple as english muffins can be served DIY style. Buy some salted butter and three or four fancy store-bought jams and scoop them into pretty bowls with serving spoons. Scatter them around the brunch buffet table and hand people a toasted muffin. They will love it. This is one of my favorite brunch menu ideas!
Forget the typical fruit plate, I have some easier brunch party ideas for fruit.
For the classic hotel-buffet-style fruit platter, you'd either have to buy a pre-cut fruit platter from a grocery store (which is usually super expensive and the quality is generally not good), or buy a bunch of different kinds of fruit (melons, pineapple, etc.) yourself and cut it all up (which can be time consuming).
Instead, just pick a few fruits that are in season and don't even need to be cut up. Clementines, grapes, apples, and berries of all kinds are among the best brunch ideas for fruit.
All you need to do is wash the fruit and set it out in pretty serving dishes. You're done, and it's one of the easiest brunch menu ideas at home!
Psst – if you ARE feeling the need to get next level with your fruit tray, I recommend fruit and cheese kabobs or little jars similar to my Easter fruit salad. But seriously, don't feel like you HAVE to get next level. It's not necessary!
Unless MAYBE it's a holiday morning, and then feel free to splurge on Thanksgiving fruit salad or Christmas fruit salad.
Set up a bar cart, and let everybody mix their own personal best brunch drink.
And by "bar cart," I mean a cart, an old tv tray covered with a pretty dish towel, or even a spare bit of counter space, if you have it. You can Google "how to stock a bar cart" another time – right now you only need to choose a few options:
champagne + orange juice for mimosas. Everybody has their own idea of the proper ratio for a mimosa anyway, so might as well let them pour it themselves!
vodka + bloody mary mix, and maybe some everything bagel bloody mary rim salt and bloody mary skewers if you're feeling fancy.
a pot of coffee (or a Nespresso or Keurig machine and pods) as well, with cream and sugar for those who partake. You could even whip up batches of caramel syrup for coffee and microwave caramel sauce, and set them out with an ice bucket for DIY caramel iced coffee.
If people ask "what can I bring?," take them up on it.
Don't be a brunch buffet hero! If a friend offers to bring something, give them one of these easy brunch party ideas that they can pick up on their way to your house:
Bagels and some cream cheese are always a hit. Or a box of the good donuts. Every town has a place with the good donuts, right? They're a perfect addition to your quick and easy brunch menu.
Or how about one of those big cartons of hot coffee, so you don't have to make it? I think that Panera, Starbucks and Dunkin' all sell cartons of coffee.
Whatever it is, one thing that somebody brings to your brunch buffet is one less thing you have to make!
The Best Brunch Menu Ideas
Hosting a brunch buffet at home for Easter, Mother's Day or a bridal or baby shower? This guide will walk you through the best brunch menu ideas to keep it as stress-free as possible!