Leftover Cornbread Breakfast Casserole
Not sure what to do with leftover cornbread? This Cornbread Breakfast Casserole recipe is a hearty egg bake with sausage, cornbread and black beans. It's easy to make ahead for a brunch gathering.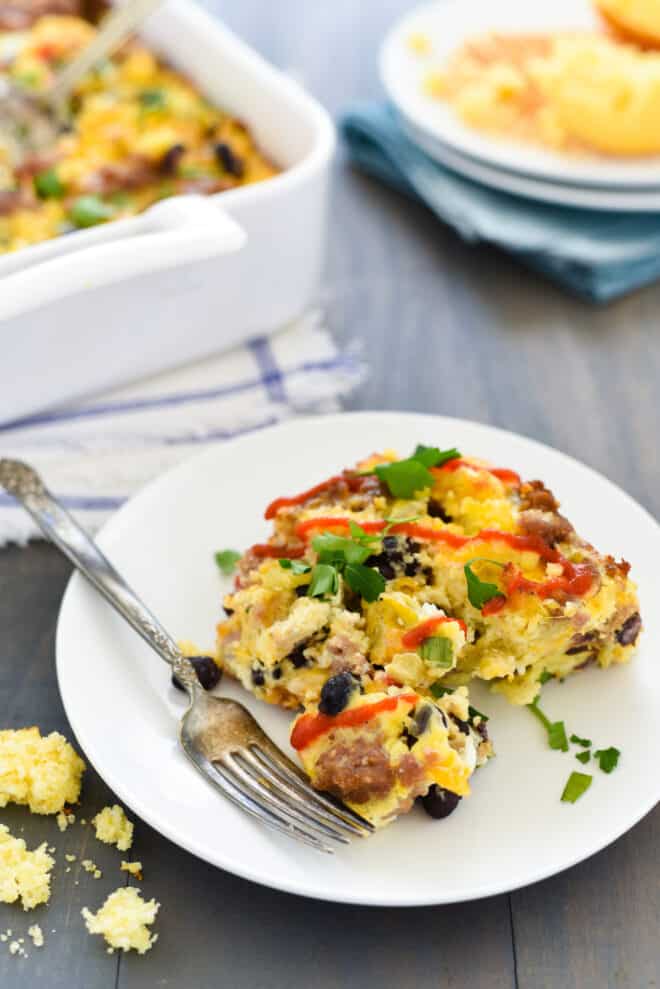 As a family of three, we almost always have leftovers.
Leftover dinner, leftover baked goods, leftover ingredients. Since almost all recipes everywhere (including a lot of recipes on this blog, even) are written for four to eight servings, we always have an extra helping for that fourth person that isn't at our table.
And honestly, we love it. We love being a family of three, happily eating our leftovers. It makes lunch the next day (at least for one of us) an autopilot meal, like microwaving the last slice of vegetarian quiche. Sometimes it means we can have mashed potato cakes with our weekend brunch.
With some meals, like a breakfast charcuterie board or cottage cheese breakfast bowls, it's super easy to just adapt the quantities to what we need.
But with things like baked goods, it gets a little trickier. A batch of cornbread meant for two people won't quite be enough for the three of us, but with a bigger recipe, we're left with extra. Or sometimes we have extra after making chorizo stuffing.
Leftover cornbread, just on it's own, is not my favorite. So today, I'm sharing the leftover cornbread breakfast casserole I've created to repurpose it into something new and delicious.
What to do with leftover cornbread?
Leftover cornbread can be used to make a casserole, a layered salad, or even a soup:
The leftover cornbread breakfast casserole recipe below is my absolute favorite way to use up leftover cornbread, as I think the savory sausage and diced green chiles work so well with the sweet cornbread.
A layered cornbread salad is another great savory leftover cornbread recipe. Please note that the recipe was developed to take to a party (10 servings), but you could make a half batch using 4 to 6 cornbread muffins (the exact amount of cornbread isn't super important).
This buttermilk cornbread soup sounds so intriguing, doesn't it?
This leftover cornbread breakfast casserole is great for brunch for a crowd.
After I just got done telling you that my family of three always has leftovers, yes, this cornbread and egg casserole makes eight servings! I know, I know.
I'd make a half batch of this leftover cornbread recipe for us for a family brunch at home (and have one extra piece for lunch the next day).
But I think a dependable egg casserole like this one is best suited for putting on brunch for a crowd with minimal stress (see my How to Host the Best Brunch Buffet post for more tips for putting on a brunch gathering).
Whether it's Easter brunch, a Mother's Day family get together, or a holiday morning with houseguests, breakfast casseroles are essential for getting everybody fed with minimal stress for the chef.
This cornbread breakfast casserole is easy to prep ahead of time.
The reason this cornbread and egg casserole is so good for a crowd is that, just like my sweet potato breakfast casserole and pastitsio, you can assemble it ahead of time, leaving way less stress for the morning of.
Simply assemble the casserole up to the point of baking, then cover it tightly and keep it in the fridge up to 24 hours. When ready to serve, bring it to room temperature for 30 minutes, then bake!
This leftover cornbread recipe even works well as a reheatable weekday breakfast: you can assemble and bake it on the weekend, and then just reheat portions in the microwave as needed.
If you like microwaveable breakfast-for-lunch situations, be sure to check out my homemade breakfast burritos and make ahead breakfast muffins as well!
What's in this leftover cornbread recipe, besides cornbread and eggs?
the meat – I used turkey breakfast sausage (the kind sold in a roll) for this leftover cornbread recipe. Traditional sausage, veggie sausage, or oven baked bacon are also delicious options! Or, feel free to omit the meat to keep it vegetarian.
black beans – I gave this cornbread breakfast casserole a Southwestern slant by adding black beans. I always have a can of black beans around for black bean meatballs, but pinto beans are great, too.
diced green chiles – one small can of diced green chiles adds a little kick to this casserole, but isn't too spicy.
onions and garlic – what casserole isn't better with onions and garlic?
cheese – to keep assembly as easy as possible, I used shredded Mexican-style taco cheese for this sausage cornbread casserole. You can also shred your own sharp Cheddar, Colby Jack, or any other type of cheese you like.
milk – I used whole milk because we always have it on hand (toddler life), but, just like with caramel coffee, whatever milk you keep around is fine.
herbs – a sprinkle of fresh parsley or cilantro just before serving is welcome, but optional.
What to serve with this sausage cornbread casserole:
This leftover cornbread recipe is really a meal in itself, with cornbread, beans, eggs and breakfast meat all included in it!
But, if you'd like to serve this cornbread breakfast casserole alongside a little something sweet, I'd recommend my buttermilk blueberry muffins, mango banana bread or even a pear strudel.
Of course, there's nothing wrong with simply serving this sausage cornbread casserole with a round of bloodies with everything bagel bloody mary salt and an epic garnish for a bloody mary!
More yummy breakfast recipes:
Savory or sweet, breakfast is the most important meal of the day, so make it delicious!
Leftover Cornbread Breakfast Casserole
Not sure what to do with leftover cornbread? This Cornbread Breakfast Casserole recipe is a hearty egg bake with sausage and black beans.
Ingredients
1 roll (16 ounces) turkey breakfast sausage
Nonstick cooking spray
1 can (15 ounces) black beans, rinsed and drained
1 can (4 ounces) diced green chiles, drained
4 green onions, thinly sliced
2 garlic cloves, minced
3 cups cornbread, coarsely crumbled
2 cups shredded Mexican-style taco cheese
8 eggs
3/4 cup whole milk
1/2 teaspoon kosher salt
1/4 teaspoon ground black pepper
Chopped fresh parsley or cilantro, for serving (optional)
Hot sauce, for serving (optional)
Instructions
Preheat oven to 350 degrees F. Remove sausage from casing, if necessary, and place in large nonstick skillet. Cook over medium-high heat 10 to 12 minutes or until cooked through, breaking up sausage with side of spoon as it cooks.
Meanwhile, spray 9 x 13-inch baking dish with cooking spray. Place black beans, chiles, onions, garlic, cornbread, and cheese in large bowl. Add cooked sausage; gently toss until well combined. Transfer mixture to prepared baking dish.
In medium bowl, whisk together eggs, milk, salt and pepper; pour egg mixture over sausage mixture in baking dish.
Cover dish with foil; transfer to oven and bake 20 minutes.
Remove foil; bake 15 to 20 minutes longer or until eggs are set and internal temperature of casserole has reached 160 degrees F. Let stand 5 minutes.
Serve garnished with parsley or cilantro, and hot sauce, if desired.
Notes
Home Chef Tip: This casserole can be assembled and refrigerated up to 24 hours before baking. Prepare recipe as written through Step 3. Cover tightly and transfer to refrigerator. Bring to room temperature 30 minutes before baking.
Recommended Products
Foxes Love Lemons, LLC is a participant in the Amazon Services LLC Associates Program, an affiliate advertising program designed to provide a means for sites to earn advertising fees by advertising and links to Amazon.com. There is no additional cost to you.
Nutrition Information:
Yield:

8
Serving Size:

1
Amount Per Serving:
Calories:

457
Total Fat:

20g
Saturated Fat:

8g
Trans Fat:

0g
Unsaturated Fat:

10g
Cholesterol:

251mg
Sodium:

1001mg
Carbohydrates:

47g
Fiber:

2g
Sugar:

5g
Protein:

22g