Country Style Pork Ribs
Country Style Pork Ribs are a very wallet friendly alternative to baby back ribs. Your oven does all the work, leaving you with rich, flavorful, tender meat.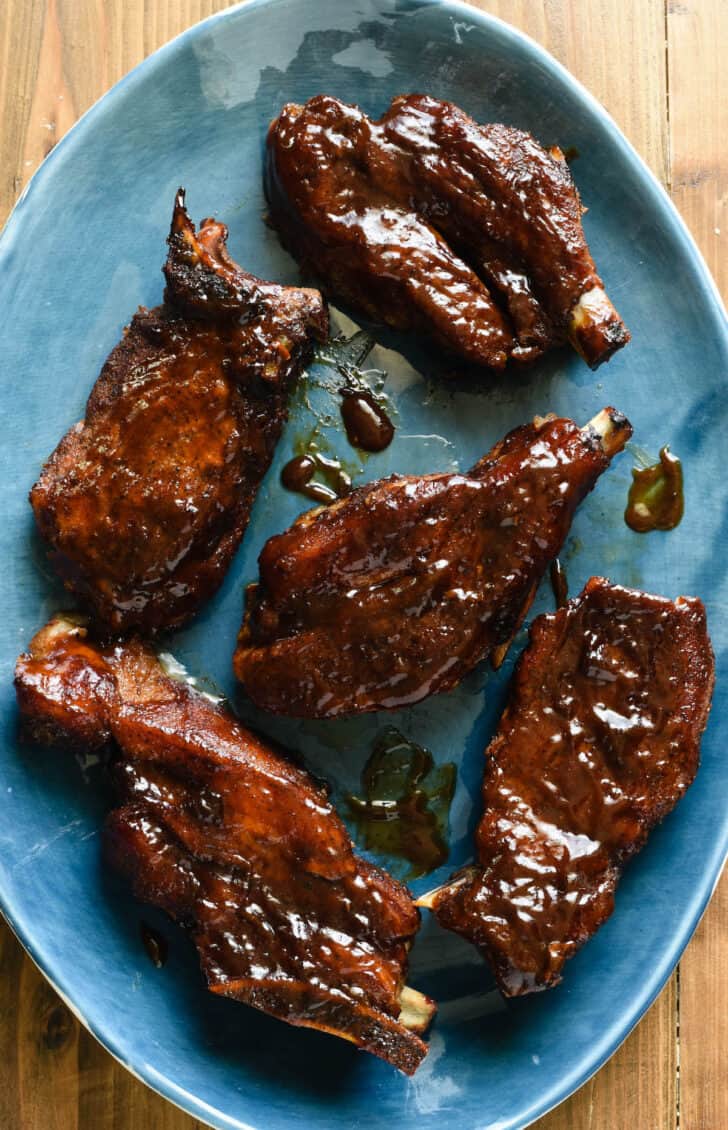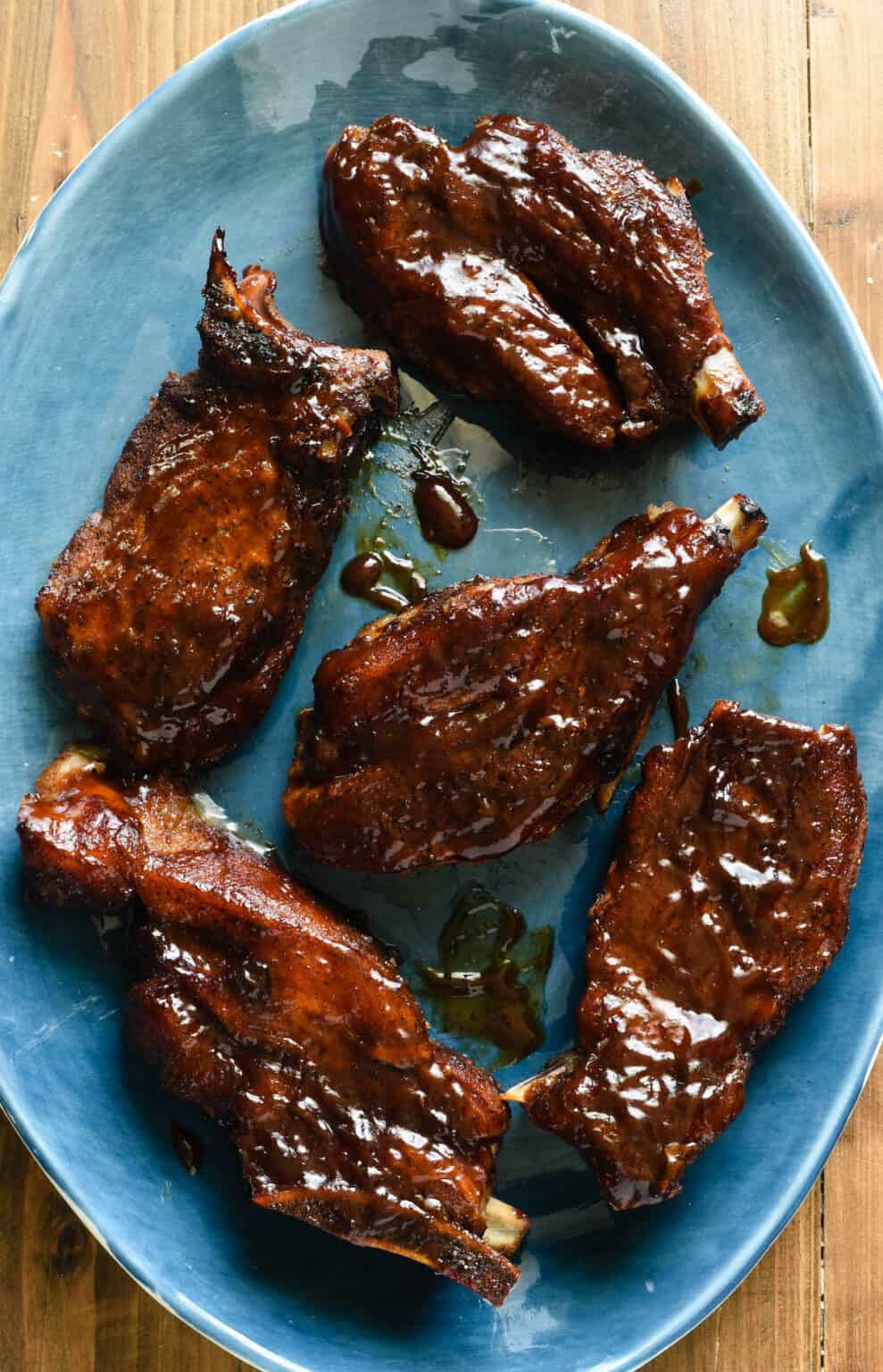 This may make me sound really old, but remember when ribs were cheap?
They used to be a NOT very desirable part of the animal (with people preferring pricy steaks instead), so you could get a few racks of baby backs and feed a crowd crock pot ribs or root beer ribs without breaking the bank.
But then, the BBQ scene started blowing up. Not just in the south, but all over the country, and the price of ribs started to go up.
The same thing happened with short ribs! They used to be dirt cheap, but somewhere along the way, they became popular with restaurant chefs. And now, sadly, my Instant Pot short ribs is a meal I reserve for a $pecial occa$ion.
The good news is, I've found a cut of meat that still gives me the barbecue flavor I love, without putting a dent in my wallet. Friends, let me introduce you to country style pork ribs.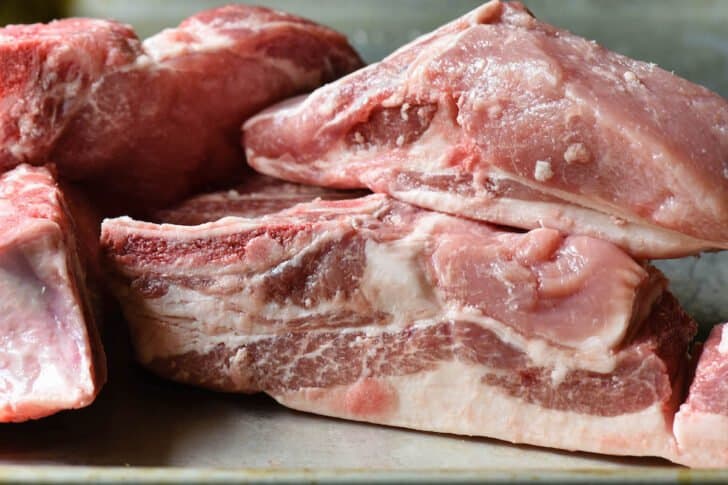 What are country style pork ribs?
First things first, country style ribs are not truly ribs at all. That's right – they don't actually come from the rib section of a pig.
They actually come from the shoulder area of the animal – the same place where pork shoulder and pork "butt" cuts come from (just like flat iron steak comes from the shoulder of the cow!). These cuts are often used to make pulled pork, so you're probably already familiar with this type of meat (especially if you've made my Asian slow cooker pulled pork).
This is a fatty, muscular section of the pig, meaning it is super flavorful and tender when cooked properly.
The flavor and texture is quite similar to traditional ribs, which is why an enterprising butcher started calling them "country style ribs," and the name stuck. And they're actually meatier than traditional ribs, too.
In my part of the country, it's easy to find these ribs sold either boneless or bone-in, typically for $3 to $4 per pound or less (leaving you plenty of money to splurge on seafood pasta salad for a side dish if you want).
Even when the ribs are sold bone-in, they don't have that typical bone that runs along the back of each section, like baby back ribs do.
Instead, there may just be some pieces of the shoulder blade bone running through or on the ends of the ribs. Thus, these are more of a knife-and-fork type of rib versus the pick up and eat style of baby back ribs.
I used bone-in country style pork ribs for these baked country style ribs, but you can use boneless and follow the same directions.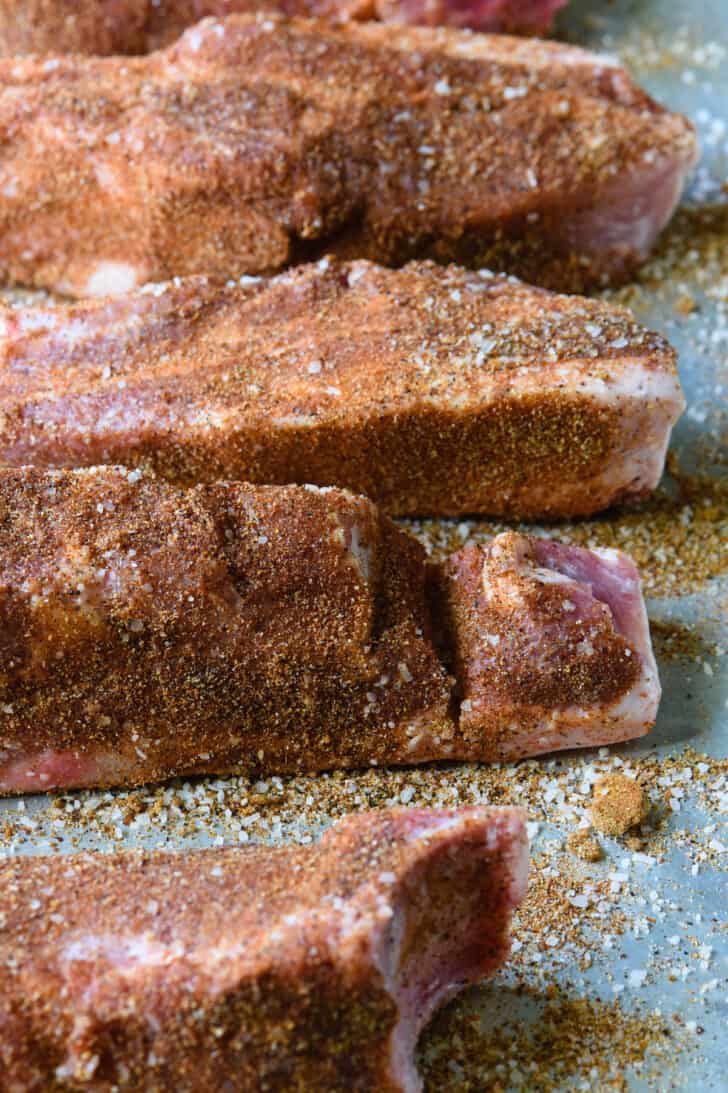 Why I make my country style ribs recipe with dry rub:
You don't HAVE to rub your country style pork ribs with spices before cooking them, but making them with dry rub for ribs sure does add a ton of flavor (I've even been known to use the rub for bourbon glazed salmon and steak lettuce wraps too).
The rub for this country style ribs recipe is made with kosher salt, chili powder, garlic powder, brown sugar, onion powder, paprika, cumin, ground mustard, black pepper and cayenne pepper, and it adds a savory-sweet quality to the ribs that is irresistible!
After rubbing the country style ribs with dry rub, letting them sit for 15 minutes, and then baking them, you'll also be brushing the ribs with barbecue sauce to finish them off.
If you decide not to dry rub your baked country style ribs, you will at least need to season them with salt and pepper before cooking.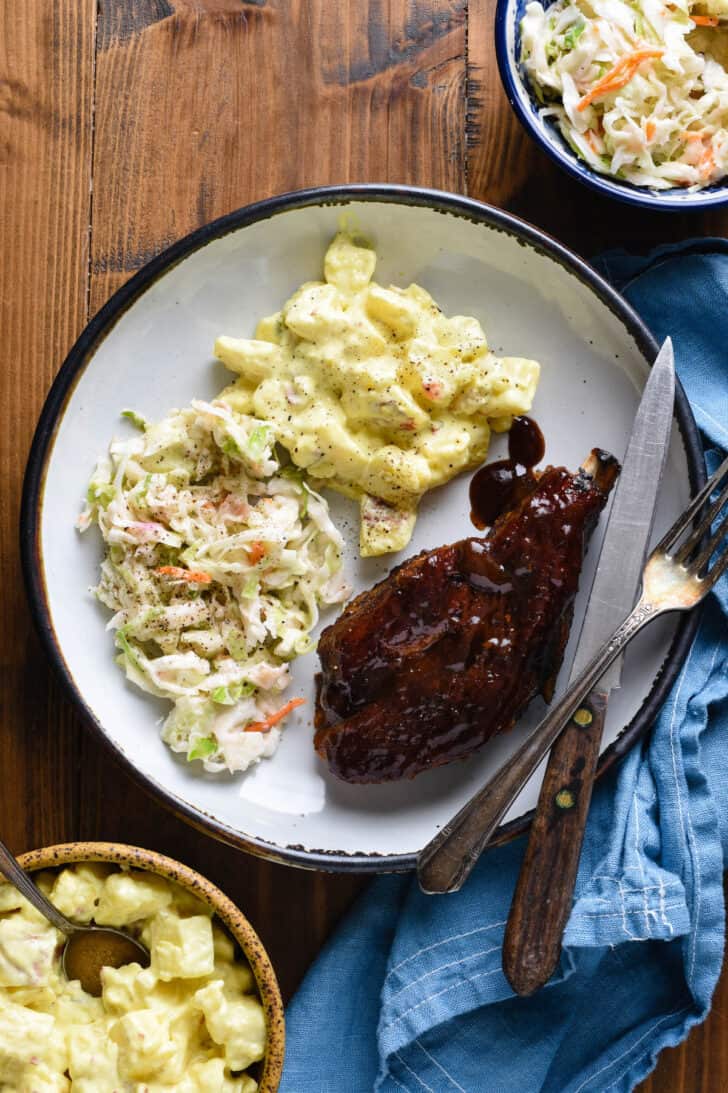 How long should the dry rub be on before cooking the ribs?
Since in this instance, we are using the dry rub in conjunction with barbecue sauce, the rub only needs to be applied to the ribs for 15 minutes before putting the country style pork ribs in the oven.
Between the rub and the barbecue sauce (or even harissa bbq sauce if you want), there will be plenty of flavor in the final result of this country style ribs recipe.
However, if you'd like an even deeper flavor for your country style pork ribs, feel free to apply the rib rub to the meat the night before you plan to slow cook them.
However, don't let the rub sit on the meat any longer than about 12 hours or so. Any more than that, and the meat can start to dry out, similar to a curing effect.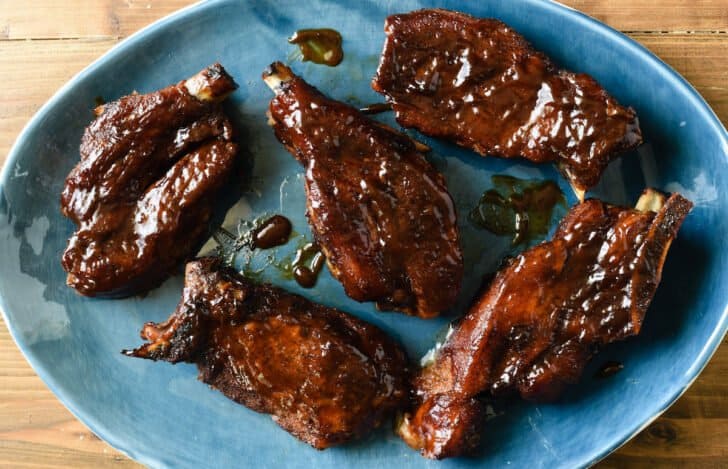 How long to cook country style ribs in the oven:
Just like the beef short ribs in my slow cooker vegetable beef soup, country style pork ribs benefit from a long cooking time.
You'll start by cooking the country style ribs at 325 degrees F, covered in foil for 2 hours.
You don't need to check on them or turn them or do anything to them during this time. Instead, use this time to prepare some elote salad or coleslaw with celery seed for a side dish (also perfect side dishes for honey mustard pork chops).
After 2 hours, remove them from the oven and carefully remove the foil. Slather the ribs with bbq sauce. Lower the oven temperature to 300 degrees F and return the ribs to the oven, but uncovered this time.
Cook the ribs 45 minutes longer or until the meat is very tender.
Side dishes perfect for ribs:
It's not a meal without a few side dishes. Choose one or two of these sides to go with your ribs!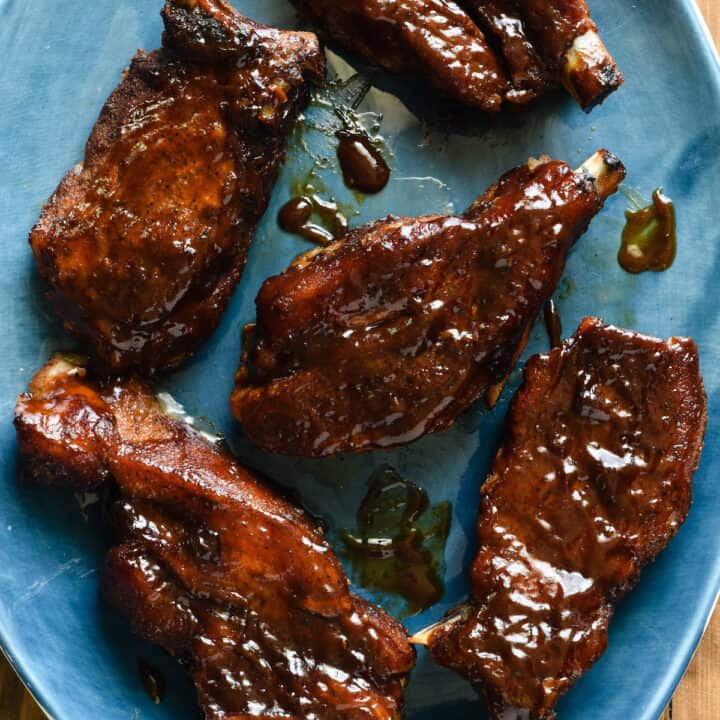 Country Style Pork Ribs
Cook Time:
2 hours
45 minutes
Additional Time:
15 minutes
Total Time:
3 hours
15 minutes
Country Style Pork Ribs are a very wallet friendly alternative to baby back ribs. Your oven does all the work, leaving you with rich, flavorful, tender meat.
Ingredients
3 pounds bone-in country style pork ribs
1/4 cup dry rub for ribs
1/2 cup barbecue sauce
Instructions
Preheat oven to 325 degrees F. Rub all sides of ribs with dry rub and place them on a rimmed baking pan. Let stand 15 minutes.
Cover pan tightly with foil. Transfer to oven and bake 2 hours.
Remove ribs from oven and carefully remove foil. Transfer ribs to plate and carefully drain and discard liquid in pan.
Transfer ribs back to pan and brush barbecue sauce on all sides of ribs.
Lower oven temperature to 300 degrees F. Transfer ribs back to oven, uncovered, and cook an additional 45 minutes or until meat is tender enough to pull apart with a fork.
Recommended Products
Foxes Love Lemons, LLC is a participant in the Amazon Services LLC Associates Program, an affiliate advertising program designed to provide a means for sites to earn advertising fees by advertising and links to Amazon.com. There is no additional cost to you.
Nutrition Information:
Yield:

4
Serving Size:

1
Amount Per Serving:
Calories:

910
Total Fat:

61g
Saturated Fat:

22g
Trans Fat:

0g
Unsaturated Fat:

33g
Cholesterol:

255mg
Sodium:

557mg
Carbohydrates:

20g
Fiber:

0g
Sugar:

17g
Protein:

66g
This website provides estimated nutrition information as a courtesy only. You should calculate the nutritional information with the actual ingredients used in your recipe using your preferred nutrition calculator.