Kimchi Fried Rice
What goes well with Korean meatballs? A little bit of Kimchi Fried Rice. What is kimchi? Well, according to Wikipedia:
Kimchi (Korean: 김치 Korean pronunciation: [kimtɕʰi]; English pronunciation: /ˈkɪmtʃi/), also spelled kimchee, kim chee or gimchi, is a traditional fermented Korean dish made of vegetables with a variety of seasonings. It is Korea's national dish, and there are hundreds of varieties made with a main vegetable ingredient such as napa cabbage, radish, scallion, or cucumber.
My definition of it: extremely funky cabbage stuff. I had had a few bites of it at restaurants like Green Dot Stables, that pairs kimchi with peanut butter on their Korean slider (weird, but good).
I had noticed and admired jars of it (from The Brinery) in various Ann Arbor gourmet food shops for a long time before I finally took the plunge and bought a jar.
And then I was too terrified to use it for a few months. Which is fine, because it has a really long shelf life, since it's already fermented and all.
Well, when I finally started experimenting with it, the first thing I noticed is that when you open the jar, you're in store for an extremely funky smelling kitchen.
Seriously, every time I open the jar, I kind of want to die for a few moments. The smell is just so strong. So funky. But, once you get past that, this stuff tastes really great. It's tangy and sour and unique.
I've discovered that I enjoy it best in fried rice (usually alongside Instant Pot sweet and sour chicken). Here's a recipe for a version I made recently. I left out the scrambled eggs (which is kind of traditional in fried rice, and you could add them here if you want), but I added some bean sprouts.
P.S. If you love fried rice as much as I do, don't sleep on my Mediterranean fried rice or breakfast fried rice.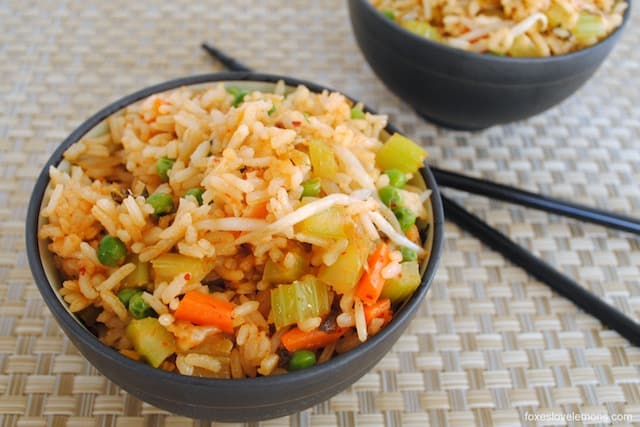 Kimchi Fried Rice
Ingredients
1 tablespoon canola oil
2 carrots, finely chopped
2 celery stalks, finely chopped
1/2 cup kimchi, finely chopped
3 cups cooked white or brown rice (see note below)
1/2 cup bean sprouts
1/4 cup frozen peas
Soy sauce, to taste
Ground white pepper, to taste
Instructions
Note about the cooked rice: When you're making fried rice, you'll have the best results if you cook your rice the day before, and let it sort of dry out and get crusty in the fridge. I cook it, spread it out on a baking pan, and just put that in the fridge, uncovered. If you'd rather store it in a covered storage container, that works, too. To yield 3 cups cooked rice, you'll need to start with 1 cup uncooked rice.
Heat oil over medium-high heat in wok or large skillet. Add carrots, celery and kimchi. Cook 2 minutes or until vegetables begin to soften, stirring constantly.
Add rice, bean sprouts and peas. Cook 3 to 4 minutes or until rice begins to brown and all vegetables are cooked through, stirring frequently. Season with soy sauce and white pepper, to taste.