Baked Stuffed Shrimp Recipe
This Baked Stuffed Shrimp with Crab will make you feel like a restaurant chef at home, and it takes only 10 minutes in the oven!
Serve Crab Stuffed Shrimp as an appetizer or dinner!
One of the best things about cooking at home is realizing how possible it is to create a restaurant-quality dish without being a trained chef.
One of the best examples of this is a recipe like Stuffed Shrimp with Crab.
It's nothing more than cutting open some shrimp and stuffing them with an easy-to-stir-up mixture of crab and seasonings, but it couldn't be more impressive.
And even better – it only takes 10 minutes to bake, thanks to starting with a grocery store shortcut of pre-cooked shrimp.
Why you will love this Stuffed Shrimp
No leftover crab. Buy an 8 ounce can and use it all!
Easy to make gluten free with one simple swap.
Works equally well as a fancy dinner at home, or a party bite for New Year's Eve or another special occasion.
Stuffed Shrimp Recipe Ingredients
shrimp – we'll be starting with a base of cooked and deveined jumbo shrimp. Some stuffed shrimp recipes start with raw shrimp, but cooked shrimp allows this recipe to bake up much faster, and the shrimp still stays juicy and succulent, I promise.
crab meat – Luxurious and delicate lump crab meat is the star of the stuffing. If you cannot find lump crab meat, you can substitute claw meat.
panko bread crumbs – adds a delightful crunch to the stuffing. For a gluten free dish, substitute gluten free bread crumbs or crushed Corn Chex cereal.
Old Bay seasoning – my go-to seasoning mix for just about any great seafood dish. I buy it, but if you have an extensive spice rack, you can actually make homemade Old Bay seasoning.
garlic powder – adds a warm, savory element to the stuffing.
paprika – adds a subtle smokiness and a touch of color.
Dijon mustard – adds a tangy kick that cuts through the richness of the crab.
mayonnaise – binds the stuffing mixture together and adds creaminess to this baked stuffed shrimp recipe.
chives – adds a mild onion flavor without being overpowering.
lemon juice – brightens up the whole dish!
salt – sprinkled on at the end to season the shrimp to perfection.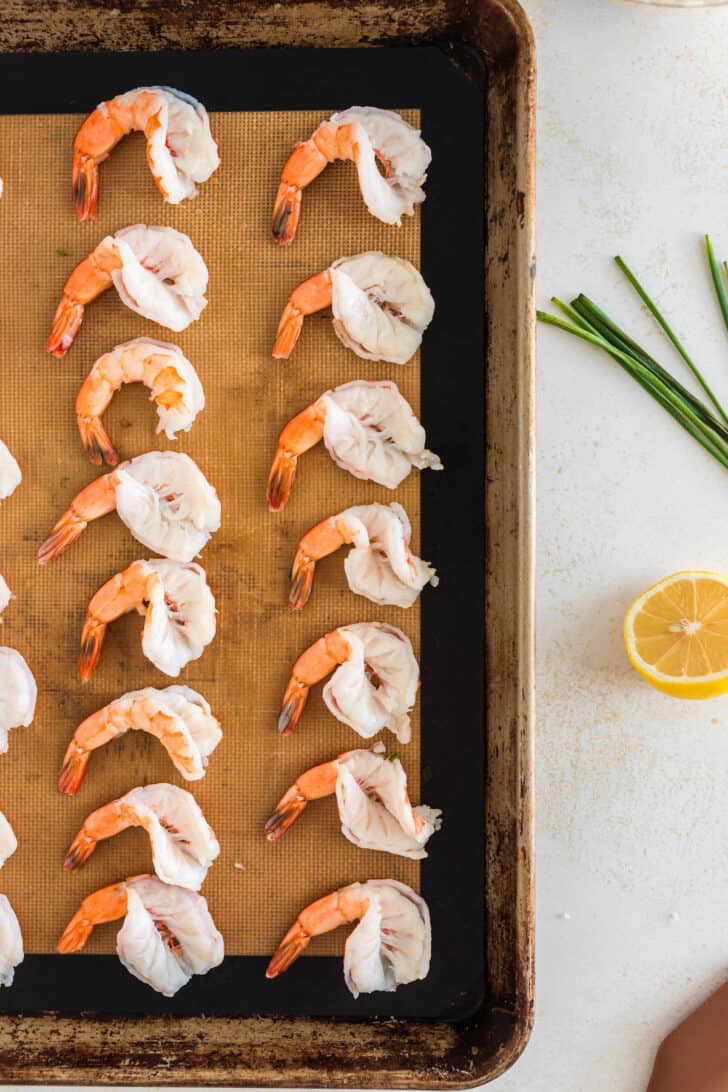 How to make Stuffed Shrimp with Crab
Preheat the oven and line a rimmed baking sheet with parchment paper.
Butterfly each shrimp by cutting along the back side of it and opening it up.
Stir together the crab meat stuffing.
Stuff each shrimp with a little bit of the crab mixture.
Bake 10 minutes or until the stuffing is warmed through.
Sprinkle with salt and serve right away!
Home Chef Tips for Stuffed Shrimp
Be gentle when folding the stuffing together to maintain the lumpiness (a good thing!) of the crab meat.
If using frozen shrimp, thaw in a bowl of cool water for 15 to 20 minutes, changing the water several times, before starting recipe.
What to serve with Baked Stuffed Shrimp
Serve stuffed shrimp with crab on their own as an appetizer, or make a meal out of them!
Some of my favorite side dishes for this crab stuffed shrimp recipe are balsamic green beans or balsamic asparagus and mini Hasselback potatoes.
How to store Crab Stuffed Shrimp
Baked stuffed shrimp are best eaten right after they are prepared, but if you do end up with leftovers, store them in an airtight container in the refrigerator for up to 2 days.
Reheat in a 350 degree oven until warmed through.
Baked Stuffed Shrimp with Crab FAQs
Is it OK to eat shrimp without deveining?
While it is safe to eat shrimp without deveining, removing the vein ensures a cleaner appearance. Because this recipe starts with cooked shrimp, the vein should already be removed by the shrimp processor before you buy it.
What not to do when cooking shrimp?
Avoid overcooking shrimp, since they can become rubbery. Since the shrimp in this recipe are pre-cooked, they only need to be in the oven for 10 minutes – just long enough to warm the stuffing through.
How do you know when oven baked shrimp is done?
Oven baked shrimp are done when they turn opaque and pink in color. Since we're starting this crab stuffed shrimp recipe with pre-cooked shrimp, you're also looking for the stuffing to be golden brown and slightly crispy.
Crab Stuffed Shrimp
Yield:
4 servings as an entree
This Baked Stuffed Shrimp with Crab will make you feel like a restaurant chef at home, and it takes only 10 minutes in the oven!
Ingredients
1 pound jumbo cooked shrimp (peeled, deveined, tail-on)
1/3 cup panko breadcrumbs
1 tablespoon mayonnaise
1-1/2 teaspoons Dijon mustard
1-1/2 teaspoons Old Bay seasoning
1 teaspoon fresh lemon juice
1/2 teaspoon garlic powder
1/4 teaspoon paprika
8 ounces lump crab meat
1 tablespoon chopped fresh chives
1/2 teaspoon kosher salt
Instructions
Preheat oven to 350 degrees F. Line rimmed baking pan with parchment paper or silicone baking sheet.
Using paring knife, butterfly shrimp by carefully cutting along the deveining side (where the vein used to be) of each shrimp, until about 2/3rds of the way through the shrimp flesh. Be careful not to cut all the way through. Open the flesh of the shrimp so they lay flat and place them on baking pan.
Place breadcrumbs, mayonnaise, Dijon, Old Bay seasoning, lemon juice, garlic powder and paprika in medium bowl and stir until well combined. Gently fold in crab and chives, being sure not to break up crab too much.
Stuff each shrimp with a spoonful of crab mixture, gently patting and mounding it onto shrimp until all crab mixture is used. Transfer shrimp to oven and bake 10 minutes or until crab mixture is warmed through.
Remove from oven, sprinkle with salt and serve immediately.
Recommended Products
Foxes Love Lemons, LLC is a participant in the Amazon Services LLC Associates Program, an affiliate advertising program designed to provide a means for sites to earn advertising fees by advertising and links to Amazon.com. There is no additional cost to you.
Nutrition Information:
Yield:

4
Serving Size:

1
Amount Per Serving:
Calories:

242
Total Fat:

6g
Saturated Fat:

1g
Trans Fat:

0g
Unsaturated Fat:

4g
Cholesterol:

296mg
Sodium:

1818mg
Carbohydrates:

8g
Fiber:

1g
Sugar:

1g
Protein:

37g
This website provides estimated nutrition information as a courtesy only. Nutrition information does not include any optional ingredients or toppings. You should calculate the nutrition information with the actual ingredients used in your recipe using your preferred nutrition calculator.