Delicious Simple Salmon Recipe
This Baked Sockeye Salmon recipe is a foolproof way to prepare fish at home. Simple ingredients + 5 minutes of prep time, and a perfectly flaky piece of salmon with lemon and herbs will be ready!
You will love this Easy Salmon Recipe
Even though we have America's favorites like buttermilk chicken and fettuccine bolognese, the #1 most popular protein around here has been salmon for quite awhile. While many home cooks are intimidated by making salmon, it doesn't have to be that way.
I'm happy to keep providing easy salmon recipes with step-by-step tips that will give you restaurant-quality meals at home, like salmon pasta and salmon pesto pasta.
Just like my grilled sockeye salmon, this lemon herb baked sockeye salmon recipe is very simple yet very delicious.
It's great for just eating on it's own with a side of roasted glazed carrots, or as a way of cooking salmon to make another recipe, like Cajun salmon pasta or salmon cakes.
What is sockeye salmon?
Sockeye salmon is a type of salmon mainly found in the northern Pacific ocean. It's flesh (when raw) has a very deep reddish-orange hue to it, making it easy to spot amongst the (primarily lighter orange) salmon varieties at your seafood market.
Sockeye is slightly oilier than other types of salmon, which means it's loaded with omega-3's (so good for your heart!).
It has a rich flavor, so this type of salmon will probably be most enjoyed by people who really like salmon.
Sockeye salmon stands up well to grilling, baking (like pesto salmon), broiling, or even used for crab stuffed salmon – just about any way you can think of to cook it!
Simple Salmon Recipe ingredients
sockeye salmon – you'll need 12 ounces of sockeye salmon for this recipe. It can be one large sockeye salmon fillet or two smaller ones. I love the sockeye salmon fillets at Trader Joe's! It's always fresh.
olive oil – a little bit of oil rubbed onto the salmon flesh keeps it nice and moist in the oven, and helps it brown as well.
lemon juice and zest – 1 large lemon should give you enough juice and zest for this sockeye salmon recipe. Obviously, be sure to zest it before juicing! If you're a lemon lover like me, maybe just buy a whole bag of lemons and make lemon creme brulee or a lemon curd cake for dessert!
fresh herbs – I used a combination of rosemary and thyme for this recipe for sockeye salmon, but you can use all one or the other. If you buy a clamshell of fresh rosemary, you'll surely have some left over, so homemade rosemary simple syrup for bourbon rosemary cocktails and rosemary gin cocktails are always a great option to use it up. A Couple Cooks have some great thyme recipes if you have extra thyme, too.
salt and pepper – seasoning is key to making baked sockeye salmon taste great.
How to bake Salmon in the Oven
As mentioned above, there are many options, but I think the best way to cook sockeye salmon is in the oven (this is also the way I prepare it for salmon alfredo and for a salmon sandwich when I'm not grilling).
First, you'll want to lightly brush a rimmed baking pan with olive oil (or spray it with cooking spray) so that the fish does not stick to the pan. Place the salmon, skin side down, on the pan.
Drizzle the salmon with olive oil, then some lemon juice. Sprinkle it with lemon zest, herbs, and salt and pepper. And, if you'd like to, arrange a few lemon slices over the fish.
Bake the sockeye salmon at 350 degrees for 14 to 16 minutes or until the internal temperature of the thickest part of the fish reaches 145 degrees F.
No matter how you plan on cooking sockeye salmon, I recommend investing in a good instant-read thermometer. That way, you can check to be sure the internal temperature of the salmon reaches 145 degrees F but doesn't get overcooked for sockeye salmon recipe.
How long to bake Salmon at 350
Baking time for salmon at 350 degrees F can vary a little bit based on the thickness of your piece of salmon. After all, every fish is different!
As a general guideline, cook 12 to 15 minutes for each inch of thickness, and then start checking the internal temperature using an instant-read thermometer. The thickest part of the fish needs to reach 145 degrees F.
Best way to season salmon
When it comes to seasoning salmon, a simple approach that enhances the natural flavors of the fish usually works best.
Always start with salt and pepper. Sometimes this is all you need to make the fish sing.
But if you want to add even more flavoring, you may want to choose an herb, such as thyme or rosemary.
Citrus is a natural accompaniment to most seafood, and all types of citrus work well with salmon. My favorite is lemon, and I season the fish with both lemon juice and lemon zest.
What to serve with Sockeye Salmon
I love the combination of salmon and a green vegetable, so balsamic asparagus or balsamic green beans would be a yummy choice to go with this sockeye salmon recipe.
You can never go wrong with a great green salad with homemade miso dressing or citrus vinaigrette with baked sockeye salmon.
Butternut squash noodles, Greek yogurt mashed potatoes or a roasted radicchio wedge salad are other great side dish options. All of these pair well with salmon piccata, too!
How to store Salmon Baked in Oven
Allow cooked salmon to cool to room temperature, and then place it in an airtight container and store in refrigerator for up to 2 days.
It can also be frozen for up to 2 months. Thaw before reheating and serving.
Sockeye Salmon Recipe FAQs
What is the difference between sockeye salmon and other salmon?
Sockeye salmon, sometimes known as red salmon, is one of several varieties of salmon. It has a rich, vibrant red flesh and a full-bodied flavor. Other types of salmon may have more of an orange or pink flesh, and a milder flavor.
What not to do when cooking salmon?
The main thing you don't want to do when cooking salmon is overcook it. Overcooked salmon can be dry and tough. It's important to have an instant-read thermometer on hand so that you can check that the internal temperature of the fish reaches 145 degrees F, but no higher.
What temperature should salmon be baked?
Salmon is best cooked at a moderate temperature so that it cooks evenly and retains its moisture. I find that 350 degrees is really the perfect temperature for cooking salmon that will turn out well for you every single time.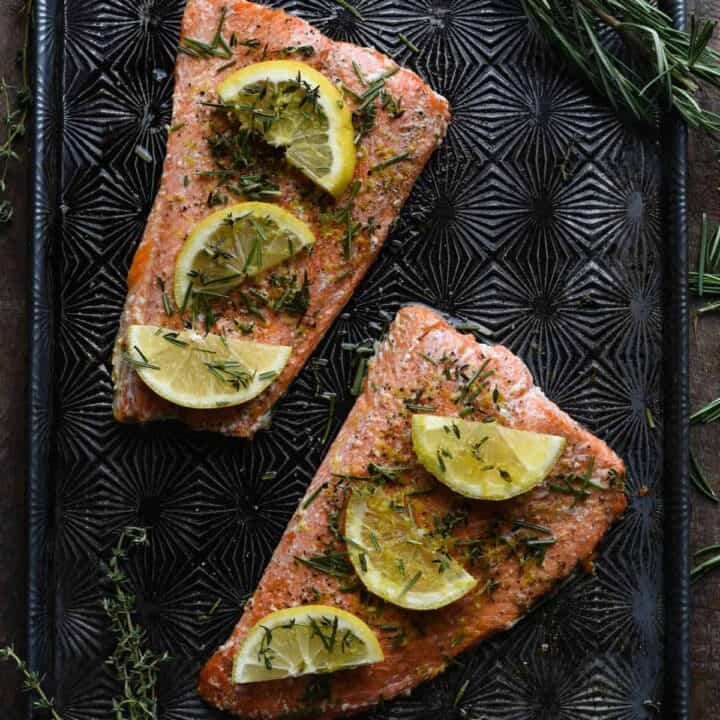 Salmon in Oven Recipe
This Baked Sockeye Salmon recipe is a foolproof way to prepare fish at home. Simple ingredients + 5 minutes of prep time, and a perfectly flaky piece of salmon with lemon and herbs will be ready!
Ingredients
3/4 pound sockeye salmon
2 tablespoons olive oil, divided
1 tablespoon fresh lemon juice (be sure to zest lemon before juicing)
2 teaspoons grated lemon zest
2 teaspoons total chopped fresh rosemary and/or thyme
1/4 teaspoon kosher salt
1/4 teaspoon cracked black pepper
1/2 lemon, thinly sliced (optional)
Instructions
Preheat oven to 350 degrees F. Brush small rimmed baking pan with 1 tablespoon olive oil. Place salmon, skin side down, in center of pan.
Drizzle salmon with remaining 1 tablespoon olive oil, then drizzle with lemon juice. Sprinkle salmon with lemon zest, rosemary and/or thyme, and salt and pepper. If desired, arrange sliced lemon over salmon.
Transfer to oven and bake 14 to 16 minutes or until internal temperature of thickest part of fish reaches 145 degrees F. Serve immediately.
Recommended Products
Foxes Love Lemons, LLC is a participant in the Amazon Services LLC Associates Program, an affiliate advertising program designed to provide a means for sites to earn advertising fees by advertising and links to Amazon.com. There is no additional cost to you.
Nutrition Information:
Yield:

2
Serving Size:

1
Amount Per Serving:
Calories:

329
Total Fat:

16g
Saturated Fat:

3g
Trans Fat:

0g
Unsaturated Fat:

11g
Cholesterol:

104mg
Sodium:

314mg
Carbohydrates:

1g
Fiber:

0g
Sugar:

0g
Protein:

45g
This website provides estimated nutrition information as a courtesy only. You should calculate the nutritional information with the actual ingredients used in your recipe using your preferred nutrition calculator.