Ground Beef Stir Fry Recipe
Make this Ground Beef Stir Fry recipe once, and it might just end up in your weekly rotation! It's packed with colorful veggies and reheats really well.
This easy Ground Beef Stir Fry recipe is perfect for a weeknight!
With grocery prices going up and up, steak isn't something that we buy very often. Ground beef is more affordable, but what can you do with it besides tacos, spaghetti and burgers?
Turns out, ground beef stir fry with rice is a delicious way to prepare this standby weeknight protein.
While stir fry is usually made with sliced steak or chicken, I actually kind of prefer it with ground meat! The little bits of meat get crispy and delicious, and it makes a really nice bite when served with rice.
Why you will love this Stir Fry with Ground Beef
Make it with what you have on hand. Just about any vegetables will work here, and you can even change the meat!
It's easy to pack lots of colorful veggies into this dish.
Reheats great for lunch the next day!
Stir Fry Ground Beef Recipe Ingredients
ground beef – you'll need one pound of ground beef for this recipe. Ground round, ground sirloin or ground chuck are all good options, depending on what fat content you are comfortable with.
carrots – vibrant and crisp, carrots add bright color and flavor to this dish.
onion – I like yellow onion for its subtle sweetness, but white onion or red onion work here, too.
red pepper – to add sweetness, crunch and color.
broccoli – adds lot of fiber and fresh green color!
garlic – adds a robust savory flavor to the dish.
beef broth – the backbone of the sauce.
soy sauce – adds umami, depth and complexity to the sauce.
ginger – adds a zingy, slightly spicy note that pairs so well with the rich beef.
sesame oil – imparts an indulgent nutty flavor into the sauce.
sriracha – offers a little touch of heat to the sauce. You can add or reduce the amount to suit your tastebuds.
cornstarch – the thickening agent that creates a glossy stir fry sauce that coats each ingredient perfectly.
black pepper – adds some subtle spice without being overpowering.
rice – for serving your stir fry masterpiece on top of.
sesame seeds – a pretty garnish that adds a delightful little crunch.
Ground Beef Stir Fry Variations and substitutions
MEAT – try this recipe with ground chicken, turkey or pork instead of ground beef.
BROTH – if you do end up changing the meat to a poultry like chicken or turkey, you might want to use chicken broth for the sauce instead of beef broth.
VEGGIES – use whatever vegetables you like best. Snap peas, snow peas, cauliflower, green peppers and so many other veggies are all great substitutes for any of the vegetables in this recipe.
How to make Stir Fry with Ground Beef
Whisk together the cornstarch and water to make a slurry in a small bowl.
Whisk together the sauce using the broth, garlic, soy sauce, ginger, sesame oil, sriracha and black pepper.
Cook the ground beef in a wok or large skillet until it's cooked through and then transfer the beef to a plate.
Add a bit of broth to the skillet to scrape up the crusty bits.
Add the veggies to the skillet and cook until they just start to get tender.
Add the beef back to the skillet along with the sauce and heat it to simmering. Add the cornstarch slurry and cook a few minutes longer until the sauce thickens.
Serve the stir fry over rice, and sprinkle it with sesame seeds!
Home Chef Tips for making this Stir Fry Recipe (Ground Beef Version)
Be sure to cut the broccoli into very small florets so they are able to cook at the same rate as the rest of the vegetables.
Make it spicy! You can add extra heat such as sambal oelek or chili crisp along with the sriracha if you like hot food.
Whenever you use cornstarch to thicken a sauce, be aware that the sauce HAS to reach at least a simmer (very low boil) for the starch to activate and thicken.
Ground Beef Stir Fry with Rice and Other Serving Suggestions
I like to serve this dish over rice. White or brown rice is a great option. Usually I just end up using a microwave pouch because it's so fast and easy.
Quinoa is another great option if you'd prefer that instead of rice.
You could also serve this stir fry over lo mein noodles, or even inside lettuce wraps!
Storing Ground Beef Stir Fry
Store any leftover stir fry with ground beef in an airtight container in the refrigerator or up to three days.
Reheating Ground Beef Stir Fry with Rice
To reheat, I recommend adding a splash of broth or water and reheating in either in a skillet or the microwave until warmed through.
More Foxes Love Lemons Favorites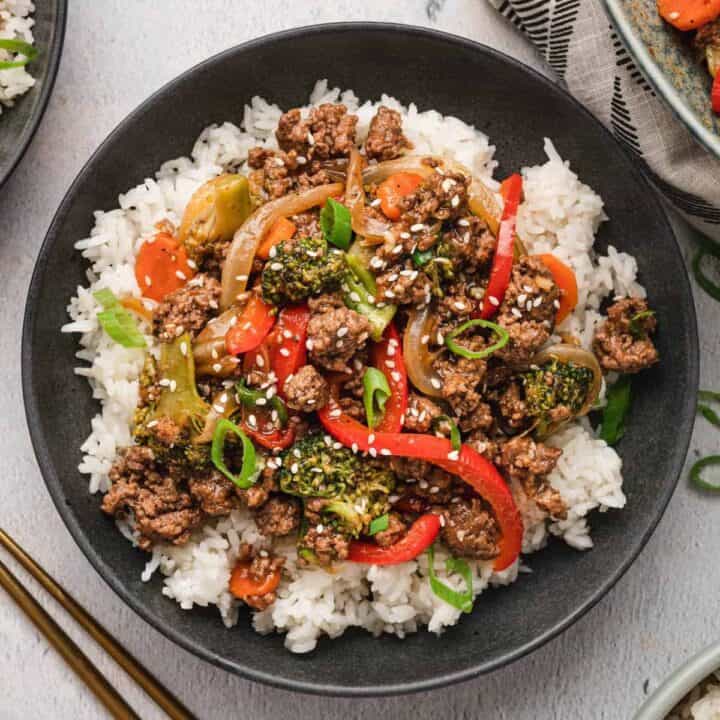 Stir Fry with Ground Beef
Make this Ground Beef Stir Fry recipe once, and it might just end up in your weekly rotation! It's packed with colorful veggies and reheats really well.
Ingredients
2 tablespoons cornstarch
2 garlic cloves, minced
1-1/4 cups beef broth, divided
1/4 cup soy sauce
1 tablespoon minced fresh ginger
1 tablespoon sesame oil
2 teaspoons sriracha or to taste
1/4 teaspoon ground black pepper
1 pound ground beef
2 medium carrots, peeled and thinly sliced
1 medium yellow onion, thinly sliced
1 red bell pepper, thinly sliced
1 small broccoli crown, cut into small florets (about 1-1/2 cups)
2 cups prepared white or brown rice, for serving
1 tablespoon sesame seeds (optional)
Instructions
In small bowl, whisk together cornstarch and 2 tablespoons cold water. In medium bowl, whisk garlic, 1 cup beef broth, soy sauce, ginger, sesame oil, sriracha and black pepper until smooth.
Heat very large skillet or wok over medium heat. Add beef and cook 6 to 8 minutes or until meat is cooked through, breaking up meat with side of spoon as it cooks. Use slotted spoon to transfer beef to plate.
Add remaining 1/4 cup beef broth to skillet and use a wooden spoon to scrape the crusty bits of meat off the bottom and side of skillet (but you can leave the crusty bits in the skillet after scraping them).
Increase heat to medium-high and add carrots, onion, bell pepper and broccoli to skillet. Cook 8 to 10 minutes or until vegetables are tender-crisp, stirring occasionally. Add beef and any juices from the plate back to skillet.
Reduce heat to low and add the soy sauce mixture; heat to simmering. Give the cornstarch mixture another whisk and slowly pour it into the skillet while stirring the beef mixture. Cook 2 to 3 minutes or until sauce thickens and glazes meat and vegetables.
Serve over rice, garnished with sesame seeds, if desired.
Recommended Products
Foxes Love Lemons, LLC is a participant in the Amazon Services LLC Associates Program, an affiliate advertising program designed to provide a means for sites to earn advertising fees by advertising and links to Amazon.com. There is no additional cost to you.
Nutrition Information:
Yield:

4
Serving Size:

1
Amount Per Serving:
Calories:

524
Total Fat:

24g
Saturated Fat:

8g
Trans Fat:

1g
Unsaturated Fat:

12g
Cholesterol:

101mg
Sodium:

1367mg
Carbohydrates:

39g
Fiber:

4g
Sugar:

5g
Protein:

37g
This website provides estimated nutrition information as a courtesy only. Nutrition information does not include any optional ingredients or toppings. You should calculate the nutrition information with the actual ingredients used in your recipe using your preferred nutrition calculator.