Brûlée Caramel Coffee
Make this Caramel Brûlée Coffee coffeehouse-style drink at home in minutes! Coffee, milk, caramel sauce and brown sugar come together for this sweet treat.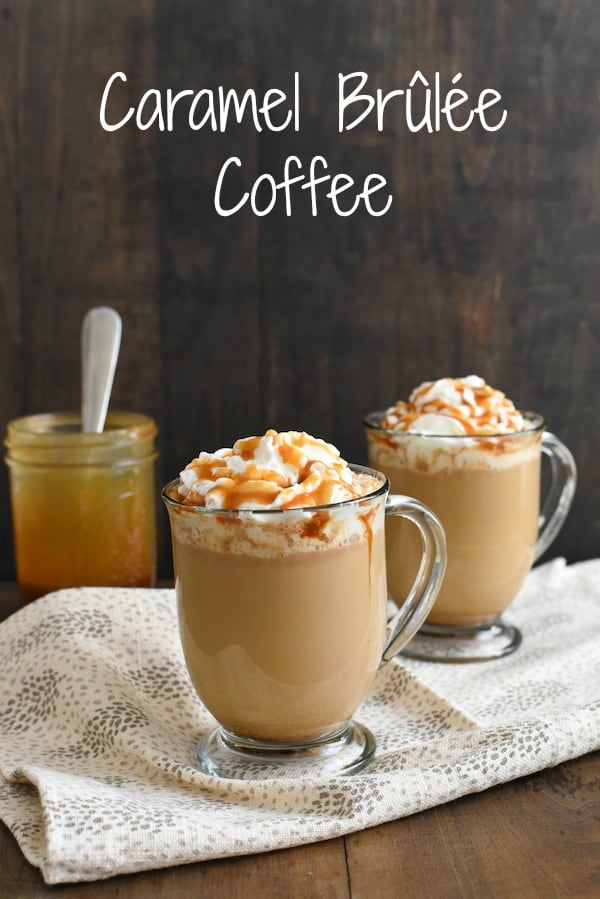 One look around my kitchen, and you would immediately realize that I'm coffee obsessed. I have a coffee maker, two French presses, a cold brewer, and a stovetop espresso maker. Sometimes I'll do tea with a cardamom tea latte, but it's coffee most of the time.
While I normally take my coffee black or with just a splash of milk, every once in awhile I like to make something a little fancier.
And from a look around this blog, you'd know that I'm also caramel obsessed (hello, caramel apple cider mule). Because I still had a small jar of bourbon caramel sauce left over from my Apple & Pecan Tart, I knew some sort of fancy coffeehouse-style-delicious drink was in order.
I was going for something reminiscent of a Starbucks caramel macchiato or caramel latte (similar to the caramel iced coffee I like to make with homemade caramel syrup for coffee, but hot).
No worries if you don't have homemade caramel – you can use any sort of store-bought caramel sauce for this, too!
About this Caramel Coffee:
Just like my salted caramel cream cold brew, this drink comes together in just minutes. It makes two servings, although you can halve or double the recipe for less or more servings, as needed (or make a big batch, if you're hosting a brunch buffet).
The recipe is simply a combination of brewed coffee and warmed milk infused with caramel and brown sugar.
Top with whipped cream and extra caramel for that coffeehouse look!
The ingredients for this drink are simple and easy to find:
How do you make a Caramel Coffee?:
First, brew two cups of coffee using your favorite method. While the coffee is brewing, heat some milk, caramel sauce and a touch of brown sugar (for that torched sugar efffect) in a small saucepan on the stove, until steaming.
Combine the coffee and the warmed milk in mugs and top with whipped cream and more sauce. You'll probably have leftover caramel sauce, and that's OK – make an apple mug cake!
More recipes for coffee lovers:
Coffee doesn't have to be just your morning cup. It's the perfect flavor to craft cocktails and delicious desserts with, too!
Brûlée Caramel Coffee
Make this coffeehouse-style Brûlée Caramel Coffee at home in just minutes! Coffee, milk, caramel sauce and a touch of brown sugar come together to make a sweet caramel coffee treat!
Ingredients
1 cup milk
1/4 cup Microwave Caramel Sauce, plus additional for drizzling
1 teaspoon brown sugar
2 cups (16 ounces) hot coffee
Whipped cream
Instructions
In small saucepan, stir together milk, caramel sauce and brown sugar. Heat over medium heat 4 to 5 minutes or until foamy and steaming, whisking frequently.
Divide coffee between 2 large mugs. Divide milk mixture between mugs and stir. Top each mug with whipped cream and additional caramel sauce.
Nutrition Information:
Yield:

2
Serving Size:

1
Amount Per Serving:
Calories:

168
Total Fat:

3g
Saturated Fat:

2g
Trans Fat:

0g
Unsaturated Fat:

1g
Cholesterol:

12mg
Sodium:

209mg
Carbohydrates:

32g
Fiber:

0g
Sugar:

25g
Protein:

5g