Microwave Caramel Sauce
This easy Microwave Caramel Sauce uses just 5 ingredients and takes only a few minutes. Perfect for drizzling over coffee, ice cream and other desserts, or as a dip for fruit.
Do you have a microwave? My parents got rid of theirs years ago, and just have a toaster oven. Truthfully, I don't know how they do it!
Maybe it's because I have a little kid, and time is of the essence when she is hungry. But I would miss my microwave so much, especially for quickly reheating leftovers when it's lunch time.
But just like every appliance, the microwave is more useful than you might think. Until now, I've always used the stove to make batches of caramel sauce to garnish caramel coffee and caramel iced coffee.
But what if there was an easier, and much faster way? There is, and it's called microwave caramel sauce.
What you'll need to make microwave caramel sauce:
butter – my preference here is unsalted butter, but if you only have salted, you can use it. Just cut back a little bit on the amount of salt you add.
brown sugar – I used light brown sugar here, but dark brown sugar works just as well (and is also great in my flat iron steak marinade and balsamic steak marinade).
cream – heavy whipping cream is what you want to use for this caramel. You could try half and half, but your caramel will be much thinner and not as rich, so I don't really recommend it. Buy a big container of cream and make coconut creme brulee or chocolate creme brulee this weekend!
salt – I prefer to use sea salt to season my microwave caramel sauce, but kosher salt is also fine.
vanilla extract – use a good quality vanilla since it's one of the few flavoring agents in this quick caramel sauce. Vanilla lovers, be sure to check out my vanilla bean creme brulee!
How to make quick caramel sauce in the microwave:
First, grab a microwave-safe glass bowl or large measuring cup. Put the butter in the bowl, and microwave on HIGH for 45 seconds. The butter should be completely or almost completely melted.
Add the brown sugar, cream, salt and vanilla to the bowl and stir until everything is well combined. The texture will be grainy at this point. Microwave on HIGH for 30 seconds.
Carefully stir the mixture, and microwave one final time, on HIGH, for 15 seconds, or until the mixture is completely smooth.
It shouldn't need any additional time, but depending on your microwave, if you have to keep cooking it, please keep a very watchful eye on it. Just like with my homemade balsamic glaze recipe, it will darken quickly.
The microwave caramel sauce will be VERY VERY HOT and also kind of thin at this point, so you'll need to let it stand 5 to 10 minutes before using it. As it cools, the caramel sauce will thicken.
This makes a small batch, but you can double or triple it!
The microwave caramel sauce recipe below makes just a heaping 1/4 cup of sauce – enough to drizzle over four coffee drinks or small dessert plates.
Since it's so quick and easy to make, I just make this small batch recipe fresh whenever I need it, rather than making a larger batch and refrigerating (although you can do that).
If you're hosting a larger crowd and need a bigger batch (perhaps for a dipping sauce for churros after a fajita bar?), you can double or triple the ingredient amounts below.
The cooking time for this quick caramel sauce should stay almost the same, but use your best judgement and cook until the sauce is smooth.
Use this microwave caramel sauce for coffee, or dessert.
I love using this microwave caramel sauce for coffee.
It can be stirred into hot coffee for a flavored treat, and it's also great drizzled over cold drinks like salted caramel cream cold brew.
Set it out at your next brunch buffet (don't forget the oven bacon!) so your guests can have the fun of garnishing their coffee with a special sauce.
This quick caramel sauce is also an easy way to add a special flavoring to an affogato coffee (which is just hot coffee poured over ice cream, and is one of life's true pleasures).
This sauce is also perfect for spooning over an apple pecan tart or apple mug cake. Or use it to take a brownie pie to the next level.
A note on the difference between caramel sauce and caramel syrup:
So, when it comes to coffee, Starbucks and every other fancy coffee place have two different things going on – syrups and sauces.
The syrups are the generally clear or light brown liquids that you see in large bottles with pumps on top. These pumps of flavor are the backbone of all of the flavored drinks. I have a homemade caramel syrup for coffee recipe that I love.
If you watch closely, these pumps of flavor are usually the first thing the barista will add to your cup after you order.
But then, once the drink is complete, for the final garnish (usually drizzled on top of whipped cream), they are using something different, which is a caramel sauce for coffee. That's where you'd use this microwave caramel sauce!
More recipes for caramel lovers:
The combination of sweet and salty makes caramel an irresistible treat. The recipes below are some of my favorite recipes that use caramel, caramelized sugar or caramel flavoring.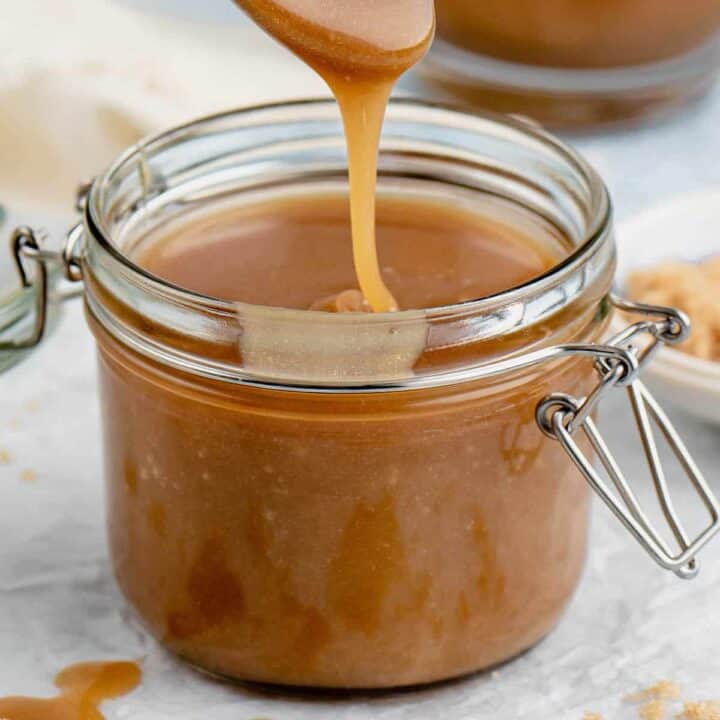 Microwave Caramel Sauce
Additional Time:
5 minutes
This easy Microwave Caramel Sauce uses just 5 ingredients and takes only a few minutes. Perfect for drizzling over coffee, ice cream and other desserts, or as a dip for fruit.
Ingredients
2 tablespoons unsalted butter
1/4 cup light brown sugar
2 tablespoons heavy cream
1/4 teaspoon sea salt (I used Maldon)
1/4 teaspoon vanilla extract
Instructions
Place butter in microwave safe glass measuring cup or bowl and microwave on HIGH for 45 seconds.
Add brown sugar, cream, salt and vanilla and stir until well combined. Microwave on HIGH for 30 seconds.
Stir and microwave on HIGH for 15 seconds or until completely smooth.
Let stand 5 to 10 minutes before serving. Caramel will thicken during this time.
Recommended Products
Foxes Love Lemons, LLC is a participant in the Amazon Services LLC Associates Program, an affiliate advertising program designed to provide a means for sites to earn advertising fees by advertising and links to Amazon.com. There is no additional cost to you.
Nutrition Information:
Yield:

4
Serving Size:

1 heaping tablespoon
Amount Per Serving:
Calories:

120
Total Fat:

8g
Saturated Fat:

5g
Trans Fat:

0g
Unsaturated Fat:

3g
Cholesterol:

24mg
Sodium:

138mg
Carbohydrates:

11g
Fiber:

0g
Sugar:

11g
Protein:

0g
This website provides estimated nutrition information as a courtesy only. You should calculate the nutritional information with the actual ingredients used in your recipe using your preferred nutrition calculator.