Lamb Lollipops
Lamb lollipops are elegant and incredibly flavorful, but super easy to prepare. They're marinated with simple ingredients, seared in a hot skillet, and served with an herby yogurt sauce for dipping.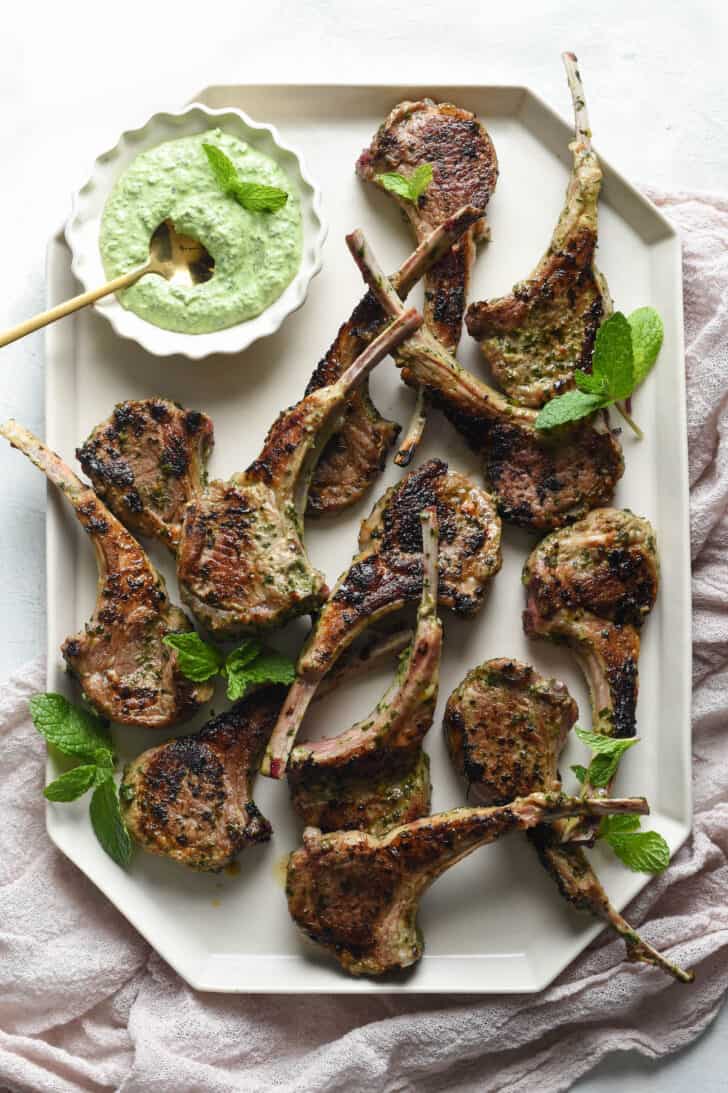 For me, there is no meal more decadent or special than lamb chops. I have a very fond memory of helping to make the banquet dinner for the graduating class of culinary students when I was in my first year of school.
I was in charge of searing lamb chops all night. At the end of the evening, there was a ton of food left over, and the instructors let us take home as much as we could carry. Jeff and I feasted on lamb chops and vegetable quiche and shrimp deviled eggs and big slices of vegetable lasagna all weekend and it was glorious.
While ground lamb makes it into more frequent meals like lamb tacos and lamb bolognese, chops are special. Especially lamb "lollipops" which are chops cut from a rack of lamb that has been "Frenched," meaning all excess meat and fat has been trimmed off the exposed bones so they look extra pretty.
Today, I'll teach you how to cook lamb lollipops, as well as make the best marinade and herby yogurt dipping sauce for them.
What'll you need for this lamb lollipops recipe:
lamb – you'll need 2 racks of lamb (each rack is about 1 pound) for this recipe. Each rack will have 8 chops, so you'll end up with 16 lamb lollipops total. This would serve 4 people as an entree or 6 to 8 people as an appetizer.
garlic – a generous amount of garlic goes into the marinade and makes these lollipop lamb chops super tasty.
mint – mint is a natural flavor pairing for lamb, so fresh mint leaves go into both the marinade and the dipping sauce for this lamb lollipop recipe. Extra mint can be muddled into a bourbon mule!
parsley – again, this goes into both the marinade and the dipping sauce.
olive oil – this forms the backbone of the marinade.
lemon juice – the bright citrusy flavor of fresh lemon adds a special touch to the marinade and dipping sauce. Buy a whole bag of lemons and make lemon curd cake or lemon creme brulee for dessert!
brown sugar – this provides a touch of sweetness to the marinade, and helps the lamb chop lollipops brown really well.
salt and pepper – always!
Greek yogurt – plain Greek yogurt is what you want for the dipping sauce. Just like for my Greek lasagna, I prefer the texture of the full fat kind (like Fage Total), but 2% works as well.
Make the lamb lollipop marinade and then the lamb lollipop sauce:
Making a marinade AND sauce seems like a lot of work for these lamb lollipops, but it couldn't be easier, for two reasons 1.) they use a lot of overlapping ingredients, and 2.) they're both made in the food processor and you don't even need to wash it in between.
You can make them in either order, but I prefer to make the marinade first, since the oil-based marinade seems to scrape out of the food processor bowl a little bit easier than the creamy yogurt sauce.
Another tip for making the marinade and sauce for this lamb lollipop recipe as quickly as possible is to not worry about parsley stems. While we typically pick the leaves off the stems and use only the leaves to garnish things like savory steel cut oats and chicken stroganoff, that doesn't need to be the case here.
Unless they're super thick and kind of woody (uncommon for grocery store parsley), you can totally use both the leaves AND stems for both the marinade and sauce. The processor will pulverize the stems and they're totally edible and flavorful.
The mint on the other hand, you'll just want to use the leaves. The stems aren't tasty.
Other marinade and sauce options for lollipop lamb chops:
If you find yourself in a place where you didn't marinate your lamb lollipops the night before, no big deal. Instead of a marinade, how about a dry rub? My dry rub for ribs has a different flavor profile but would be delicious on lollipop lamb chops.
If super herby yogurt isn't your thing, you could skip the dipping sauce altogether, or use my balsamic glaze or creamy feta dressing as an alternate sauce for this lamb lollipop recipe. Sometimes I'll even use my roasted garlic dip!
On the other hand, if you LOVE this dipping sauce, it's great for kafta too!
How to cook lamb lollipops:
Lamb lollipops can be grilled or roasted, but just like my shishito peppers recipe, my very favorite way is to cook them on the stovetop in a cast iron pan. I think they get the nicest sear this way, and it's super quick!
You will need to cook your lamb chop lollipops in several batches, so that you don't crowd the pan (then everything will steam and NOT get brown). I ended up doing 16 chops in 3 batches, but probably could have gotten away with 2 with creative arranging.
Even cooking them in 3 batches, it still went super quick. Each lollipop lamb chop only cooks for 4 minutes total (2 on each side). So even with 3 batches, it'll only take 12 minutes.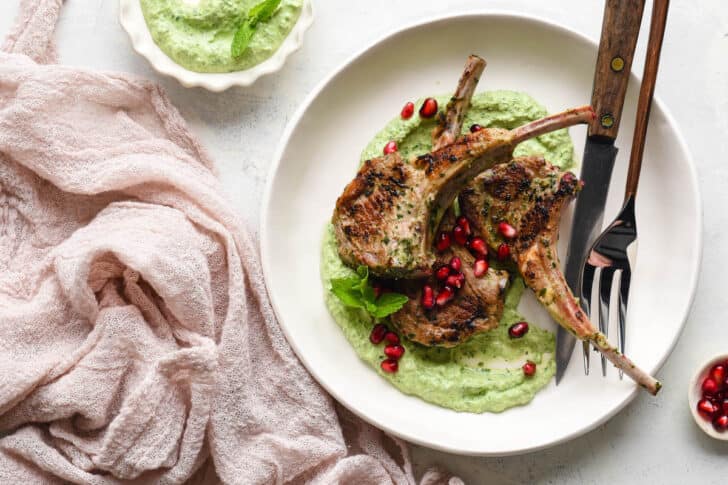 The best sides for lamb chops:
You can serve lamb lollipops as either an appetizer or an entree. If serving as an appetizer, you obviously don't need size dishes, but could round out your app spread with phyllo cup appetizers and individual charcuterie cups.
If serving these lollipop lamb chops as an entree, perhaps for Easter, Greek yogurt mashed potatoes and blue cheese mashed potatoes are great starch options that pair well with lamb.
Balsamic asparagus, roasted glazed carrots and balsamic roasted carrots are vegetables that make wonderful sides for lamb chops.
And to finish the menu with a salad, I suggest my Easter salad or simple mixed greens tossed with citrus vinaigrette.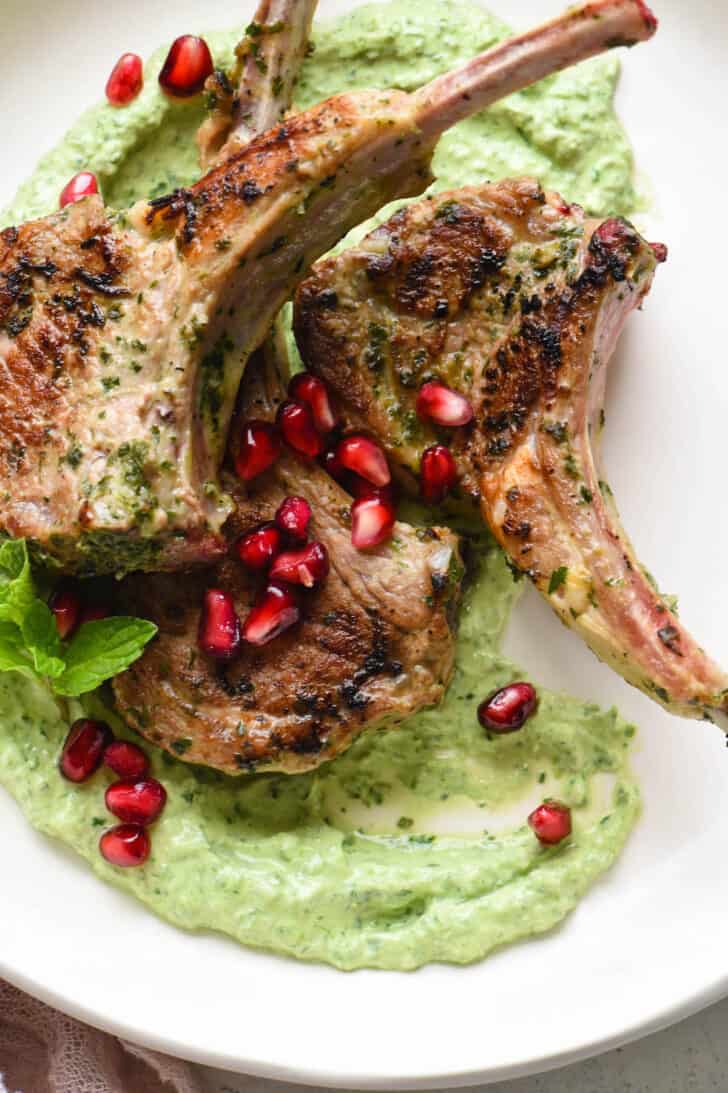 More Foxes Love Lemons Favorites
Convert to Regular Blocks First
Convert to Regular Blocks First
Convert to Regular Blocks First
Convert to Regular Blocks First
Convert to Regular Blocks First
Convert to Regular Blocks First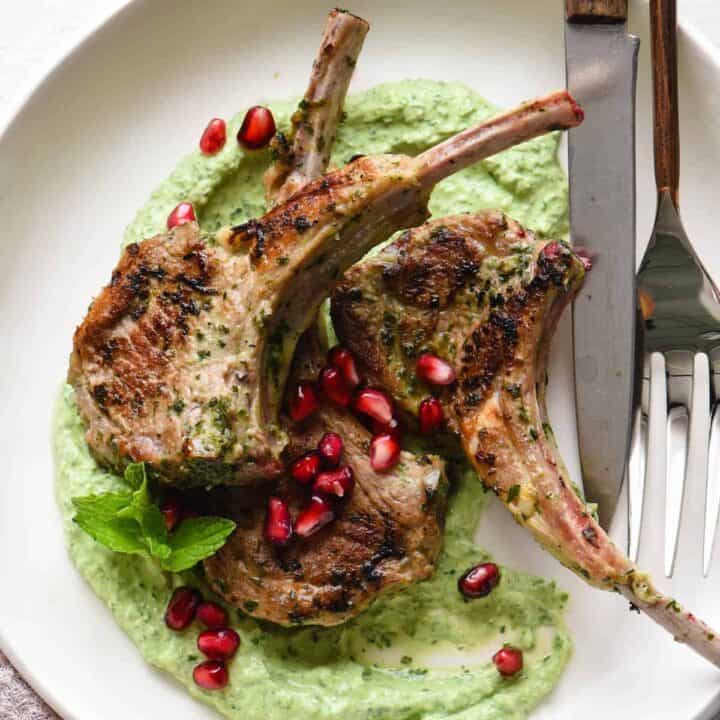 Lamb Lollipops
Yield:
4 entree servings, or serves 6 to 8 as an appetizer
Lamb lollipops are elegant and incredibly flavorful, but super easy to prepare. They're marinated with simple ingredients, seared in a hot skillet, and served with an herby yogurt sauce for dipping.
Ingredients
For the Marinade:
4 garlic cloves
2 tablespoons fresh lemon juice
2 tablespoons olive oil
2 tablespoons packed fresh mint leaves
2 tablespoons packed fresh parsley leaves and tender stems
1 tablespoon light brown sugar
1 teaspoon kosher salt
1/2 teaspoon ground black pepper
For the Herby Yogurt Sauce:
1 cup Greek yogurt
1 cup packed fresh parsley leaves and tender stems
1/2 cup packed fresh mint leaves
1 tablespoon fresh lemon juice
1/4 teaspoon kosher salt
Pinch ground black pepper
For the Lamb:
2 Frenched racks of lamb (about 2 pounds), cut into individual ribs
For Garnish:
Pomegranate arils and fresh mint and/or parsley (optional)
Instructions
Make the Marinade: Place garlic, lemon juice, oil, mint, parsley, brown sugar, salt and pepper in bowl of food processor fitted with blade attachment. Process until garlic and herbs are very finely chopped. Transfer marinade to large baking dish.
Make the Herby Yogurt Sauce: In same food processor bowl (you don't need to wash it), place yogurt, parsley, mint, lemon juice, salt and pepper and process until smooth. Place in covered container and transfer to refrigerator until ready to serve.
Place lamb chops in baking dish with marinade. Toss until all chops are completely coated in marinade. Cover dish and transfer to refrigerator at least 6 hours or up to overnight.
Heat large cast iron skillet over medium-high heat. In batches, transfer lamb chops to skillet (you do not need to add oil to skillet since the chops are coated in oily marinade) and cook 4 minutes, turning once halfway through, and gently pressing on chops as they cook so they make good contact with the pan.
Serve lamb lollipops with Herby Yogurt Sauce, and garnished with pomegranate arils and mint and/or parsley, if desired.
Recommended Products
Foxes Love Lemons, LLC is a participant in the Amazon Services LLC Associates Program, an affiliate advertising program designed to provide a means for sites to earn advertising fees by advertising and links to Amazon.com. There is no additional cost to you.
Nutrition Information:
Yield:

4
Serving Size:

4 lamb lollipops and 1/4 of Herby Yogurt Sauce
Amount Per Serving:
Calories:

381
Total Fat:

16g
Saturated Fat:

5g
Trans Fat:

0g
Unsaturated Fat:

10g
Cholesterol:

44mg
Sodium:

471mg
Carbohydrates:

42g
Fiber:

1g
Sugar:

27g
Protein:

17g
This website provides estimated nutrition information as a courtesy only. You should calculate the nutritional information with the actual ingredients used in your recipe using your preferred nutrition calculator.