Savory Oats Recipe
Savory Oatmeal is an affordable, fiber-rich vegetarian meal with easy vegan swaps. Lots of mushrooms add big umami flavor!
A cheap and delicious Savory Oatmeal Recipe for dinner
Did you know that risotto isn't just a dish, but it's actually a method of cooking? While risotto is usually associated with rice, lots of different ingredients can be cooked risotto-style.
Savory oatmeal is a high-fiber alternative to risotto made with white rice. But if you're thinking savory oatmeal sounds bland, think again.
Making savory steel cut oats with lots of umami-packed mushrooms turn this dish into something upscale and elegant enough to enjoy for dinner with a glass of wine.
Why you'll love this Savory Oatmeal
Steel cut oats offer a wholesome alternative to white rice, for an indulgent-tasting risotto that is fiber-rich.
This vegetarian recipe is easy to adapt to be completely vegan, or made with non-vegetarian ingredients, too.
Can be served for dinner, or even for breakfast for those looking for something savory in the morning.
Savory Oats Recipe ingredients
steel cut Irish oatmeal – I use McCann's Traditional Steel Cut Irish Oatmeal for savory oatmeal.
vegetable stock – I use veggie stock to keep this meal truly meatless, but I discuss other options below.
unsalted butter – for sauteeing the leeks and mushrooms. Vegan options discussed below!
leek – I love the subtle onion flavor that a leek adds to this recipe, but 1/2 of a yellow onion or a shallot would be a good substitute.
garlic – I wouldn't think of making risotto without garlic.
mushrooms – you'll need 12 ounces, and I discuss options for varieties below.
sage – I use dried ground sage to add an earthy flavor that pairs so well with mushrooms. You can also use minced fresh sage – just use twice the amount.
thyme – I use fresh thyme because I always have it in my garden. You can also use dried thyme – just use half the amount.
fresh lemon juice – one lemon will give you plenty of juice for this dish.
white wine – a dry white wine like Pinot Grigio adds nice acid to this dish. But feel free to skip it if you want, and just add a little bit extra lemon juice.
Parmesan cheese – either a traditional or vegetarian version is great for oatmeal for dinner, which I discuss below.
salt and pepper – you MUST season risotto for it to taste great!
parsley – chopped fresh parsley makes a pretty garnish.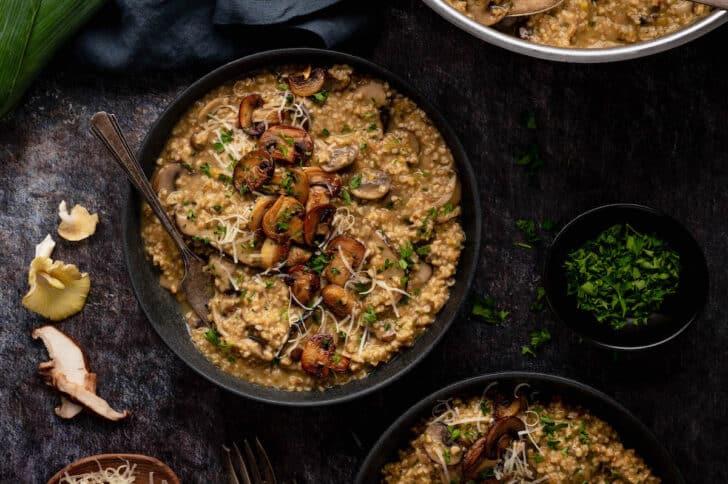 This savory oatmeal is packed with mushrooms!
In my opinion, mushrooms are just so delicious and add a "meaty" quality to a meatless meal, so we're using lots of them here.
For this mushroom oatmeal, you'll need a total of 12 ounces of mushrooms. I used a large package (8 ounces) of traditional white button mushrooms, as well as a smaller package (4 ounces) of "gourmet mushroom blend" (which included cremini, shitake and oyster).
How to make Oatmeal for Dinner
1. HEAT STOCK. In a medium saucepan with a lid, heat the stock and keep it covered.
2. SAUTE VEGGIES. Add a bit of butter to a high-sided skillet and saute the leek, then the garlic and mushrooms as well.
3. DEGLAZE. Add the wine and cook 1 minute to get all the browned goodness off the bottom of the pan.
4. ADD OATS. Reduce the heat and stir in the oatmeal. Then, add 2 lades of stock and stir constantly until the stock is mostly absorbed.
5. CONTINUE RISOTO METHOD. Cook 18 to 22 minutes or until the oats are tender, adding stock 1 ladle at a time when previous ladle is mostly absorbed. Stir frequently, but you do not need to stir constantly.
6. FINISH. Vigorously stir in cheese and lemon juice. Serve garnished with parsley and additional cheese.
Savory Steel Cut Oats variations
This Savory Baked Oatmeal can be kept vegetarian
I kept my savory oatmeal vegetarian by using the homemade vegetable stock that I learned to make in culinary school. But store bought veggie stock is always absolutely fine.
To keep this oatmeal for lunch or dinner recipe vegetarian, you need to skip the Parmesan cheese or use a vegan Parm.
Parmesan cheese is not vegetarian because it contains rennet (an enzyme that's found in the lining of a goat or calf's stomach).
Make this Savory Oats Recipe vegan
To make this savory oatmeal vegan, you'll need to use veggie stock, vegan Parm, AND swap the unsalted butter for a vegan butter alternative, or olive oil.
Make this Savory Oatmeal with non-vegetarian ingredients
You can also use chicken stock or beef stock to make this mushroom oatmeal if you're not vegetarian and happen to have it around.
And if you're not vegetarian, traditional Parmesan cheese will add another layer of umami flavor to this oatmeal for dinner.
Savory Oatmeal Recipe Home Chef Tips
Be sure to use traditional steel cut Irish oatmeal for this oatmeal for dinner recipe, NOT the quick-cooking kind.
It's tempting to skip the part where you warm the stock in the first step, but don't. Making risotto with hot stock is essential. It keeps the oats cooking at a consistent temperature rather than cooling the skillet down by adding cold or room temperature stock, heating it up again, and repeating. Consistent heat will give you the best final product.
Lots of people think that you have to stir risotto constantly, but that's kind of a myth. You do NOT need to stand in front of the stove and stir these savory steel cut oats constantly, but you should stir frequently.
What to serve with Oatmeal for Dinner
While this savory oatmeal is a pretty great meal all in one bowl, if you'd like to serve a side dish with it, I recommend a salad or vegetable side.
How to store Savory Oatmeal
Transfer any leftovers to an airtight container and refrigerate up to 3 days.
Reheat on stovetop with a splash of broth or water to restore the risotto's creamy consistency.
Savory Oatmeal Recipe for Dinner
Yield:
2 entree portions (or 4 side dish portions)
Savory Oatmeal is an affordable, fiber-rich vegetarian meal with easy vegan swaps. Lots of mushrooms add big umami flavor!
Ingredients
4 cups vegetable stock
2 tablespoons unsalted butter (or olive oil for vegan option)
1 leek (white and light green part only), halved lengthwise then cut crosswise into thin slices
1/2 teaspoon kosher salt
2 garlic cloves, minced
12 ounces assorted mushrooms, chopped
2 teaspoons chopped fresh thyme leaves
1 teaspoon ground dried sage
1/4 teaspoon ground black pepper
1/4 cup dry white wine
1 cup steel cut Irish oatmeal
1/2 cup grated vegan Parmesan cheese, plus additional for garnish
1 tablespoon fresh lemon juice
2 tablespoons chopped fresh parsley, for garnish
Instructions
In medium saucepan with lid, heat stock over medium heat until simmering, then reduce heat to low and keep covered.
Meanwhile, melt butter in large high-sided skillet over medium-high heat. Add leek and salt; cook 2 minutes, stirring frequently. Add garlic, mushrooms, thyme, sage and pepper; cook 7 to 8 minutes or until mushrooms are very deeply browned, stirring frequently. Add wine, cook 1 minute, stirring constantly.
Reduce heat to between medium and medium-low. Add oatmeal; cook 1 minute, stirring constantly. Add 2 ladles of hot stock, stir constantly until mostly absorbed. Add additional stock 1 ladle at a time, stirring after each addition and cooking until stock is mostly absorbed before adding more.
Cook 18 to 22 minutes or until oats are tender, stirring frequently (you do NOT need to stir constantly) and adding stock as needed.
To finish, vigorously stir in cheese and lemon juice. Serve immediately, garnished with parsley and additional cheese.
Notes
Home Chef Notes:
chicken or beef stock and traditional Parmesan cheese may be used if not keeping the dish vegetarian.
any variety of fresh mushroom may be used. I used 8 ounces white mushrooms + 4 ounces "gourmet mushroom blend."
use traditional steel cut Irish oatmeal, NOT the quick-cooking kind.
Recommended Products
Foxes Love Lemons, LLC is a participant in the Amazon Services LLC Associates Program, an affiliate advertising program designed to provide a means for sites to earn advertising fees by advertising and links to Amazon.com. There is no additional cost to you.
Nutrition Information:
Yield:

2
Serving Size:

1
Amount Per Serving:
Calories:

417
Total Fat:

22g
Saturated Fat:

12g
Trans Fat:

0g
Unsaturated Fat:

8g
Cholesterol:

52mg
Sodium:

2121mg
Carbohydrates:

39g
Fiber:

7g
Sugar:

9g
Protein:

16g
This website provides estimated nutrition information as a courtesy only. You should calculate the nutritional information with the actual ingredients used in your recipe using your preferred nutrition calculator.