Savory Oatmeal Risotto
Eating savory oatmeal for dinner isn't as crazy as it sounds with these mushroom-filled savory steel cut oats. Bookmark this as a cheap, delicious, hearty vegetarian meal (with easy vegan options).
While I'm not a strict adherent to a meal plan that always includes "meatless Monday", I do try to include a meat-free meal like vegan lentil curry, veggie lasagna or vegetarian quiche at least once a week.
One of the important things for a meatless meal is to include enough high fiber ingredients to fill you up and keep you full. Thus, beans and lentils are the basis of most vegetarian meals.
But today I'm sharing one of my favorite meatless meals with a different high-fiber ingredient: steel cut oats! While traditional risotto like my spicy coconut risotto is made using (low fiber) arborio rice, risotto is actually not just a dish, it's a method of cooking.
You can cook just about any grain using the risotto method, and this savory oatmeal is no different. By the end of this post, I hope to have convinced you how awesome oatmeal for dinner can be!
Why I love eating savory oatmeal for dinner:
I'm so in love with this mushroom oatmeal for lunch or dinner recipe for a couple of reasons. Primarily, because I bought the tin of steel cut oats purely for the adorable metal container in the first place. But I couldn't let the oats go bad without using them!
Now, anyone who's ever been out to breakfast with me knows: I'm really not in the mood for sweet breakfast all that often.
Lemon pancakes or ice cream French toast only rarely have their place at my table, and that's only at dinner time. Never in the morning.
So, the chances of me eating this oatmeal, in a sweet capacity, for breakfast, were non-existent. This oatmeal risotto allowed me to eat them in a savory way, and it was damn tasty.
What you'll need to make savory steel cut oats:
steel cut Irish oatmeal – I use McCann's Traditional Steel Cut Irish Oatmeal for savory oatmeal.
vegetable stock – I use veggie stock to keep this meal truly meatless, but I discuss other options below.
unsalted butter – for sauteeing the leeks and mushrooms. Vegan options discussed below!
leek – I love the subtle onion flavor that a leek adds to this recipe, but 1/2 of a yellow onion or a shallot would be a good substitute. Also love some leek action in my acini de pepe salad.
garlic – I wouldn't think of making risotto without garlic.
mushrooms – you'll need 12 ounces, and I discuss options for varieties below.
sage – I use dried ground sage to add an earthy flavor that pairs so well with mushrooms. You can also use minced fresh sage – just use twice the amount.
thyme – Like in salmon piccata and baked sockeye salmon, I use fresh thyme because I always have it in my garden. You can also use dried thyme – use half the amount.
fresh lemon juice – one lemon will give you plenty of juice for this dish.
white wine – a dry white wine like Pinot Grigio adds nice acid to this dish. But feel free to skip it if you want, and just add a little bit extra lemon juice (same goes for my creamy salmon pasta).
Parmesan cheese – either a traditional or vegetarian version is great for oatmeal for dinner (and potato cakes), which I discuss below.
salt and pepper – you MUST season risotto for it to taste great!
parsley – chopped fresh parsley makes a pretty garnish. Parsley stems can be used to make the marinade and sauce for my lamb lollipops.
This savory oatmeal is packed with mushrooms!
I made this a mushroom risotto just because that's my favorite type of risotto to make. I've made all different flavors of savory oatmeal for dinner, but I keep coming back to basic mushroom Parmesan risotto. It's like an old friend.
In my opinion, mushrooms are just so delicious and add a "meaty" quality to a meatless meal, like my lentil ragu.
For this mushroom oatmeal, you'll need a total of 12 ounces of mushrooms. I used a large package (8 ounces) of traditional white button mushrooms, as well as a smaller package (4 ounces) of "gourmet mushroom blend" (which included cremini, shitake and oyster). Mushroom lovers should check out my chicken stroganoff, too!
This savory steel cut oat recipe is PACKED with mushrooms, making it a very satisfying meatless meal (just like my Greek yogurt pasta!).
This oatmeal risotto can be kept vegetarian.
I kept my savory oatmeal vegetarian by using the homemade vegetable stock that I learned to make in culinary school. But store bought veggie stock is always absolutely fine. You can also make this swap to keep my Irish colcannon soup vegetarian.
Just like with my black bean meatballs, to keep this oatmeal for lunch or dinner recipe vegetarian, you need to skip the Parmesan cheese or use a vegan Parm.
Parmesan cheese is not vegetarian because it contains rennet (an enzyme that's found in the lining of a goat or calf's stomach).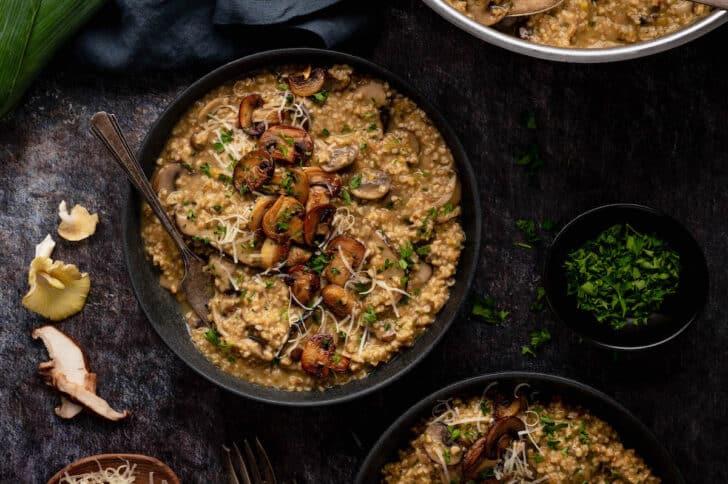 Or, make it vegan:
To make this savory oatmeal vegan, you'll need to swap the unsalted butter for a vegan butter alternative, or olive oil.
You can also make this oat risotto with non-vegetarian ingredients you might have around.
You can also use chicken stock or beef stock to make this mushroom oatmeal if you're not vegetarian and happen to have it around (maybe left over from a sausage pasta skillet dinner).
And if you're not vegetarian, traditional Parmesan cheese will add another layer of umami flavor to this oatmeal for dinner.
What to serve with savory oatmeal:
My favorite thing to serve with any kind of risotto, including this oatmeal risotto, is a fresh salad. A classic green salad with miso salad dressing or citrus vinaigrette is always a great choice alongside this oatmeal dinner.
When it's the right season for tomatoes, a beet tomato salad is another excellent option to serve with this oat risotto.
I also like balsamic asparagus, balsamic green beans or balsamic roasted carrots alongside this savory oatmeal.
Tips for making this savory steel cut oat recipe successful:
Be sure to use traditional steel cut Irish oatmeal for this oatmeal for dinner recipe, NOT the quick-cooking kind. And save the old-fashioned rolled oats for a banana mocha smoothie.
It's tempting to skip the part where you warm the stock in the first step, but don't. Just like goat cheese risotto, making oatmeal risotto with hot stock is essential. It keeps the oats cooking at a consistent temperature rather than cooling the skillet down by adding cold or room temperature stock, heating it up again, and repeating. Consistent heat will give you the best final product.
Lots of people think that you have to stir risotto constantly, but that's kind of a myth. You do NOT need to stand in front of the stove and stir these savory steel cut oats constantly, but you should stir frequently, so just do some other stuff around the kitchen while you linger (I use it a chance to unload the dishwasher, pack my daughter's lunch for the next day, or clean a few shelves in the fridge).
More Foxes Love Lemons Favorites
Oatmeal For Dinner (Savory Steel Cut Oats)
Yield:
2 entree portions (or 4 side dish portions)
Eating savory oatmeal for dinner isn't as crazy as it sounds with these mushroom-filled savory steel cut oats. Bookmark this as a cheap, delicious, hearty vegetarian meal (with easy vegan options).
Ingredients
4 cups vegetable stock
2 tablespoons unsalted butter (or olive oil for vegan option)
1 leek (white and light green part only), halved lengthwise then cut crosswise into thin slices
1/2 teaspoon kosher salt
2 garlic cloves, minced
12 ounces assorted mushrooms, chopped
2 teaspoons chopped fresh thyme leaves
1 teaspoon ground dried sage
1/4 teaspoon ground black pepper
1/4 cup dry white wine
1 cup steel cut Irish oatmeal
1/2 cup grated vegan Parmesan cheese, plus additional for garnish
1 tablespoon fresh lemon juice
2 tablespoons chopped fresh parsley, for garnish
Instructions
In medium saucepan with lid, heat stock over medium heat until simmering, then reduce heat to low and keep covered.
Meanwhile, melt butter in large high-sided skillet over medium-high heat. Add leek and salt; cook 2 minutes, stirring frequently. Add garlic, mushrooms, thyme, sage and pepper; cook 7 to 8 minutes or until mushrooms are very deeply browned, stirring frequently. Add wine, cook 1 minute, stirring constantly.
Reduce heat to between medium and medium-low. Add oatmeal; cook 1 minute, stirring constantly. Add 2 ladles of hot stock, stir constantly until mostly absorbed. Add additional stock 1 ladle at a time, stirring after each addition and cooking until stock is mostly absorbed before adding more.
Cook 18 to 22 minutes or until oats are tender, stirring frequently (you do NOT need to stir constantly) and adding stock as needed.
To finish, vigorously stir in cheese and lemon juice. Serve immediately, garnished with parsley and additional cheese.
Notes
Home Chef Notes:
chicken or beef stock and traditional Parmesan cheese may be used if not keeping the dish vegetarian.
any variety of fresh mushroom may be used. I used 8 ounces white mushrooms + 4 ounces "gourmet mushroom blend."
use traditional steel cut Irish oatmeal, NOT the quick-cooking kind.
Recommended Products
Foxes Love Lemons, LLC is a participant in the Amazon Services LLC Associates Program, an affiliate advertising program designed to provide a means for sites to earn advertising fees by advertising and links to Amazon.com. There is no additional cost to you.
Nutrition Information:
Yield:

2
Serving Size:

1
Amount Per Serving:
Calories:

417
Total Fat:

22g
Saturated Fat:

12g
Trans Fat:

0g
Unsaturated Fat:

8g
Cholesterol:

52mg
Sodium:

2121mg
Carbohydrates:

39g
Fiber:

7g
Sugar:

9g
Protein:

16g
This website provides estimated nutrition information as a courtesy only. You should calculate the nutritional information with the actual ingredients used in your recipe using your preferred nutrition calculator.
Note: This recipe was originally published in 2013. The recipe was updated in 2023 to be even better, the photos were reshot, and the post was revised accordingly. The original photos appear below.