Leftover Turkey Chili
This Leftover Turkey Chili recipe lets you use up almost all of your Thanksgiving leftovers in one bowl! Easy turkey chili is spooned over mashed potatoes and topped with Crunchy Stuffing Bits!
How do you like to enjoy your Thanksgiving recipe leftovers? On the Friday after Thanksgiving, I like to warm up a plate of the full turkey dinner and eat it as-is.
But after that, I'm ready to repurpose the leftovers into something else, like mashed potatoes becoming mashed potato cakes topped with my easy gravy recipe, and some of the turkey becoming turkey and ham sliders.
The Michigan-Ohio State football game always seems to fall on the Saturday after Thanksgiving. So, serving a big pot of chili on that day works out really well for my family. I've already served my apple cider chili earlier this fall.
So, what could be more perfect for a football game on the Saturday after Thanksgiving than Leftover Turkey Chili?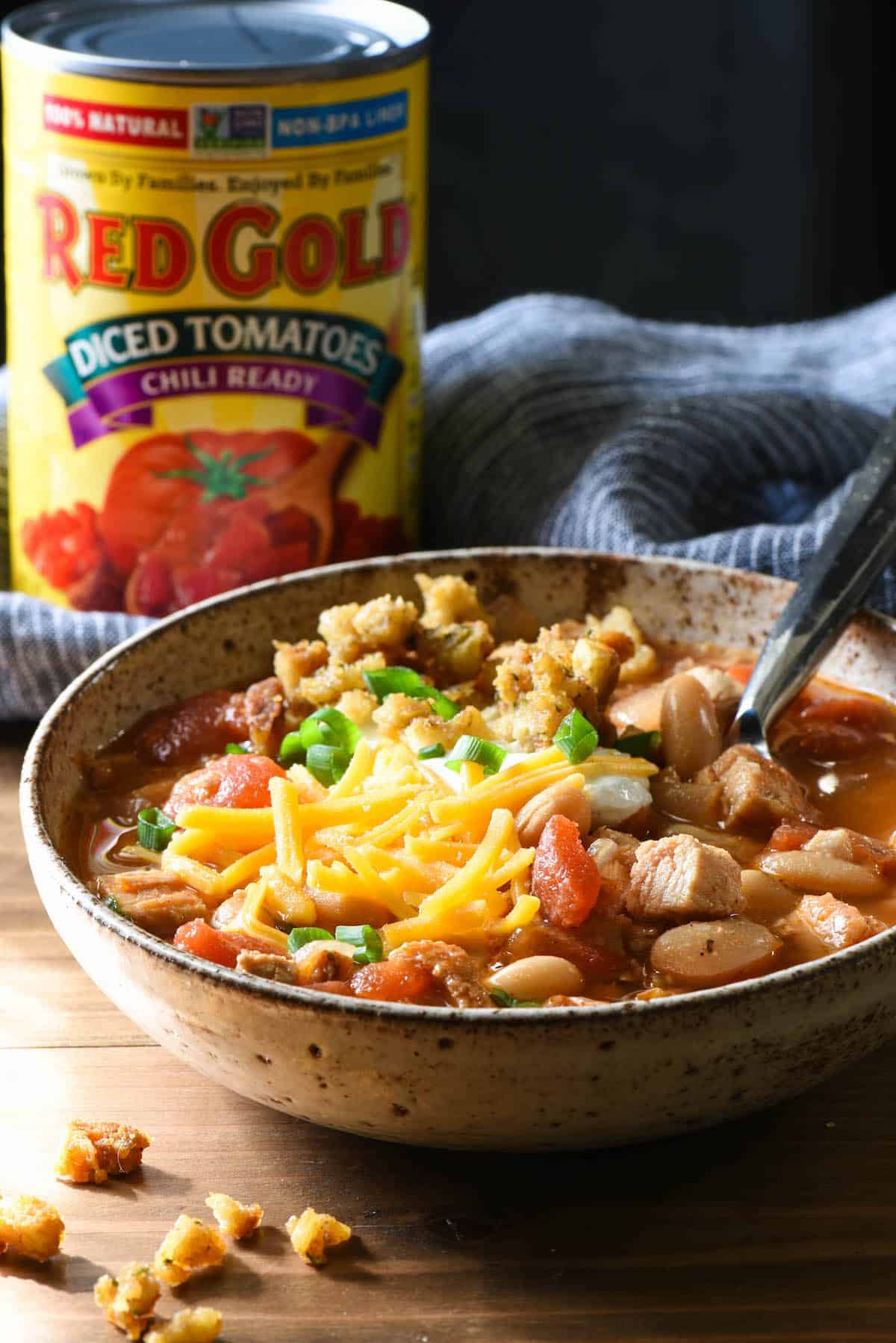 This Chili answers the age old question – What To Do With Leftover Turkey?
This chili is as easy as chopping up some turkey and adding a few aromatics like onion, garlic and thyme. Then, stir in cans of Red Gold® Chili Ready Diced Tomatoes, beans and broth. I can make it start to finish in less than 30 minutes!
Turkey breast meat seems to be most often left over in my family from our roasted turkey with maple bourbon glaze (we love dark meat!), so that's what I used for this chili. However, you can certainly make it with all dark meat or a mix of light and dark meat.
Still have leftover mashed potatoes and some of my bread stuffing recipe in the fridge, too? Great! Serve this chili over a big scoop of mashed potatoes, and use the stuffing to make Crunchy Stuffing Bits (recipe below).
Why I use RED GOLD® CHILI READY TOMATOES for turkey chili:
Red Gold's focus on creating the freshest and best tasting tomato products means that their tomatoes are already part of my family's lasagna made with cottage cheese.
Red Gold® has been sustainably growing their tomatoes on Midwest family farms for more than 75 years. Their products are also made with non-GMO Project Verified ingredients and packed in non-BPA/BPS lined cans. Connect with Red Gold on Facebook, Instagram, Twitter, and Pinterest, and find their products near you with their store locator.
Cooking an Epic Thanksgiving dinner on Thursday leaves me with little motivation to cook anything complicated for the rest of the weekend. So, I'm keeping this turkey chili as simple as possible by using Red Gold® Chili Ready Diced Tomatoes.
What makes these tomatoes chili ready? They're already seasoned with classic chili seasonings like chili powder, cumin, onion and garlic powder!
Red Gold® has also recently introduced Chili Ready Tomato Sauce and Chili Ready Crushed Tomatoes. I'll be keeping those in mind for other recipes where I want to take some shortcuts but not sacrifice on flavor.
The ingredients for this Leftover Turkey Chili recipe are easy to find:
olive oil
garlic
thyme
onion
cannelini beans (Great Northern beans, like I use in my Dr. Pepper baked beans also work great)
diced tomatoes
chicken broth
leftover turkey
salt and pepper
How long is leftover turkey chili good for?
According to the FDA, leftover turkey should be used within three or four days of first cooking. So, be sure to make this turkey chili and either eat it or freeze it within four days of Thanksgiving.
P.S. Not into chili? Another great idea for using up leftover turkey is to make my Slow Cooker Chicken Parmesan Soup, but use turkey instead of chicken. Make sure you use Red Gold® tomatoes here, too! Since you're starting with cooked turkey, I would stir in the chopped turkey in the last 10 minutes of the pasta cooking time.
Leftover Turkey Chili
This Leftover Turkey Chili recipe lets you use up almost all of your Thanksgiving leftovers in one bowl! Easy turkey chili is spooned over mashed potatoes and topped with Crunchy Stuffing Bits!
Ingredients
For the Crunchy Stuffing Bits:
For the Leftover Turkey Chili:
1 tablespoon olive oil
3 cloves garlic, minced
2 sprigs fresh thyme
1/2 medium white onion, diced
1 can (15.5 ounces) reduced sodium cannelini beans, NOT DRAINED
1 can (14.5 ounces) diced tomatoes, NOT DRAINED
2 cups chicken broth
2 cups chopped leftover turkey
Kosher salt and ground black pepper, to taste
For Serving:
Prepared mashed potatoes (optional)
Crunchy Stuffing Bits
Shredded cheddar cheese
Sour cream
Thinly sliced green onions
Instructions
Make the Crunchy Stuffing Bits: Preheat oven to 350 degrees F. Line rimmed baking pan with parchment paper. Spread stuffing in even layer on prepared pan, breaking up any large clumps. Transfer to oven and bake 30 to 35 minutes or until stuffing is crunchy, rotating pan and stirring occasionally.
Meanwhile, make the Leftover Turkey Chili: Heat oil in large pot over medium heat. Add garlic, thyme and onion; cook 6 to 8 minutes or until onion is golden brown, stirring occasionally.
Stir in beans, tomatoes, broth and turkey. Heat to boiling over medium-high heat, then reduce to medium-low. Cook 15 minutes or until chili thickens.
Remove and discard thyme sprigs. Season chili to taste with salt and pepper.
To serve, spoon chili over mashed potatoes, if desired. Top with Crunchy Stuffing Bits, cheese, sour cream and green onions.
Notes
Home Chef Notes:
Exact baking time for Crunchy Stuffing Bits will depend on how moist or dry the stuffing you start with is. Moister stuffing will take longer to become crunchy.
Exact amount of salt and pepper to season chili will depend on how seasoned the leftover turkey you start with is. If it's already very well seasoned, your chili won't need much added salt and pepper. If the turkey you start with is kind of bland, don't be shy with adding salt and pepper to your chili.
Recommended Products
Foxes Love Lemons, LLC is a participant in the Amazon Services LLC Associates Program, an affiliate advertising program designed to provide a means for sites to earn advertising fees by advertising and links to Amazon.com. There is no additional cost to you.
Nutrition Information:
Yield:

4
Serving Size:

1
Amount Per Serving:
Calories:

662
Total Fat:

32g
Saturated Fat:

8g
Trans Fat:

3g
Unsaturated Fat:

20g
Cholesterol:

91mg
Sodium:

1961mg
Carbohydrates:

53g
Fiber:

6g
Sugar:

7g
Protein:

41g
More great Thanksgiving Leftover Recipe ideas:
Disclosure: This was a sponsored post written by me on behalf of Red Gold. Sponsored posts help me pay for the costs associated with this blog (groceries…lots of groceries), and help support me as I pursue a career in recipe development and food photography. All opinions are 100% my own.