Orange Cream Cake with Chocolate Ganache
We take Halloween pretty seriously around here. One look at the photo below, and you'll see what I mean.
My husband has been collecting Halloween yard decor for almost a decade now, and our move across town last year means that we now live on a corner lot – double the decorating possibilities!
Our city actually gave us a little award for our display last year, which was really sweet (as sweet as my Halloween bark and Halloween cake pops, in fact).
Jeff loves collecting the stuff and putting it up each year. Small children and their parents are always stopping to marvel at the display. It's so much fun.
What's funny is that the inside of our house has almost zero Halloween decorations. We have one chair in the library that has a ghost stuffed animal sitting in it, and that's about it. But that doesn't mean that our Halloween spirit dies the moment we step inside.
I love making Halloween party food and Halloween jello shots, and I also wanted to bring a little seasonal spook into our home with this Orange Cream Cake with Chocolate Ganache.
I'll warn you right now: just like my Halloween dirt cups, this cake is not for the faint of heart. Five (!) luscious orange cream-flavored cake layers are frosted with rich orange buttercream and then drizzled with chocolate ganache.
Only true dessert lovers need apply here (everybody else can have some Halloween salad).
A small cake is all you really need, so I used a set of 6-inch cake pans. They all go into the oven at the same time, meaning it doesn't take as long to bake five layers as you think it would.
If, however, you don't have 6-inch pans, you can still make this recipe with two 8- or 9-inch traditional cake pans, like my lemon curd cake. You'll just have two layers instead of five, but all the flavor will still be there!
Speaking of flavor, let's talk about the TruMoo Limited Edition Orange Scream milk I used to create the cake layers. This seasonal specialty is inspired by the classic orange frozen popsicle made with vanilla ice cream, and is available nationwide in the dairy case at grocery stores through the end of October.
It's made with wholesome low-fat milk, and NO high fructose corn syrup and NO artificial growth hormones. Nothing spooky to see here, unless you're looking at my house! Boo!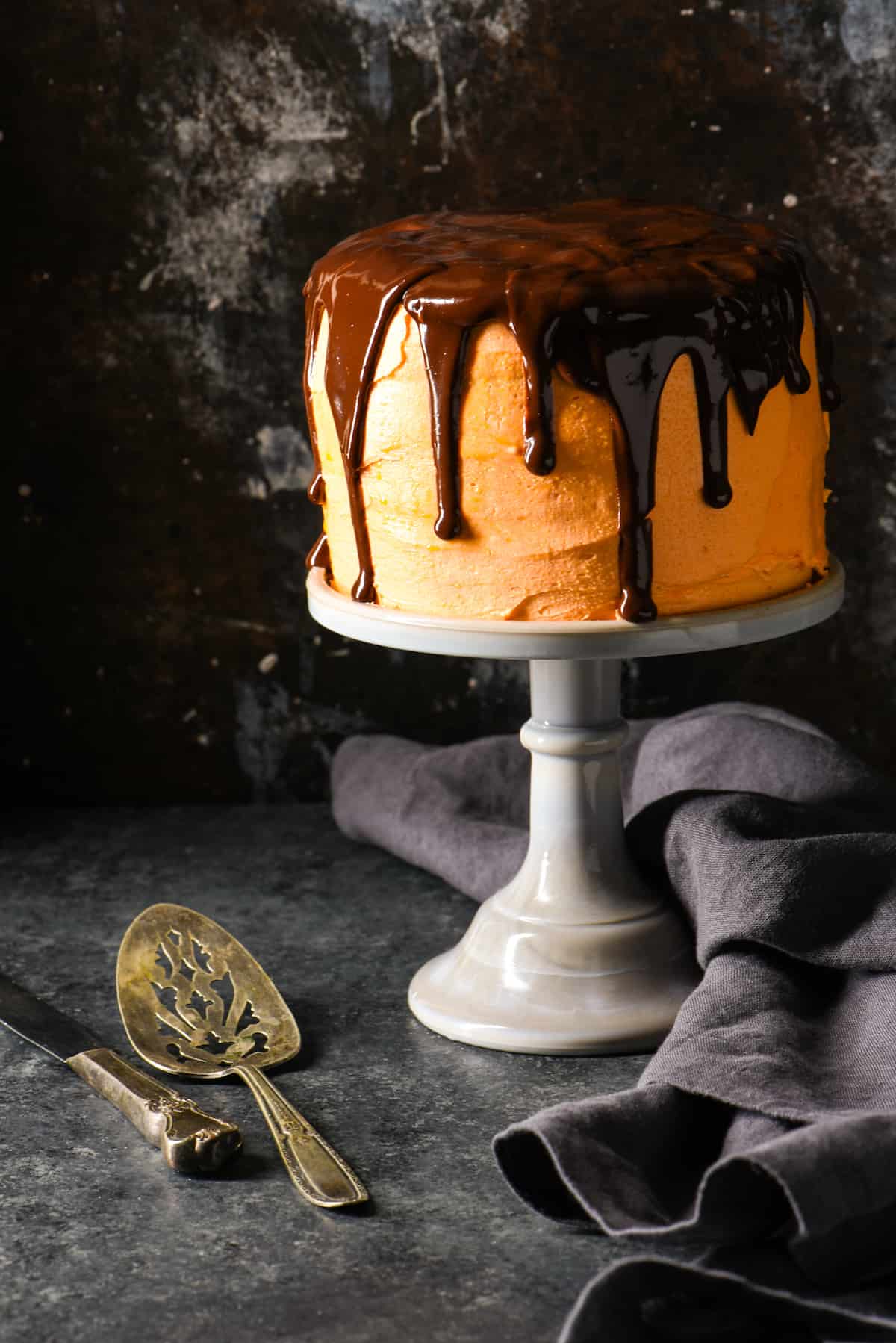 Orange Cream Cake with Chocolate Ganache
Total Time:
1 hour
17 minutes
Ingredients
For the Orange Cream Cake Layers:
Nonstick cooking spray
2-1/4 cups all-purpose flour
2 teaspoons baking powder
1/2 teaspoon sea salt
1-1/3 cups granulated sugar
1/2 cup (1 stick) unsalted butter, room temperature
4 egg whites
1 teaspoon vanilla extract
3/4 cup TruMoo Limited Edition Orange Scream milk
Orange and black food colorings
For the Buttercream Frosting:
3 cups powdered sugar
1 cup (2 sticks) unsalted butter, room temperature
2 tablespoons heavy cream
1 teaspoon vanilla extract
Orange food coloring
For the Chocolate Ganache:
1 bar (4 ounces) semi-sweet baking chocolate, chopped
4 ounces heavy cream
1 tablespoon corn syrup (optional)
Instructions
Make the Orange Cream Cake Layers: Preheat oven to 325 degrees F. Spray five 6-inch round cake pans with cooking spray. In small bowl, sift together flour, baking powder and salt. In bowl of stand mixer fitted with paddle attachment, beat granulated sugar and butter until light and fluffy. Add egg whites, one at a time, beating well after each addition. Add vanilla; mix until just combined. In alternating additions, add milk and flour mixture; beat until just combined.
The easiest way to tint the cake batter orange and black is by using a food scale. Place 36 ounces of batter (approximately 3/5ths of batter) in medium bowl and use orange food coloring to tint it to the desired shade of orange. Use black food coloring to tint the remaining 14.5 ounces of cake batter (approximately 2/5ths of batter). Divide orange cake batter into 3 prepared cake pans. Divide black cake batter into remaining 2 prepared cake pans.
Transfer pans to oven and bake 17 to 20 minutes or until toothpick inserted in center of cake comes out clean, rotating pans halfway through. Transfer pans to cooling rack; let cool 5 minutes before turning cakes out of pans onto rack. Let cakes cool completely before assembling cake.
Make the Buttercream Frosting: In bowl of stand mixer fitted with whisk attachment, beat powdered sugar and butter on low speed until blended. Increase speed to medium and beat 3 minutes. Add cream and vanilla; beat 1 minute or until smooth. Use orange food coloring to tint frosting to desired shade of orange.
To assemble cake, cut crowns off of each cake layer. Place one orange cake layer on serving plate or cake stand. Spread a layer of buttercream to edges of cake. Top with black cake layer and repeat, alternating orange and black cake layers. Frost top and sides of cake with buttercream as well.
Make the Chocolate Ganache: Place chocolate in medium bowl. In small saucepan, heat the cream and corn syrup (if using) over medium-low heat until mixture reaches a bare simmer. Pour cream mixture over chocolate and stir until all chocolate is melted and mixture is smooth. Pour ganache over cake and allow ganache to drip down sides of cake.
Notes
Home Chef Tips: If you don't have 6-inch cake pans, you can still make this recipe with two traditional 8- or 9-inch cake pans. Use food coloring to tint half of the batter orange and the other half black. Adjust baking time to 26 to 29 minutes or until toothpick inserted in center of cake comes out clean.
Corn syrup is optional in the ganache, but using it lends a bit more shine and flexibility to the mixture. Feel free to omit it if desired. Add an additional 1 tablespoon warmed cream if needed. You'll still have a pourable and delicious ganache.
More great Halloween recipes:
Disclosure: This was a sponsored post written by me on behalf of TruMoo. Sponsored posts help me pay for the costs associated with this blog (groceries…lots of groceries), and help support me as I pursue a career in recipe development and food photography. All opinions are 100% my own.