Halloween Bark
This Halloween Bark is the easiest sweet treat you'll ever make. Adapt it for any holiday and use whatever toppings you like best.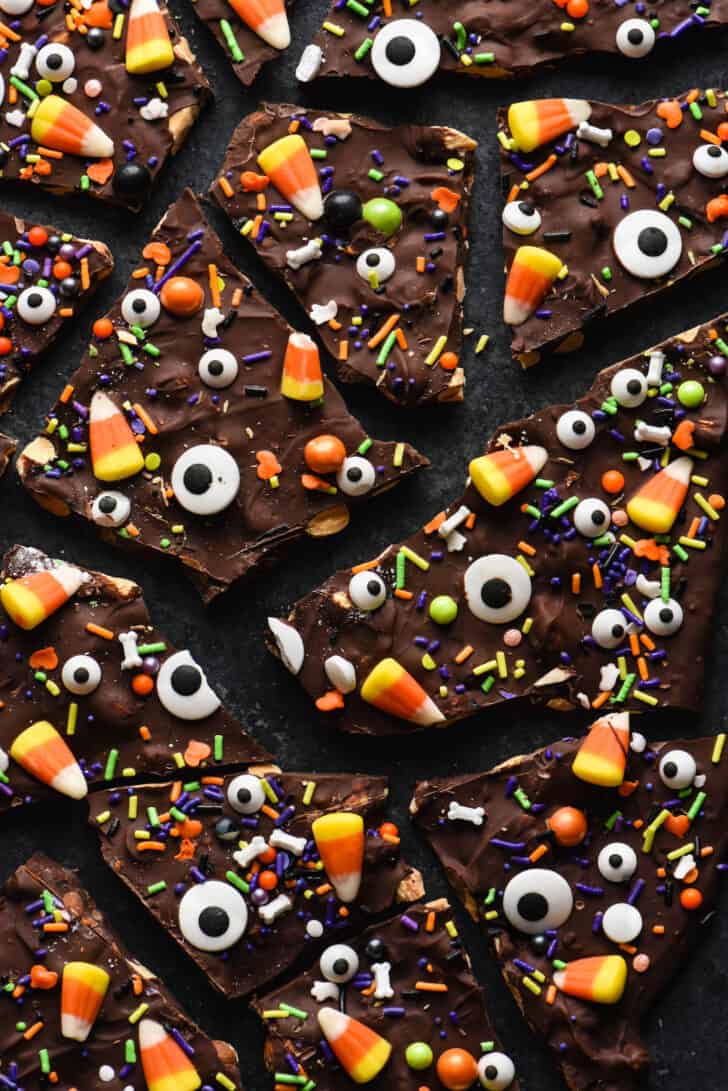 I talked about my family's love for Halloween last week when I shared my Halloween charcuterie board. So, it shouldn't come as a surprise that I'm sharing two Halloween recipes this year.
I even thought about going for three. I think I'm going to run out of time for that, but maybe I can make my jello shot recipe Halloween next year!
After a plate of spooky charcuterie and Halloween deviled eggs, or some of my other savory Halloween food ideas, I'm in the mood for something sweet.
This Halloween Bark recipe is just about the easiest Halloween treat you could ever make (right alongside my Halloween cupcakes), and it's a sweet alternative to the traditional miniature candy bars at your next Halloween gathering.
How to make Halloween candy bark:
Long story short, making Halloween bark is really only two or three steps – melt the chocolate, then spread it onto parchment paper and sprinkle your toppings on top before it cools down too much.
On that note, you'll want to start this Halloween chocolate bark by making sure you have all of your toppings prepped before you begin to melt the chocolate.
If you need to chop or unwrap anything, do it first. You'll want your toppings easily accessible and ready to sprinkle when the chocolate is ready.
Melt the chocolate in the microwave or a double boiler (more on that later), spread the melted chocolate onto a parchment-lined sheet pan (you're looking for the final product to be anywhere from 1/4- to 1/2-inch thick; it doesn't have to be exact).
Immediately sprinkle the toppings on the soft chocolate, and that's it! Allow the chocolate to fully cool down again (you can speed this process up by putting it in the fridge if you want, but it's not necessary as long as your house isn't too warm), then break the Halloween candy bark into pieces and enjoy.
What chocolate to use for Halloween chocolate bark:
The variety of chocolate that you can use to make this Halloween bark recipe is more flexible than you might think!
I originally wanted to use a bar of bittersweet chocolate (chopped up) to melt and make Halloween candy bark. Well, I was distracted at Trader Joe's by a crazy toddler trying to throw tofu in my cart.
OK, it was my own toddler. We didn't need tofu. But the point is, I accidentally bought a bittersweet bar with almonds.
But you know what? I chopped it up and melted it and it worked just fine for this Halloween chocolate bark!
Other types of chocolate you can use for this bark include semisweet/bittersweet/dark chocolate/milk chocolate chips, or almond bark or white chocolate melts.
Basically, if it's a type of chocolate that you can melt, you can use it to make this Halloween bark recipe!
Melt the chocolate on the stove or in the microwave:
There's also flexibility with how you can melt the chocolate for this Halloween bark recipe. I vastly prefer melting the chocolate in a double boiler.
Nobody owns a real double boiler, so just use Bon Appetit's instructions for how to make a double boiler with a pot and a bowl. It works like a charm!
I think that the double boiler method gives you more control over how the chocolate is melting (because it's easier to keep an eye on it) and it makes it MUCH less likely that you'll over cook the chocolate and ruin it.
However, if you'd like to use the microwave for this Halloween candy bark, place the chocolate in a microwave safe bowl or large glass measuring cup and microwave it in 15 second increments until it's smooth, stirring between each 15 second increment.
If you get to the point where you think it's almost all melted, just keep stirring until it's smooth instead of microwaving it again. Chances are, it just needs a few more stirs, and you're ready to make Halloween chocolate bark. You don't want to overcook it!
About the toppings I used for this Halloween bark:
To top my Halloween bark, I used the same Halloween sprinkles that I used for my Halloween cake pops, candy corn, and then additional candy eyeballs (there were some eyeballs in the sprinkles mix, but I wanted more).
Other topping ideas for this Halloween bark recipe:
The variety of toppings you can add to the top of this Halloween bark recipe are basically endless! Some other ideas to top this Halloween chocolate bark that would be delicious are:
pretzels
leftover Halloween candy, like M&Ms or candy bars (chop them into bite-sized pieces, if necessary)
nuts, like almonds or shelled pistaschios
dried fruit, like cranberries or chopped dried apricots
broken up potato chips
Oreos, especially Halloween-colored ones (chop them up a bit). Use extra to make Halloween dirt cups.
flaky sea salt
mini marshmallows
gummy worms
granola
broken up graham crackers
flaked or shredded coconut
roasted pumpkin seeds (pepitas) (also would be great in Halloween salad)
Halloween Bark
This Halloween Bark is the easiest sweet treat you'll ever make. Adapt it for any holiday and use whatever toppings you like best.
Ingredients
1 pound semisweet or bittersweet chocolate (chips, or chopped up bars)
1/3 cup candy corn
1/4 cup Halloween sprinkles and/or candy eyeballs
Instructions
Line rimmed baking pan with parchment paper.
Melt the chocolate in a double boiler or microwave, stirring frequently until just melted and smooth.
Pour melted chocolate onto prepared pan. Using knife or spatula, spread chocolate until it is 1/4- to 1/2-inch thick.
Sprinkle candy corn and sprinkles/candy eyeballs evenly over chocolate.
Allow to harden at room temperature for at least 2 hours or until very firm, or transfer to refrigerator and chill 30 minutes or until firm enough to break into pieces.
Serve immediately or store in air-tight container in a cool place.
Recommended Products
Foxes Love Lemons, LLC is a participant in the Amazon Services LLC Associates Program, an affiliate advertising program designed to provide a means for sites to earn advertising fees by advertising and links to Amazon.com. There is no additional cost to you.
Nutrition Information:
Yield:

12
Serving Size:

1
Amount Per Serving:
Calories:

282
Total Fat:

21g
Saturated Fat:

12g
Trans Fat:

0g
Unsaturated Fat:

8g
Cholesterol:

1mg
Sodium:

10mg
Carbohydrates:

18g
Fiber:

6g
Sugar:

7g
Protein:

5g