Halloween Charcuterie Board
Delight all the goblins and ghouls with this Halloween Charcuterie Board, full of cheese, cured meat, crackers, fruit, nuts, and all kinds of little treats!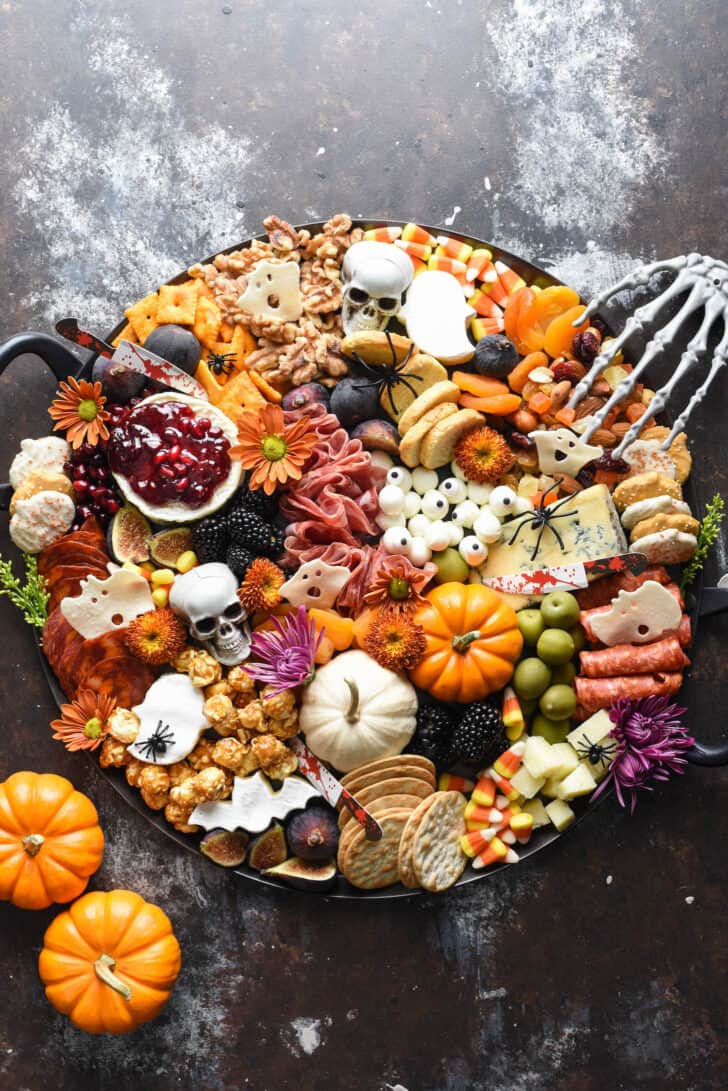 Halloween is definitely one of the most beloved holidays in our household. My husband goes all out with yard decorations, I plan our family Halloween costume months in advance, and our daughter is in it for the candy, of course.
I've already done an extensive post on Halloween food ideas (and Halloween deviled eggs, too!). But when you combine my love for Halloween with my love for unique charcuterie board ideas, I couldn't resist a Halloween board dedicated to charcuterie and cheese.
And if breakfast charcuterie and charcuterie chalets are things, then a Halloween charcuterie board is also most definitely a thing.
I love a unique charcuterie board idea! Equal parts cute and creepy, let me walk you through how I built this spooky appetizer tray. And don't forget a batch of Halloween bark or Halloween cake pops for dessert!
What to build your Halloween charcuterie board on:
First things first, you're going to need to choose a tray or board for your Halloween themed charcuterie board. Choose an appropriate size for the gathering that you're having, of course.
I really like a black or dark metal tray for a Halloween platter since it kind of sets the tone for a spooky vibe. I've had this feast platter for several years, and it was the perfect choice for a Thanksgiving charcuterie board or this Halloween charcuterie board. Halloween cupcakes look great on it, as well.
A dark wood cutting board or even a large black or gray ceramic platter would also be perfect.
About the meats I chose for this spooky charcuterie board:
I'm always a big believer in choosing whatever meats your crowd will like best. If you've got a bunch of kids and what they really want is deli turkey on this Halloween charcuterie board, go for it!
One of my daughter's favorite foods in the whole word is prosciutto, so I chose capicola, which is very similar, along with some other interesting cured meats:
Coppa Italiana – dry cured pork shoulder, also known as capicola.
Chorizo Iberico – dry cured sausage made from the Iberian pig, imported from Spain. The dark red color added a creepy "bloody" look to this spooky charcuterie board, I think.
Spianata Piccante – dry-cured salami seasoned with hot chili pepper, from Italy. This one was spicy, so probably for the adults only!
About the cheeses I used for this Halloween cheese board:
Again, choose whatever cheeses your crowd will like best for your Halloween platter. That being said, I did go to the store on a mission to find some weird looking or kind of spooky cheeses for this Halloween charcuterie board. I'm not sure I succeeded with that mission, but here's what I chose:
Blue Stilton – it's moldy, which is kind of creepy, right?
Cacio di Bosco – this is a sheep's milk cheese with truffles, and it just sounded yummy (and it was!).
Fresh mozzarella pearls – these were the perfect size to transform into "eyeballs" with decorative candies for this Halloween cheese board (I also love mozzarella pearls in jarcuterie and individual charcuterie cups, and made into skulls in my Halloween salad).
Le Pico – A soft ripened cheese from France. This was similar to brie, but even more funky!
Brie – Nothing fancy, just the standard 8 oz. brie round you can find in any grocery store (that I would also use to make savory baked brie). I used small cookie cutters to cut this into ghost and bat shapes for this easy charcuterie board. More on that later!
Other spooky ingredients I used:
Fresh figs – these are in season in the fall! You could also make pickled figs or roasted grapes for your Halloween charcuterie board.
Castelvetrano olives – I think their green color work really well here, and they're my favorite olive anyway.
Blackberries – the darkest and creepiest berry for a Halloween cheese board, right? Throw any extra into a tequila mojito!
Raspberry preserves + pomegranate arils – I put these on top of the soft French cheese because the sweetness pairs well with the funkiness, and it also looks bloody and creepy. Raspberry preserves are also great in my heart jam cookies for a slightly different holiday.
Walnuts – or any other nut you like! I had walnuts on hand because I recently made stuffed baked apples.
Fall trail mix – I found this in the bulk foods section of my neighborhood grocery store. It includes golden raisins, Spanish peanuts, almonds and dried papaya, cranberries, pineapple. It's very "fall" colored!
Dried apricots – to add even more orange color to this Halloween cheese board.
Candy corn – Absolutely essential for this easy charcuterie board, even if nobody eats it. Maybe my Halloween jello shots that just LOOK like candy corn would be fun, too!
Caramel corn – pairs surprisingly well with funky cheese, and one of my favorite Halloween charcuterie board ideas.
Water crackers – always a classic, perfect for spreading soft brie onto.
Bruschettini – these are dried bruschetta toasts that are closer to a cracker than fresh bread.
Cheez-It's – they're orange, making them perfect for a Halloween platter, and you always have them available when there's a toddler in the house. Also a classic on a football themed charcuterie board.
Ghosts & Bats crispy potato snacks – from Trader Joe's.
Pumpkin spice cookies – I also found these at Trader Joe's, and they're adorable on this spooky charcuterie board.
Don't forget some cute decorations for this easy charcuterie board!
Additional decorations certainly aren't required, but they do make any Halloween charcuterie board more festive!
Fake plastic spiders come in several different sizes, and they're easy to place wherever you want around the Halloween cheese board. I also bought a decoration set that included skulls and skeleton hands.
I couldn't resist bloody knife cupcake toppers for this unique charcuterie board – I thought they were so cute. And then I had some candy eyeballs on hand (also great for Halloween dirt cups), so I placed a few of those on top of the mozzarella pearls.
I also bought a bouquet of seasonal flowers and plucked a few of them to decorate this easy charcuterie board.
Some tips for cutting the brie with cookie cutters:
As I mentioned earlier, I used a standard "grocery store" 8 ounce brie round (President and Reny Picot brands seem to be the most common in my area).
It's important that the cheese you're going to cut is COLD when you cut it. After you cut it, you can let it room to warm temp for the best flavor and ooziness, but it needs to be fresh out of the fridge when you cut it.
I used small Halloween cookie cutters to cut ghost and bat shapes from the brie for my easy charcuterie board. Now, most likely, the cheese will be taller than your cookie cutter, so it takes a bit of muscle and determination to get the shapes cut out for this spooky charcuterie board.
It helps to use a small paring knife to cut some of the excess cheese away from the cutter, and then just keep gently pressing on the cutter until it goes most of the way through the cheese.
You can use the paring knife to finish cutting out the shape on the bottom of the cheese, and then pop the shape back out of the cutter.
Save all of the brie scraps, they're too yummy to waste! Put them to work in a pumpkin quesadilla or pumpkin and brie crostini.
What do you call a Halloween charcuterie board?
Bonus question, just for fun: what name do you like better for this Halloween platter – SPOOKcuterie or charBOOterie? Tell me in the comments below!
More unique charcuterie board ideas:
It's easy to create a charcuterie board, cheese plate or snack platter for just about any holiday or event!
Halloween Charcuterie Board
Delight all the goblins and ghouls with this Halloween Charcuterie Board, full of cheese, cured meat, crackers, fruit, nuts, and all kinds of little treats!
Ingredients
8 ounce brie cheese round
2 small decorative fresh or artificial pumpkins
Decorations like plastic spiders, bloody knife cupcake toppers and plastic skulls and skeleton hands (optional)
3 ounces thinly sliced capicola
6 ounces thinly sliced spicy salami, like chorizo Iberico and/or Spianata Piccante
4 ounces soft ripened French cheese, like Le Pico
2 ounces blue cheese, like a wedge of Stilton
2 ounces hard sheep's milk cheese, like Cacio di Bosco, cubed
2 ounces fresh mozzarella pearls
8 fresh figs, halved
1 cup Castelvetrano olives
3/4 cup blackberries
3/4 cup caramel corn
3/4 cup trail mix (fall hued, if you can find it)
1/2 cup Cheez-It crackers
1/2 cup dried apricots
1/2 cup walnuts
1/3 cup candy corn
1 box (4 ounces) water crackers
1 package (4 ounces) Bruschettini toasts
8 Trader Joe's mini pumpkin spice cookies
1/4 cup raspberry preserves
1/4 cup pomegranate arils
Candy eyeballs (optional)
Handful of Trader Joe's Ghosts & Bats crispy potato snacks
Seasonal flowers, for garnish (optional)
Instructions
Use small Halloween shaped cookie cutters to cut shapes from brie round. Save brie scraps for another use.
Arrange pumpkins, plastic skulls (if using), and all meats and cheeses, including brie shapes, on large platter or board.
Arrange figs, olives, blackberries, caramel corn, trail mix, Cheez-Its, dried apricots, walnuts, candy corn, crackers, Bruschettini and cookies around meats and cheeses.
Spoon raspberry preserves over soft ripened French cheese, and sprinkle with pomegranate arils.
Use candy eyeballs to garnish mozzarella pearls. Decorate platter with ghost and bat potato crispy snacks, more Halloween decorations and flowers.
Recommended Products
Foxes Love Lemons, LLC is a participant in the Amazon Services LLC Associates Program, an affiliate advertising program designed to provide a means for sites to earn advertising fees by advertising and links to Amazon.com. There is no additional cost to you.
Nutrition Information:
Yield:

8
Serving Size:

1
Amount Per Serving:
Calories:

756
Total Fat:

45g
Saturated Fat:

17g
Trans Fat:

0g
Unsaturated Fat:

26g
Cholesterol:

89mg
Sodium:

1327mg
Carbohydrates:

65g
Fiber:

7g
Sugar:

34g
Protein:

26g