Greek Chicken Marinade
This Greek Chicken Marinade is a simple, fast recipe that results in juicy, succulent chicken every single time!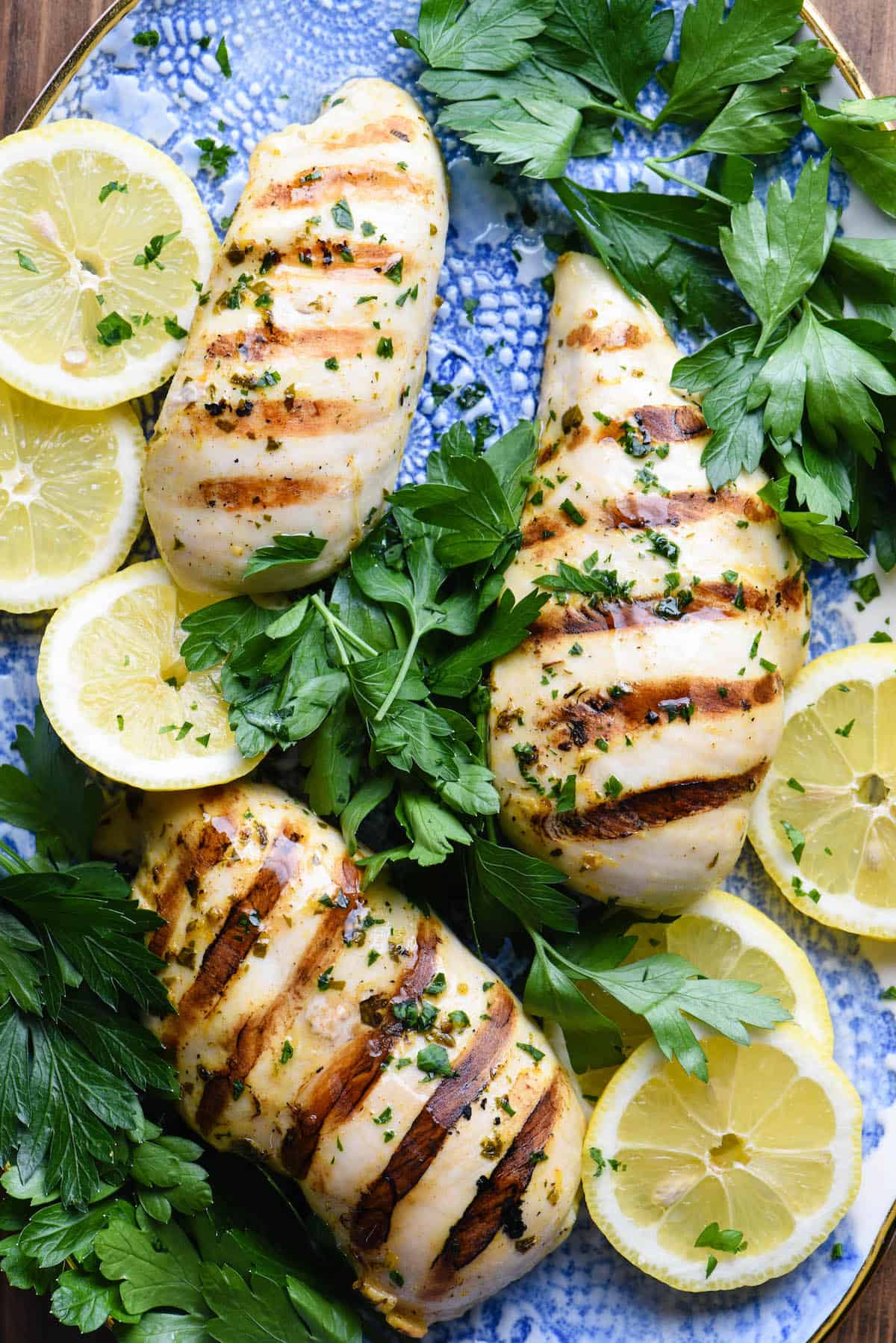 Hey there, happy September! It still feels like summer in my neck of the woods, even as everybody's thoughts are turning to fall.
Our menu still has grilled recipes in heavy rotation, with a sprinkling of comfort fair like instant pot lentil soup and Greek yogurt pasta on cooler days.
Sometimes there's nothing so simple and satisfying for dinner as a piece of chicken and some veggies. When we grill chicken, we almost always marinate it, and buttermilk chicken marinade and this Greek Chicken Marinade are our favorites.

How to make Greek chicken marinade fast:
Here's my secret for making THE FASTEST MARINADES EVER – I don't measure anything. Ever. Life's too short, and it's just a marinade (I feel pretty much the same way about my dry rub for ribs).
When I follow other marinade recipes, I look at the recipe to get a general sense of the amount of each ingredient, and then I just eyeball it.
I've given you ingredient amounts below, but honestly, don't get all your measuring cups and spoons dirty. It won't matter if you have a little "too much" lemon juice or a little less oregano.
Just eyeball everything into a ziploc bag, throw the chicken in, and move on with your day. It'll taste great, I promise. Same story with my flat iron steak marinade.
What are the ingredients for this Greek chicken marinade recipe?
You should be able to find all of the ingredients for this marinade at any grocery store, if they're not already in your kitchen:
olive oil
lemon
parsley
garlic
paprika
salt and pepper
What does marinade do to chicken?
Many people think that a marinade simply adds flavor to meat (which it does!), but it's also an important tool for tenderizing meat.
Personally, I think that chicken breast can sometimes get dry and somewhat tough (which is why I really prefer thighs for my orange glazed chicken and almond crusted chicken). But the acid (lemon juice) in this marinade will help tenderize the chicken, making it, well, tender.
The herbs and spices add lots of flavor. And the olive oil will coat the meat and keep it moist as it cooks.
Can this be used as a Greek chicken kabob marinade?
This marinade is SO versatile. While I've shown it here used for grilled chicken breast, it can be used for any cut of chicken and any cooking method.
Have some chicken thighs you want to sauté? Do it. Chicken drumsticks you want to roast and serve with Dr. Pepper baked beans? Also great. Kabobs? Yes!
This versatile marinade is also lovely with steak or shrimp.
Greek Chicken Marinade
This Greek Chicken Marinade is a simple, fast recipe that results in juicy, succulent chicken every single time!
Ingredients
1/2 cup extra virgin olive oil
Zest of 1 lemon
1/4 cup fresh lemon juice
2 tablespoons finely chopped fresh parsley
1 tablespoon minced garlic
1 teaspoon dried oregano
1 teaspoon kosher salt
1/2 teaspoon ground black pepper
1/2 teaspoon paprika
Instructions
In medium bowl, whisk together all ingredients. Makes about 1 cup marinade, which is enough for 1 pound of chicken.
Recommended Products
Foxes Love Lemons, LLC is a participant in the Amazon Services LLC Associates Program, an affiliate advertising program designed to provide a means for sites to earn advertising fees by advertising and links to Amazon.com. There is no additional cost to you.
Nutrition Information:
Yield:

4
Serving Size:

1
Amount Per Serving:
Calories:

254
Total Fat:

27g
Saturated Fat:

4g
Trans Fat:

0g
Unsaturated Fat:

23g
Cholesterol:

0mg
Sodium:

532mg
Carbohydrates:

4g
Fiber:

1g
Sugar:

1g
Protein:

1g
More tasty Greek-inspired recipes: