Thanksgiving Fruit Salad (Fall Fruit Salad)
Thanksgiving Fruit Salad is a vibrant, healthy addition to your holiday table. Colorful chopped fruit is tossed with a simple honey dressing for a delicious, easy side dish.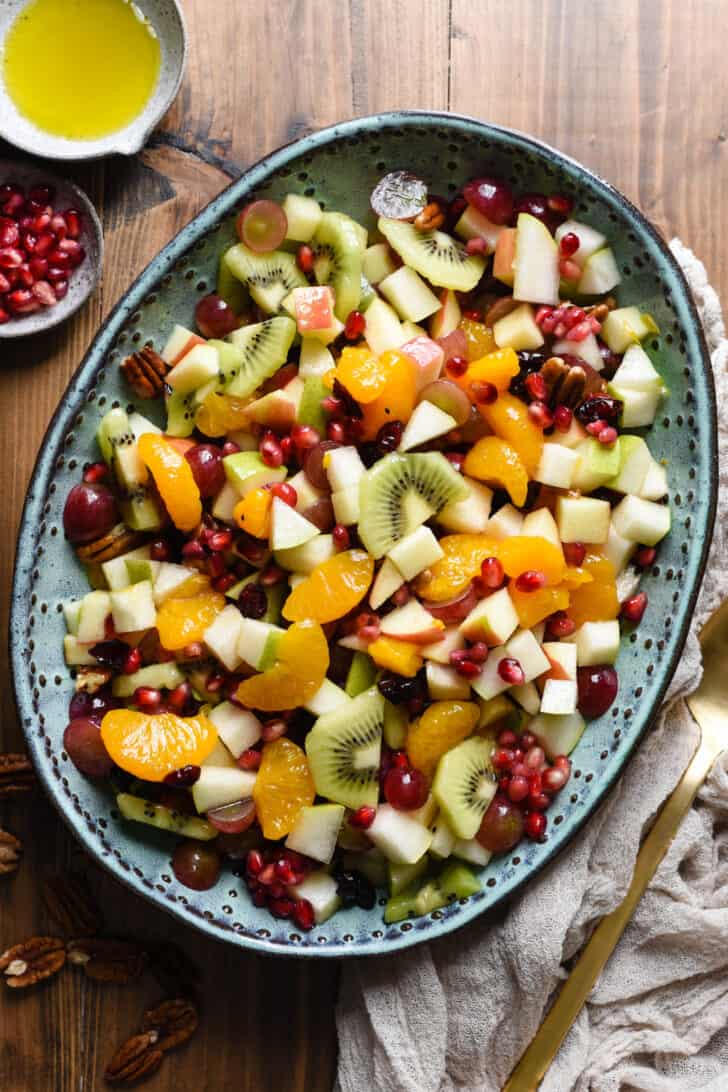 Just like almost every food blogger you might follow, I'm double checking my Thanksgiving recipes list this year and trying to figure out what I might be missing. If there's something that I don't have that you'd like to see, please, let me know. I love suggestions for what to publish next!
So far, I've figured out while I have a classic roasted turkey with maple bourbon glaze and a Cajun turkey, I don't have a ham recipe (although I do already have a recipe for leftover ham and potato soup, oddly). I'll be fixing that with a delicious new ham recipe published here in a few weeks.
I also realized I didn't have a classic gravy, so I published my technique for how to make gravy from scratch.
And while I have a very popular Thanksgiving salad, Christmas salad and Easter salad recipes, I don't yet have a Thanksgiving fruit salad recipe.
Thanksgiving fruit salad (and Christmas fruit salad) may or may not be something that has a spot on your holiday table, and that's OK. I think it's a nice addition to a meal for a large crowd (even a brunch buffet), especially if lots of kids are in attendance. Kids love fruit an absurd amount.
But this fall fruit salad is delicious for taste buds of all ages. The sweet fruit is balanced with a bright and delicious dressing. Serve it in your prettiest bowl.
What goes into this Thanksgiving fruit salad recipe?
grapes – I like red seedless grapes, but any color works well in this fall fruit salad. I use extra grapes to make broccoli tortellini salad for lunch.
mandarin oranges – yep, the canned kind. Preferably packed in water. You can also segment a few clementines if you'd prefer that instead.
pear – I like a nice crisp green pear here, like a Bartlett or D'anjou (Bosc pears are really best for baking, like pear muffins). Buy some extra pears to make a pear strudel for Thanksgiving morning breakfast!
kiwi – truthfully, not MY favorite fruit, but my daughter loves it, so it's included here for her!
apple – I used Honeycrisp for this Thanksgiving fruit salad, but Gala is also great (and extra Galas can be used to make an apple rose tart or stuffed baked apples for dessert).
pomegranate arils (seeds) – I've found these hard to find at a lot of stores in the past few years, but Trader Joe's always seems to have them! Sprinkle any leftover arils on a vegan lentil curry, my lamb lollipop recipe or roasted acorn squash slices next week.
pecans – or walnuts! I like to add nuts for crunch, but they can be omitted if there are any guests with nut allergies. If you have leftover pecans, throw them into a carrot cake smoothie.
dried cranberries – It's Thanksgiving, so there has to be cranberries! I also like dried cranberries in my rice for Thanksgiving side dish. Save the fresh cranberries for a cranberry appetizer!
Do you need fruit salad dressing?
Whether or not you "dress" your fall fruit salad is really a matter of taste. I've had plenty of delicious fruit salads that were nothing more than chopped in-season fruit at the peak of ripeness.
However, Thanksgiving dinner is known for being over the top, so why not take your fruit salad to the next level with a fruit salad dressing?
My Thanksgiving fruit salad dressing is nothing more than a simple whisking together of fresh orange juice, pumpkin pie spice and honey. It adds a sweet, bright, seasonal flair to the already-delicious fruit. Use a pinch of pumpkin pie spice in my Thanksgiving Rice Krispies treats, too!
Another fruit salad idea is my Easter fruit salad, which has a sweetened whipped cottage cheese dipping sauce.
How to keep fruit fresh until you're ready to serve it:
There are so many ways to prevent apples and pears from turning brown, and everybody seems to have their own favorite method. The Cookful has an article on 10 ways to stop apples from browning, and I bet you've already tried some of them.
A lemon juice solution is a classic method for a reason. And the salt water method seems to have it super fans.
I usually have citric acid around for food styling, so I generally reach for that (it's also super handy to have on hand to descale a coffee maker!).
To use citric acid to prevent fruit from browning, I prepare a quart of cold water in a large bowl, and stir in 2 teaspoons of citric acid until it is dissolved. Then, as I chop my apples and pears, I transfer them to the bowl of citric acid water.
When everything is chopped and in the bowl, I use my hands to scoop the fruit out of the bowl and onto a clean kitchen towel. I pat the fruit dry and it's ready to use!
Whatever method you choose, you'll probably want to do something to keep your chopped apples and pears fresh throughout a long, leisurely Thanksgiving dinner.
Serve fall fruit salad in small jars for a cute touch:
I had a bunch of jam jars sitting in my photography studio from when I made jarcuterie, and on a whim, I spooned some of this fruit salad into the jars.
I think this would be a really fun serving idea for a Thanksgiving buffet line, or a Friendsgiving gathering. Or, like I mentioned earlier, simply choose your most beautiful bowl to serve this Thanksgiving fruit salad recipe in.
How to make a smaller batch of Thanksgiving fruit salad:
The fall fruit salad recipe as written below makes about 8 servings, but truthfully, I have a small family and we never have 8 people for Thanksgiving dinner.
To make a smaller half batch, choose either an apple OR a pear (so that you don't end up with half an apple and half a pear left over), and simply halve the rest of the ingredients.
A small batch is also great on any old weeknight, especially paired with something rich like slow cooker beef stroganoff.
Thanksgiving Fruit Salad
Thanksgiving Fruit Salad is a vibrant, healthy addition to your holiday table. Colorful chopped fruit is tossed with a simple honey dressing for a delicious, easy side dish.
Ingredients
1/2 cup fresh orange juice
1/4 cup honey
1/4 teaspoon pumpkin pie spice
2 kiwi, peeled, halved and thinly sliced
1 D'anjou or Bartlett pear*, cored and chopped
1 Honeycrisp or Gala apple*, cored and chopped
1 can (15 ounces) mandarin oranges in water, drained and patted dry
1-1/2 cups red grapes, halved
1/2 cup dried cranberries
1/2 cup pecan halves
1/2 cup pomegranate arils (seeds)
Instructions
In large bowl, whisk orange juice, honey and pumpkin pie spice.
Add kiwi, pear, apple, oranges, grapes, dried cranberries, pecans and pomegranate arils to bowl and gently toss to combine.
Transfer to serving dish and serve immediately.
Notes
*Home Chef note: I suggest doing something to prevent the apple and pear from browning. There's information on this in the post above!
Recommended Products
Foxes Love Lemons, LLC is a participant in the Amazon Services LLC Associates Program, an affiliate advertising program designed to provide a means for sites to earn advertising fees by advertising and links to Amazon.com. There is no additional cost to you.
Nutrition Information:
Yield:

8
Serving Size:

1
Amount Per Serving:
Calories:

179
Total Fat:

5g
Saturated Fat:

0g
Trans Fat:

0g
Unsaturated Fat:

4g
Cholesterol:

0mg
Sodium:

3mg
Carbohydrates:

36g
Fiber:

4g
Sugar:

29g
Protein:

1g