Trick or Beet Halloween Brownies
These "Trick or Beet" Halloween Brownies are delicious chocolatey brownies that use beets in place of some of the oil. Nobody will notice a difference in the flavor of these healthier brownies!
Autumn brings two things that are well-loved in my household: Halloween and beets. So, "Trick or Beet" Halloween Brownies (and Halloween jello shots and Halloween salad) actually seem completely normal in our home.
The beets are actually the trick. The brownies are the treat (Halloween cake pops are a treat, too). So maybe they're like "Beet and Treat" Brownies, but that isn't nearly as catchy.
My husband is a Halloween fanatic – decorating the yard and house with his yearly "Halloween allowance" – the small sum we've agreed to that he can spend on new skeletons, gravestones, bats and spiders each year.
Giant fake tarantulas crawl across our house numbers, bats hang from tree branches, a sound machine plays creepy music to set the graveyard theme.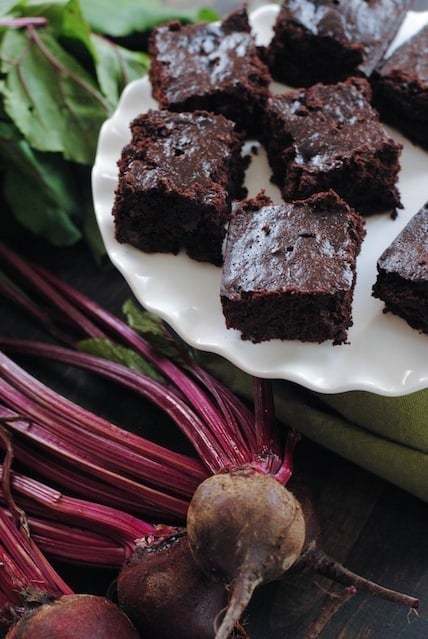 We'll be eating Halloween food or Halloween bark, and passing out candy on the porch, if the children can make it up the walkway without crying out of fright (and yes, sadly, that has actually happened).
You know what aren't nearly as scary as they sound? Beets!! My favorite food. No, seriously. They're really my favorite food. Although I've heard them referred to as "dirt candy" (and not like my Halloween dirt cups), I've convinced most of my immediate family of their charm (except my Dad, who is still terrified of them). However, try as I might, I haven't been able to spread the love to most of my friends.
These Halloween Brownies have a secret ingredient!
Until now. I made these delicious chocolaty brownies, and used beets as a substitute for some oil. I also used honey instead of any white sugar. What resulted was a moist, cake-like brownie with a fudgy (not at all beety) flavor.
One friend who hates beets ate two of them, so I win! These beet brownies are perfect all year 'round (so are my Irish Cream Brownies!), but most especially when you want to play a delicious and nutritious trick on your family and friends.
Trick or Beet Halloween Brownies
Cook Time:
1 hour
30 minutes
Total Time:
1 hour
50 minutes
These "Trick or Beet" Halloween Brownies are delicious chocolatey brownies that use beets in place of some of the oil. Nobody will notice a difference in the flavor of these healthier brownies!
Ingredients
2 large red beets, roots and leaves trimmed, scrubbed
Nonstick cooking spray
1 cup plus 2 tablespoons cocoa powder
3/4 cup all-purpose flour
1 teaspoon baking powder
1/2 teaspoon sea salt
1/8 teaspoon baking soda
3 eggs
3/4 cup light brown sugar
2/3 cup vegetable oil
1/2 cup honey
2 teaspoons vanilla extract
2-1/2 teaspoons instant espresso powder
3/4 cup dark chocolate morsels
Instructions
Preheat oven to 425 degrees F. Wrap beets in foil and place on rimmed baking pan. Bake 1 hour to 1 hour, 15 minutes or until beets are easily pierced with knife. Let cool, then use paper towel to rub off skins. Shred beets on largest holes of box grater. (This step can be done up to 3 days in advance).
Lower oven temperature to 325 degrees F. Spray 9 x 13-inch baking pan with cooking spray. In medium bowl, whisk together cocoa powder, flour, baking powder, salt and baking soda.
In large bowl, whisk eggs, brown sugar, oil and honey until well combined. Stir in vanilla extract, espresso powder and shredded beets. Add flour mixture; stir until very well combined. Stir in chocolate morsels.
Pour brownie batter into prepared pan. Transfer to oven and bake 28 to 30 minutes or until toothpick inserted in center of pan comes out clean. Transfer to wire rack and let cool completely before cutting and serving.
Recommended Products
Foxes Love Lemons, LLC is a participant in the Amazon Services LLC Associates Program, an affiliate advertising program designed to provide a means for sites to earn advertising fees by advertising and links to Amazon.com. There is no additional cost to you.
Nutrition Information:
Yield:

18
Serving Size:

1
Amount Per Serving:
Calories:

218
Total Fat:

12g
Saturated Fat:

3g
Trans Fat:

0g
Unsaturated Fat:

9g
Cholesterol:

32mg
Sodium:

115mg
Carbohydrates:

26g
Fiber:

1g
Sugar:

20g
Protein:

2g
More great Halloween recipes: