Vegetables Lasagna (Guaranteed Not Watery)
Great vegetable lasagna is flavorful, cheesy, well-cooked and NOT watery. Learn the secret ingredient that culinary school students use to perfect this classic dish.
The BEST Veggie Lasagna Recipe
We've all had bad banquet food. In my experience, it involves a choice of overcooked chicken or bad vegetable lasagna. The lasagna is mushy and overcooked. And unlike it's meatier cousins like Greek lasagna, it's usually runny and watery.
One of the few banquets I've been to that has had great food? My culinary school graduation, of course. My instructors knew what they were doing when it came to banquets. Not only did they offer up lamb lollipops and the best vegetarian quiche, but they knew that vegetable lasagna can be great if it's made well.
And it turns out that making it well involves a secret ingredient. An ordinary item you can find at any grocery store, but it has a magical purpose when it comes to veggie lasagna.
Read on to find out what this item is, and why it guarantees that you'll soon be enjoying the most flavorful, cheesiest, well cooked, NOT WATERY vegetable lasagna you've ever had.
The secret ingredient in this vegetable lasagna recipe is couscous.
It's a known fact that vegetables give off a lot of moisture as they cook. After all, a zucchini IS 95% water! But too much moisture is the enemy of any great pasta dish, especially a veggie lasagna where you just don't want to see moisture pooling at the bottom of your baking dish as you're cutting slices.
It wasn't until I took a class from a vegan chef instructor that I learned how simple this problem is to solve.
The cheap, quick, painless solution? Couscous. Ordinary, dry, uncooked couscous (more on buying the right type below). As you are assembling a vegetable lasagna, sprinkle a spoonful of dry couscous on top of each layer of vegetables.
Why couscous works so well.
As the meatless lasagna cooks, the vegetables will begin to give off a bit of moisture (even if you've sauteed or roasted them first, they still will). No worries, because the raw couscous will absorb all that moisture as it cooks alongside the rest of the ingredients.
The great thing about this trick is that the couscous is virtually undetectable in the finished dish. You won't be able to recognize its subtle flavor amongst all of the other tasty morsels in your lasagna, and unless you know it's there and you're looking really carefully, you probably won't see it, either.
Stock your pantry with a bit of couscous and say goodbye to watery veggie lasagna forever!
Pay attention to the TYPE of couscous for your veggie lasagna.
There might be several different types of couscous at your grocery store, so take care when purchasing. Most stores have two main types:
Moroccan couscous – often labeled as "golden couscous," "Moroccan-style pasta" or simply "couscous." This couscous has the smallest grain size and THIS IS THE ONE YOU WANT. You can buy golden/original or tri-color – it really doesn't matter. If the only Moroccan couscous you can find is in a box with a flavor packet, just buy that and discard the flavor packet.
Israeli couscous – often labeled "pearl couscous" or "toasted Israeli-style pasta." I love this as a side dish for almond crusted chicken, but this NOT what you want for this veggie lasagna recipe. This couscous has a larger grain size pretty similar to a peppercorn, and very much resembles pepe pasta. Israeli couscous would take too long to cook and be too noticeable while you're eating your vegetable lasagna. Don't buy this one!
What vegetables are best for Vegetables Lasagna?
I went with white onion, red bell pepper, zucchini, button mushrooms and baby spinach for my veggie lasagna, but this is SO adaptable to what you like best or what you happen to have on hand.
Yellow onion or red onion work great here. Or, omit the onion and double up on bell peppers. And any color of bell pepper!
Yellow squash or eggplant can sub in for the zucchini, and ANY variety of mushroom is perfect here.
If the spinach at your store is looking a little past its prime, grab some kale or swiss chard instead.
Cottage cheese filling in this Vegetable Lasagna Recipe
I grew up eating my family's lasagna recipe with cottage cheese (albeit with meat and not vegetables). The recipe has been in my Midwestern family for generations. So yes, this is a vegetable lasagna with cottage cheese, too!
If you prefer very traditional Italian cuisine, you might be clutching your pearls right now, and that's OK.
Feel free to use ricotta instead, or a combination of half ricotta and half cottage cheese. If using a combo, stir them together before assembling the veggie lasagna.
If using cottage cheese, I recommend using small curd cottage cheese (instead of large curd), so that the curds disappear into the cheese mixture more easily and mimic the smoothness of ricotta a little more closely.
How to make Vegetable Lasagna
SAUTE THE VEGGIES: In batches, cook all of the vegetables until they just begin to get soft.
ADD THE MARINARA: Stir the marinara sauce and all of the vegetables together and cook this mixture about 10 minutes or until it gets thick and chunky.
MAKE THE CHEESE FILLING: Stir together the cottage cheese, Parmesan cheese, eggs and seasonings.
COOK THE NOODLES: Boil the lasagna noodles according to their package directions.
ASSEMBLE: Layer the noodles, cheese filling, vegetable mixture, couscous and mozzarella cheese. Repeat 3 more times.
BAKE: About 45 to 60 minutes or until the edges get bubbly.
Do I cover Veggie Lasagna with foil for baking?
No, you do NOT need to cover veggie lasagna with foil while baking. Honestly, I love when the corners and edges get some crispy bits.
However, if your vegetable lasagna starts to get too brown for your liking while it is baking, feel free to loosely tent it with foil for the remainder of the cooking time.
Can you layer veggie lasagna the night before?
Yes! This vegetable lasagna recipe can be assembled, covered and refrigerated up to 3 days before baking. Bring to room temperature on the counter 1 hour before baking.
What to serve with this Veggie Lasagna Recipe
While the veggie lasagna is baking, make a fresh salad to go along with it. My Thanksgiving salad is great all fall and winter, not just the holiday. Same story with my Easter salad. These salads are the perfect accompaniment to something rich like lasagna.
But, if you're thinking that you already have enough vegetables IN the meatless lasagna, and you'd rather have fruit, my fall fruit salad or Easter fruit salad are great choices.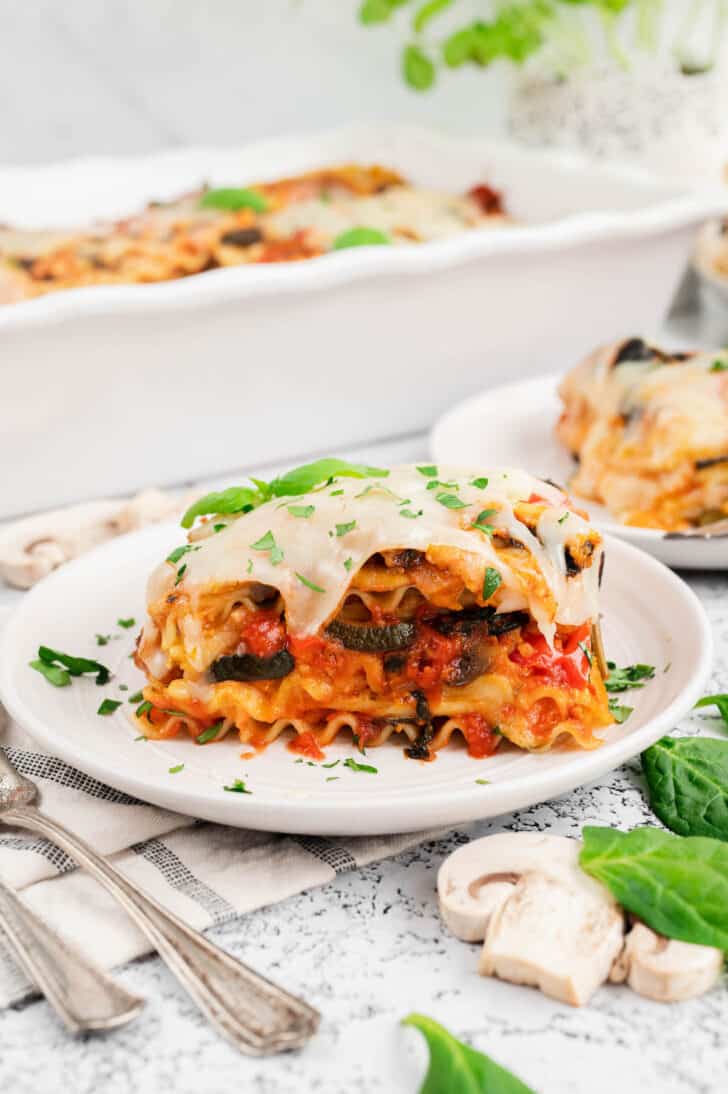 How to store Vegetable Lasagna
Yes, just like my Asian sloppy joes and sweet potato breakfast casserole, this veggie lasagna recipe freezes well! What I usually do is prepare and bake the full lasagna as written below, and then refrigerate the whole thing (or the leftovers after I've served it for dinner once) in the pan overnight.
Trust me, it's MUCH easier to portion and wrap the pieces when the vegetable lasagna is chilled than when it is warm.
The next day, I remove the chilled pieces of lasagna from the pan and wrap them individually in plastic wrap, then foil. I freeze the wrapped pieces in freezer bags.
To reheat, I unwrap as many pieces as I need and place them in a small casserole dish with a little bit of water in the bottom. I cover the dish with foil and bake at 350 degrees F until they are heated through.
If you love freezer recipes, try fettuccine bolognese sauce for another dinner, or my vanilla creme brulee for dessert!
Side note – I think meatless lasagna actually tastes better as leftovers! Just like melomakarona (Greek cookies), something about it just tastes better after it sits for a bit.
Best Veggie Lasagna Recipe FAQs
How do you keep veggie lasagna from getting soggy?
I've mentioned the couscous trick above, which is my number one tip to prevent veggie lasagna from being soggy. It's also important to let the lasagna rest for 15 minutes before serving. This allows the lasagna to set and re-absorb any remaining moisture, resulting in a firmer texture.
How many layers is best for lasagna?
This comes down to personal preference, but I think 3 to 4 layers is best. This ensures the lasagna is substantial enough to slice without being too dense.
Why do you put sauce on the bottom of lasagna?
This is optional, and I don't always do it. The main reason some people put sauce in the bottom of their lasagna pan is to prevent sticking. I find that spraying my lasagna pan with nonstick cooking spray works just as well, though.
The Best Veggie Lasagna Recipe
Total Time:
1 hour
40 minutes
Great vegetable lasagna is flavorful, cheesy, well-cooked and NOT watery. Learn the secret ingredient that culinary school students use to perfect this classic dish.
Ingredients
For the Vegetable Mixture:
3 tablespoons olive oil, divided
3 garlic cloves, minced
1 medium white onion, chopped
1 red bell pepper, chopped
1 medium zucchini, chopped
8 ounces white mushrooms, chopped
1 box (5 ounces) baby spinach
1 teaspoon kosher salt
1/4 teaspoon red pepper flakes
1 jar (24 ounces) marinara sauce
For the Cheese Filling:
2 eggs
3 cups small curd cottage cheese
1/2 cup grated Parmesan cheese
2 tablespoons fresh basil, minced
2 teaspoons dried oregano leaves
1 teaspoon kosher salt
1/2 teaspoon ground black pepper
For Assembly:
1 box (16 ounces) lasagna noodles (traditional, NOT no-boil)
Nonstick cooking spray
1 pound mozzarella cheese slices
1/3 cup Moroccan couscous (Israeli/pearl couscous will NOT work)
For Garnish (optional):
Additional grated Parmesan cheese
Chopped fresh basil leaves
Instructions
Make the Vegetable Mixture: Heat 1-1/2 tablespoons olive oil in large high-sided skillet over medium-high heat. Add garlic, onion, red bell pepper and zucchini and cook 6 to 8 minutes or until vegetables are tender-crisp, stirring frequently. Transfer mixture to medium bowl.
Add remaining 1-1/2 tablespoons olive oil to skillet. Add mushrooms and cook over medium-high heat 4 to 6 minutes or until deep golden brown, stirring occasionally. Reduce heat to medium-low and add spinach, salt and red pepper flakes. Cook 1 to 2 minutes or until spinach is wilted, stirring frequently.
Add marinara sauce and zucchini mixture to pan with mushroom mixture. Cook over medium heat 8 to 10 minutes or until mixture is thick and chunky, and most of the excess liquid has evaporated, stirring occasionally. Remove from heat and let cool slightly.
Meanwhile, make the Cheese Filling: Place eggs in large bowl and whisk until smooth. Add cottage cheese, Parmesan cheese, basil, oregano, salt and pepper; stir until well combined.
To start the assembly, prepare noodles according to package directions; drain.
Preheat oven to 375 degrees F. Spray 9 x 13-inch baking dish (at least 2-1/2 inches deep) with nonstick spray. Arrange 1/4 of noodles in bottom of dish. Spread noodles with 1/4 of Cheese Filling. Spread 1/4 of Vegetable Mixture over Cheese Filling. Sprinkle 1/4 of couscous over Vegetable Mixture. Arrange 1/4 of mozzarella cheese slices over couscous (you can rip the cheese slices into halves or thirds to arrange them easier). Repeat layers 3 more times.
Transfer to oven and bake 45 to 60 minutes or until edges are bubbly. Let rest 15 minutes before serving topped with additional Parmesan cheese and basil, if desired.
Recommended Products
Foxes Love Lemons, LLC is a participant in the Amazon Services LLC Associates Program, an affiliate advertising program designed to provide a means for sites to earn advertising fees by advertising and links to Amazon.com. There is no additional cost to you.
Nutrition Information:
Yield:

12
Serving Size:

1
Amount Per Serving:
Calories:

408
Total Fat:

18g
Saturated Fat:

8g
Trans Fat:

0g
Unsaturated Fat:

8g
Cholesterol:

75mg
Sodium:

1136mg
Carbohydrates:

38g
Fiber:

4g
Sugar:

7g
Protein:

24g
This website provides estimated nutrition information as a courtesy only. You should calculate the nutritional information with the actual ingredients used in your recipe using your preferred nutrition calculator.