Almond Flour Rum Balls
These Almond Flour Rum Balls are a sophisticated alternative to frosting-laden holiday treats, and perfect with a cup of coffee or tea. Naturally gluten free.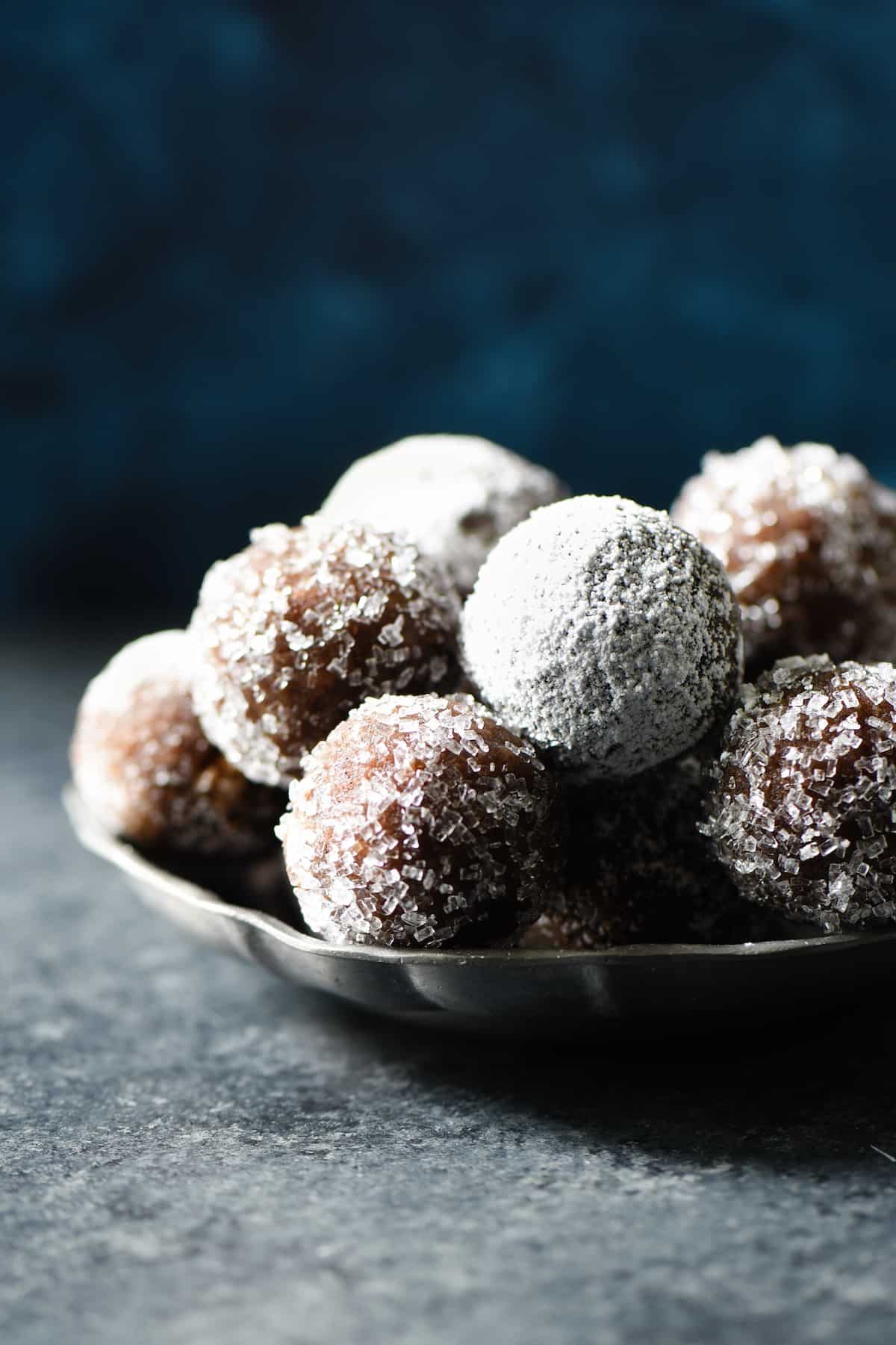 My mom is the designated OFFICIAL Christmas cookie and holiday treat maker for the family, leaving me with the low-stress position of making whatever I want to supplement her treats.
Sometimes it's heart cookies. Most years, I'll make my favorite melomakarona, although admittedly, they are a lot of work (I usually make them in a 3-day process).
But this year I decided to go in a different direction with these Almond Flour Rum Balls.
After sharing these with a group of friends along with a round of salted caramel cream cold brews, I came to find out that most people my age had never had a rum ball before!
To be honest, I haven't had a ton of them either, but I do remember them on the dessert buffet at my grandparents' family Christmas party when I was young.
They're an adults-only treat that are perfect with a cup of coffee or tea, and a nice break from the traditional frosting-laden treats this time of year.
They're also gluten free, meaning even those with that dietary restriction can indulge!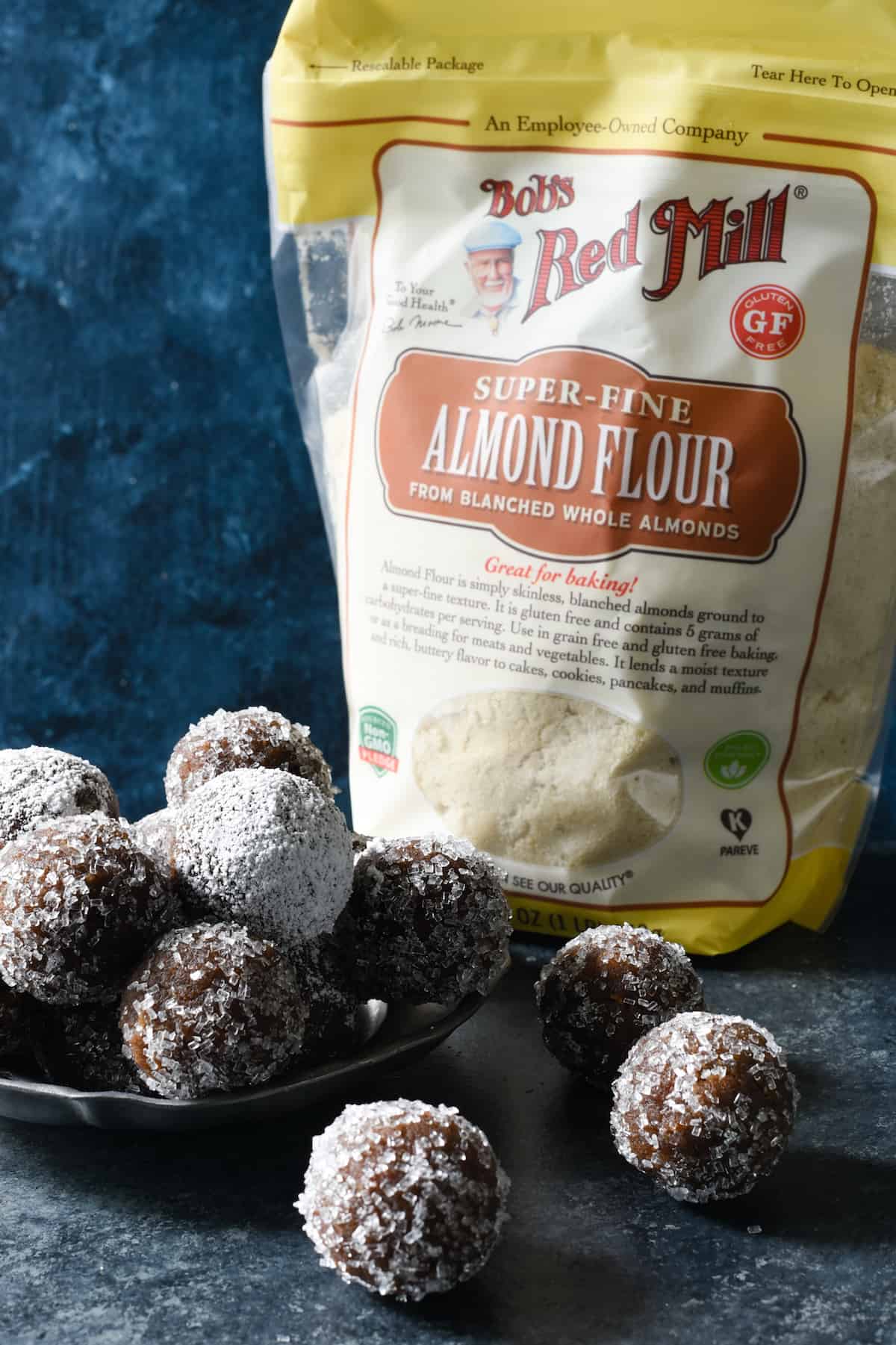 About these Almond Flour Rum Balls:
You'll be making almond flour cookies, and then breaking up the cookies and mixing them with rum to make the rum balls. You can make the rum balls as soon as the cookies are cool, or wait a few days! I baked my almond flour cookies, stored them in a zip-top bag once they were cool, and made the rum balls 2 days later.
As I mentioned earlier, these are entirely gluten free, thanks to Bob's Red Mill Almond Flour. This flour is made from California-grown almonds, which have been blanched and ground to a fine meal that is ideal for gluten free baking.  There's actually always a bag of this flour in the freezer at our house. My husband randomly enjoys making French macarons (no complaints here), and I use the flour to make almond crusted chicken all the time.
 The rum will be the predominate flavor in the finished product, but I was also pretty aggressive with the cinnamon and vanilla. I was going for a horchata-type flavor, and I think I succeeded!
Speaking of rum, I prefer dark (not spiced) rum for this recipe, but you can certainly use spiced rum if that's what you happen to have on hand!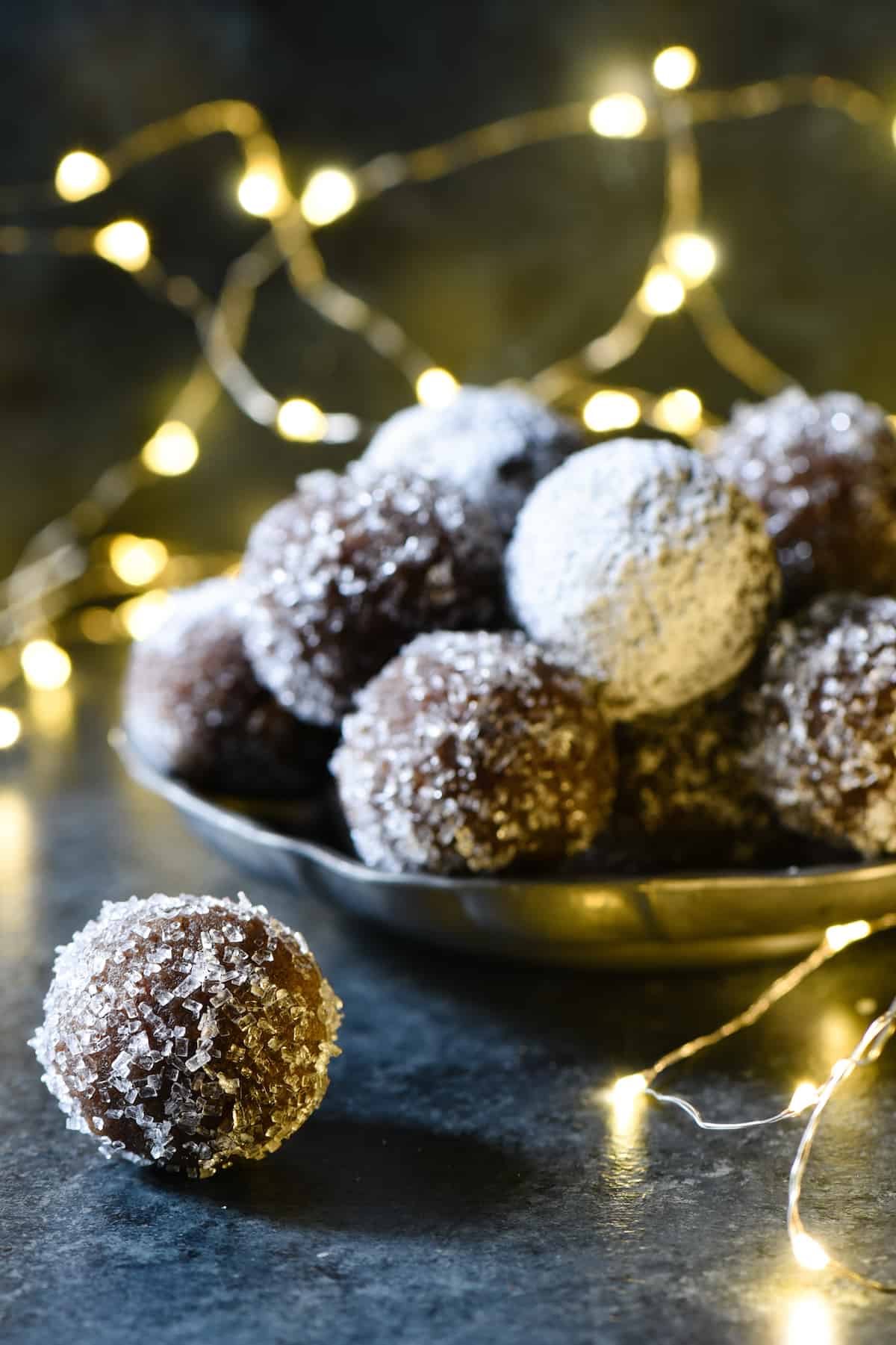 Be sure to connect with Bob's Red Mill on Facebook, Twitter, Instagram and Pinterest.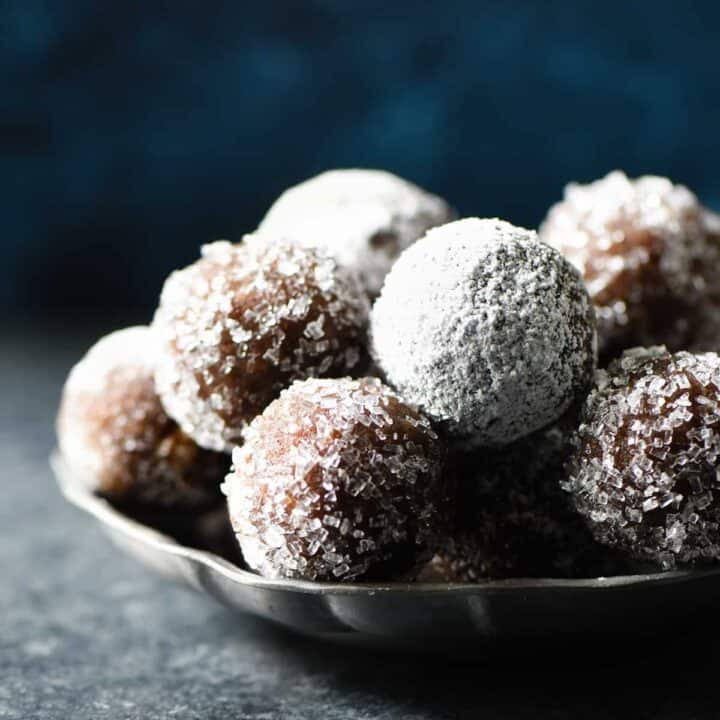 Almond Flour Rum Balls
These Almond Flour Rum Balls are a sophisticated alternative to frosting-laden holiday treats, and perfect with a cup of coffee or tea. Naturally gluten free.
Ingredients
For the Almond Flour Cookies:
4 cups almond flour
1 tablespoon ground cinnamon
1 teaspoon baking soda
1/2 teaspoon kosher salt
6 tablespoons granulated sugar
4 tablespoons unsalted butter, softened
2 large eggs
1 tablespoon vanilla extract
For the Rum Balls:
5 tablespoons dark rum
Sanding sugar and/or powdered sugar
Instructions
Make the Almond Flour Cookies: Preheat oven to 375 degrees F. Line rimmed baking pan with parchment paper. In medium bowl, stir almond flour, cinnamon, baking soda and salt until well combined.
In bowl of electric mixer fitted with paddle attachment, beat sugar and butter 2 to 3 minutes or until light and fluffy. Add eggs and vanilla; beat until well combined.
Add flour mixture and beat on low speed until just combined.
Drop batter by rounded tablespoons onto prepared pan. Transfer to oven and bake 9 to 11 minutes or until golden brown and set. Transfer cookies to wire cooling rack and cool completely before making rum balls. Cookies can also be stored in zip-top bag at room temperature up to 2 days before making rum balls.
Make the Rum Balls: Break Almond Flour Cookies into small pieces and place in bowl of electric mixer fitted with paddle attachment. With mixer running on low speed, gradually add rum until cookie crumbs start to form a ball. If necessary, add additional rum 1 teaspoon at a time until mixture can easily be formed into balls.
Shape mixture into 1-1/4-inch balls. Roll each ball in sanding sugar or powdered sugar.
Transfer rum balls to covered container and refrigerate 2 hours or until cold. Rum balls can be refrigerated for up to 1 week. Serve chilled or at room temperature.
Notes
Home Chef Tip: The powdered sugar decoration on the outside of the rum balls doesn't tend to last too long in the fridge. If you plan to serve the rum balls later, allow rum balls to come to room temperature for 10 minutes, then roll in powdered sugar just before serving.
More great holiday treat recipes:
Disclosure: This is a sponsored post written by me on behalf of Bob's Red Mill. Sponsored posts help me pay for the costs associated with this blog (groceries…lots of groceries), and help support me as I pursue a career in recipe development and food photography. All opinions are 100% my own.