Creamy Feta Dressing
Take your salad and veggie dip game up a notch with this Creamy Feta Dressing. With just a few simple ingredients, this tangy homemade dressing is healthier and tastier than anything you can buy in a bottle.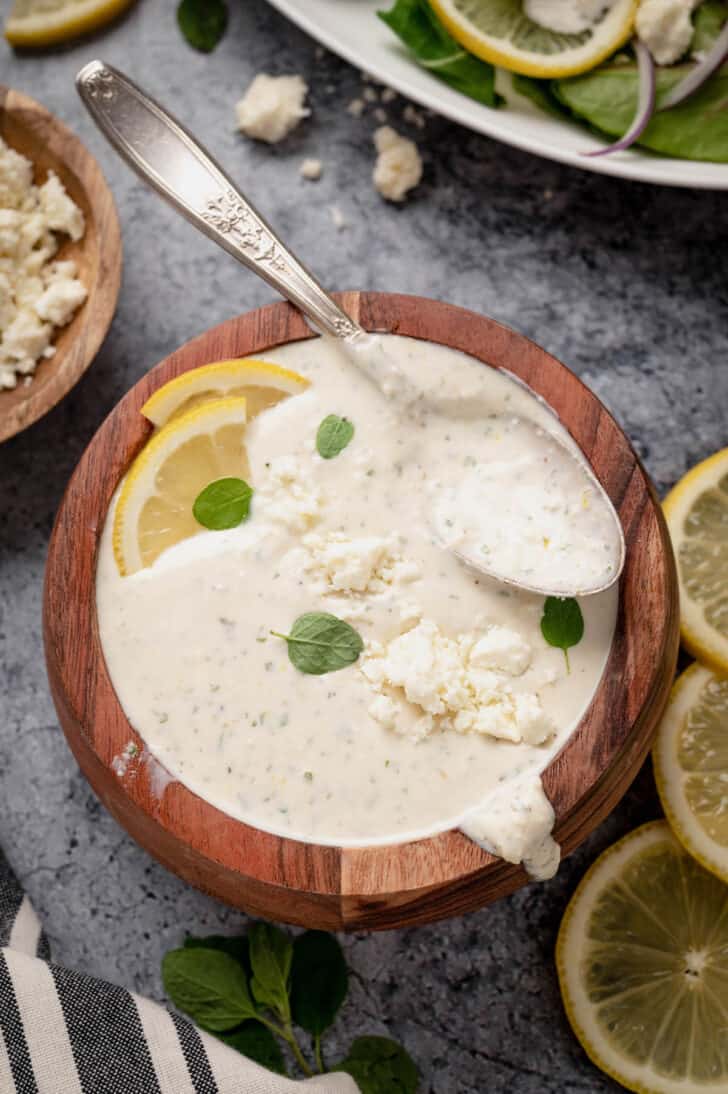 I believe that one of the easiest but most impactful ways to take your home cooking up a notch is to make homemade salad dressings.
While jarred salad dressings are certainly quick and easy, they're also generally filled with quite a bit of preservatives (like sodium and sugar) and artificial ingredients. Same goes for bottled meat marinades and glazes, which is why I make my own flat iron steak marinade and balsamic glaze.
Additionally, the flavor can be really hit or miss, and you usually don't know how it's going to taste until you've already committed and purchased an entire bottle. There's nothing worse than spending $6 or even more on a fancy bottled dressing and discovering that nobody in your family likes it.
That's why I love to make homemade salad dressings like miso dressing and citrus salad dressing.
Today, allow me to show you how another homemade salad dressing with big flavor can come together quickly and easily, and wow your family and friends.
The combination of lemon and feta can't be beat – I've already made sure of that with my Greek yogurt mashed potatoes.
This feta dressing recipe is inspired by the salad dressing at a local Lebanese restaurant. It's an incredibly versatile recipe to have in your back pocket, especially to toss with greens and serve alongside Greek lasagna, lamb bolognese or rigatoni bolognese.
The ingredients in creamy feta dressing are simple:
feta cheese – there's probably a variety of feta options at your store, and you can't really go wrong. More on this below!
mayonnaise – this is the backbone of this creamy dressing. Want to use Greek yogurt instead? Go for it!
milk – this is to thin out the mayonnaise and cheese mixture so it makes a pourable dressing. I use whole milk because that's what I always have on hand, but any type of milk will work here.
Worcestershire sauce – I love this for adding some umami and salty seasoning to this feta cheese salad dressing. It's also key in making my mini shepherd's pies taste great.
lemon juice and zest – this makes the dressing nice and bright and acidic and tangy. Buy a whole bag of lemons and make lemon caper pasta and lemon curd cake, too! Or a round of lemon margaritas!
garlic – just 1 clove goes a long way in adding a ton of flavor to this creamy feta dressing.
parsley – I used dried parsley, but you can also use fresh (use twice the amount if using fresh).
oregano – again, I used dried, but you can use twice the amount of fresh.
salt and pepper – always season your homemade dressings!
What kind of feta should I use for feta cheese dressing?
If you're spending the time to make homemade feta salad dressing, it's important to use great ingredients so the end result is as delicious and suited to your tastes as possible.
I find that widely available cow's milk Mediterranean feta (such as Niko's brand) is great for this feta dressing because it's mild and not so salty that it would overpower delicate salad ingredients.
If you DO want something saltier (say to drizzle over watermelon) you could try Greek feta or Isaraeli feta, which are often made with sheep's milk and are much saltier (and also so perfect for watermelon feta salad).
Some feta cheeses contain rennet and are thus not vegetarian, but there are also plenty of widely available fetas that do not contain rennet, which is great news for our vegetarian friends.
No matter what variety you buy, buy a little extra and stir it into my breakfast muffins recipe and sprinkle it over lamb tacos.
How to make feta salad dressing:
Just like my sweet dumpling squash soup, we're going to be whirring this feta dressing up in a food processor or blender!
One of these electric appliances is necessary to achieve a feta cheese dressing with a mostly smooth texture with just a few small chunks.
But if you don't have a food processor or blender, or desire a chunkier creamy feta dressing, you can also stir the ingredients together by hand with a whisk or wooden spoon.
Adjust the thickness based on how you want to serve it.
While I most often use this creamy feta dressing as, well, a dressing, it also makes a phenomenal dip for veggies or pita chips, or spread for sandwiches like salmon sandwiches.
If you do choose to use it a dip or spread, you might want to make it thicker. This is super easy to achieve by simply adding less milk.
Start by reducing the milk to 2 tablespoons, and see if you like the consistency once it's blended. You can always add a touch more milk if your dip is TOO thick.
My favorite types of salads to pair with this feta dressing recipe:
I think this feta salad dressing is so versatile that it can be used on just about any type of salad, but it pairs particularly well with greens like spinach, arugula and butter lettuce. To make it a heartier salad, add tomatoes, cucumbers, onion and thinly sliced lemon.
I also love feta dressing with a sweeter salad, perhaps one with strawberries, blueberries and toasted almonds. If you love strawberries, don't miss my fried goat cheese salad.
Feta cheese dressing is great with my beet tomato salad, or even as a dressing for pasta salad (think goat cheese pasta salad but with feta instead).
What to do with feta cheese salad dressing, beyond the salad!
Not only is this feta dressing recipe great on salads, but I've found lots of other uses for it, too, including:
More Foxes Love Lemons Favorites
Creamy Feta Dressing
Take your salad and veggie dip game up a notch with this Creamy Feta Dressing. With just a few simple ingredients, this tangy homemade dressing is healthier and tastier than anything you can buy in a bottle.
Ingredients
Juice and zest of 1 lemon
1 garlic clove, minced
1 cup (4 ounces) crumbled feta cheese
1/2 cup milk
1/4 cup mayonnaise
1 teaspoon Worcestershire sauce
1 teaspoon dried parsley
1/2 teaspoon dried oregano
1/2 teaspoon kosher salt
1/2 teaspoon ground black pepper
Instructions
Add all ingredients to bowl of food processor fitted with knife blade attachment, or blender, and process until smooth. Dressing can be served immediately, or, for best flavor, cover and refrigerate at least 1 hour or up to 5 days.
Notes
Home Chef Tip: To make a thicker dressing to use as a dip for or spread, reduce milk to 2 tablespoons.
Recommended Products
Foxes Love Lemons, LLC is a participant in the Amazon Services LLC Associates Program, an affiliate advertising program designed to provide a means for sites to earn advertising fees by advertising and links to Amazon.com. There is no additional cost to you.
Nutrition Information:
Yield:

10
Serving Size:

2 tablespoons
Amount Per Serving:
Calories:

79
Total Fat:

7g
Saturated Fat:

3g
Trans Fat:

0g
Unsaturated Fat:

4g
Cholesterol:

14mg
Sodium:

213mg
Carbohydrates:

2g
Fiber:

0g
Sugar:

1g
Protein:

2g
This website provides estimated nutrition information as a courtesy only. You should calculate the nutritional information with the actual ingredients used in your recipe using your preferred nutrition calculator.
Note: This recipe was originally published in 2019. The recipe was updated in 2023 to be even better, the photos were reshot, and the post was revised accordingly. The original photos appear below.