Apple Cider Vinegar Coleslaw Recipe
This coleslaw with celery seed is a unique twist on a classic side. It's the perfect coleslaw for pulled pork, chicken or ribs!
Do you have any strong opinions about coleslaw? I feel like most people do!
Some people like it creamy, others like it vinegary. I'm sure some people will only use green cabbage, whereas others might throw in some red cabbage (or even make a brussels sprout coleslaw).
Honestly, I pretty much like all coleslaw (and it's one of my favorite side dishes for ribs, so especially next to a rack of crock pot ribs or root beer ribs), but I like it best when it's not too creamy and not too vinegary. In my opinion, the best coleslaw dressing recipe is a nice balance between creamy and vinegary.
Sometimes I like my coleslaw with a touch of sweetness to balance out something else on my plate that might be spicy (like my spicy apricot glazed salmon).
This coleslaw with celery seed with an easy coleslaw dressing recipe is my idea of a perfect slaw recipe.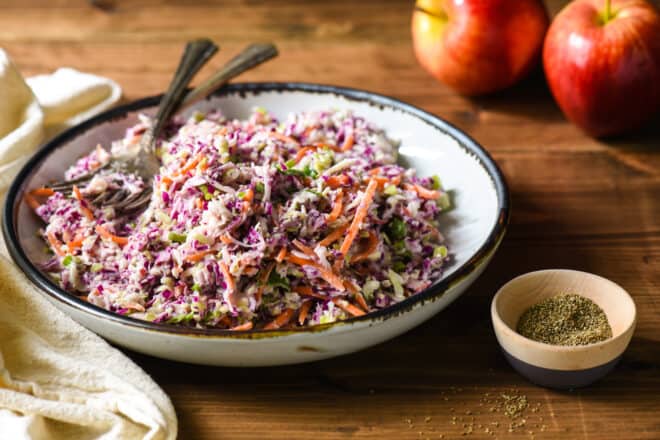 This Apple Coleslaw Recipe pairs great with everything!
This coleslaw with celery seed is one of those versatile slaw recipes that will work for just about every meal, all through the summer and fall.
It can be used as a topping for a pulled pork sandwich, or simply served alongside. And it's certified delicious with my buttermilk grilled chicken and buttermilk chicken tenders. Whatever you serve it with, make sure you also have a round of tequila mojitos or strawberry Moscow mules to wash it all down!
Coleslaw Recipe Apple Cider Vinegar Dressing Ingredients
For the Apple Coleslaw:
cabbage – I like to use a combination of red and green cabbage, but feel free to use all green or all red cabbage, or simply buy a bag of the pre-shredded mix (seriously, SO easy). All told, you'll need 4 cups shredded cabbage.
apple – Gala apple is my favorite apple for slaw, as the snappy, slightly sweet flavor is great for cooking, and the texture holds up well in a salad.
green onion – provides a gentle onion flavor and a savory balance for the apple.
carrots – shredded carrots add vibrant color, crunch and a touch of sweetness.
For the Coleslaw Apple Cider Vinegar Dressing
mayonnaise – this is the creamy base for the dressing.
cider vinegar – adds a tangy and slightly sweet flavor the dressing and balances the richness of the mayo.
sugar – adds a bit of sweetness and complements the tartness of the vinegar.
celery seed – these seeds are tiny, but they pack a powerful flavor punch of concentrated celery, adding yet another layer of flavor to this slaw.
salt and pepper – key to any perfectly seasoned coleslaw!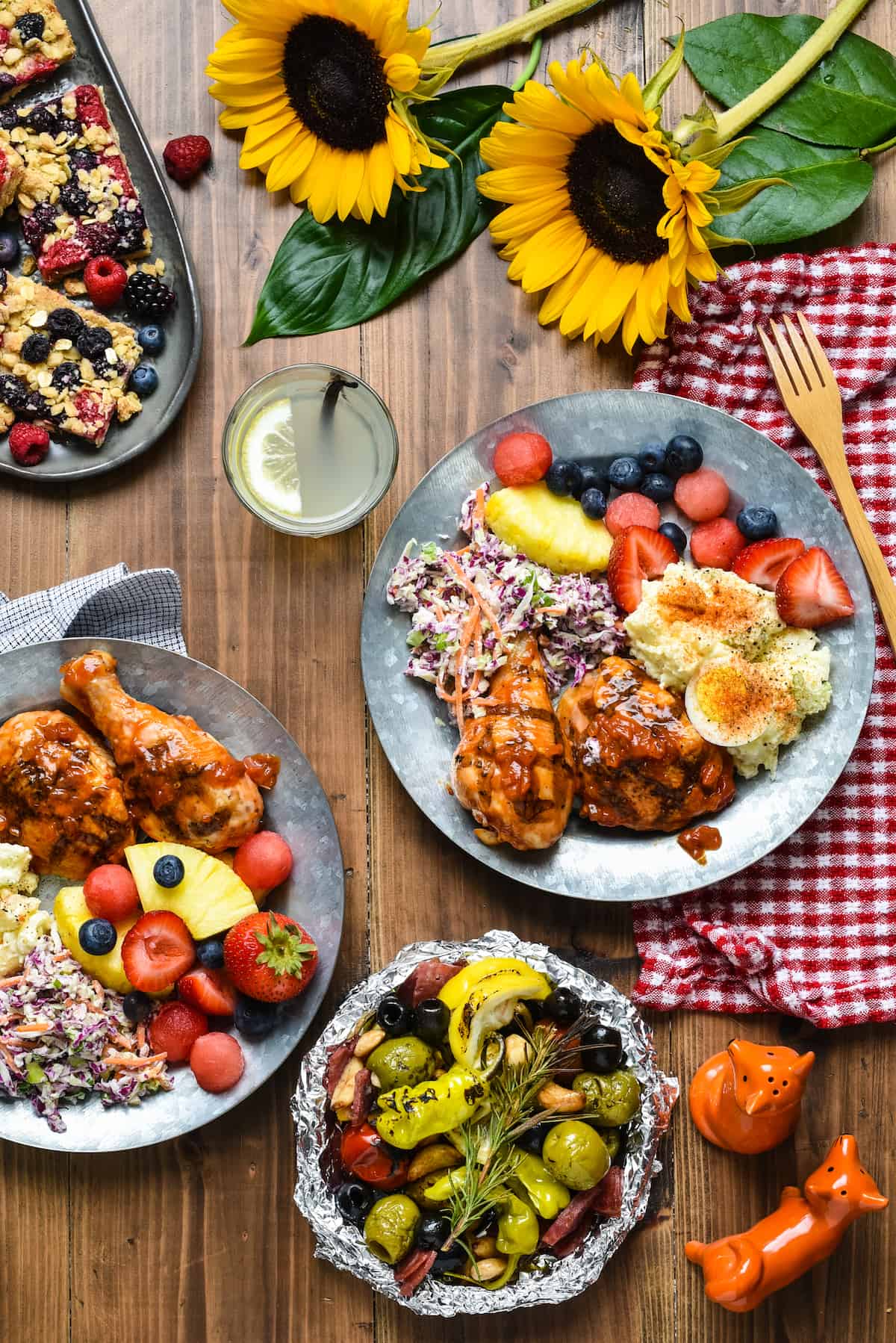 Making this Apple Coleslaw Recipe in advance
This coleslaw with celery seed is best eaten the day it is made, because of the shredded apple. However, you can keep it in the fridge for up to 3 days if you need to.
But the best option for making it ahead is to prepare the recipe as written, omitting the apple for now, and storing it in a covered container in the fridge until you're ready to serve (maybe alongside some steak lettuce wraps or a smoked salmon BLT). Just before serving, shred the apple and fold it in!
Don't forget the frozen yogurt pie for dessert, which is also a great make-ahead recipe!
Other ways to use this Coleslaw Apple Cider Vinegar Dressing
This is definitely the best coleslaw dressing recipe I've ever made, and I actually like it so much that I often keep a jar in the fridge to use on things other than coleslaw.
It's really great drizzled over roasted vegetables, especially carrots. It's also good for simply tossing with mixed greens for a side salad. I've even used this easy coleslaw dressing recipe as a dip for shrimp, like a creamy shrimp cocktail situation.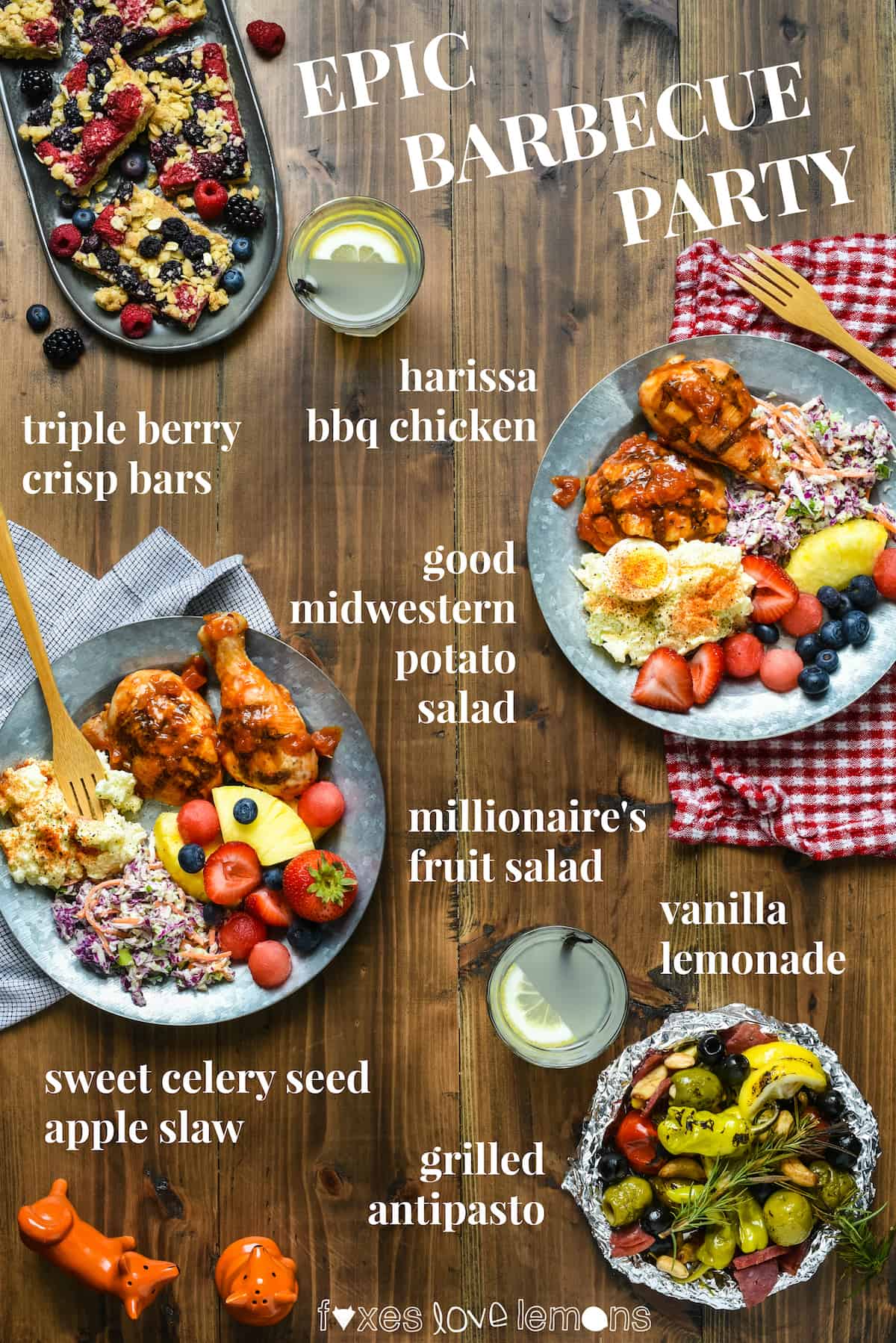 Serving Apple Coleslaw with Apple Cider Vinegar
My Epic Barbecue Party is simply my favorite summer recipes, all in one place. These are the dishes I make on repeat all summer long.
I hope they also become staples of your summer, whether for a backyard party, a picnic, or just a weeknight meal (my country style ribs in the oven also have an honorary place on this list).
Along with this coleslaw, there's also:
How to store this Apple Cider Vinegar Coleslaw Recipe
Place any leftover coleslaw in an airtight container and refrigerate for up to 3 days. The sooner it's eaten, the better! Give it a good stir before serving, as ingredients and the dressing might settle as it sits.
More Foxes Love Lemons Favorites
Apple Coleslaw Recipe (Apple Cider Vinegar Dressing)
This coleslaw with celery seed is a unique twist on a classic side. It's the perfect coleslaw for pulled pork, chicken or ribs!
Ingredients
For the Dressing:
2/3 cup mayonnaise
2 tablespoons cider vinegar
2 tablespoons granulated sugar
3/4 teaspoon celery seed
1/2 teaspoon kosher salt
1/4 teaspoon ground black pepper
For the Slaw:
1 Gala apple, shredded
1 bunch green onions, thinly sliced
2 cups shredded green cabbage
2 cups shredded red cabbage
1 cup shredded carrots
Instructions
Make the Dressing: In large bowl, whisk mayonnaise, vinegar, sugar, celery seed, salt and pepper until smooth.
Make the Slaw: Add apple, onions, cabbage and carrots to bowl with dressing and toss until well combined. Slaw is best eaten the day it is made, but will keep in the refrigerator up to 3 days.
Recommended Products
Foxes Love Lemons, LLC is a participant in the Amazon Services LLC Associates Program, an affiliate advertising program designed to provide a means for sites to earn advertising fees by advertising and links to Amazon.com. There is no additional cost to you.
Nutrition Information:
Yield:

8
Serving Size:

1
Amount Per Serving:
Calories:

177
Total Fat:

14g
Saturated Fat:

2g
Trans Fat:

0g
Unsaturated Fat:

11g
Cholesterol:

8mg
Sodium:

220mg
Carbohydrates:

12g
Fiber:

3g
Sugar:

8g
Protein:

1g