Cheese Board for Beer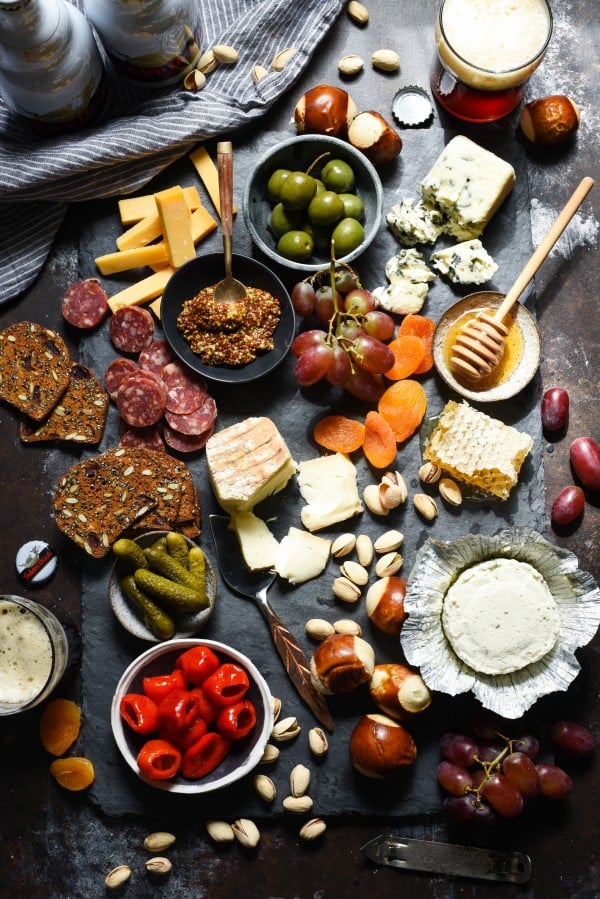 Anybody that knows my husband and I knows that we love beer. Our favorite restaurant (a short walk from our house) is really a beer bar that happens to have great food.
Jeff brews his own beer, and is always seeking out new beers to buy and try. We have a fridge in the garage just for beer. That love of beer has inspired this Cheese Board for Beer.
While cheese boards are generally paired with wine or cocktails, I actually think beer gives you a lot of versatility when creating a cheese board as well. My football charcuterie board is definitely paired with beer!
Beer pairs really well with spicy foods (peppadews), big meaty flavors (salami or soppressata), salty things (pistachios and olives), pickled things (cornichons), pretzels, mustard, and of course, the cheese. Grapes or roasted grapes add a touch of sweetness.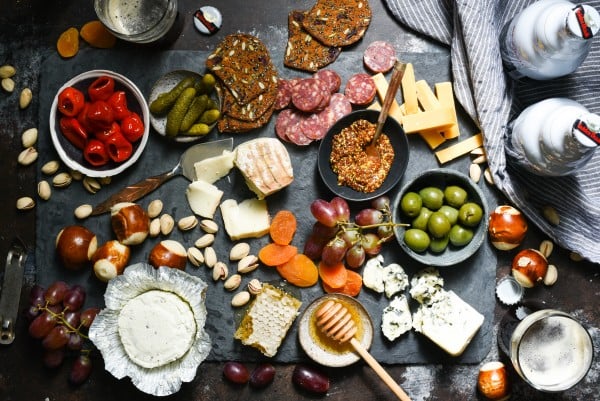 I served this particular cheese board with a dark brown triple ale from Belgium that had notes of banana, dates and caramel.
The flavor of the beer pairs particularly well with cheeses like cave-aged Tallegio, Roquefort and aged Dutch Gouda, so I've included all of those in this epic spread.
Psst- a cheese board for beer is a great idea for a St. Patrick's Day party! Choose some cheeses that pair well with Irish stout, and you're in business. Don't forget to treat yourself with a batch of my Irish Cream Brownies, and maybe some Mini Shepherd's Pie too.
Cheese Board for Beer
Ingredients
Aged Dutch Gouda cheese
Cave-Aged Tallegio cheese
Garlic and Herb boursin cheese
Roquefort cheese
Cornichons
Crackers
Dried apricots
Grapes
Honey and/or honeycomb
Olives
Pistachios
Pretzel bites
Soppressata and/or salami
Sweet piquanté peppers
Whole grain mustard
Instructions
Assemble everything on a large slate, cutting board or platter, and allow guests to serve themselves.