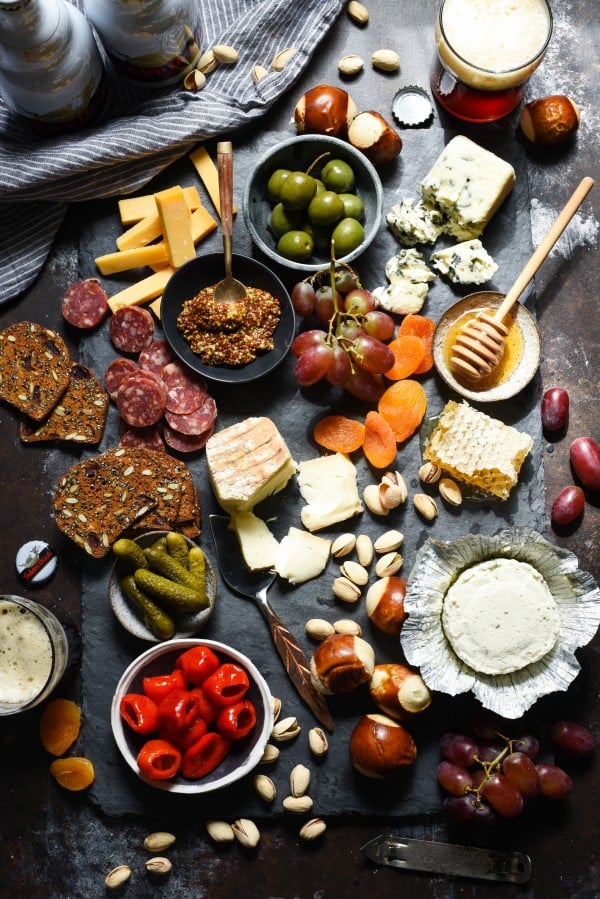 Anybody that knows my husband and I knows that we love beer. Our favorite restaurant (a short walk from our house) is really a beer bar that happens to have great food. Jeff brews his own beer, and is always seeking out new beers to buy and try. We have a fridge in the garage just for beer. That love of beer has inspired this Cheese Board for Beer.
While cheese boards are generally paired with wine or cocktails, I actually think beer gives you a lot more versatility when creating a cheese board. Beer pairs really well with spicy foods (peppadews), big meaty flavors (salami or soppressata), salty things (pistachios and olives), pickled things (cornichons), pretzels, mustard, and of course, the cheese.
I served this particular cheese board with Gulden Draak, an authentic dark brown triple ale from Belgium created for those who are passionate about beer, like Jeff and I. Gulden Draak has been brewed since the 1700s, and was awarded the best-tasting beer in the world in 1998 by the American Tasting Institute, and I can taste why. It has fruity notes of banana and dates, but the brewmaster also adds caramel and Bordeaux-wine yeast just before bottling, which causes the sweeter notes to mellow out as the beer ages.
The bold, aggressively smooth flavor of Gulden Draak pairs particularly well with cheeses like cave-aged Tallegio, Roquefort and aged Dutch Gouda, so I've included all of those in this epic spread.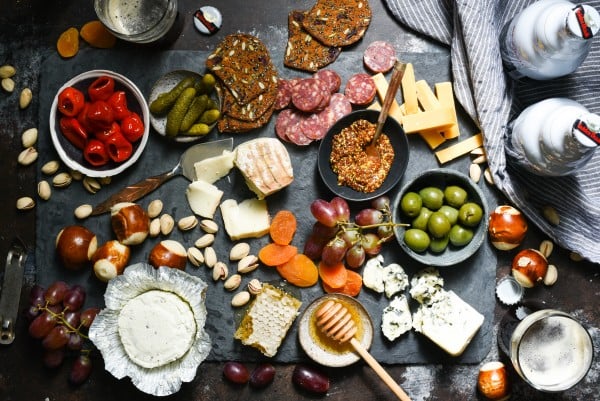 Gulden Draak ("Golden Dragon") owes its name to the gilded statue on top of the Belfry in Ghent. This dragon is said to protect a unique and precious treasure. Ready to #ConquerTheDragon yourself? Sample Gulden Draak in your own home, then post to social media (Instagram, Facebook or Twitter), tagging @FoxesLoveLemons and using #GuldenDraak, and you will be entered into a drawing for Gulden Draak swag!
Please visit the Gulden Draak Facebook page to find Gulden Draak near you!
Cheese Board for Beer
Ingredients
Aged Dutch Gouda cheese
Cave-Aged Tallegio cheese
Garlic and Herb boursin cheese
Roquefort cheese
Cornichons
Crackers
Dried apricots
Grapes
Honey and/or honeycomb
Olives
Pistachios
Pretzel bites
Soppressata and/or salami
Sweet piquanté peppers
Whole grain mustard
Instructions
Assemble everything on a large slate, cutting board or platter, and allow guests to serve themselves.
Disclosure: This is a sponsored post written by me on behalf of Gulden Draak. Sponsored posts help me pay for the costs associated with this blog (groceries…lots of groceries), and help support me as I pursue a career in recipe development and food photography. All opinions are 100% my own.