Chopped Broccoli Salad with Cheese Tortellini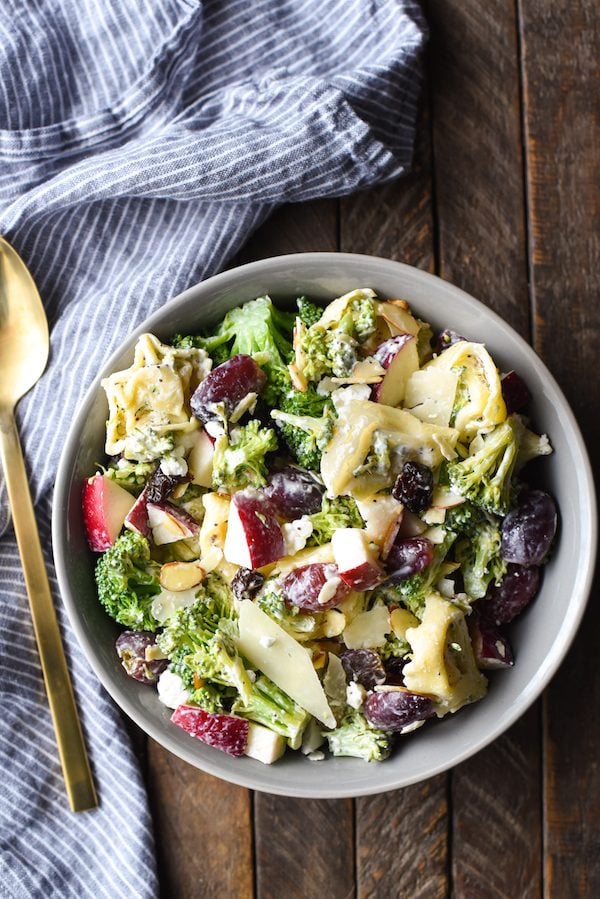 When I throw parties, I always like to have a wide variety of dishes for guests to choose from.
While (luckily) there aren't any major food allergies or special diets in my group of friends and family, I still like to offer a range of options, including plenty of fresh, healthy-ish things in addition to the typical party decadence of snack foods and desserts.
I've served some iteration of either Asian noodle salad or this Chopped Broccoli Salad with Cheese Tortellini as a vegetarian option at many parties, and it is always a hit.
While the carnivores can have a scoop of this as a side dish to their entree (maybe root beer ribs?), vegetarians can take a few extra spoonfuls and eat this more like a main dish. And maybe a scoop of roasted corn salad or my summer beet salad recipe too!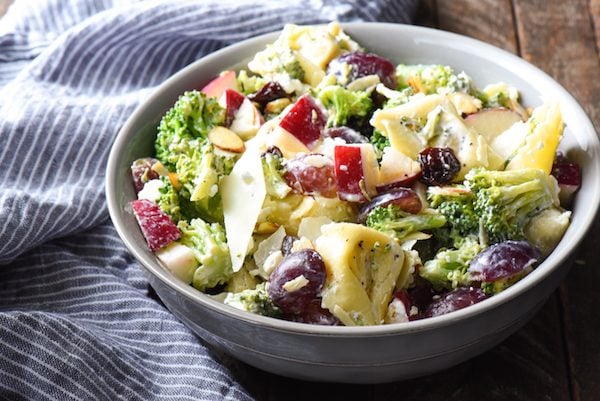 This salad can easily be adapted to use ingredients you happen to have on hand. The base is about a 50/50 mixture of prepared cheese tortellini and broccoli.
From there, I like to add some type of fresh fruit (apples and/or grapes), maybe a dried fruit as well (cherries or cranberries), one of two types of cheese (I used both cow's milk feta and shaved Parmesan here), and a handful of nuts (almonds, walnuts and pecans all work well).
The dressing is a creamy, tangy combination of Greek yogurt (which I also use for my acini de pepe pasta salad), red wine vinegar and poppyseeds.
I hope this Chopped Broccoli Salad with Cheese Tortellini is a hit at your next party, too!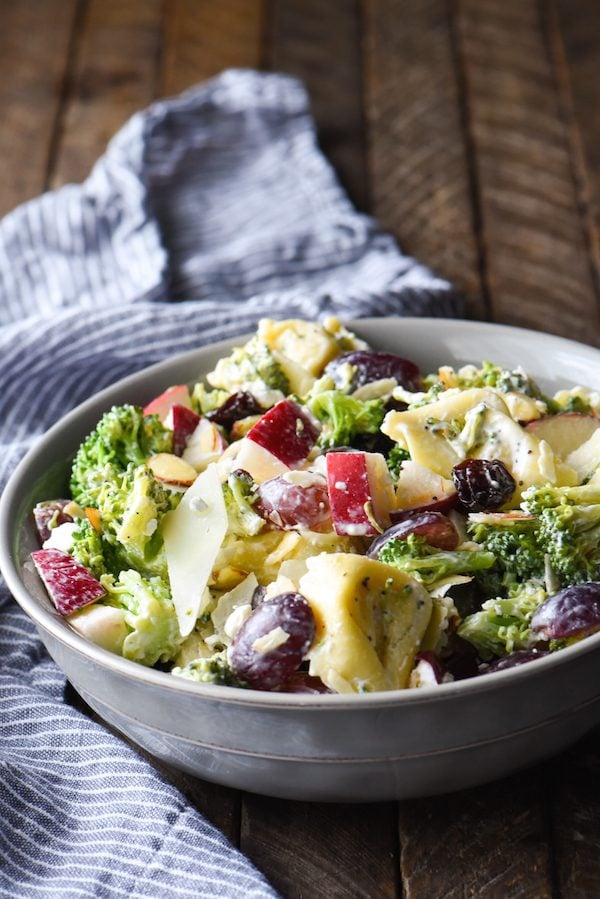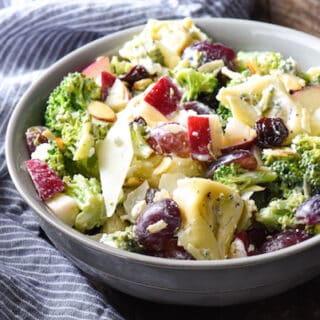 Chopped Broccoli Salad with Cheese Tortellini
Ingredients
1/2 cup Greek yogurt
1/4 cup mayonnaise
2 tablespoons extra virgin olive oil
1 tablespoon red wine vinegar
1 teaspoon poppyseeds
1/2 teaspoon kosher salt, plus additional for pasta water
1/4 teaspoon ground black pepper
1 package (12 ounces) cheese tortellini
1 head (about 1 pound) broccoli, roughly chopped
1 apple, cored and chopped
1 cup halved red grapes
1/4 cup crumbled feta cheese
1/4 cup dried cherries
1/4 cup shaved Parmesan cheese
1/4 cup sliced almonds
Instructions
In large bowl, whisk together yogurt, mayonnaise, oil, vinegar, poppyseeds, 1/2 teaspoon salt, and pepper.
Heat large pot of salted water to boiling over high heat. Add tortellini; cook according to package directions. Use slotted spoon to transfer tortellini to colander; rinse with cold water to stop cooking process. Drain tortellini; transfer to bowl with yogurt mixture.
Place broccoli in boiling water; cook 1 minute. Drain broccoli and rinse well with cold water; drain. Transfer broccoli to bowl with tortellini.
Add apple, grapes, feta, cherries, Parmesan and almonds to bowl with tortellini; toss until well combined. Serve immediately or refrigerate up to 2 hours before serving.
Notes
Home Chef Tip: While any apple will work in this recipe, Fuji and Gala varieties are particularly crisp, tart and refreshing in a chilled dish like this salad.