Mini Shepherd's Pie (Individual Muffins)
Celebrate St. Patrick's Day with a mini shepherd's pie! These individual muffins are made with flaky pie crust, a meaty filling and creamy mashed potatoes.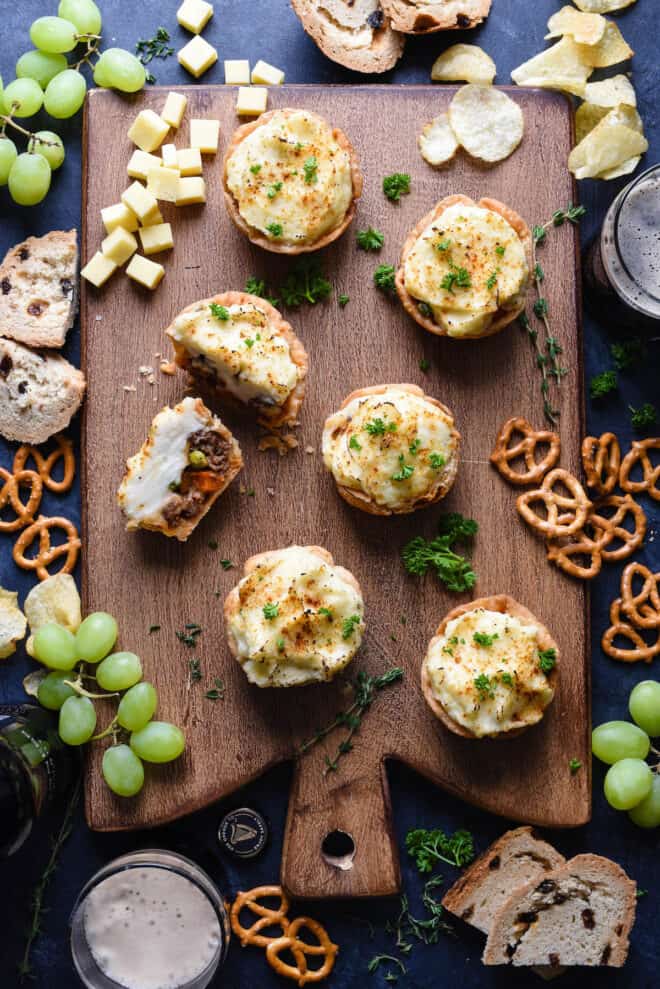 When it comes to celebrating St. Patrick's Day with a meal, those of us who don't love corned beef (except sometimes in corned beef egg rolls) don't have a ton of options.
My colcannon soup is always tasty. And sure, we could just drown our sorrows in a beer charcuterie board and Baileys brownies, but you need something more than just cheese and brownies, right?
While my wine and cheese board can certainly make an argument for an entire meal based on cheese and alcohol, I have another idea.
This mini shepherd's pie recipe is made in a muffin pan, producing perfectly portable, bite-sized versions of a classic St. Patrick's Day meal.
If you're attending a gathering this year, these would be perfect. No serving spoon needed, just grab them and enjoy!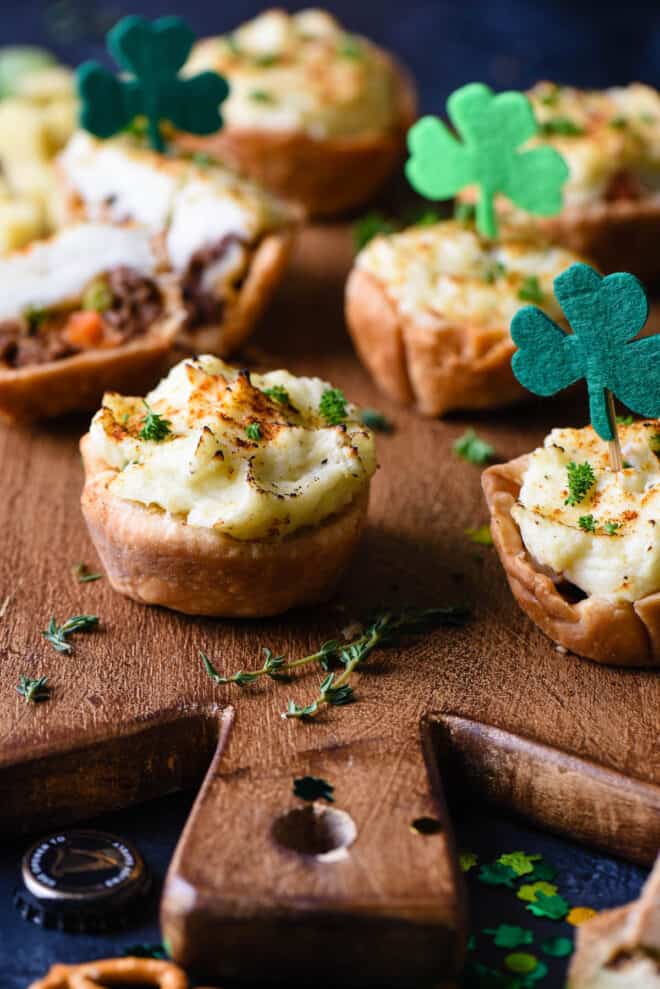 A little history of this savory meat and potato pie:
There's many different variations of this pie in a variety of cultures around the world, but it's thought to have originated in the United Kingdom.
In early cookbooks, the recipe was provided as a way to use leftover meat of any kind.
Potatoes were (and still are) an available, affordable crop, so it made sense that the sides and bottom of a pie dish were lined with mashed potatoes. The meat filling was added and then topped with more mashed potatoes!
According to Wikipedia, the term "cottage pie" has been in use since the late 1700's. The term "shepherd's pie" appeared in the mid-1800's and at first, was used interchangeably with cottage pie.
Eventually, cottage pie became more associated with a pie made with beef, while shepherd's pie usually meant a lamb version.
Pie crust is certainly not traditional to this recipe, and is more closely associated with pot pies such as a classic chicken pot pie or short rib pot pie.
However, to make these mini shepherd's pie muffins, lining a muffin pan with mashed potatoes turned out to be messy and impractical (I tried!). The pies were also very difficult to eat without the whole thing falling apart.
So, I've taken a liberty and lined my muffin cups with pie crust, in an effort to make an individual shepherd's pie that can be taken to a party and eaten as a finger food.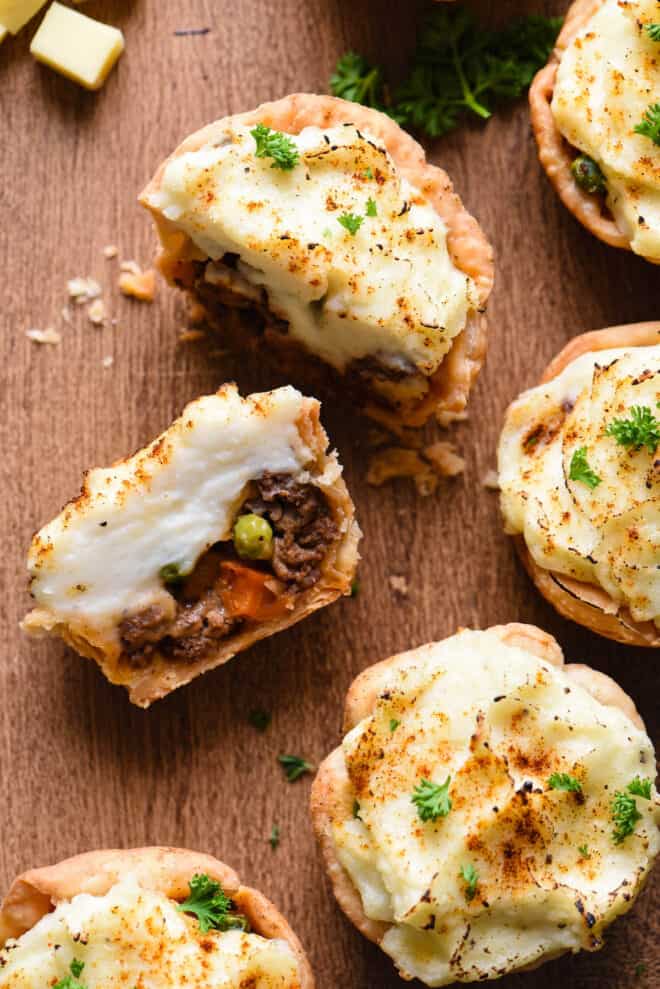 How to make simple shepherd's pie even easier with a few grocery store shortcuts:
Even a great chef at your favorite restaurant will take a shortcut once in awhile, and I'm certainly not against that!
If you happen to have leftover mashed potatoes (or even Greek yogurt mashed potatoes) in your fridge, by all means, use them here, if you don't already have plans for mashed potatoes cakes.
But I didn't, and honestly, I don't love making mashed potatoes. Save the blue cheese mashed potatoes for another time!
I didn't want to get a pot, colander and potato masher dirty just to make the topping for these mini shepherd's pie muffins (I'll save my energy to make mini Hasselback potatoes another day), so I took a shortcut and bought prepared mashed potatoes from the grocery store.
These are usually found in the dairy refrigerator of the grocery store, often near the butter, eggs and breakfast meats. The two brands I most commonly find around here are Simply Potatoes and Bob Evans.
And of course, you know me – baking isn't my thing, and pastry is even less so my thing. Homemade pie crust is SO not my thing, except maybe every once in awhile, on a special occasion, for a brownie pie.
If you love making homemade crust and have a great recipe for it, you do you. But I'm going to use a refrigerated pie crust for these individual shepherd's pie cupcakes. It's the kind you unroll, like Pillsbury brand.
These crusts usually come two to a package, and you'll only need one for this recipe. So, use the other crust to make a vegetarian quiche or apple rose tart!
About the other ingredients in this mini shepherd's pie recipe:
meat – as mentioned above, lamb is more associated with shepherd's pie (so good in lamb tacos, too!), so that's what I used, but ground beef works just as well here.
onion – I cooked a little bit of chopped onion right along with the meat, to add more flavor.
flour – this will help thicken the gravy, once you add the broth.
tomato paste – this adds a little acid and umami to the dish.
broth – I like to use beef broth, but if you have some chicken broth in the fridge that needs to be used up, feel free to use that here.
Worcestershire sauce – the anchovies in this sauce add a huge bit of umami to meaty dishes and creamy feta dressing alike!
thyme – you can use 1/2 teaspoon fresh thyme leaves, or 1/4 teaspoon dried thyme leaves. Extra thyme can be used to make baked sockeye salmon.
veggies – I bought a bag of frozen peas and carrots mix for this recipe, and it worked out great! Even leftover balsamic green beans, roasted glazed carrots or balsamic roasted carrots would work if you chop them up. If you end up with extra fresh carrots, throw them in a carrot cake smoothie.
If you want to drizzle these with homemade gravy, I won't stop you!
Tips for making these mini shepherd's pie muffins in advance:
These mini shepherd's pie muffins are a great make-ahead recipe for St. Patrick's Day. Just like any of my creme brulee flavors, it's a project that can easily be split over the course of two days.
On Day 1, you'll simply be making the meat and vegetable filling. Once it's done cooking, spread it in a shallow dish. We always did this in culinary school so that hot food would cool down as quickly as possible, for food safety.
Place the dish in the refrigerator until the meat mixture is fully cooled, and then cover it tightly to store overnight.
On Day 2, make and bake the pie crust muffin cups. Then, your meat mixture will already be prepared and ready for you to spoon into the cups.
Gently warm the potatoes in the microwave, spread over the meat mixture, and bake!
Can you freeze shepherd's pie?
If you want to make these mini shepherd's pie bites REALLY far in advance, you can do that too! I would recommend making the recipe as written, then allowing the pies to cool completely.
When the muffin tin shepherd's pies are cool, transfer them to a freezer bag and freeze for up to 3 months.
To heat and serve, place on a rimmed baking pan (or even back in a muffin pan) and bake at 350 until the internal temperature of the pies reaches 190 degrees F (165 degrees F is the minimum temperature for safety, but I like them nice and hot in the center, so more towards 200).
Serve this individual shepherd's pie as part of a fun party platter!
These mini shepherd's pies are plenty of fun on their own, but if you're looking to serve them as part of a more elaborate spread, I have a few suggestions.
If you've made your individual shepherd's pies with beef, perhaps try my lamb sliders or lamb lollipop recipe as well, for a different protein option.
Spicy potato chips, or regular potato chips with spicy beer cheese dip are always welcome at a party, and alongside this shepherd's pie appetizer.
Pretzels, Irish soda bread, green grapes, and Irish cheese (I like Kerrygold Dubliner cheese) are great for rounding out this charcuterie board idea. And of course, don't forget the Guinness!
Have fun with this recipe, and Happy St. Patrick's Day to you!
More great meat and potato recipes:
Nothing beats the comforting, filling combination of meat and potatoes!
Mini Shepherd's Pie (Individual Muffins)
Yield:
6 mini shepherd's pies
Celebrate St. Patrick's Day with a mini shepherd's pie! These individual muffins are made with flaky pie crust, a meaty filling and creamy mashed potatoes.
Ingredients
1/4 pound ground lamb
1/4 cup finely diced white onion
2 teaspoons all-purpose flour, plus additional for rolling out pie crust
2 teaspoons tomato paste
1/4 teaspoon kosher salt
1/8 teaspoon ground black pepper
1/2 cup beef broth
1/2 teaspoon fresh thyme leaves
1/2 teaspoon Worcestershire sauce
1/2 cup frozen peas and carrots mix
1 refrigerated pie crust (1/2 box)
3/4 cup prepared mashed potatoes
1/4 teaspoon ground paprika
Chopped fresh parsley, for garnish (optional)
Instructions
Place lamb and onion in medium high-sided skillet over medium-high heat. Cook 6 to 8 minutes or until meat is cooked through, stirring occasionally and breaking up meat with side of spoon. Spoon off and discard any excess fat.
Stir in flour, tomato paste, salt and pepper; cook 1 minute, stirring constantly. Stir in broth, thyme and Worcestershire; heat to boiling over medium-high heat.
Reduce to medium-low; simmer 5 minutes or until mixture is thickened, stirring occasionally. Remove from heat; stir in peas and carrots.
Soften pie crust according to package directions. Preheat oven to 375 degrees F. On lightly floured work surface, roll pie crust to 14 inches diameter. Using 4.5-inch round cutter (or small bowl), cut 6 rounds from crust.
Press each round into muffin cup. Transfer to oven and bake 10 to 11 minutes or until lightly browned.
Divide lamb mixture between muffin cups.
If necessary, microwave mashed potatoes 1 to 2 minutes or until warm and spreadable. Spread potatoes over lamb mixture. Sprinkle with paprika. Transfer to oven and bake 20 to 25 minutes or until potatoes are golden brown.
Served garnished with parsley, if desired.
Recommended Products
Foxes Love Lemons, LLC is a participant in the Amazon Services LLC Associates Program, an affiliate advertising program designed to provide a means for sites to earn advertising fees by advertising and links to Amazon.com. There is no additional cost to you.
Nutrition Information:
Yield:

6
Serving Size:

1
Amount Per Serving:
Calories:

231
Total Fat:

12g
Saturated Fat:

4g
Trans Fat:

0g
Unsaturated Fat:

7g
Cholesterol:

19mg
Sodium:

401mg
Carbohydrates:

22g
Fiber:

2g
Sugar:

3g
Protein:

8g