Individual Charcuterie Cups Ideas
The options are limitless with these Individual Charcuterie Cups. Grab some plastic cups and load them up with meat, cheese, fruit and all sorts of garnishes. Perfect for holidays and game day!
DIY Charcuterie Cup Ideas
All the way from a Thanksgiving charcuterie board to a charcuterie chalet and many stops in between, there's no denying that this time of year is perfect for as many fun charcuterie board ideas as you can dream up.
Whether you're entertaining a crowd with a wine and cheese board or just having some snacks at home, this type of food is probably at its most popular during the holidays, so you can have a cranberry rosemary cocktail or grapefruit mule in one hand, and a snack in the other!
And sure, I've already done jarcuterie, and I know you're thinking that this charcuterie in a cup really isn't much different. And you're right – it's not! I'm just publishing these mini charcuterie cups to give you even more inspiration for single serving charcuterie this holiday season.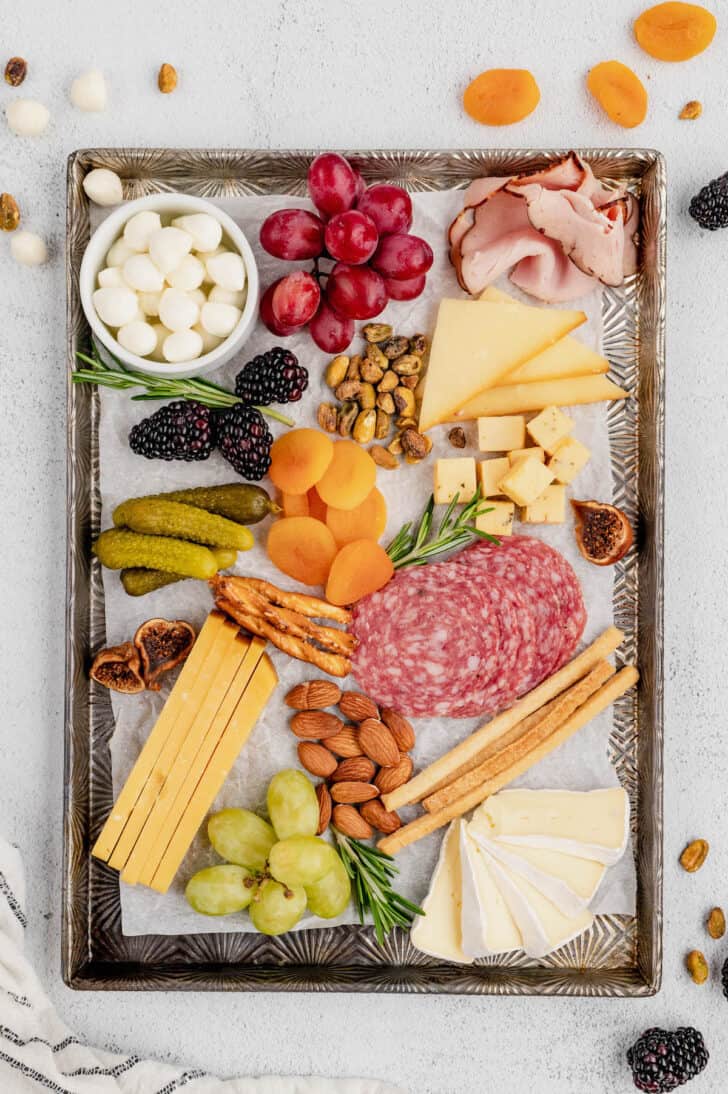 Charcuterie Cups: A Single Serve Charcuterie Board
It's OK if the past few years have made you a bit wary of communal food situations. I get it.
So if it's just your immediate family, by all means, feel free to just assemble all of these ingredients on a platter. Heck, if it's just family, you could even do a butter board!
But if you're having a larger gathering, mini charcuterie cups are the way to go. They're grab and go for each person, and nobody needs to touch anybody else's food (well, except you, the one assembling them all). But I know you'll wash your hands first.
No matter how you serve charcuterie, I recommend a nice balance between savory and sweet elements. Your taste buds will keep you going back for more when the flavors are balanced in your charcuterie board cups.
If you can dream it up for a charcuterie platter, you can probably figure out a way to put it in a cup! You can layer ingredients into your individual charcuterie cups, use toothpicks and skewers to arrange larger items, and just have fun with it.
What you'll need for Charcuterie Cups
Charcuterie Cup Supplies
I've found that 9 ounce clear plastic cups are really the perfect size for mini charcuterie cups. You can also use regular glasses or jars if you don't want to go the disposable route.
I also like using decorative bamboo skewers to thread some of the ingredients on to, and make for easier eating. It also gives your guests a little "fork" to eat the rest of the ingredients in the cup without digging in with their fingers, if they don't want to.
For 8 individual charcuterie cups, I'll use anywhere from 8 to 24 skewers. I kind of just start skewering the ingredients on a whim. There's no real method to it – just whatever looks cool together!
Charcuterie Cups Ideas: Choosing the meat
salami – I like the packaged, thinly sliced kind that is small circles (Applegate is my favorite brand for this, and salami pinwheels). I fold each slice into quarters and then skewer them onto fancy toothpicks for my charcuterie board cups, as you can see above.
honey smoked turkey – no need to buy the fanciest, most expensive charcuterie all the time. Because you know what? Honey smoked turkey from the deli is delicious, and looks pretty cool when you roll it up and stick it in your charcuterie cups!
Delicious Cheese for your Charcuterie Cups DIY
tomato basil havarti – I bought a small chunk of this at my cheese counter and cut it into cubes. You could also do pepper jack for charcuterie in a cup, which is also delicious in pepper jack cheese sauce with chips for game day!
brie – this one can be kind of polarizing, but I LOVE brie (it's on my Easter charcuterie board, too). I bought a wheel of it and cut it into slices. I actually bought TWO wheels of it so I could make savory baked brie another day.
mozzarella cheese – I like the tiny little balls of fresh mozzarella for charcuterie cups, and my pesto pasta with veggies, too. They also make great "eyeballs" on a Halloween charcuterie board and are a perfect item to thread onto bloody mary skewers.
smoked Cheddar – Cheddar is always a crowd pleaser, and this has just a little smoky twist to it. Also great on a football charcuterie board.
aged Gouda – this one is sophisticated yet easy to love.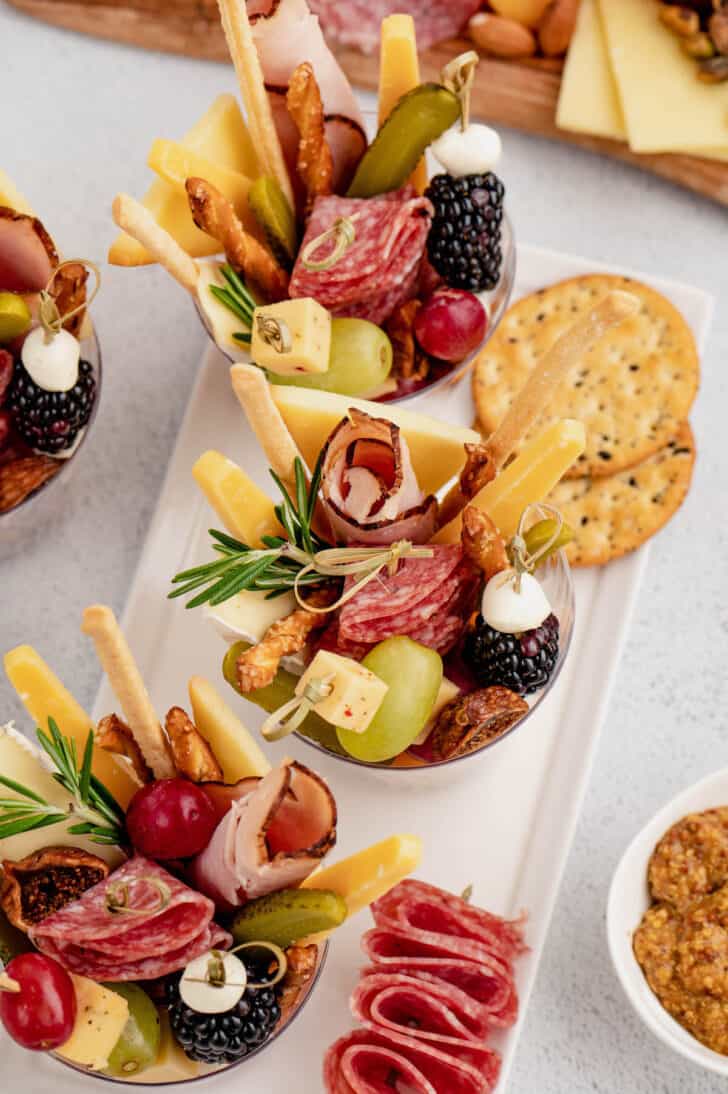 Individual Charcuterie Cup Ideas: The Garnishes
crackers, pretzels and/or dried breadsticks – no wrong way to go here. Go down the cracker aisle at your store and choose a couple of fun crackers or pretzels!
grapes – red grapes, green grapes or even both are delicious and pretty. Love these for a breakfast charcuterie board, too!
pickles – tiny little cornichons are perfect for individual charcuterie cups, and egg salad with pickles!
dried fruit – almost any type of dried fruit would be great here, but I like dried apricots for their beautiful orange color, and they're also large enough that they won't get lost with everything else.
blackberries – I love blackberries for the unique look they add to charcuterie cups, but any types of berry would be great here. Leftover berries can be used to make tequila mojitos or blackberry muffins.
nuts – I used some almonds and shelled pistachios (that I had on hand for pistachio crusted chicken) for this charcuterie cup idea, but cashews, pecans or walnuts would be awesome, too.
figs – I used these just because they are in season and were calling to me at the store! Not everybody is a fig lover, so your mileage may vary on this one.
herbs – A little greenery adds visual appeal. I added rosemary sprigs for a pop of green color. Use any extra rosemary to make grapefruit vodka cocktails, bourbon rosemary cocktails or my salmon in oven recipe.
whole grain Dijon mustard – you can swipe a little into each cup, or offer a small bowl on the side for anybody who would like a little mustard with their charcuterie.
preserves – same as for the mustard. I love sweet preserves served with charcuterie (and in my heart thumbprint cookies!), so I offer fig jam on the side.
Individual Charcuterie Cup Storage
MAKE AHEAD: Most parts of charcuterie cups can be assembled up to 24 hours in advance, wrapped tightly, and kept in the fridge without compromising their quality. I do recommend on holding off on crunchy things like crackers and dried breadsticks, and adding those at the last minute.
SERVING TIME: When it comes to serving, charcuterie cups can stay out at room temperature for 2 hours. Any longer than this, and they won't be food safe.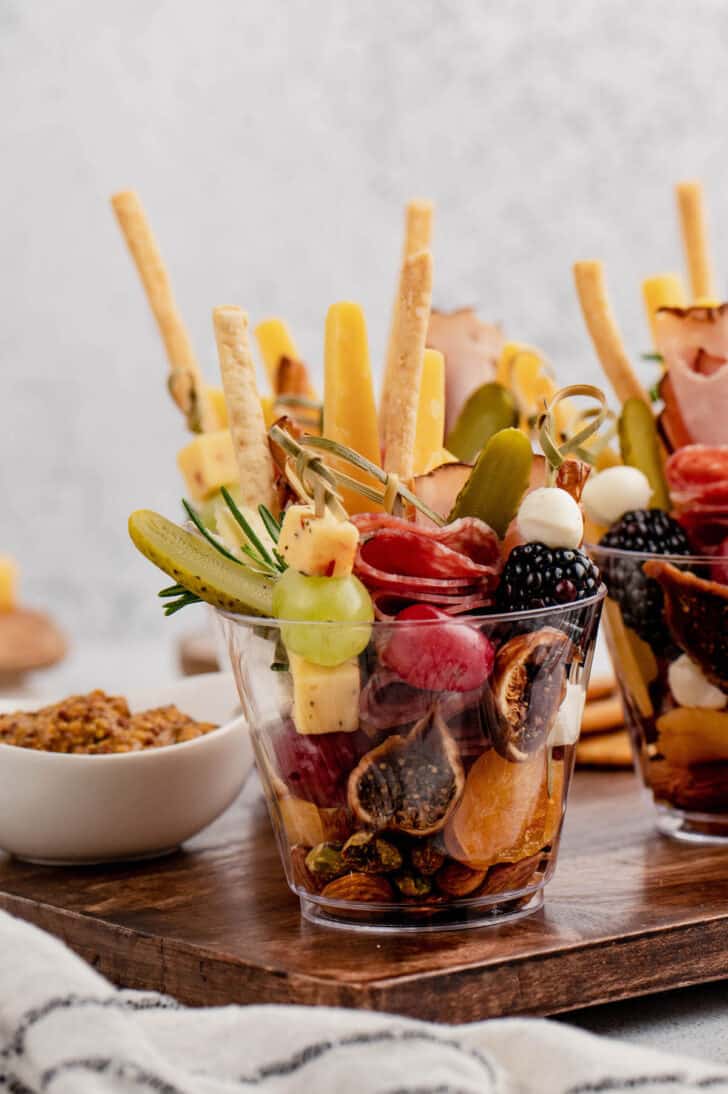 Charcuterie Cups FAQs
What size cups to use for charcuterie cups?
When selecting cups for charcuterie cups, small disposable cups are best, preferably made of a clear material so you can see all the layers and ingredients. We've used 9 ounce clear plastic cups [affiliate link] for the photos shown here.
‌
How far in advance can charcuterie cups be made?
Most parts of charcuterie cups can be assembled up to 24 hours in advance, wrapped tightly, and kept in the fridge without compromising their quality. Add crunchy items like crackers and dried breadsticks just before serving.

What is the 3 3 3 3 rule for charcuterie board?
The 3-3-3-3 rule is a guideline that will help you create a visually beautiful and flavorfully balanced charcuterie board (or cups!).

It suggests three types of meat, three types of cheeses, three types of carbohydrates (breads, crackers, etc.) and three types of accompaniments (mustard, honey, pickles, olives, etc.).

The 3-3-3-3 rule is a helpful starting point to keep in mind but don't be afraid to customize based on your preferences and the size of your gathering!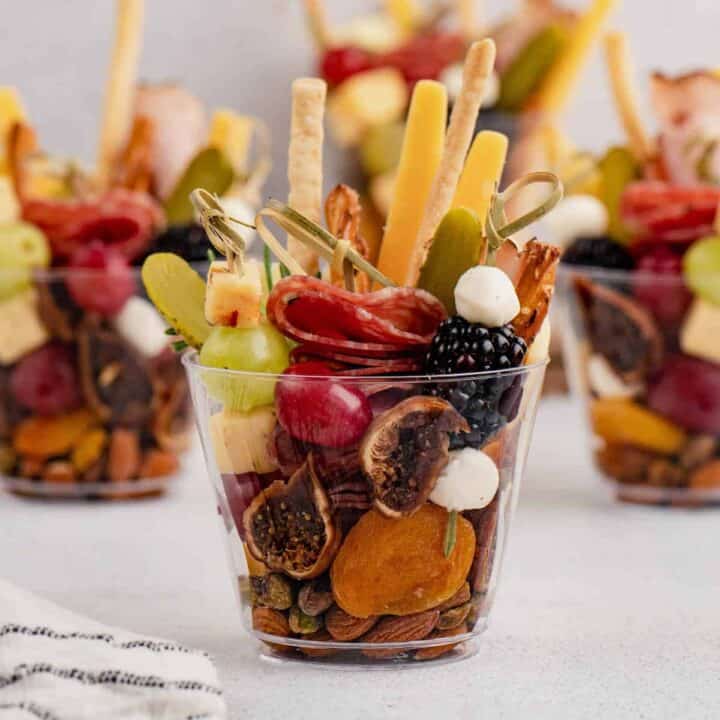 Charcuterie Cup Ideas
The options are limitless with these Individual Charcuterie Cups. Grab some plastic cups and load them up with meat, cheese, fruit and all sorts of garnishes. Perfect for holidays and game day!
Ingredients
6 ounces thinly sliced salami
6 ounces thinly sliced honey smoked turkey
4 ounces aged Gouda cheese, sliced
4 ounces brie cheese, sliced
4 ounces small mozzarella cheese balls
4 ounces smoked Cheddar cheese, sliced
2 ounces cubed tomato basil havarti cheese
8 fresh figs, halved
1/2 cup assorted nuts
1/2 cup grapes
1/2 cup small pretzel sticks
1/4 cup blackberries
1/4 cup cornichons
1/4 cup dried apricots
8 sprigs fresh rosemary
8 (9 ounce) clear plastic cups
Decorative bamboo skewers
Fig or raspberry preserves, for serving (optional)
Whole grain mustard, for serving (optional)
Instructions
Thread some of the meat, cheese and fruit onto skewers and divide between cups. Arrange rest of ingredients in cups around skewers. Serve with preserves and mustard, if desired.
Recommended Products
Foxes Love Lemons, LLC is a participant in the Amazon Services LLC Associates Program, an affiliate advertising program designed to provide a means for sites to earn advertising fees by advertising and links to Amazon.com. There is no additional cost to you.
Nutrition Information:
Yield:

8
Serving Size:

1
Amount Per Serving:
Calories:

434
Total Fat:

29g
Saturated Fat:

13g
Trans Fat:

0g
Unsaturated Fat:

14g
Cholesterol:

93mg
Sodium:

1096mg
Carbohydrates:

20g
Fiber:

3g
Sugar:

13g
Protein:

26g
This website provides estimated nutrition information as a courtesy only. You should calculate the nutritional information with the actual ingredients used in your recipe using your preferred nutrition calculator.