Goat Cheese Risotto with Asparagus
When friends ask me to teach them how to cook, one of the first things I teach them is risotto. Why? Well, it sounds really elegant and fancy. It requires a bit of prep and cooking time, but the process for it is simple and almost foolproof.
And I think it's one of those dishes that shows people that they are capable of a lot more than they think they are in the kitchen (just like my grilled sockeye salmon!).
It's also not just a rice dish. Risotto is a cooking technique, and can be used for savory oatmeal just as well as it can be used for arborio rice.
When we've finished making it, and they sit down to eat it, I think most of them have a "wow, I MADE this!" moment. It demonstrates how a few good ingredients can come together to make a restaurant-quality dish at home.
In fact, at home is the only place I ever eat risotto. It's hardly ever done right at restaurants. #RisottoSnob
Risotto is also a complete blank canvas to highlight whatever produce is in season (or whatever cheese is in your fridge). You could even go wild and make a coconut risotto! Here, we're using fresh local asparagus (I bought extra so I could also make balsamic asparagus for another meal).
A large portion of risotto can be served as an entree, or a smaller portion can be served as a side dish alongside something special like crab stuffed salmon or baked pesto salmon.
Here we have a basic leek-infused risotto that is finished with plenty of creamy, tangy goat cheese. While the risotto is working (stir it often, but no need to stir constantly), grab a saute pan and lightly cook some fresh asparagus.
Finish the goat cheese risotto with lemon, because it's the right thing to do. Sit down and enjoy, home chef.
Psst – buy a large package of goat cheese and try a sweet potato breakfast bake, too!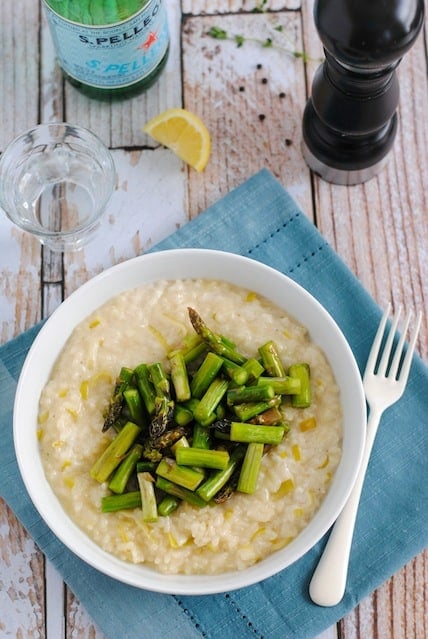 Goat Cheese Risotto with Asparagus
Ingredients
For the Goat Cheese Risotto:
4 cups chicken broth
2 tablespoons unsalted butter
3 garlic cloves, minced
1 leek (white and light green parts only), halved lengthwise, washed well and thinly sliced crosswise
Kosher salt and ground black pepper
1 cup arborio rice
1/2 cup dry white wine
Juice of 1/2 lemon
4 ounces crumbled goat cheese
1 teaspoon chopped fresh thyme
For the Sauteed Asparagus:
1 tablespoon olive oil
1 bunch fresh asparagus, cut into 1-inch pieces
Kosher salt and ground black pepper
Instructions
Make the Goat Cheese Risotto: In small covered saucepot, heat broth over medium heat. When simmering, turn off heat and keep covered.
In large high-sided skillet, heat butter over medium-high heat. Add garlic and leek; season with salt and pepper. Cook 3 to 4 minutes or until leek is softened, stirring frequently. Add rice; cook 2 to 3 minutes or until rice begins to become translucent at edges of grains, stirring constantly. Add wine; stir constantly until mostly absorbed.
Add 1/2 cup hot broth; stir constantly until mostly absorbed. Add additional broth in 1/2 cup increments, stirring after each addition and cooking until broth is mostly absorbed before adding more. Cook 20 to 25 minutes or until rice is tender, stirring frequently and adding broth as needed. Stir in lemon juice, goat cheese and thyme; cook, while stirring, 1 minute or until cheese is melted and incorporated.
Meanwhile, make the Sautéed Asparagus: Heat oil in large skillet over medium-high heat. Add asparagus; season with salt and pepper. Cook 3 to 4 minutes or until asparagus is just tender, stirring occasionally.
Divide risotto between warm pasta bowls. Top with asparagus.