Crockpot Chicken Parmesan Soup (Slow Cooker)
This Crockpot Chicken Parmesan Soup has all of the flavors of a decadent comfort food classic in an easy slow cooker soup! This family-friendly dinner recipe takes just minutes to prep.
When I was growing up, my mom had a slow cooker that she used to make exactly one thing – her Beef vegetable soup slow cooker. Actually, she just called it "vegetable soup," which I teased her about since it contained beef short ribs.
Midwest livin', man. She also made her lasagna recipe cottage cheese instead of ricotta – another Midwest classic!
So from a young age, I associated slow cookers with crockpot soups like taco soup in slow cooker. It was only later in life that I discovered the pleasure of a slow cooker chicken burrito bowl and the ease of my crock pot green bean casserole recipe.
Crock pots really are a great way to make soup, as the ingredients have all day to slowly simmer, release their flavors, and come together into one harmonious bowl of deliciousness.
About this slow cooker chicken parmesan soup:
This slow cooker chicken parmesan soup has all of the flavors of decadent chicken parmesan, but is much more waistline-friendly than the dish that inspires it.
You simply simmer chicken broth, chicken breasts and crushed tomatoes in a crock pot all day. You'll also include garlic, onion, basil, oregano and red pepper flakes for an aromatic base.
Just before serving this crockpot chicken parmesan soup, you'll remove the chicken breasts, shred them and return them to the crock pot (just like my mom did with the short ribs in her not-so-veggie soup).
Gemelli pasta, like I use in my gemelli pasta salad (or any long, tube-like shape of pasta) is stirred in at the same time, and in a half hour, the pasta will be cooked to al dente perfection.
Then comes a sprinkle of Parmesan cheese, and dinner is served!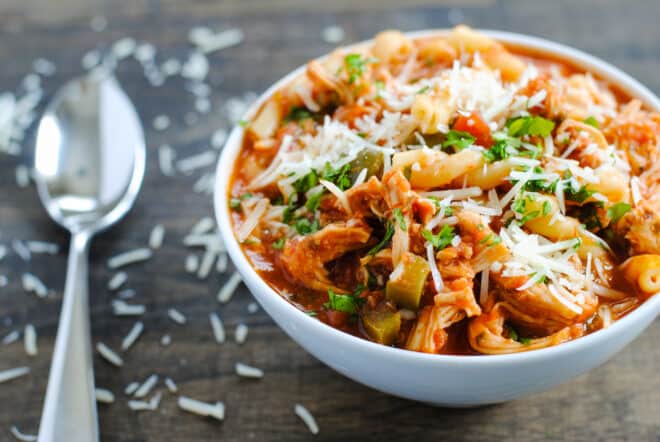 Answers to some frequently asked questions about this chicken parm soup are below.
Can you used cooked chicken in this chicken parm soup?
Unlike with something like slow cooker beef stroganoff, where the beef needs to be browned before going into the slow cooker, the chicken for this recipe does NOT need to be cooked prior prior to going into the crockpot.
This crockpot soup recipe calls for raw chicken breast, because the crockpot will fully cook the chicken during the cooking time.
However, if you have some cooked chicken on hand and would rather use that, you definitely can! And if you have even more cooked chicken on hand after that, try it in place of shrimp in my shrimp wonton soup.
But, if you add cooked chicken at the beginning of the cooking time, the meat would get very dried out.
So, I would stir in cooked, chopped chicken in the last 5 to 10 minutes of the pasta cooking time, just to warm it through.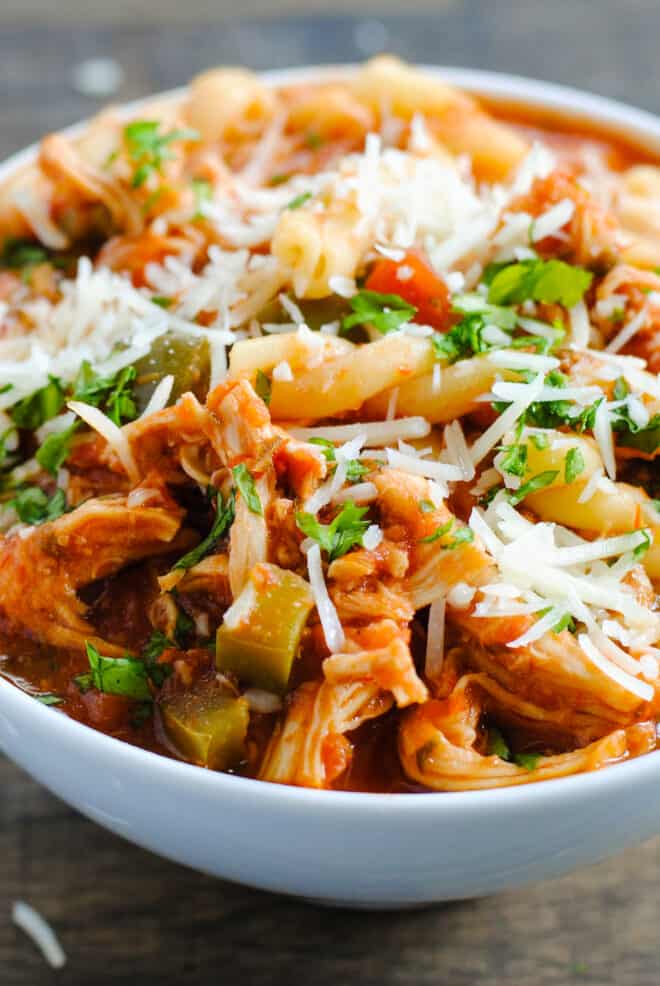 Can I double this chicken parmesan soup recipe? Do I need to make any adjustments?
I've made a double batch of this crockpot soup recipe for a crowd many times. I didn't make any adjustments other than doubling each ingredient amount. The cooking times remained the same.
However, before you double up, please make sure your crock pot is big enough to actually accommodate a double batch of this chicken parm soup – I used a 7 quart slow cooker when doubling.
And if you end up buying a whole bag of green peppers, be sure to try my fajitas veggies, too!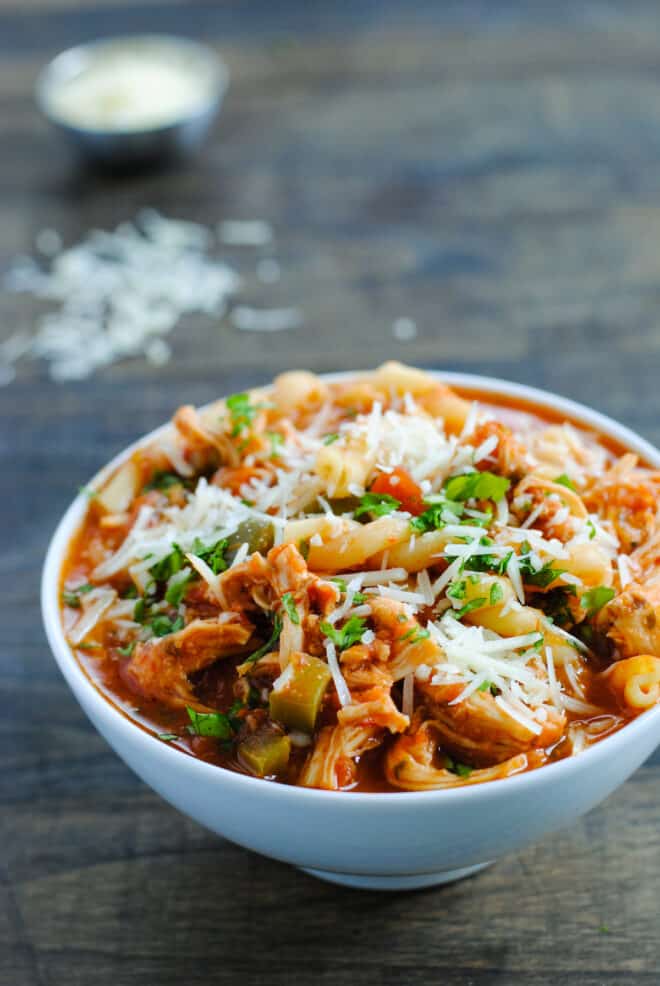 Can I use dried herbs instead of fresh herbs in this crockpot soup?
Definitely! But since dried herbs have a stronger flavor than fresh, Epicurious recommends to scale down the measurement to one-third of the fresh amount called for.
So, instead of 2 tablespoons (6 teaspoons) fresh basil, you'll want to use 2 teaspoons dried basil.
And instead of 2 tablespoons fresh oregano, you'll want to use 2 teaspoons dried oregano in this chicken parm soup.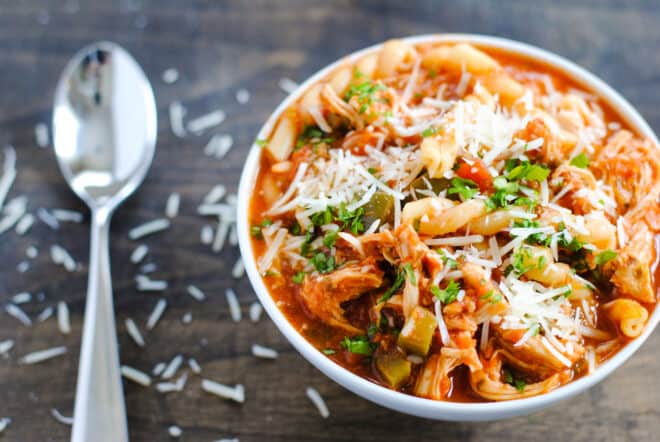 Can I use quinoa / rice / gluten free pasta instead of the traditional pasta in this slow cooker soup recipe?
You probably can, but I haven't tested this crockpot soup recipe with any of those things.
If you're looking to use something other than traditional pasta in this crockpot chicken parmesan soup recipe, I would advise cooking that item separately and simply stirring it in when you return the chicken to the pot, then serving.
That way you can ensure that whatever alternative to traditional pasta you're using is properly cooked when you dish up the soup.
What should I serve with crockpot chicken parmesan soup?
You could certainly double down on the parmesan magic and serve a DIY salad board with parmesan dressing (also great alongside salmon pesto pasta).
A side of homemade flatbread (with or without the toppings) is always welcome with a hot bowl of soup, or even a batch of chicken sloppy joes.
A batch of mini cornbread muffins would also be delicious with this soup, or with my old fashioned ham and bean soup or Irish colcannon soup.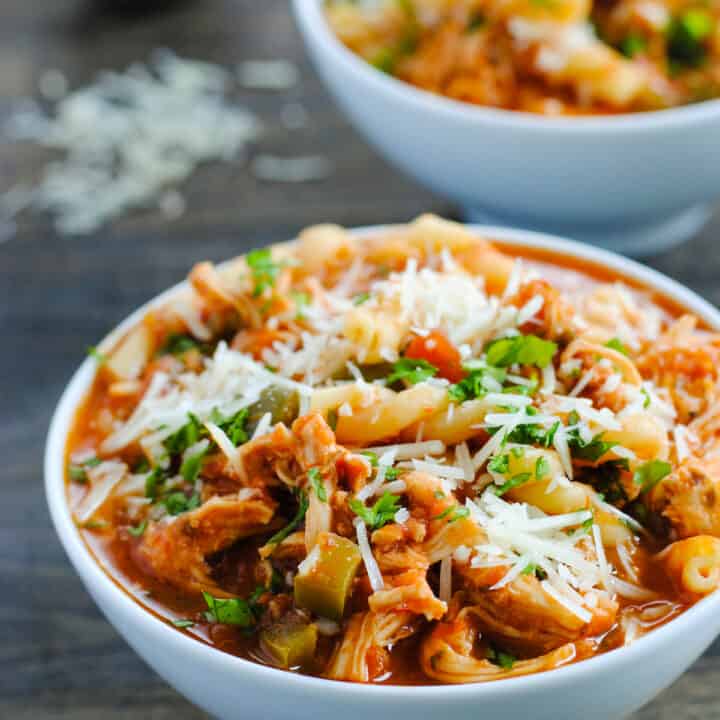 Crockpot Chicken Parmesan Soup (Slow Cooker)
Total Time:
8 hours
20 minutes
This Crockpot Chicken Parmesan Soup has all of the flavors of a decadent comfort food classic in an easy slow cooker soup! This family-friendly dinner recipe takes just minutes to prep.
Ingredients
4 garlic cloves, minced
1 green bell pepper, chopped
1/2 medium white onion, chopped
1 can (14.5 ounces) crushed tomatoes
1/2 pound (raw) boneless, skinless chicken breast
5 cups low sodium chicken broth, plus additional if needed
1/2 cup shredded Parmesan cheese, plus extra for garnish
2 tablespoons chopped fresh basil
2 teaspoons chopped fresh oregano
1 teaspoon kosher salt
1/2 teaspoon ground black pepper
1/4 teaspoon red pepper flakes
4 ounces (uncooked) dry gemelli or penne pasta
2 tablespoons unsalted butter (optional)
Chopped fresh basil or parsley, for garnish
Instructions
In 5-quart or larger slow cooker, stir together garlic, bell pepper, onion, tomatoes, chicken, broth, 1/2 cup cheese, basil, oregano, salt, black pepper and red pepper flakes. Cook on low 7-1/2 hours or on high 3-1/2 hours.
Transfer chicken to cutting board and use forks to coarsely shred; return to slow cooker. Stir in pasta. Cook on high 20-30 minutes longer or until pasta is cooked al dente.
Stir in butter, if desired. If soup becomes too thick after pasta is cooked, stir in additional broth or water until desired consistency is reached, and warm through.
Serve garnished with extra Parmesan cheese and chopped basil or parsley.
Notes
Home Chef Tip: The butter stirred in at the end is entirely optional. It adds a few calories, but it also adds a nice richness and mouthfeel to the soup.
Recommended Products
Foxes Love Lemons, LLC is a participant in the Amazon Services LLC Associates Program, an affiliate advertising program designed to provide a means for sites to earn advertising fees by advertising and links to Amazon.com. There is no additional cost to you.
Nutrition Information:
Yield:

4
Serving Size:

1
Amount Per Serving:
Calories:

312
Total Fat:

13g
Saturated Fat:

7g
Trans Fat:

0g
Unsaturated Fat:

5g
Cholesterol:

71mg
Sodium:

890mg
Carbohydrates:

20g
Fiber:

2g
Sugar:

4g
Protein:

31g