Chilean Sea Bass with Potatoes & Herb Sauce
This Seared Chilean Sea Bass recipe with Potatoes & Herb Sauce is a beautiful, healthy restaurant-quality dish that can be made at home in 17 minutes.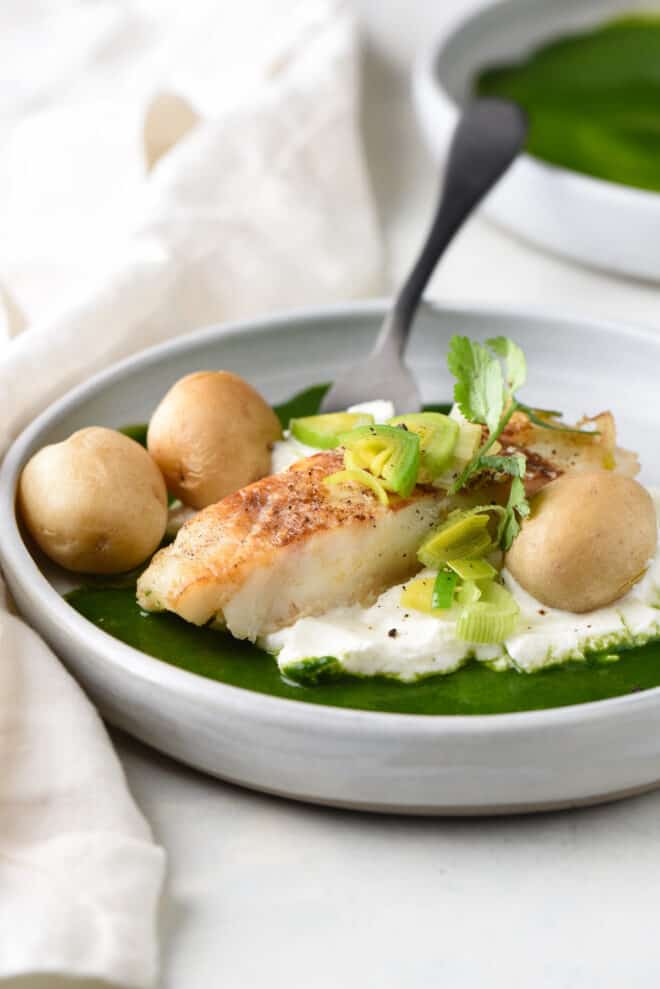 I totally crushed on the cover of Bon Appetit this month. In one image, one headline, one cover, it summed up what I aim to do with this blog – teach people how to cook restaurant-quality food at home.
Things like clams with pasta and bacon and rigatoni bolognese may be among your favorite things to order at a restaurant, but also easily achievable at home.
Something as simple as a piece of fish and a few garnishes can be EASY to make at home, but make you FEEL like you're eating at a fancy restaurant. That's my favorite type of meal.
I was already in love with this beautiful plate of healthy food, but when I realized I could pull it all together in less than 20 minutes? Even bigger crush.
So I adapted their Chilean sea bass recipe based on ingredients that were easy to find at my grocery store.
Pan seared Chilean sea bass: A 17 minute recipe
Here's how you can make this pan seared Chilean sea bass recipe like the home chef that you are. With some shortcuts and tricks to make it even easier.
Read through the directions once before you begin, and make sure you have all of your ingredients out before you start cooking. Then, take it step by step, and relax – you've got this!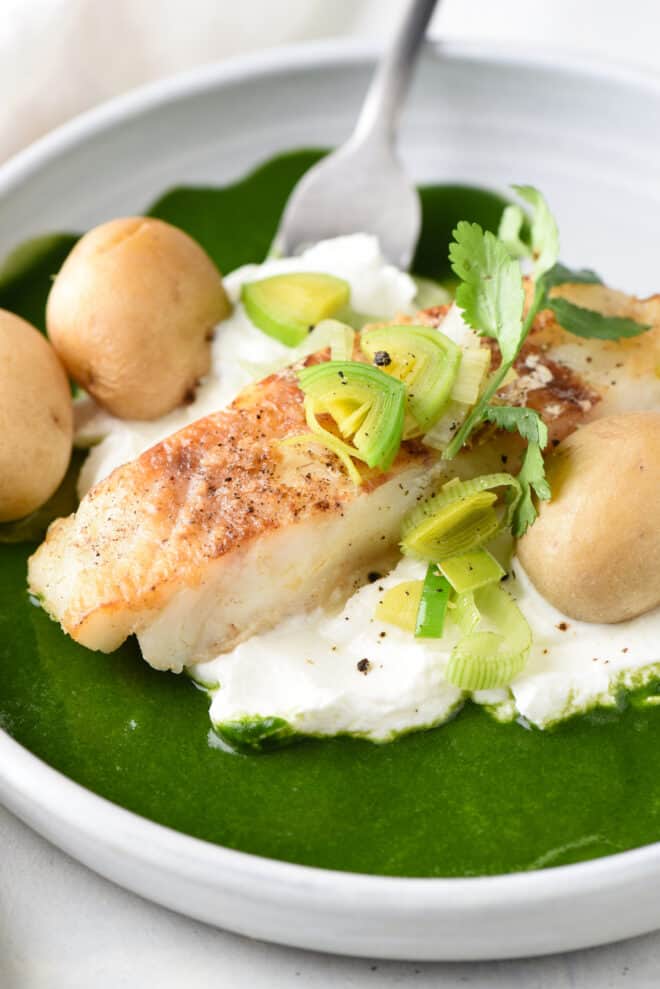 Make the juice and cook the potatoes.
Minutes 1-4: Realize you don't have a juicer to make the green juice. Shrug your shoulders, pull out your blender, and puree all of the juice ingredients.
Dump the resulting herb smoothie into a fine-mesh strainer and set it over a bowl – the green juice drips into the bowl. Success.
Home Chef Trick: Work with the equipment you have to make what you need.
Minute 5: Get super lazy about boiling potatoes and decide to microwave them instead (we definitely don't have time for mini Hasselback potatoes today!). Scrub them, poke them, put them in a bowl and zap them. Home Chef Trick: Take shortcuts. Sometimes.
Cook the fish and prep the garnishes.
Minute 6: Get out a skillet and pre-heat it on the stove. Pat the Chilean sea bass dry and season it with salt.
Home Chef Tricks: Always start with a screaming hot pan when cooking fish. Always start with dry fish. Always season with salt.
Minutes 7 – 13: Place the Chilean sea bass skin-side down in the screaming hot pan. Crispy skin is the best! Turn it and cook it a few minutes longer.
While the pan seared sea bass is happening, get the yogurt out of the fridge and thinly slice the whites of your leek. Mentally make plans to use any left over Greek yogurt to make Greek chicken meatballs later this week.
Home Chef Trick: Don't just stand around and watch your food cook. Multitask and work on the next step of the recipe, while keeping an eye on the fish in the skillet.
Plate it up!
Minutes 14 – 17: Transfer pan seared Chilean sea bass to a plate to rest, put the leek whites in the skillet for a quick saute.
Gather all of the elements and assemble the plates: green juice, potatoes, yogurt, fish and leek whites. Go all Picasso on that plate and make it pretty.
Home Chef Trick: A beautiful presentation never goes out of style, even at home.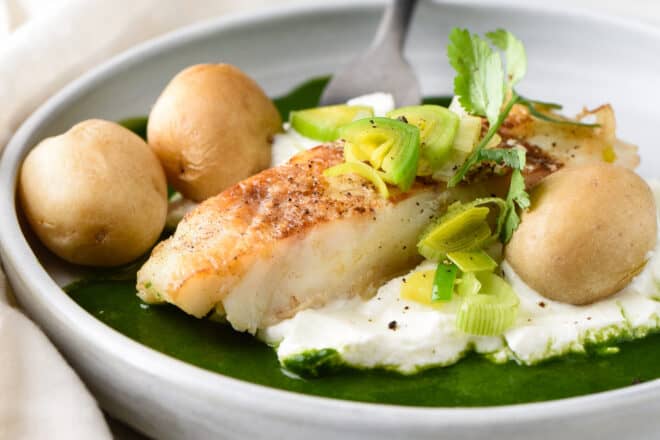 How do you cook Chilean sea bass?
For the Chilean sea bass recipe below, I cooked the fish in a skillet for 6 minutes: 4 minutes skin-side down, flip, then an additional 2 minutes.
You can also bake the fish in a 400 degree F oven for 10 minutes per inch of thickness of the fish.
What temperature to cook Chilean sea bass?
No matter how you cook it, you want to make sure that the internal temperature of all fish and seafood reaches 145 degrees F. This is the temperature you want to cook it to for food safety reasons.
If you like to cook at home, I highly recommend investing in an instant read thermometer so that you can easily check the internal temperatures of meats and seafoods without having to cut into them (which will ruin the final presentation).
However, if you do not have a thermometer, and you don't mind messing up the presentation a little bit, an easy way to tell that your fish has reached this safe temperature is by cutting into the fish at it's thickest part and peeking inside.
The fish should be opaque (no longer translucent) and it should easily flake with a fork.
What is the best sauce for sea bass?
I really like the Green Sauce for the Chilean Sea Bass recipe below, made with:
Other great sauce options for pan seared sea bass would be: the chimichurri I served with my lamb platter, romesco sauce or lemon cream sauce.
What to serve with this Chilean sea bass recipe?
If you decide not to make the yogurt / potatoes / herb sauce situation, and are simply serving a nicely seared piece of Chilean sea bass, you'll still need a side dish.
I recommend something like slow cooker barley or butternut squash noodles.
A great green side salad with miso dressing or feta dressing would also work well here.
What should I do with the other half of the lemon?
This one is a no-brainer. Treat yourself to a Sunshine in a Bottle Lemon Smoothie!
Can I make this with another type of fish?
Absolutely! Just about any type of fish you prefer would be great with this preparation, it doesn't have to be Chilean sea bass.
Some other great choices for this recipe are cod, snapper, or grouper.
More great seafood recipes:
If you think you don't like seafood, I urge you to keep trying different varieties and recipes! Fish, shrimp, and all different types of seafood are so versatile for easy, healthful meals.
Chilean Sea Bass with Potatoes & Herb Sauce
This Seared Chilean Sea Bass recipe with Potatoes & Herb Sauce is a beautiful, healthy restaurant-quality dish that can be made at home in 17 minutes.
Ingredients
For the Green Sauce:
2 celery stalks, roughly chopped
2 cups packed fresh cilantro
1 leek (dark green top only), roughly chopped
Juice of 1/2 lemon
1/3 cup water
Pinch of kosher salt
For the Potatoes, Fish & Assembly:
1 pound small fingerling potatoes
4 pieces (4 ounces each) Chilean sea bass
Kosher salt
2 tablespoons olive oil
1 leek (white part only), thinly sliced
1/2 cup Greek yogurt
Cilantro sprigs for garnish
Instructions
Make the Green Sauce: Puree all ingredients in blender until smooth. Pour into a fine-mesh strainer set over a medium bowl. Let sit, stirring mixture in strainer occasionally so all juice drains into bowl; discard solids.
Scrub potatoes clean and use fork to pierce each potato lightly in several places. Place potatoes in medium microwave-safe bowl. Cover bowl with paper towel and microwave on high 4 minutes or until tender (or boil potatoes on stovetop, if desired).
Heat large skillet over medium-high heat until skillet is very hot. Pat fish dry with paper towel and season with salt. Pour oil in pan; place fish skin side-down in pan. Cook 4 minutes or until skin is very crisp. Turn and cook 2 minutes longer. Transfer fish to plate.
Place leek whites in same skillet; cook 1 minute or until slightly softened.
Divide yogurt, potatoes, fish and leek whites between 4 plates. Spoon green juice around fish and garnish with cilantro.
Recommended Products
Foxes Love Lemons, LLC is a participant in the Amazon Services LLC Associates Program, an affiliate advertising program designed to provide a means for sites to earn advertising fees by advertising and links to Amazon.com. There is no additional cost to you.
Nutrition Information:
Yield:

4
Serving Size:

1
Amount Per Serving:
Calories:

360
Total Fat:

10g
Saturated Fat:

2g
Trans Fat:

0g
Unsaturated Fat:

7g
Cholesterol:

55mg
Sodium:

345mg
Carbohydrates:

38g
Fiber:

4g
Sugar:

11g
Protein:

30g
Note: This recipe was originally published in 2014. The post was updated in 2021 to be more informative, and the photos were reshot. The original photos appear below.