Roasted Turkey with Maple Bourbon Glaze
This Roasted Turkey with Maple Bourbon Glaze is so simple yet so beautiful! It's perfect for all home chefs, from Thanksgiving novices to seasoned pros.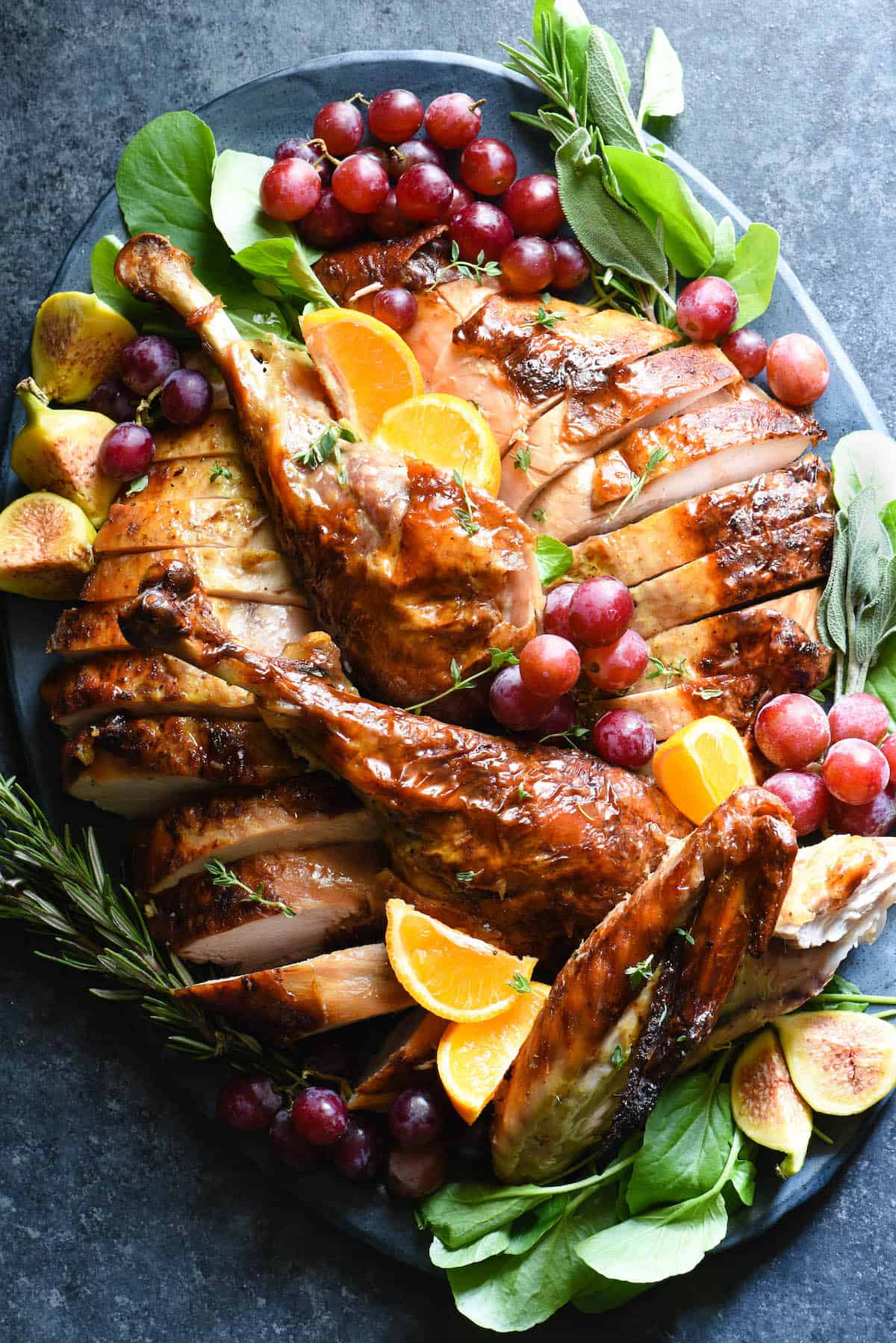 If you're the cook for Thanksgiving dinner, what is your favorite part of the preparation – the turkey (or perhaps the baked ham with pineapple sauce), the sides, or dessert?
While I'm pretty useless when it comes to dessert except for the occasional cranberry curd pie, it's such a tough call between the other two for me.
I love the sides because you can get really creative and have a lot of variety, everything from classics like classic stuffing recipe to something kind of oddball like my crock pot green bean casserole recipe or Thanksgiving rice or chorizo stuffing.
But I also really dig the simplicity of roasting a turkey, carving it, and putting together a beautiful turkey platter for presentation, complete with my favorite turkey glaze recipe.
Today, I'm going to share the method I use for the best roasted turkey, the maple bourbon glaze I brush it with for extra flavor, and tips to make the most gorgeous turkey platter of your life.
How to roast a perfect turkey:
While I've had great success with roasting oven-ready whole turkeys (as seen in the video above) on years where I'm looking to keep things as easy as possible, my all-time favorite method for roasting a turkey hews very closely to Alton Brown's Good Eats Roast Turkey, with the addition of my favorite turkey glaze recipe (and sometimes I'll throw some of my best dry rub for ribs on the bird, too).
To roast a turkey, you'll need a big roasting pan. If you don't already own a roasting pan, invest in one, because it's useful for root beer ribs, too!
The signature move of the Alton Brown turkey method is to start roasting the turkey at a very high oven temperature of 500 degrees F for 30 minutes (enjoy a rosemary gin cocktail while you wait). I use this same method for my Cajun turkey, too!
This 30 minutes goes a long way towards getting a deeply golden brown roasted turkey with crispy skin. After the first 30 minutes, you'll turn the temperature down to 350 degrees to finish roasting the bird.
One thing to be aware of is that this method is FAST!
While Alton's recipe says that a 14 to 16 pound turkey should take at total of 2 to 2-1/2 hours to roast using this method, there's been some years where my turkey has been done even before 2 full hours!
It's something to be aware of because you'll want to have your side dishes like lemon maple Brussels sprouts and mashed potatoes with heavy cream in process basically as soon as the turkey goes into the oven. Make your Thanksgiving Rice Krispies treats the day before, of course.
You'll also want to start making this bourbon glaze recipe. Because your turkey will be done and ready to be brushed with maple bourbon glaze before you know it!
Make this maple bourbon glaze recipe while the bird cooks!
This maple bourbon glaze couldn't be easier. Once the turkey is roasting away in the oven, simply combine some butter, apple juice, bourbon, maple syrup and black pepper in a pot and cook it about a half hour until it reaches a glaze consistency.
You can make this as soon as the bird goes into the oven, and simply let the pot sit on the stove with no heat under it until the turkey comes out.
Or, you can make the bourbon glaze recipe a half hour before the turkey comes out. Whatever works best for your schedule.
I like to brush the fully cooked turkey with glaze when it comes out of the oven, then cut the bourbon glazed turkey up and place the pieces on a platter, and then brush with more glaze.
The glaze will prevent the sliced pieces of turkey from drying out as they sit on the table.
And just because this is a maple glazed turkey, doesn't mean you can forget the gravy (because you'll need that for mashed potatoes, too!). You can even make my gravy from scratch in advance of the big day, and simply reheat before you're ready to serve.
How to put together a turkey serving platter like a pro:
My food stylist tendencies never let up, even on a holiday where I'm just hosting family. I love a beautiful turkey platter, but to be honest, I never have too detailed of a plan for it.
When I'm at the store shopping for my bourbon glaze recipe and other Thanksgiving ingredients, I simply grab whatever looks prettiest. When in doubt, you can't go wrong with lots of fresh herbs and fruit (especially citrus).
Grapes are great platter fillers (and do double duty in Thanksgiving fruit salad and Christmas fruit salad), and watercress will give you a nice pop of green to go with all of that brown. You can also use extra fresh herbs you have around that didn't go inside the bird.
Orange slices always add a pretty touch, and I love figs because they're seasonal and delicious to nibble on along with your turkey.
And if you have extra fresh cranberries on hand after making a cranberry appetizer, throw those on the turkey platter too!
You really can't make a mistake here. Look around at the store when you're shopping for ingredients for Thanksgiving salad or Christmas salad, and whatever looks beautiful – take it home and use it to garnish your maple glazed turkey masterpiece!
More Foxes Love Lemons Favorites
Roasted Turkey with Maple Bourbon Glaze
Cook Time:
2 hours
30 minutes
Total Time:
2 hours
55 minutes
This Roasted Turkey with Maple Bourbon Glaze is so simple yet so beautiful! It's perfect for all home chefs, from Thanksgiving novices to seasoned pros.
Ingredients
For the Roasted Turkey:
1 (14 to 16 pound) turkey, thawed if frozen
4 sprigs thyme
3 sprigs sage
1 apple, sliced
1/2 white onion, sliced
3 tablespoons canola oil
For the Maple Bourbon Glaze:
1 stick (8 tablespoons) unsalted butter
1/2 cup apple juice
1/4 cup bourbon
1/4 cup maple syrup
1/4 teaspoon ground black pepper
Instructions
Make the Roasted Turkey: Preheat oven to 500 degrees F with a rack set at the lowest level. Pat turkey completely dry with paper towels, and place turkey on rack inside roasting pan.
Place thyme, sage, apple and onion in turkey's cavity. Tuck turkey wings underneath the turkey. Liberally brush oil all over turkey.
Transfer turkey to oven and cook 30 minutes. Reduce oven temperature to 350 degrees F and continue roasting about 2 to 2-1/2 hours (although it could be a little less!), until a probe thermometer inserted in the thickest part of the breast reaches 161 degrees F.
Meanwhile, make the Maple Bourbon Glaze: Add butter, juice, bourbon, maple syrup and pepper to medium saucepot. Heat to boiling over medium-high heat, then reduce heat to medium. Cook 24 to 28 minutes or until mixture is reduced by half, watching carefully to make sure mixture doesn't boil over. Mixture should have a thin glaze consistency, and will continue to thicken as it cools. Remove from heat; set aside at room temperature.
When turkey is finished cooking, remove from oven and brush with some Maple Bourbon Glaze. Transfer turkey to cutting board and loosely tent with foil. Let rest 30 minutes before carving and serving brushed with additional glaze.
Recommended Products
Foxes Love Lemons, LLC is a participant in the Amazon Services LLC Associates Program, an affiliate advertising program designed to provide a means for sites to earn advertising fees by advertising and links to Amazon.com. There is no additional cost to you.
Nutrition Information:
Yield:

12
Serving Size:

1
Amount Per Serving:
Calories:

497
Total Fat:

25g
Saturated Fat:

9g
Trans Fat:

0g
Unsaturated Fat:

15g
Cholesterol:

226mg
Sodium:

197mg
Carbohydrates:

9g
Fiber:

1g
Sugar:

7g
Protein:

54g