Mini Baklava Tarts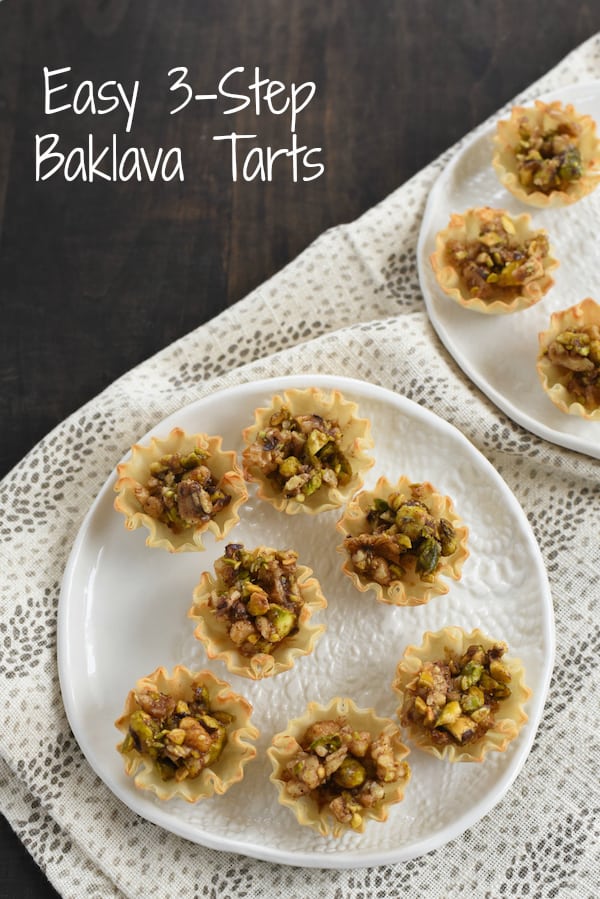 Between the melomakarona the other day, and these Mini Baklava Tarts, the country of Greece might as well be my official sponsor for holiday desserts.
And if the country of Greece is reading this, and wants to send me back to Mykonos and Santorini, I'd gladly accept. As it turns out, I'll be spending the holidays here in Michigan (although if I'm lucky, I'll find some time to make Greek lasagna).
I don't do a ton of holiday baking (I save my heart cookies for Valentine's Day), but I do like keeping some simple desserts up my sleeve to pull out for a party.

These little bites are just three simple steps. And seriously, when I say simple, I truly mean sooooo simple.
Step 1 is literally taking phylllo cups out of your freezer. Then, simply mix some chopped walnuts and pistachios (or whatever blend of nuts you like) with honey, a bit of butter, orange juice and spices, then spoon that mixture into aforementioned phyllo cups.
All the flavor of baklava, with none of the tears like that other time I tried to make baklava.
Psst – buy an extra box of phyllo cups to make my phyllo cup appetizers!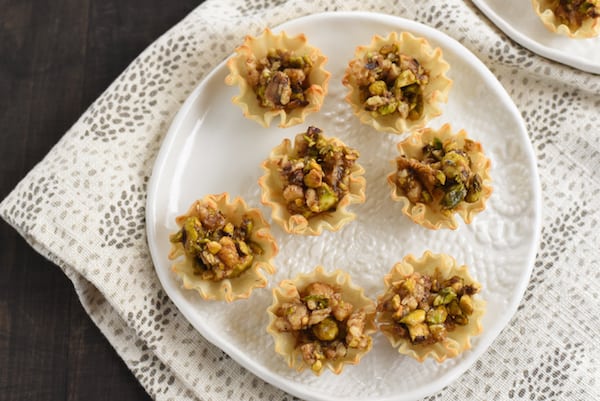 Mini Baklava Tarts
Ingredients
1 box (15 count) mini fillo (phyllo) shells
1/3 cup shelled pistachios
1/3 cup shelled walnuts
2 tablespoons honey
1 tablespoon fresh orange juice
1 tablespoon melted butter
1/2 teaspoon ground cinnamon
1/2 teaspoon ground cloves
Instructions
1. Remove phyllo shells from freezer and bring to room temperature. 2. Meanwhile, finely chop pistachios and walnuts. 3. In small bowl, stir together honey, orange juice, butter, cinnamon and cloves. Stir in nuts. Spoon 2 teaspoons filling into each phyllo cup. Serve immediately or cover and refrigerate up to 2 hours.