Brandy Old Fashioned
Make a Brandy Old Fashioned and treat yourself to a classic Midwestern cocktail at home. So sweet and delicious, you may want another!
I've been rewatching Mad Men lately. It's probably the fifth or sixth time I've watched the series all the way through, or maybe even more. I've lost count!
When the outside world is messy and difficult, there's something comforting about returning to characters I'm well, comfortable with.
It's not necessarily always a feel good show. In fact, there are some pretty heavy moments, often pulled straight from history.
Not all of the characters are likeable, not in the least. And maybe that's part of the allure. The show doesn't pretend that everything is perfect all of the time, because often, it's not.
But the REAL star of the show has to be the cocktails. You immediately begin to lose track of how many old fashioneds Don Draper consumes.
Most of the time, his drink seems to be the type of old fashioned that I'm accustomed to – a sugar cube muddled with an orange rind and a few dashes of bitters, then topped with bourbon.
But one scene, in particular, his old fashioned looked a little different, and that's when I started researching all the types of old fashioneds.
This brandy old fashioned recipe is a classic in the Midwest.
In the Season 3, Episode 3 episode, "My Old Kentucky Home," Don meets Conrad Hilton at an unattended bar during a party he really doesn't want to be at.
Don ends up making him and "Connie" old fashioneds. He muddles the cherry and the orange, adds some sort of brown liquor, but then . . . tops it with soda.
I'd never heard of an old fashioned that included soda, so I Googled it. Turns out that what Don made looks a lot like a brandy old fashioned, which is a classic cocktail in the Midwest, and especially Wisconsin.
Many people even claim that the brandy old fashioned is the (un)official drink of Wisconsin!
Well, you know me. I'm a Midwesterner at heart with an affinity for a Midwest potato salad recipe and making my lasagna made with cottage cheese, so brandy old fashioneds swiftly made it into the cocktail rotation at my house.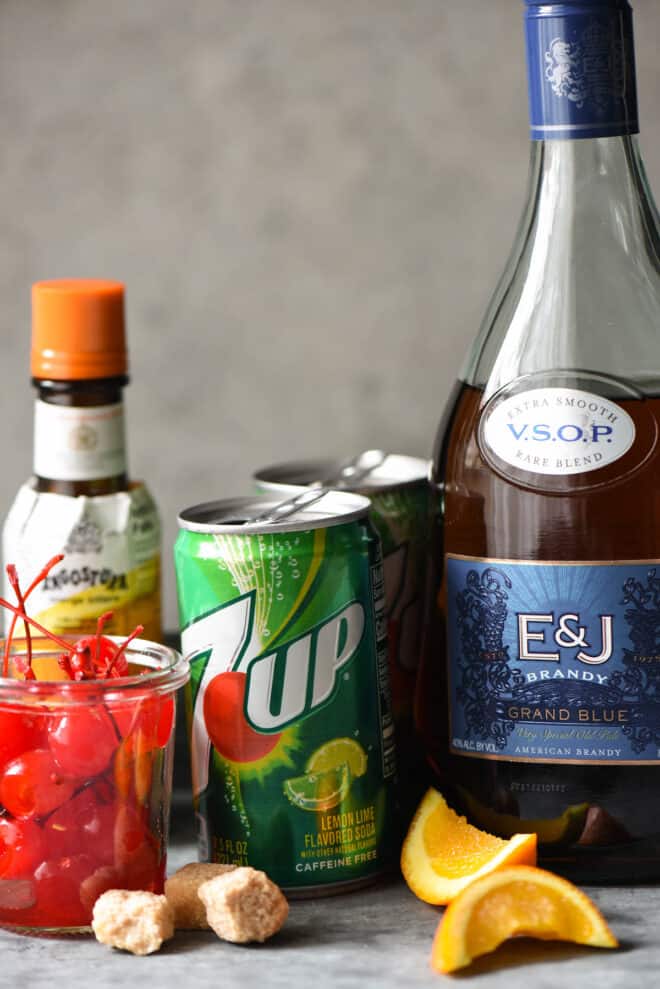 Is a brandy old fashioned sweet?
Like my bourbon apple cider, a brandy old fashioned is definitely on the sweeter end of the cocktail spectrum, and I think that's why people find it so alluring. They go down very easy (just like my tequila mojitos), so be careful!
Unlike my rosemary cocktail, which is sweetened with simple syrup, or my honey old fashioned which is, of course, sweetened with honey, the sweetness in a brandy old fashioned comes from a variety of sources.
There's the marascino cherries PLUS some of the juice from the cherry jar. There's the orange slice (and the juice that comes out of it). There's the sugar cube. And then there's the lemon-lime soda.
If all of this is TOO sweet for you (and I don't blame you), feel free to just omit the sugar cube. I often do that, and enjoy it just as well that way.
What is in a brandy old fashioned?
How to make a brandy old fashioned:
Just like my basil cocktail, this is a muddled drink.
In a double old fashioned glass (or any fancy cocktail glass you prefer), muddle the cherries, cherry juice, orange slice, sugar and bitters until everything is crushed and somewhat blended together.
Add the brandy and stir until everything is well combined and the sugar completely dissolves into the brandy.
Fill your glass with ice, and then top everything off with lemon-lime soda (7-Up, Sprite, etc.).
What to serve with brandy old fashioneds:
Well, if you're drinking like you live in the Midwest, you may as well eat like you live here, too. And us Midwesterners love pizza. Try a cheeseburger pizza or chicken pizza.
Or, if you just want a few little nibbles during happy hour, my phyllo cup appetizers and spicy potato chips both make great pairings for this drink.
And don't forget to say a few "opes" while you're drinking. You can't be an honorary Midwesterner without muttering this non-word several times a day.
Don't know what I mean? Check out the School of Ope.
Brandy Old Fashioned
Make a Brandy Old Fashioned and treat yourself to a classic Midwestern cocktail at home. So sweet and delicious, you may want another!
Ingredients
2 maraschino cherries
1 teaspoon juice from the maraschino cherry jar
1 slice of orange (about 1/8th of a medium orange, peel and all)
1 sugar cube
4 dashes orange bitters
2 ounces brandy
Ice
Lemon-lime soda
Instructions
In a double old fashioned glass, muddle cherries, cherry juice, orange slice, sugar and bitters until crushed.
Add brandy and stir until well combined.
Fill glass with ice.
Top off cocktail with lemon-lime soda.
Recommended Products
Foxes Love Lemons, LLC is a participant in the Amazon Services LLC Associates Program, an affiliate advertising program designed to provide a means for sites to earn advertising fees by advertising and links to Amazon.com. There is no additional cost to you.
Nutrition Information:
Yield:

1
Serving Size:

1
Amount Per Serving:
Calories:

204
Total Fat:

0g
Saturated Fat:

0g
Trans Fat:

0g
Unsaturated Fat:

0g
Cholesterol:

0mg
Sodium:

10mg
Carbohydrates:

18g
Fiber:

1g
Sugar:

17g
Protein:

0g