Crab Rangoon Pizza
Your favorite Chinese takeout appetizer becomes a fun dinner with this Crab Rangoon Pizza. It's irresistible drizzled with sweet chili sauce.
Before having a kid, I could count on one hand the number of times I'd eaten crab rangoons in my life.
It wasn't something my parents ordered when we got Chinese takeout, and it wasn't until I met my husband in college that I was introduced to this very Americanized Chinese appetizer to go alongside my General Tso's chicken.
But one night after my daughter had started eating solid foods, we ordered crab rangoons on a whim. And she LOVED them. I mean, she could have devoured an entire order herself if we let her.
Now, when she hears takeout food delivered to our porch, she always asks "are there goonies?" She is so disappointed when we've ordered burritos or chicken shawarma instead. But we order far more crab rangoons than I'd like to admit.
So today, I thought I would combine my daughter's favorite food with my husband's favorite food of pizza (he's the inventor of our cheeseburger pizza and chicken pizza), to make a very special treat for both of them, with this crab rangoon pizza.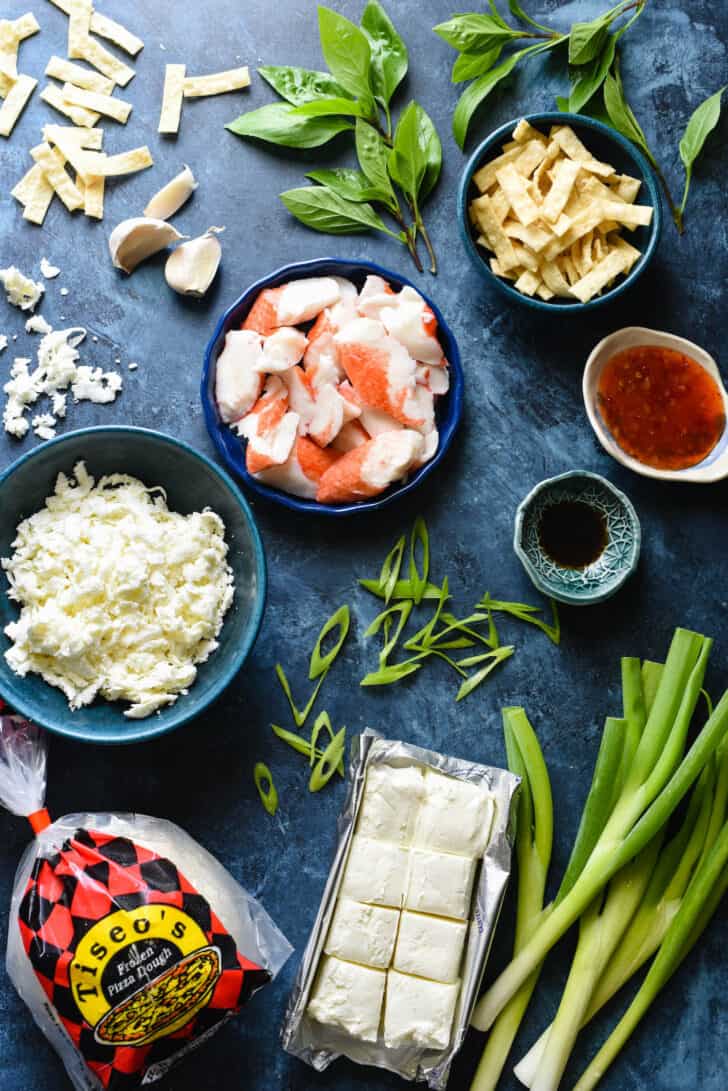 How to make crab rangoon pizza:
First, you'll need to preheat the oven, and I highly recommend hunting up a pizza stone if you have one (more on that later).
Then, you'll be using softened cream cheese (always in my fridge for when a Irish cream brownie or chocolate cake with cream cheese frosting craving strikes) to make the creamy spread that will be slathered over the pizza crust and will make this pizza taste just like a crab rangoon!
You'll be adding a dash of Worcestershire and minced garlic to the cream cheese for extra flavor. Also a key ingredient in my mini shepherd's pies!
Stretch the pizza dough out and get it onto your pizza stone or pan. Just like with my shrimp pizza, you'll be "blind baking" the crust, meaning you'll be baking it without any toppings on it for awhile. Or, if you don't want to mess around with dough, these pizzas are great made on naan bread, like my smoked salmon pizza.
Once the dough is most of the way cooked through, you'll spread the cream cheese mixture over the crust, and then top that with crab and ooey gooey fresh mozzarella cheese (also a delight on fancy toast).
Return the pizza to the oven until the cheese melts. Then, you're just about ready to eat!
Garnish this best crab rangoon pizza recipe with sliced green onions, basil (Thai basil is best if you can find it) and crispy wonton strips (those are a "salad topper" usually found at the grocery store near the bag salads).
No crab rangoon would be complete without sweet chili dipping sauce. You can drizzle the sauce over the crab pizza or simply serve it on the side for dunking.
Should I use crab or imitation crab for this crab rangoon pizza recipe?
At least here in the Midwest, 99.99% of all takeout crab rangoons we order are made with imitation crab. Which, incidentally, is made with some real crab, along with Alaskan pollock.
So, I've chosen to also use imitation crab on this crab rangoon pizza. I used the "flake style," but a lot of stores also have "leg style," "shred style," and "chunk style" available.
I think any of them would work for this crab pizza recipe! Just make sure to tear any larger pieces into bite-sized chunks.
Want to use real crab on this pizza? Go for it, especially if you happen to have a bit of crab left over from my crab stuffed salmon or seafood pasta salad.
What kind of sauce goes on top of this crab pizza?
My favorite sauce for dunking crab rangoons into is sweet chili sauce (Mae Ploy brand is my favorite, and I also use it to make my creamy coconut shrimp sauce and the sauce for wonton nachos).
I've also seen rangoons served with classic sweet and sour sauce, duck sauce or even hoisin sauce.
Whichever sauce you like best for crab rangoons is what you should serve with this best crab rangoon pizza recipe. Or, if you'd like to add a bit of heat, simply squirt a bit of sriracha on top of this crab pizza recipe!
If you can, use a pizza stone for this crab pizza recipe!
Pizza stones are a wonderful tool to have if you're a pizza lover because they help to achieve a crispy crust on this crab rangoon pizza without shelling out a few thousand dollars for an actual pizza oven.
You simply throw the pizza stone in the oven as it preheats and once the oven comes up to temp you put the freshly stretched dough down on the stone and stick the stone back in the oven to crisp up the crust.
P.S. Make sure you brush up on how to clean a pizza stone to ensure it lasts a long time!
What to serve with pizza:
If you want to serve a simple salad alongside this crab rangoon pizza, mixed greens with my miso dressing recipe or miso ginger dressing would be ideal.
Or, if you really want to lean into the Chinese restaurant appetizer theme, try some shrimp wonton soup!
Don't forget some agave lemonade to drink and a frozen yogurt pie or chocolate covered bananas for dessert!
More delicious pizza recipes:
Every night can be pizza night with these delicious recipes!
Crab Rangoon Pizza
Your favorite Chinese takeout appetizer becomes a fun dinner with this Crab Rangoon Pizza. It's irresistible drizzled with sweet chili sauce.
Ingredients
8 ounces cream cheese, cut into 1-inch cubes
1 garlic clove, minced
1 teaspoon Worcestershire sauce
1 ball (1 pound) of homemade pizza dough, or store-bought
Nonstick cooking spray
6 ounces fresh mozzarella cheese, shredded
6 ounces flake style imitation crab meat, torn into bite-sized pieces
4 green onions, thinly sliced
1/2 cup Thai basil leaves
1/2 cup wonton strips
1/2 cup sweet chili sauce
Instructions
Place pizza stone in oven and preheat oven to 400 degrees F.
Meanwhile, in microwave-safe bowl, microwave cream cheese on high in 10 second intervals until it is just soft enough to stir. Add garlic and Worcestershire sauce to cream cheese and stir until well combined.
Toss and stretch pizza dough into a 14-inch circle. Once oven is preheated, carefully remove pizza stone from oven and spray with cooking spray. Carefully place dough on stone. Transfer to oven and bake 6 minutes.
Remove from oven. Spread crust evenly with cream cheese mixture. Arrange mozzarella and crab evenly over pizza. Return to oven and bake 8 minutes longer or until mozzarella is melted and bottom of crust is golden brown.
Top pizza with green onions, basil and wonton strips. Cut and serve immediately. Drizzle with sweet chili sauce or serve it on the side.
Recommended Products
Foxes Love Lemons, LLC is a participant in the Amazon Services LLC Associates Program, an affiliate advertising program designed to provide a means for sites to earn advertising fees by advertising and links to Amazon.com. There is no additional cost to you.
Nutrition Information:
Yield:

4
Serving Size:

1
Amount Per Serving:
Calories:

759
Total Fat:

36g
Saturated Fat:

18g
Trans Fat:

0g
Unsaturated Fat:

15g
Cholesterol:

99mg
Sodium:

1122mg
Carbohydrates:

84g
Fiber:

3g
Sugar:

25g
Protein:

24g