Gyro Pizza
This Gyro Pizza is a Mediterranean mashup the whole family will love. Flatbread is topped with all of the ingredients in a classic gyro, lots of colorful toppings and homemade tzatziki sauce!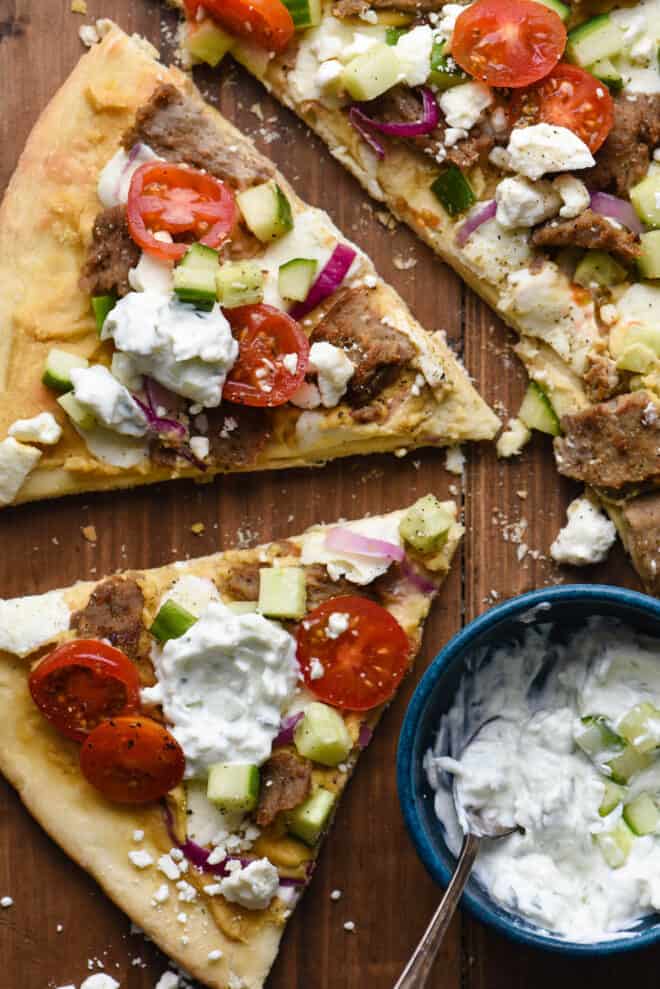 Little known fact about me: I don't really like pizza that much. I know, it's as un-American as it gets. But it's not entirely true.
You see, it's fine, but I would just never choose pizza, when I have my choice of restaurant or takeout meals (or even the option to make a super fast meal at home, like air fryer turkey meatballs or salmon pesto pasta).
So many American families default to pizza as the easiest option at the end of a very long, busy day, but we hardly ever do. My long suffering husband never gets his fill of takeout pizza (although I will make him a crostini pizza bar once in awhile).
But don't feel bad for him. Because I do love HOMEMADE pizza, especially with flavor combinations that go beyond the typical cheese and pepperoni.
This Gyro Pizza is the type of pizza that I'm happy to eat, and share with you!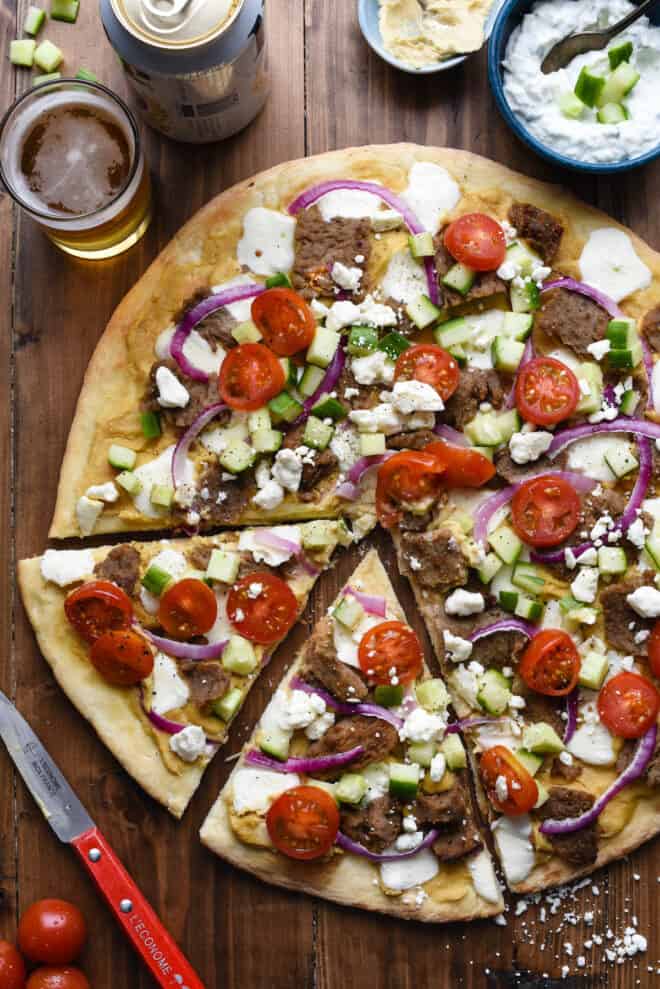 This gyros pizza recipe combines two Detroit favorites.
When I say "flavor combinations that go beyond cheese and pepperoni," I usually mean some sort of mashup. A combination of a pizza and another delicious dish.
My baked potato pizza and cheeseburger pizza are classic examples of this. And now this gyro pizza joins the list.
Here in the Detroit area, a Coney Island restaurant is never more than a stone's throw away.
Famous for (of course) coney hot dogs, chicken lemon rice soup and Greek salads, these restaurants are also usually a fabulous place to get a gyro.
And of course, us Michiganders love pizza so much that we have our very own Detroit style pizza.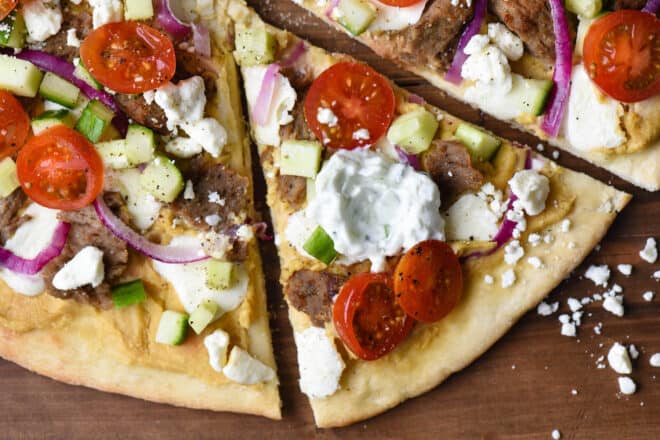 Head to a local coney island for the meat for this lamb gyro pizza recipe.
Speaking of my local coney island, it's where I pick up a quick takeout lunch once a week. Actually, I have two or three coney islands I rotate through so I can support each of them.
And just like I pick up extra rice at my favorite Chinese restaurant to use in my Greek fried rice, I'll also pick up some extra gyro meat at the coney island for this gyro pizza for dinner.
I simply order a side of gyro meat (generally this is offered as a salad topping for a couple of bucks), and the restaurant is happy to oblige.
I've also seen frozen gyro meat at some grocery stores, but it can be hard to come by, so I find the restaurant takeout option a little easier.
This pizza with mozzarella and gyro meat comes together quickly!
Because I've gotten it from a restaurant, the gyro meat is already cooked, which allows this gyro pizza to come together blazingly fast.
Just like with my chicken pizza and Brussels sprouts pizza, I use a pizza stone to get the crust nice and crispy (more on that later).
Then, the crust is topped with prepared hummus, the gyro meat, fresh mozzarella (also used on my crab rangoon pizza) and sliced red onion, and returned to the oven until the cheese gets nice and melty.
Once the pizza comes out of the oven, it's topped with tomatoes, cucumber and feta cheese. Slice, grab your tzatziki sauce (more on that later) and serve!
Can I make this a chicken gyro pizza?
Restaurant gyro meat here in the Midwest is typically a mixture of beef and lamb (the same combination of meat that is in my Greek lasagna!). If that's not your preference, you can absolutely make this a chicken gyro pizza instead!
If you can find a restaurant that serves chicken gyro meat, that'd be perfect! Otherwise, you could use leftover buttermilk grilled chicken from an earlier meal.
You could also make this pizza vegetarian by using falafel from my falafel sub in place of any meat.
If you can, use a pizza stone for this gyro pizza recipe!
Pizza stones are a wonderful tool to have if you're a pizza lover because they help to achieve a crispy crust on this gyro pizza without shelling out a few thousand dollars for an actual pizza oven.
You simply throw the pizza stone in the oven as it preheats and once the oven comes up to temp you put the freshly stretched dough down on the stone and stick the stone back in the oven to crisp up the crust. I also love a nice crispy crust for buffalo shrimp pizza and smoked salmon pizza.
P.S. Make sure you brush up on how to clean a pizza stone to ensure it lasts a long time!
Homemade tzatziki is delicious on this Mediterranean gyro flatbread.
Sometimes when I order the gyro meat from my local coney island, they will include a small side of tzatziki with it.
It's tasty, but there's never enough of it, so I make homemade tzatziki sauce so I can have more!
You know I always have Greek yogurt on hand for savory yogurt, Greek yogurt alfredo and healthy buffalo chicken dip. So it's simply grabbing plain yogurt from the fridge, and stirring in some shredded cucumber, minced garlic, chopped dill and lemon juice. Any extra dill can be used in pimento mac and cheese.
If you don't prefer tzatziki, you can also use my creamy feta dressing for drizzling over this pizza.
More Foxes Love Lemons Favorites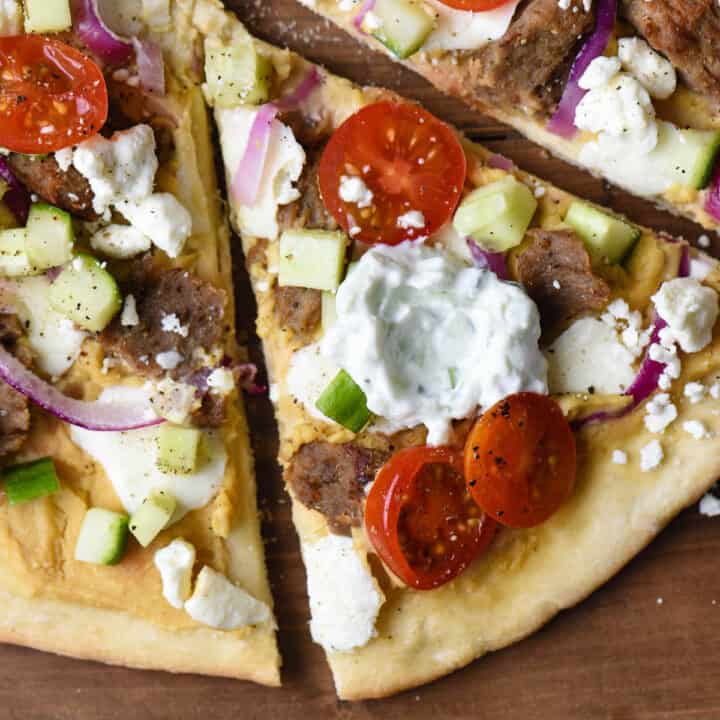 Gyro Pizza (Mediterranean Gyro Flatbread)
This Gyro Pizza is a Mediterranean mashup the whole family will love. Flatbread is topped with all of the ingredients in a classic gyro, lots of colorful toppings and homemade tzatziki sauce!
Ingredients
For the Tzatziki Sauce
1 garlic clove, minced
1/2 English cucumber, shredded
1 cup Greek yogurt
1 tablespoon chopped fresh dill
1 tablespoon fresh lemon juice
1/4 teaspoon kosher salt
1/4 teaspoon ground black pepper
For the Gyro Pizza
1 ball (1 pound) of homemade pizza dough, or store-bought
Nonstick cooking spray
1 cup hummus
1/2 pound fresh mozzarella cheese, cut into small cubes
1/2 pound prepared gyro meat
1/4 small red onion, thinly sliced
1/2 cup cherry tomatoes, sliced
1/2 cup finely diced English cucumber
1/3 cup crumbled feta cheese
Instructions
Make the Tzatziki Sauce: In medium bowl, stir together garlic, cucumber, yogurt, dill, lemon juice, salt and pepper until well combined.
Make the Gyro Pizza: Place pizza stone in oven and preheat oven to 400 degrees F.
Toss and stretch pizza dough into a 14-inch circle. Once oven is preheated, carefully remove pizza stone from oven and spray with cooking spray. Carefully place dough on stone. Transfer to oven and bake 6 minutes.
Remove from oven. Spread crust evenly with hummus. Spread mozzarella cheese, gyro meat and onion evenly over hummus.
Return pizza to oven and bake 8 minutes longer or until cheese is melted and bubbly.
Remove pizza from the oven; top with tomatoes, cucumber and feta cheese. Slice and serve with tzatziki sauce.
Recommended Products
Foxes Love Lemons, LLC is a participant in the Amazon Services LLC Associates Program, an affiliate advertising program designed to provide a means for sites to earn advertising fees by advertising and links to Amazon.com. There is no additional cost to you.
Nutrition Information:
Yield:

4
Serving Size:

1
Amount Per Serving:
Calories:

514
Total Fat:

31g
Saturated Fat:

14g
Trans Fat:

0g
Unsaturated Fat:

14g
Cholesterol:

106mg
Sodium:

971mg
Carbohydrates:

20g
Fiber:

5g
Sugar:

5g
Protein:

39g