My husband LOVES making pizza – he grills it in the summer, bakes it in the winter, and comes up with a new flavor combo each time. In this monthly "guest post," I'm going to sit back, relax, and maybe take the occasional photo while Jeff makes me a pizza and tells you about it. Here he is:
All of my guy friends love pizza, burgers, barbecue, and beer. I am no different . . . I just like to class them up a bit. I brew my own beer, make my own pizza (you've read about many of them), smoke my own meats, and try every joint in the greater Detroit area claiming "voted best burger". With this pizza, I decided to do a fusion. Behold the cheeseburger pizza.
If you are like me, you like classic burgers. I am talking about the ones made at bowling alleys and little holes-in-the-wall. These are places where handmade patties are caramelized and sesame seed buns are toasted on a large flat-top griddle. They usually come with only the basics – cheese, ketchup, mustard, pickles, and onions.
I achieved the toasted sesame seed bun feel by using a pizza stone to brown off the pizza crust before brushing it with melted garlic butter and sprinkling with sesame seeds. Think deconstructed Big Mac bun.
Pizza stones are a wonderful product because they help to achieve that wood-fired oven feel without spending a couple grand. You simply throw the pizza stone in the oven as it preheats (usually to a high temperature like 450 degrees F) and once the oven comes up to temp you put the freshly stretched dough down and stick it back in.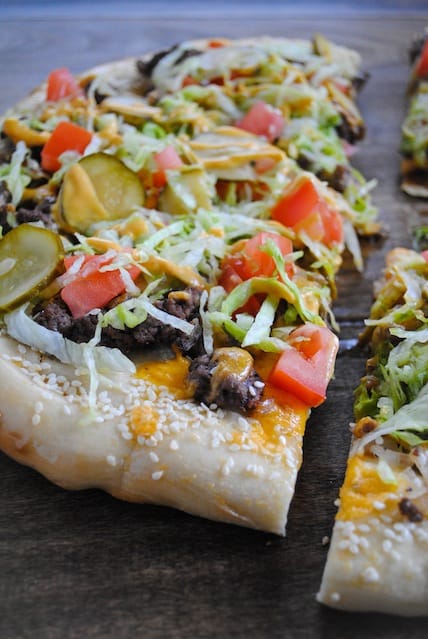 I replicated the burger condiment mixture of ketchup and mustard by making a sauce for drizzling. I mixed equal parts ketchup, mustard and mayonnaise with a little splash of hot sauce. Think a riff on Big Mac sauce. I hope you enjoy combining my favorite foods and indulging in this creation.
Yield: 4 servings
Cheeseburger Pizza
Ingredients
1 ball of pizza dough, store-bought or homemade
3/4 pound ground beef
1/4 small white onion, finely chopped
2 tablespoons butter, melted
Pinch of garlic powder
4 ounces shredded sharp cheddar cheese
1 tablespoon white sesame seeds
1-1/2 tablespoons ketchup
1-1/2 tablespoons mayonnaise
1-1/2 tablespoons yellow mustard
Dash of Tabasco sauce
1/2 large tomato, choppped
1-1/2 cups shredded lettuce
1/3 cup thin-sliced bread and butter pickles
Instructions
Place pizza stone in oven and preheat oven to 450 degrees F. While preheating, toss and stretch pizza dough into a circle. Once preheated, place dough on pizza stone and bake 10 to 15 minutes or until light golden brown.
Meanwhile, in large skillet, cook beef and onion over medium-high heat 8 to 10 minutes or until meat is browned and cooked through, stirring occasionally.
In small bowl, stir together butter and garlic powder. When pizza crust is golden brown, remove from oven and brush with garlic butter. Spoon beef mixture over crust, making sure to leave the outer 1/2-inch of crust bare. Sprinkle cheese over meat. Sprinkle sesame seeds onto edge of crust. Return pizza to oven and bake for an additional 5 minutes or until cheese is melted and bubbly.
Meanwhile, in small bowl, stir together ketchup, mayonnaise, mustard and Tabasco sauce.
Remove pizza from the oven; top with tomato, lettuce and pickles. Drizzle with ketchup mixture and serve immediately.
For more pizza creations by Jeff, check out our pizza archive!