Salmon Pesto Pasta
This Salmon Pesto Pasta is a restaurant-quality dish that comes together very easily at home. So flavorful, elegant and quick enough to make on a weeknight!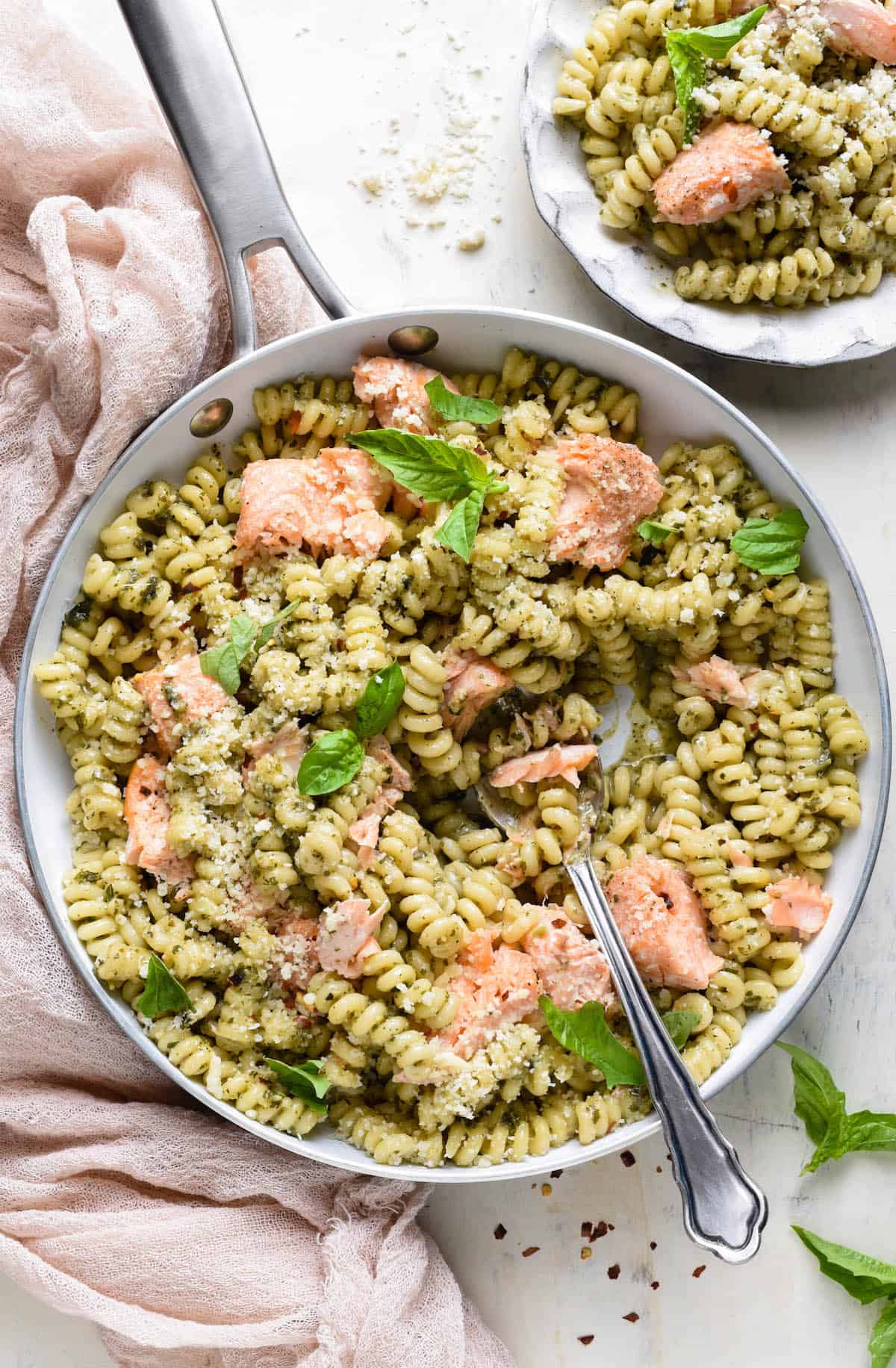 If you ask me to name a dish that is super easy for any home cook to make on a weeknight, but kind of feels like a restaurant meal on date night, it would be either creamy salmon pasta or baked pesto salmon.
I know that noodles of all kinds are a workweek staple for most households, including around here, where some variety of veggie pesto pasta with chicken seems to be on our menu weekly.
But sometimes, using salmon instead of chicken makes it seem fancy, even for a weeknight (my instant pot salmon and apricot glazed salmon are also great weeknight salmon meals).
Pairing salmon with noodles in this salmon pesto pasta allows you to add some protein to your carbs, in a way that's a little bit different and leaner than the traditional ground beef with red sauce combination.
What you'll need for salmon pesto pasta:
salmon – you will need 3/4 pound of salmon for this salmon pasta with pesto, and there is more information about how to choose the right kind of salmon in the section below.
salt and pepper – non-negotiable! You must season the fish.
pasta – I love fusilli for this recipe, and it's also perfect for goat cheese pasta salad and even crock pot beef stroganoff in place of egg noodles, but any short noodle will work great here.
butter – using butter to saute the garlic and start the sauce adds delicious flavor to this salmon pesto pasta. Butter is also key for salmon alfredo.
garlic – I wouldn't think of making a seafood pasta without lots of garlic!
chicken broth – this pantry staple forms the backbone of the sauce for this recipe.
flour – this acts as thickener for the broth, turning it into a sauce.
basil pesto – I like to use a high-quality store-bought pesto for salmon with pesto pasta, but you're free to start by making your own pesto, if you'd like!
lemon zest – the acidic brightness of lemon is a classic when paired with seafood (see also: garlic lemon shrimp pasta), and in this case we'll be using lemon zest.
Parmesan cheese – I love a sprinkle of Parmesan added at the end for a special touch. Extra parm can be used to make mashed potato cakes!
red pepper flakes – add these if you'd like a little kick of heat!
basil – I like to garnish the finished dish with fresh basil leaves (and make a basil cocktail to go with it), but this is optional.
How to buy the best fish for salmon pasta with pesto:
While for recipes like salmon sandwiches, crab stuffed salmon recipe and my recipe for bourbon salmon, I purchase thick, individual fillets of salmon (so, 4 separate fillets for 4 servings), I love the ease of roasting a larger fillet of salmon for salmon recipes like salmon pesto pasta, since I'm just going to break it into chunks anyway.
At the grocery store, butcher, or seafood market, ask them for a fillet of salmon with the skin on, about 3/4 of a pound to a pound.
You can use any variety of salmon you like best for this pesto salmon pasta, whether that's Atlantic salmon, sockeye salmon, or something else.
Food & Wine's Guide to Every Type of Salmon You Can Buy will help you learn the differences before you're ready to make this recipe.
Tips for making this pesto salmon pasta recipe successful:
So, just like with my Cajun salmon pasta, you're going to be cooking three things at once (fish, pasta, sauce) in this salmon pasta with pesto recipe, but I know that you can do it. Don't worry.
First, get your salmon into the oven. All you're doing here is putting the fish on a pan, seasoning it, and popping it into the oven (you can also start with my lemon herb sockeye salmon recipe or grilled sockeye salmon for extra flavor). Set a timer and forget about it for awhile.
Next, get your pasta cooking: dump the noodles into a pot of boiling, salted water, and again: set it and forget it (well, maybe give it a stir or two if you remember).
Then for the tasty sauce. You'll start by cooking some garlic and flour in butter, and then adding chicken broth, pesto, lemon zest, salt and pepper. You'll cook this mixture 3 to 4 minutes or until it thickens into a, well, sauce.
By now, your pasta should be done cooking. Drain it well, pour it into the skillet along with a little bit of pasta cooking water. The starchy water will help the sauce stick to the noodles (I use this technique for fettuccine bolognese and lamb bolognese, too).
At this point, your salmon should be done cooking, too! Take that out of the oven, break it into big chunks and put it on top of your pasta.
Grab a fork and some Parmesan cheese for sprinkling– it's dinner time!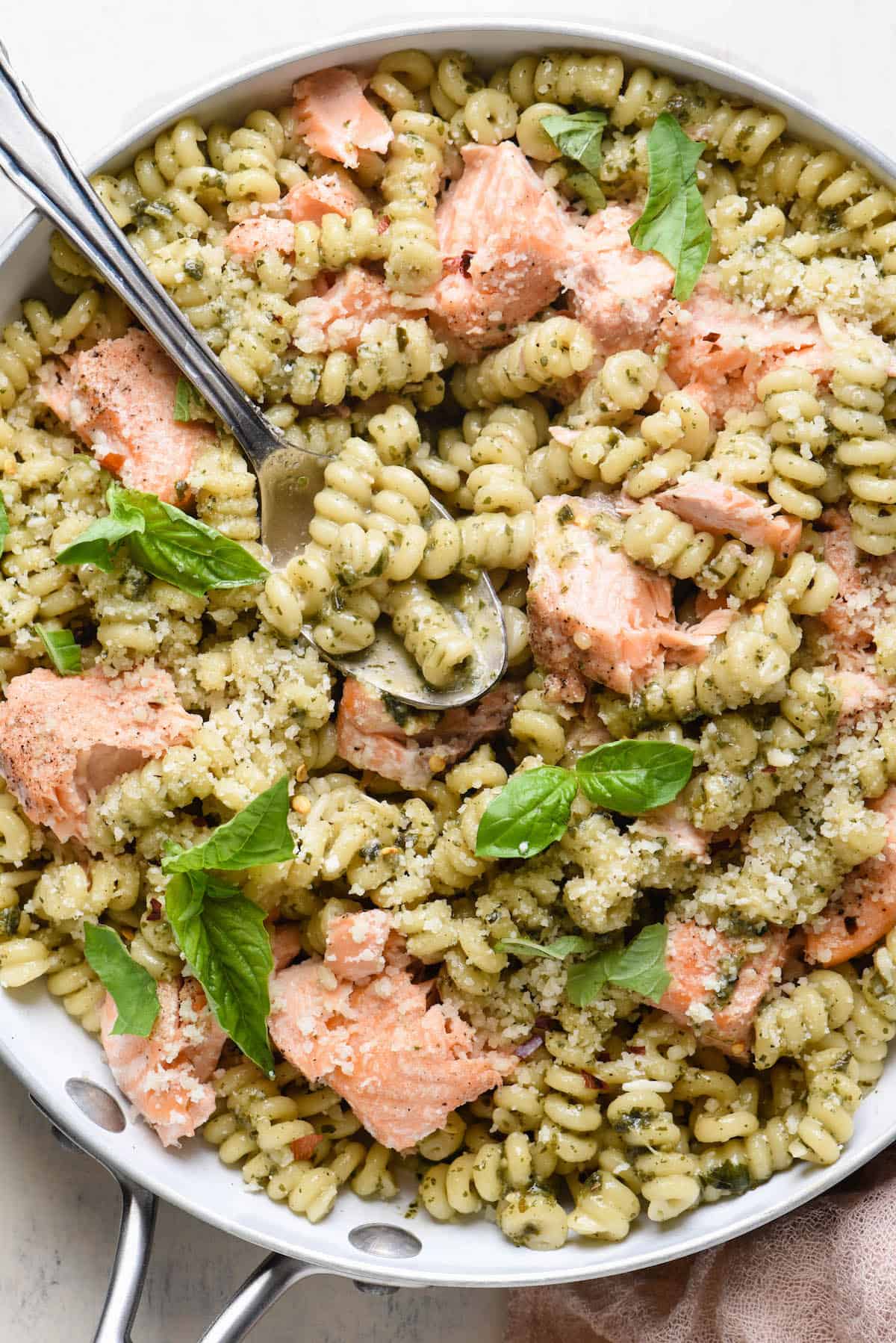 How much pesto do you add?
3/4 cup of pesto, plus 1/4 cup pasta cooking water for every 12 ounces of dry pasta will yield a well-balanced salmon pasta with pesto.
Feel free to add a little bit more pesto to this salmon with pesto pasta if you REALLY love the flavor of basil, or a little bit more pasta cooking water if you like your sauces on the thinner side.
Can this be reheated or frozen?
While I love recipes where leftovers can be reheated for lunch the next day, this salmon pesto pasta is one that is best eaten immediately (just like my Greek yogurt pasta sauce and salmon piccata). Does "reheated fish pasta" sound good to anybody? I mean, it doesn't to me.
I also don't recommend freezing this salmon pasta with pesto, for the same reasons. Long story short, make this and eat it immediately for best results. My pastitsio is a much better pasta recipe for the freezer.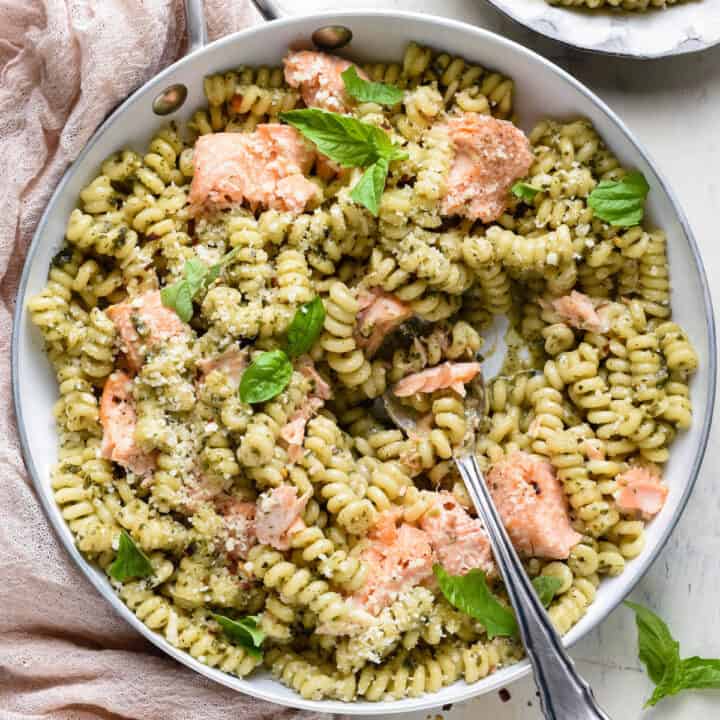 Salmon Pesto Pasta
This Salmon Pesto Pasta is a restaurant-quality dish that comes together very easily at home. So flavorful, elegant and quick enough to make on a weeknight!
Ingredients
Nonstick cooking spray
1 (12 ounce) center cut salmon fillet
1 teaspoon kosher salt, divided, plus more for pasta water
1/2 teaspoon ground black pepper, divided
12 ounces dried fusilli or other short pasta
2 tablespoons unsalted butter
3 garlic cloves, minced
1 tablespoon all-purpose flour
1 cup less-sodium chicken broth
3/4 cup prepared basil pesto
1 teaspoon grated lemon zest
Grated Parmesan cheese, for serving
Red pepper flakes, for serving (optional)
Fresh basil and lemon wedges, for garnish (optional)
Instructions
Preheat oven to 400 degrees F. Spray small rimmed baking pan with nonstick spray. Place salmon, skin side down, on prepared pan and sprinkle with 1/2 teaspoon salt and 1/4 teaspoon pepper. Transfer to oven and bake 18 to 20 minutes or until salmon is almost opaque throughout and internal temperature reaches 145 degrees F.
Meanwhile, in large pot of boiling salted water, cook pasta according to package instructions for al dente, stirring occasionally. Reserve 1/2 cup pasta cooking water before draining pasta.
Meanwhile, heat butter in large high-sided skillet over medium heat. Add garlic and flour and cook 1 minute, stirring constantly.
While whisking, gradually add broth. Stir in pesto, lemon zest and remaining 1/2 teaspoon salt and 1/4 teaspoon pepper. Heat to boiling over medium-high heat, then reduce heat to medium-low and cook 3 to 4 minutes or until mixture has thickened to a thin sauce consistency, stirring frequently. Reduce heat to low.
Add pasta to skillet, along with 1/4 cup pasta cooking water. Cook over low heat, tossing constantly, 1 to 2 minutes or until all pasta is throughly coated in sauce. Add additional pasta cooking water, if needed, to keep things saucy!
Remove salmon from oven. Slip spatula between salmon skin and flesh to remove skin; discard skin. Break salmon into large chunks over pasta.
Sprinkle Parmesan cheese and red pepper flakes, if desired, over pasta . Serve garnished with fresh basil and lemon wedges, if desired.
Recommended Products
Foxes Love Lemons, LLC is a participant in the Amazon Services LLC Associates Program, an affiliate advertising program designed to provide a means for sites to earn advertising fees by advertising and links to Amazon.com. There is no additional cost to you.
Nutrition Information:
Yield:

4
Serving Size:

1
Amount Per Serving:
Calories:

670
Total Fat:

39g
Saturated Fat:

10g
Trans Fat:

0g
Unsaturated Fat:

25g
Cholesterol:

65mg
Sodium:

1059mg
Carbohydrates:

54g
Fiber:

4g
Sugar:

2g
Protein:

28g