Creamy Mashed Potatoes with Heavy Whipping Cream
This Creamy Mashed Potatoes recipe is extra indulgent thanks to heavy cream, and seasoned to perfection with four secret spices learned in culinary school.
Deliciously classic Russet Mashed Potatoes with Heavy Cream
Mashed potatoes are my ultimate comfort food, and I was taught to make them the best they can possibly be in culinary school.
This homemade mashed potatoes recipe takes the dish to a new level of creaminess and indulgence with heavy cream and butter. It's also seasoned to perfection with four secret spices I learned from some of the best chefs in the country.
Why you will love this Homemade Mashed Potatoes Recipe
Perfect for any occasion. They're seasoned perfectly but also neutrally enough that they pair with anything.
A great way to use up heavy cream. Maybe you bought it for another recipe and it's just hanging around the fridge. This is how to use it up!
Homemade Mashed Potatoes Ingredients
Russet potatoes – you'll need 1-1/2 pounds of Russet potatoes for 4 servings (double the recipe if you need a bigger batch for a holiday).
heavy cream – the star of this recipe! It may be labeled heavy cream, whipping cream, or heavy whipping cream, depending on the brand.
butter – unsalted butter, at room temperature, gives these potatoes a velvety mouthfeel.
kosher salt – we'll use this for both salting the potato cooking water, and then seasoning the mashed potatoes themselves.
ground white pepper – adds a subtle heat and earthy flavor without visually adding flecks of black pepper to the dish (this is more important in culinary school and restaurants and less important for a home cook, so by all means, use black pepper if you want).
ground nutmeg – just a pinch adds a warm, aromatic note and enhances the flavor of the potatoes.
ground cayenne pepper – just a tiny pinch of ground cayenne pepper adds an intriguing complexity to this creamy mashed potatoes recipe without making it spicy.
Best Potatoes for Mashed Potatoes?
Russet potatoes are high in starch and low in moisture, which makes them perfect for making light and fluffy mashed potatoes.
How many potatoes for Mashed Potatoes?
With potatoes, it's easier to go by weight than by number of potatoes, since the size of potatoes varies so much.
Using either a home scale or the scale in the produce department at the grocery store, measure out 1-1/2 pounds of potatoes. That's how much you'll need for 4 servings.
How to make Mashed Potatoes from Scratch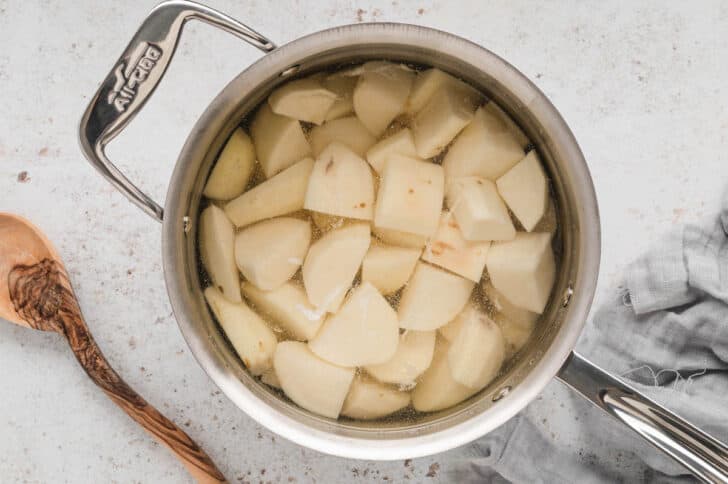 1. BOIL. Put the potatoes in a large pot and cover them with cold water. Salt them very well and then heat the pot to boiling. Cook 15 to 20 minutes or until the potatoes are very tender.
2. HEAT. Warm the cream in a small pot.
3. MASH. When the potatoes are done cooking, drain them and return them to their pot and mash them.
4. STIR. Add the butter, salt, white pepper, nutmeg, cayenne and some of the cream to the potatoes and stir well.
5. ADJUST. Adjust the consistency to your liking by adding more cream, if needed. Also, taste and adjust the seasoning as needed.
How long to boil potatoes for Mashed Potatoes?
Boil the peeled 2-inch chunks of potatoes for 15 to 20 minutes or until they are fork tender.
Can you make mashed potatoes ahead of time?
Yes, these mashed potatoes can be made ahead of time and kept warm, or refrigerated and then reheated. More info on both of these options below.
Home Chef Tips for this Creamy Mashed Potatoes Recipe
Use a potato ricer, if you have one, instead of a potato masher, for maximum smoothness.
Season carefully. The nutmeg and cayenne especially should be used conservatively. They are meant to enhance the flavor of the potatoes subtly, but not overpower the flavor. You can always add more but you can't take it away, so start small and taste and adjust.
If you've forgotten to bring your butter to room temperature, microwave it 10 to 15 seconds until it is soft but not melted.
How to thicken mashed potatoes
Most importantly, start by adding HALF of the cream to the mashed potatoes, and seeing what the consistency is like after that. You can always add more cream, but you can't take it away, so start with half.
But if you do accidentally add too much cream, and your potatoes are too thin, you can just use my favorite trick – calling it a "potato puree" instead of mashed potatoes.
Or, if you really need to thicken them, you'll have to boil and mash a few more potatoes and gradually fold them into the thin mashed potatoes until you get to your desired consistency.
How to keep mashed potatoes warm
SLOW COOKER. My favorite way to make mashed potatoes in advance and keep them warm for a holiday meal is to keep them warm in a slow cooker set to LOW. They can keep for several hours this way.
OVEN. Keep your mashed potatoes warm in a covered baking dish in the oven at 200 degrees F (or use your oven's warming drawer if there is one).
DOUBLE BOILER. Place the mashed potatoes in a covered double boiler to keep them warm without worrying about the potatoes sticking to the pan (which would happen if you try to keep the potatoes warm in a pan directly on the stove without a double boiler).
How much Mashed Potatoes per person?
A general guideline when making mashed potatoes is about 6 ounces of raw potatoes per person, so starting with 1-1/2 pounds of Russet potatoes for this recipe yields 4 servings (about 1/2 to 3/4 cup each).
What to eat with Mashed Potatoes
Because these potatoes are neutrally but deliciously seasoned, they're a perfect pairing for a wide variety of entrees. Some of my favorites are below.
What to do with Leftover Mashed Potatoes
Transform leftover mashed potatoes into golden brown mashed potato cakes or a comforting loaded mashed potato casserole.
How to store Homemade Mashed Potatoes with Heavy Cream
Refrigerate any leftover mashed potatoes in an airtight container.
How long are mashed potatoes good for?
Mashed potatoes are good for 3 to 4 days when stored properly in the fridge.
Can you freeze mashed potatoes?
Yes, you can freeze mashed potatoes for up to 3 months. Thaw them overnight before reheating.
Best way to reheat mashed potatoes
Reheat mashed potatoes gently with low heat on the stovetop or in the oven, stirring frequently. Add a splash of cream or milk to restore their original creamy consistency.
Homemade Creamy Mashed Potatoes Recipe
This Creamy Mashed Potatoes recipe is extra indulgent thanks to heavy cream, and seasoned to perfection with four secret spices learned in culinary school.
Ingredients
1-1/2 pounds Russet potatoes, peeled and cut into 2-inch chunks
2/3 cup heavy cream, warmed
4 tablespoons room temperature unsalted butter
1 teaspoon kosher salt plus more for boiling potatoes
1/4 teaspoon ground white pepper
Pinch ground nutmeg
Pinch ground cayenne
Instructions
Place potatoes in large pot and add just enough cold water to cover. Salt water liberally. Heat to boiling over high heat and cook 15 to 20 minutes, or until potatoes are very tender.
Meanwhile, heat cream in small pot over medium-low heat until warm.
When potatoes are tender, drain well and return to pot over low heat; mash with potato masher.
Stir in butter, salt, white pepper, nutmeg, cayenne and about half of warmed cream. Adjust consistency to your liking with additional cream, if needed. When consistency is correct, taste for seasoning and adjust as needed. Serve immediately.

Recommended Products
Foxes Love Lemons, LLC is a participant in the Amazon Services LLC Associates Program, an affiliate advertising program designed to provide a means for sites to earn advertising fees by advertising and links to Amazon.com. There is no additional cost to you.
Nutrition Information:
Yield:

4
Serving Size:

1
Amount Per Serving:
Calories:

402
Total Fat:

26g
Saturated Fat:

16g
Trans Fat:

0g
Unsaturated Fat:

8g
Cholesterol:

76mg
Sodium:

351mg
Carbohydrates:

38g
Fiber:

4g
Sugar:

3g
Protein:

6g
This website provides estimated nutrition information as a courtesy only. Nutrition information does not include any optional ingredients or toppings. You should calculate the nutrition information with the actual ingredients used in your recipe using your preferred nutrition calculator.