Spicy Crab Wonton Tacos
A big part of my job seems to involve memorizing the product offerings, prices and stock delivery schedule of every grocery store within a 15-mile radius of my house.
If you ask me where to get the freshest shrimp for shrimp ceviche, I can tell you where, what it will cost, and on what day of the week you should buy it. Plump blackberries for tequila mojitos? I can give you directions to the best farmer's market.
Crab for crab stuffed salmon or seafood pasta salad? I know where it's best.  Mangos? I know just where to send you for the prettiest, ripest ones.
So, I was pretty surprised last week when I had trouble finding ahi tuna anywhere around town. I was bummed, because my original plan for these wonton tacos was to use tuna, but you know what? I'm almost glad I couldn't find it, because the crab I ended up with is just so awesome.
With the combination of crab and avocado, these Spicy Crab Wonton Tacos remind me very much of a California sushi roll, except I'm subbing mango for cucumber here.
In my opinion, just about any seafood dish (and definitely any spicy seafood dish) calls for a chilled bottle of Pinot Grigio.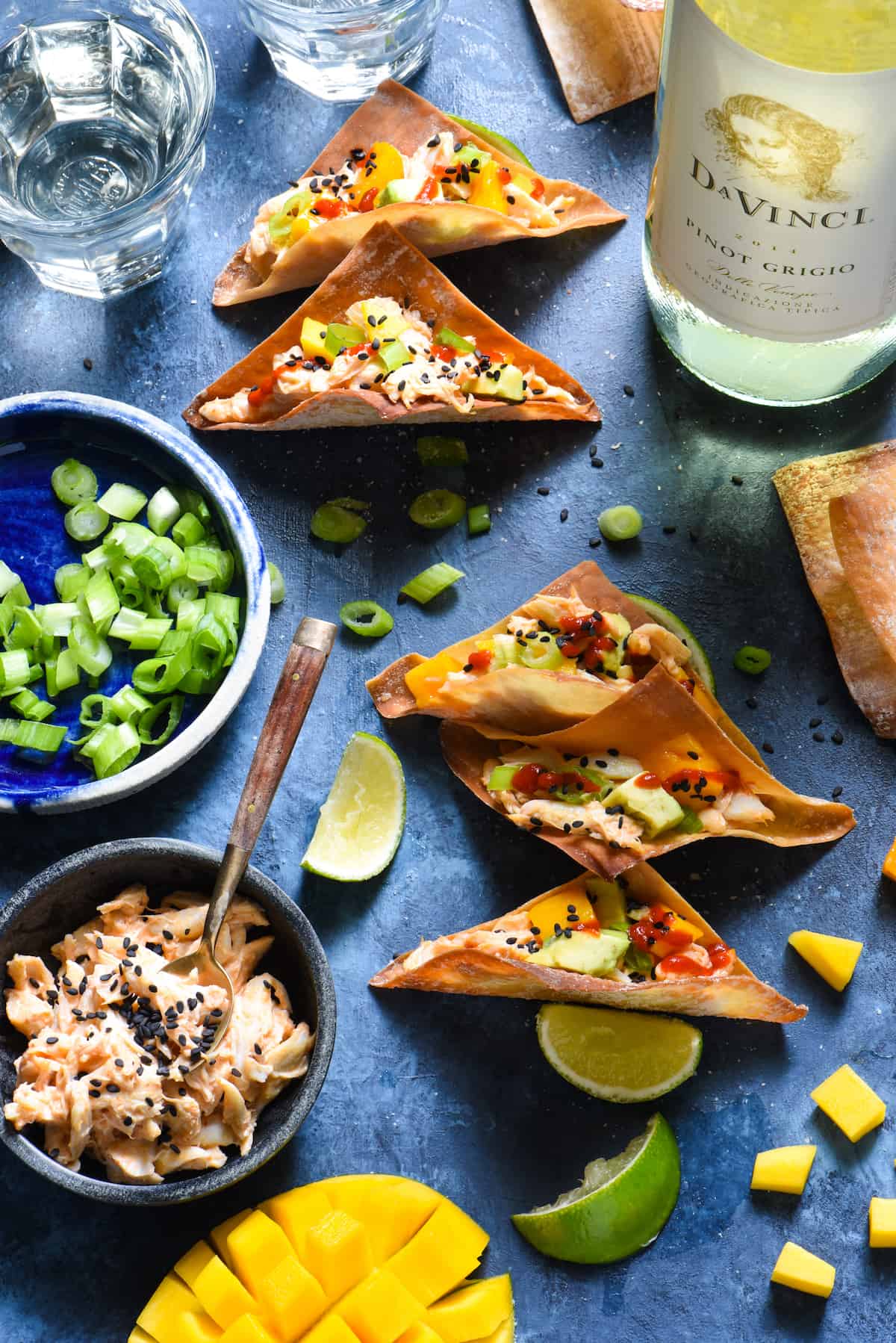 Feel free to use any seafood you like in these tacos – crab, ahi tuna, lobster and shrimp all work great. Heck, you could even make these with chicken or pork.
Just like with my lamb tacos, it's just all about keeping it simple and using ingredients you love. Enjoy!
Spicy Crab Wonton Tacos
Yield:
6 servings (3 tacos per serving)
Ingredients
Nonstick cooking spray
18 (4-1/2-inch square) wonton wrappers
1 pound cooked crab meat (I used super lump), drained and patted dry
1/4 cup mayonnaise
1-1/2 tablespoons sriracha, plus additional for serving
2 teaspoons fresh lime juice
1 teaspoon sesame oil
4 green onions, thinly sliced
1 avocado, peeled, pitted and diced
1 mango, peeled, pitted and diced
1 tablespoon black sesame seeds
Instructions
Preheat oven to 400 degrees F. Spray rectangular baking dish with cooking spray. In batches, drape wonton wrappers diagonally over sides of baking dish. Lightly spray wrappers with cooking spray. Transfer to oven; bake 5 minutes. Carefully turn wrappers so that sides of wrappers that were hanging over outside of dish are hanging over inside of dish. Return to oven; bake 5 more minutes or until golden brown and crispy. Transfer wrappers to cooling rack to cool completely before filling. Repeat process with remaining wrappers and additional cooking spray.
Meanwhile, in medium bowl, stir together crab, mayonnaise, sriracha, lime juice and sesame oil until well combined.
Divide crab mixture between wonton wrappers and top with onions, avocado and mango. Sprinkle with sesame seeds and serve immediately with additional sriracha, if desired.