Turkey & Gnocchi Arrabiata Soup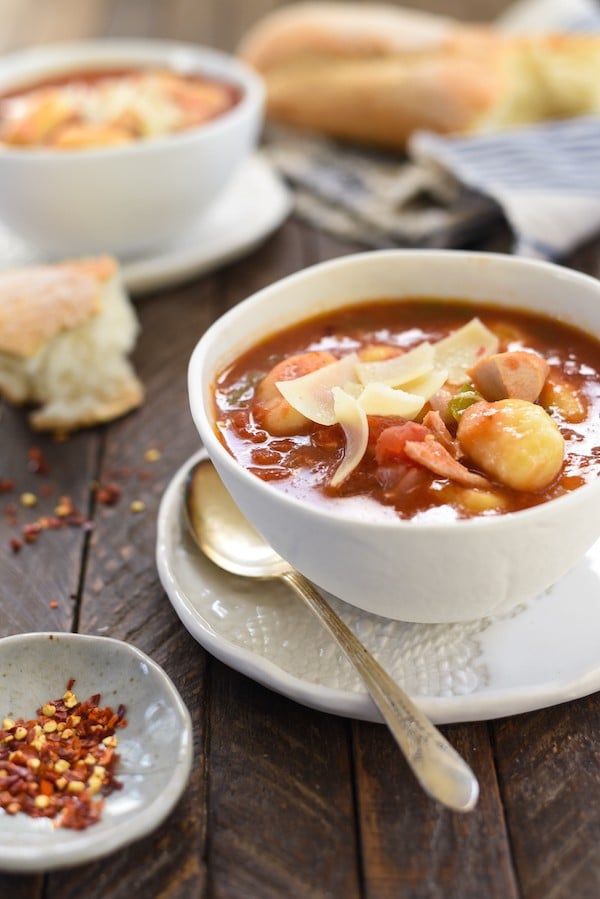 So, you guys. This soup is the first thing I've ever technically cooked in the #FLLdreamkitchen. Sure, I still don't have countertops, so I was working off of a beer pong table. But, I was using the new range and cooking inside, so that's a win.
What wasn't a win? Well, the morning of my first-ever cooking experience in the new kitchen could not have been more of a disaster. I'll spare you the details, but I woke up and realized the dog was sick, which was . . . messy (she's back to normal now, just an upset stomach).
Also that morning, a painter was at the house finishing up the trim work in the kitchen and dining room. So, the same very naughty dog decides to walk through the tray of white paint. Yes, paint-covered paws + newly refinished hardwood floors.
Let's just say, we're lucky this pot of soup didn't get chucked out the window in frustration.
I'm very glad it didn't get chucked out the window, because this soup is delicious, and perfect for a Friendsgiving celebration.
If you're anything like me, you'll have out-of-state friends in town for the holidays, and might even be hosting one more big get-together in addition to Thanksgiving dinner. For our group of friends, that gathering will be the day after Thanksgiving, when only the simplest recipes will do (and maybe some loaded mashed potato casserole with the leftover potatoes from the feast).
And while I love a long simmered crockpot soup, this one comes together pretty quickly right on the stovetop.
For this hearty Italian-inspired soup, I used the leftovers from a JENNIE-O® OVEN READY™ Whole Turkey. Like I showed you guys with my Roasted Turkey with Bourbon Apricot Glaze last week, this turkey goes directly from your freezer to the oven – meaning it's ready in about 5 hours rather than the 1-1/2 days conventional turkeys take to brine, prepare and roast (not to mention thawing!).
I've also made this soup with leftovers from roasted turkey with maple bourbon glaze and Cajun turkey.
You'll be in and out of the kitchen fast with this Turkey & Gnocchi Arrabiata Soup recipe. Simply start by sautéing some onion, green pepper and garlic, then add a pinch (or two or three pinches, if you like heat) of red pepper flakes.
In goes the chicken broth and a can of crushed tomatoes, then the chopped turkey and refrigerated potato gnocchi join the party. The gnocchi cooks in just 3 minutes, then it's time to ladle into bowls, top with Parmesan cheese, and sit down to your Friendsgiving feast!
Psst – looking for a different soup option to use up your turkey? You'll love my Leftover Turkey Chili.
Be sure to connect with Jennie-O on Facebook, Twitter, Instagram and Pinterest.
Turkey & Gnocchi Arrabiata Soup
Ingredients
1 tablespoon olive oil
2 garlic cloves, minced
1 green bell pepper, finely chopped
1/2 white onion, finely chopped
1/4 teaspoon ground black pepper
1/4 teaspoon kosher salt
1/4 teaspoon red pepper flakes (or more, if you like it spicy!)
1 can (28 ounces) crushed tomatoes
1 quart (32 ounces) chicken broth
1 cooked turkey breast, diced (you should have about 3 cups diced turkey)
1 package (17.6 ounces) refrigerated potato gnocchi
Shaved Parmesan cheese, for garnish
Instructions
In large pot, heat oil over medium-high heat. Add garlic, green pepper and onion; cook 6 to 8 minutes or until vegetables are softened, stirring occasionally.
Stir in black pepper, salt and red pepper flakes; cook 1 minute, stirring constantly. Stir in crushed tomatoes and broth; heat to boiling over medium-high heat.
Stir in turkey and gnocchi; cook 3 minutes or until gnocchi float to surface. Serve garnished with cheese.
Disclosure: As a member of the Jennie-O Switch Circle, this was a sponsored post written by me on behalf of Jennie-O. Sponsored posts help me pay for the costs associated with this blog (groceries…lots of groceries), and help support me as I pursue a career in recipe development and food photography. All opinions are 100% my own.