Blackberry Tequila Mojito (Easy Tequila Cocktail!)
This Blackberry Tequila Mojito is the best summer drink. Mint, lime, soda and blackberries come together in this easy tequila cocktail.
Something I was not prepared for when I became a parent is how much kids LOVE berries. The amount of berries that just one toddler can eat in a single week is staggering.
People talk a lot about saving up money to send your kids to college, but shoot, I should have been saving up money years ago for my toddler's berry consumption.
Blueberries and raspberries are the most eaten around here, with strawberries making an appearance when they're at their peak in the summer (in fruit crisp bars for the kids as well as strawberry Moscow mules for the adults).
But blackberries are a special treat in our house, for both the toddler and the adults. My daughter can gobble down a half carton in a single sitting (probably a whole carton if I don't put them in blackberry muffins first).
But I think I'll save a few of these gems for something a little more sophisticated, like an easy tequila cocktail recipe. So parents, after all the berry-grubbin' kids are in bed, raise a glass with this blackberry tequila mojito recipe (and maybe snack on some spicy potato chips, too).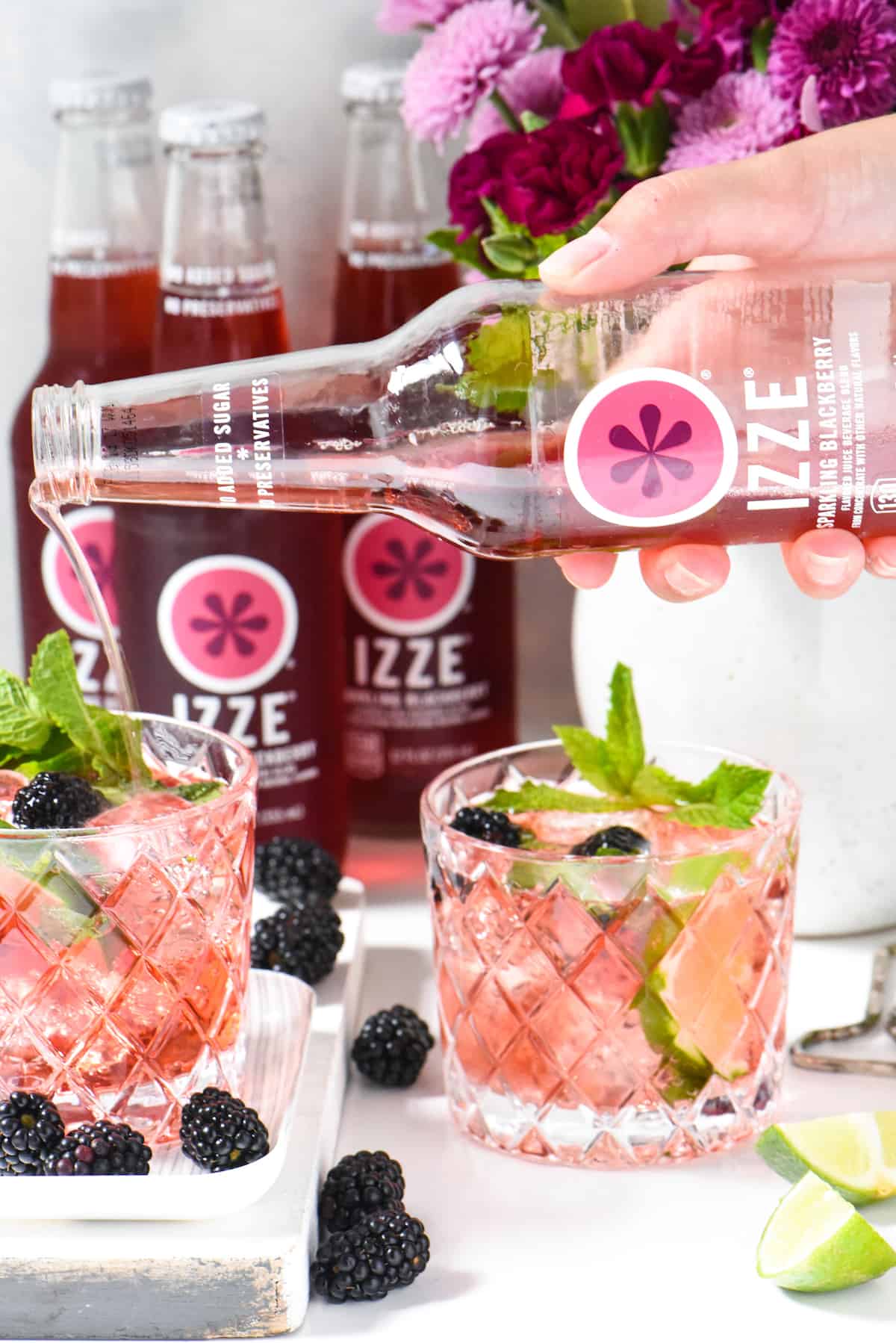 About this tequila mojito recipe:
So, look out, COCKTAIL POLICE: I'm taking some liberties with the word "mojito" here (just like I take some liberties with my apple cider mule and grapefruit mule, too). According to Wikipedia, an official mojito is a Cuban highball consisting of five ingredients: rum, sugar, lime juice, soda water, and mint.
This easy tequila cocktail recipe is NOT an official, traditional mojito. Primarily because we're not using rum at all.
To be honest with you, rum is probably my least favorite liquor. Unless it's stirred into old fashioned rum balls or possibly mango lemonade, it's just not really my thing.
But we ALWAYS have a of tequila in our bar cabinet (if not two or three bottles). We love lemon margaritas, blood orange margaritas, and mojitos made with tequila.
The lime juice and mint from the traditional mojito recipe did come to the party in my blackberry tequila mojito, so, yay tradition.
But in place of the plain sugar (because who really needs extra sugar?) and the soda water, I used a bottle of blackberry soda (technically, "sparkling blackberry juice," but yeah it's soda) for this tequila mojito recipe.
I get a bit of sweetness as well as the fizz from the soda, with just one ingredient instead of two.
How to make a mojito with tequila:
To make this tequila mojito recipe, you'll need a cocktail muddler. It's a great thing to have around anyway, to make brandy old fashioneds and basil cocktails, so if you don't have one, do pick one up.
In a double old fashioned glass, use the muddler to lightly crush the mint (also beautiful in my Valentine's dessert shooters) into the lime juice. You're looking to release the essential oils from the mint to add flavor to this easy tequila cocktail recipe, but not completely crush the mint into oblivion.
Add the tequila to the glass and stir everything together. The mint leaves should lift up from the bottom of glass and swirl around.
Fill the glass to the top with ice, and then top the glass with blackberry soda, leaving a little bit of room for garnishes. Serve the drink garnished with a lime wedge, more fresh mint, and fresh blackberries.
Serve some simple snacks with this easy tequila cocktail recipe.
This tequila mojito recipe make me think about sitting on my deck with friends, on a warm, sunny day. Everybody has their sunglasses on, and a cold drink in their hand (maybe an agave lemonade or honey lemonade for the non drinkers). The only thing missing is some snacks.
Don't let the snacks go missing! A light seafood snack like shrimp ceviche or crab wonton tacos are perfect for a summer afternoon and pair well with this easy tequila cocktail recipe.
For a snack on the heartier side (or a light lunch), serve up a round of prosciutto sandwiches with roasted corn salad, or check out my flatbread pizza recipe.
And hey, if you want a real meal instead of snacks, try my root beer ribs, a fajita bar or Sonoran hot dogs.
Or, if you want to satisfy your sweet tooth, nobody can resist cannoli dip with lots of fun dippers. You can also use any extra blackberries to top a frozen yogurt pie for dessert. Or, buy a BUNCH of extra berries and make an orange bundt cake with blackberry glaze.
More refreshing summer cocktails:
Fruity and cold, catch a buzz with these easy drinks.
Blackberry Tequila Mojito (Easy Tequila Cocktail!)
This Blackberry Tequila Mojito is the best summer drink. Mint, lime, soda and blackberries come together in this easy tequila cocktail.
Ingredients
6 mint leaves, plus additional for garnish
1/2 ounce fresh lime juice, plus additional lime wedge for garnish
1-1/2 ounces tequila
Ice
Blackberry soda or blackberry sparkling juice (I used IZZE brand)
Blackberries, for garnish (optional)
Instructions
In double old fashioned glass, muddle mint and lime juice until mint is lightly crushed. Add tequila and stir until well combined.
Fill glass with ice; top drink off with soda. Garnish with additional mint, lime wedge and blackberries, if desired, and serve immediately.
Recommended Products
Foxes Love Lemons, LLC is a participant in the Amazon Services LLC Associates Program, an affiliate advertising program designed to provide a means for sites to earn advertising fees by advertising and links to Amazon.com. There is no additional cost to you.
Nutrition Information:
Yield:

1
Serving Size:

1
Amount Per Serving:
Calories:

335
Total Fat:

1g
Saturated Fat:

0g
Trans Fat:

0g
Unsaturated Fat:

1g
Cholesterol:

0mg
Sodium:

168mg
Carbohydrates:

51g
Fiber:

10g
Sugar:

33g
Protein:

4g